FlexJobs Review: Is This Job Search Site Worth Paying For Each Month?
Updated on: by Amy Kennedy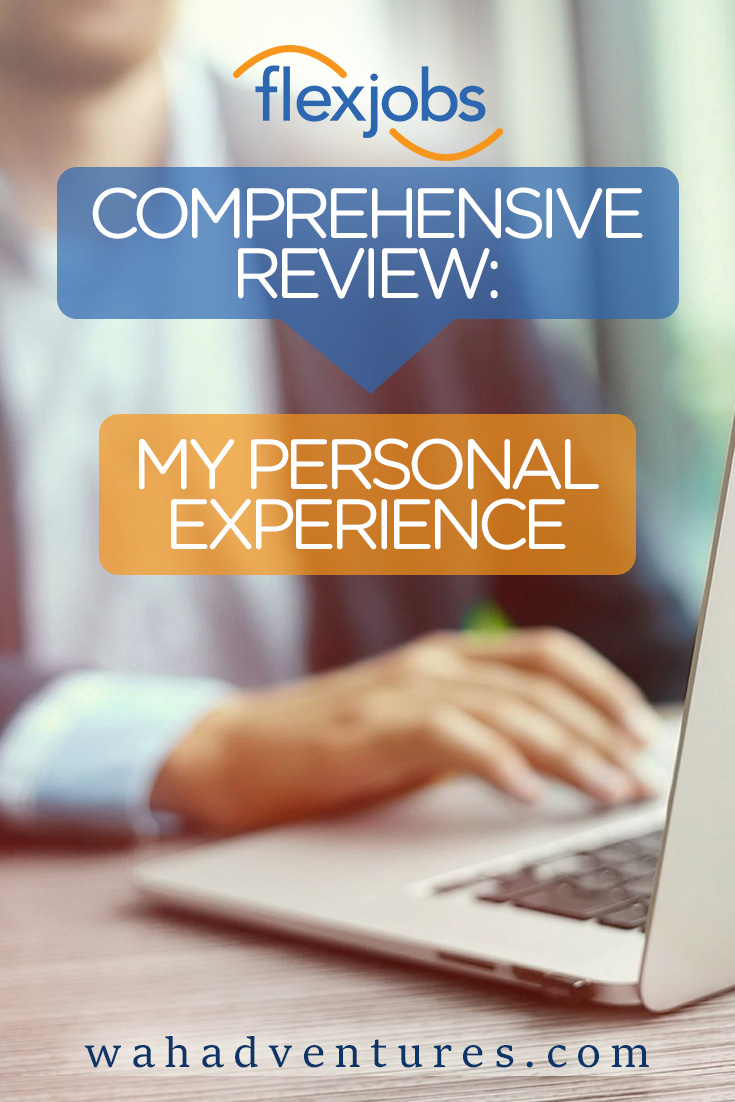 There have been many questions in the work-from-world about FlexJobs.com.
Need Easy Extra $350+/Month For Free?
Everyone knows you shouldn't pay for a job, yet FlexJobs charges a membership fee.
So is it automatically a scam?
The short answer is no.
They are not a scam.
In fact, they are so legit that major news networks such as NBC have run news stories about how awesome they are.
No, you shouldn't pay for a job.
With FlexJobs you are paying for a service that actually weeds out the scams for you.
So is it worth it?
I say yes, but you should definitely see for yourself.
A Closer Look at the Company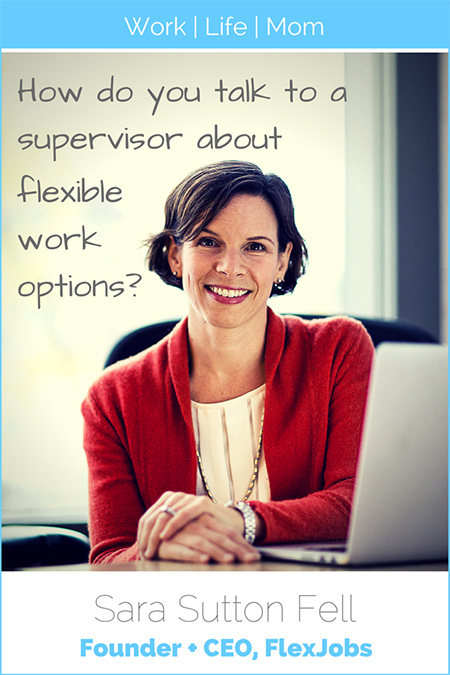 FlexJobs was born when, in 2007, experienced entrepreneur Sarah Fell was pregnant, and she began looking for a job that would allow for a flexible work schedule.
Knowing from her own experience, as the co-founder of Job Direct, that legitimate flexible job opportunities did exist, she because highly frustrated with the number of scams she had to week through to find anything.
In fact, it seemed almost impossible to find anything that was both legitimate and in-line with her career. In this, she saw an opportunity.
She realized the need for a job site that brought all of these types of jobs together that was clean, professional, and easy to navigate.
Thus FlexJobs was created. It offers postings for jobs with flexible schedules, work-from-home opportunities, and flex-time arrangements.
What Can I Expect from A Membership?
I took it upon myself to dive deep into the FlexJobs world so you could see exactly what you are getting when you pay for a membership.
Need Easy Extra Cash?
Pinecone Research, a leading name in online survey panel honesty, absolutely guarantees $3 cash for every survey you complete!
Take advantage of their time limited New Membership drive and register NOW. Join today: 100% free!


It is easy to read what others say about their experiences, but until you can see it for yourself, the decision is still a tough one.
My goal is to give you an inside peak into FlexJobs, how it works, what it offers, and what it can do for you.
You can expect access to thousands of job postings in a searchable database.
These postings include jobs of various types from all over the world.
They are not all work-from-home jobs, but you can set your search to look for the level of telecommute that you desire.
You can expect high quality job leads without scams, and suggestions for jobs you may be interested in based on your profile.
This will save you hours upon hours of wading through scam after scam.
Pricing
There are three membership levels to choose from.
Subscriptions start at $14.95 for one month, $29.95 for 3 months, and $49.95 for a one-year subscription.
They offer a 30-day money back guarantee, so you have nothing to lose, and the site is offering subscriptions at 30% off right now using the coupon code SAVE30.
UPDATE 2023: The SAVE30 code is outdated, but FlexJobs frequently offers similar discounts throughout the year.
You can do a quick Google search to find them!
You might also try coupon sites, like RetailMeNot, to find current codes to use to save on the cost of a membership.
For example, one right now gives up to 50% off a membership to FlexJobs!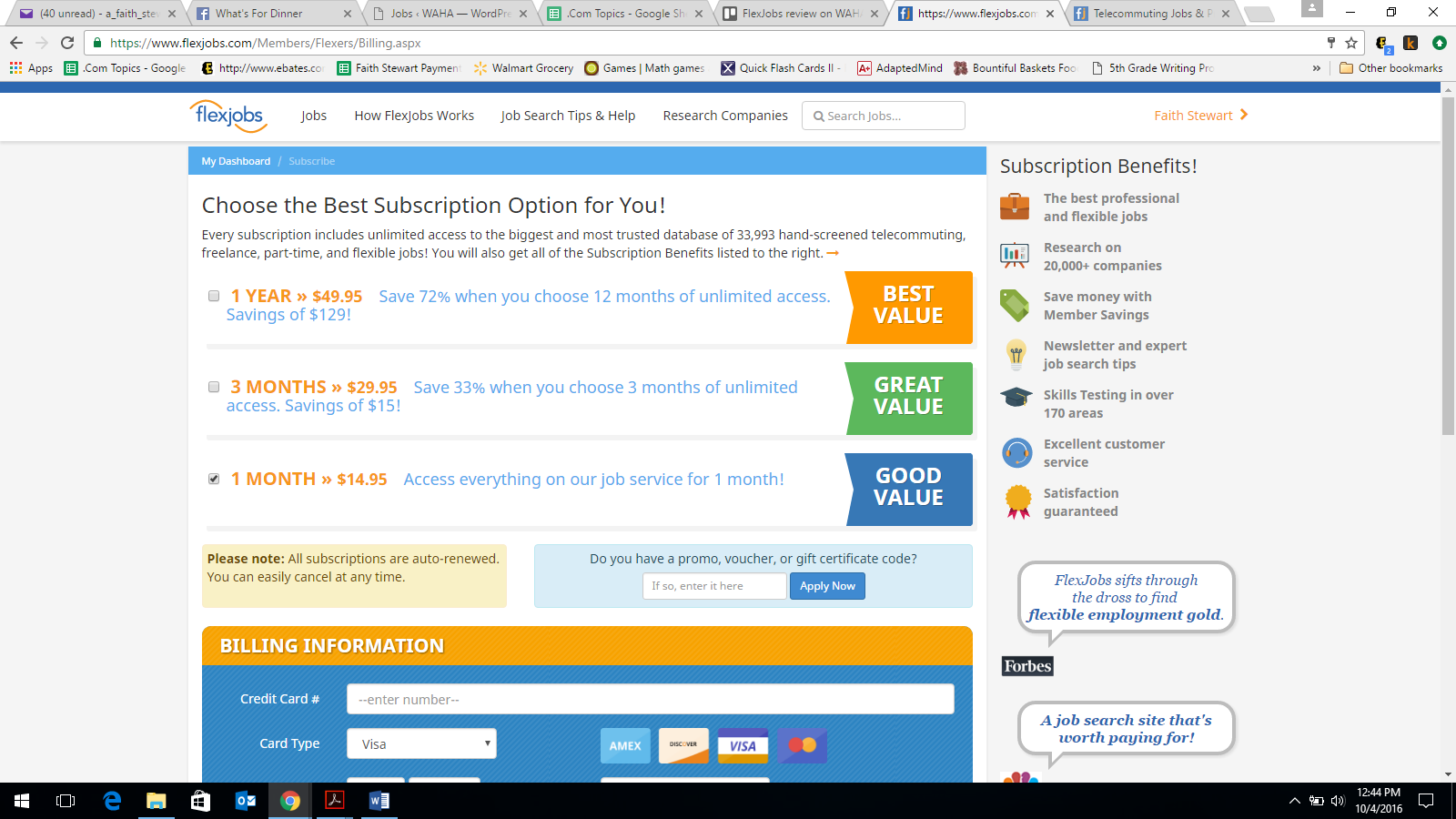 Is there a free trial?
Unfortunately, no.
Unlike a lot of paid services, FlexJobs has no free trial offer for you to browse the site and decide if you want to pay for its listings.
This is a big downfall of FlexJobs, in my opinion.
However, FlexJobs does let anyone browse the site with limited search ability, so you can somewhat see what you're getting yourself into.
You can search for jobs, for example, but FlexJobs will cover up the actual listing and the company information so that you can't search for it on your own.
Still, you'll be able to see that there are some jobs listed in your industry.
You'll just need to decide if it's worth it to you to pay to see them all.
The good news is that you can always sign up for less than $15 for one month to get a feel for how it works.
If you don't love FlexJobs or think it's worth the cost, then just go to your account and cancel your membership before it ends to avoid getting charged for another month of service.
You can also take advantage of the 30-day money back guarantee if FlexJobs didn't live up to your expectations.
This is almost as good as getting a free trial (although I know some of you would rather have a month to try it out without giving away your financial information!).
As many have indicated, the 30-day money back guarantee is legit.
I've seen plenty of online reviews from people who have used the guarantee and have gotten their money back without an issue.
How do I sign up?
The sign up process is easy. The first screen is a simple sign up page where you set up your account login information.
Earn Everything… nearly!
Join Opinion Outpost, one of the few faithful and honest survey panels and earn cash and gift cards for your opinion. Stack your points and redeem them: Simple! No hidden fees and completely free!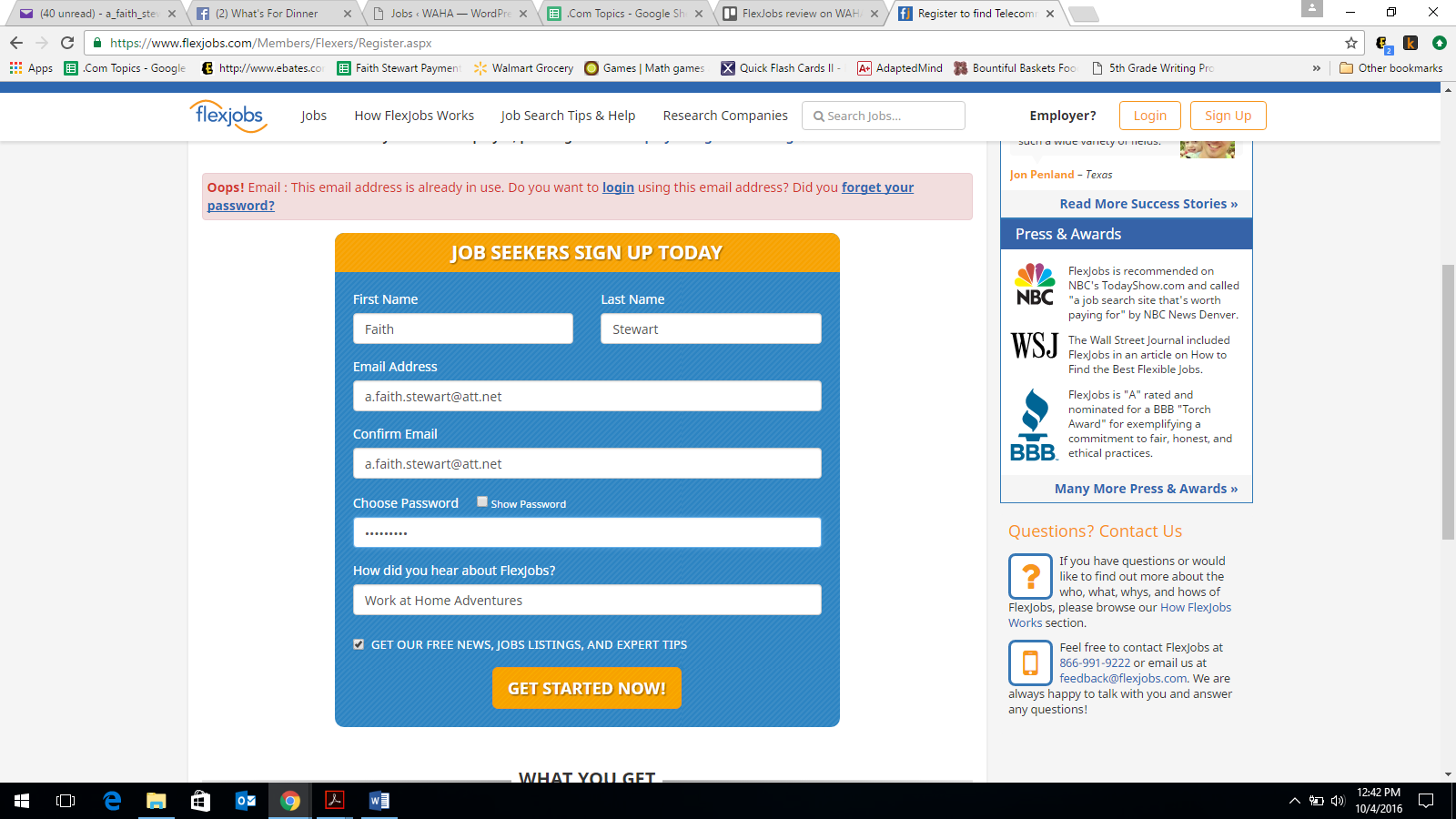 After that you head to the page where you choose your package and pay, entering credit card information as you would expect.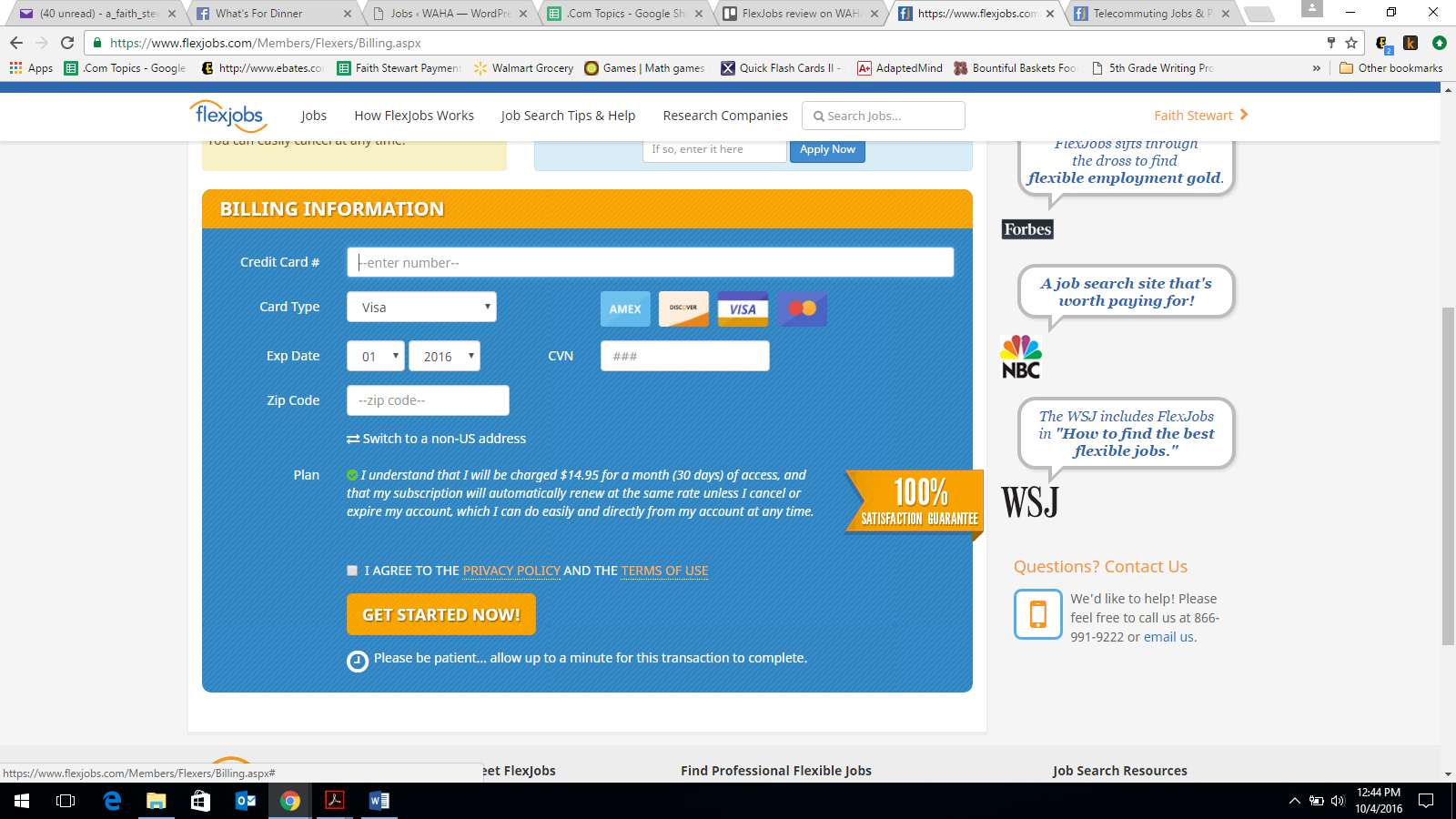 Once you are a paid member, you are ready to get started.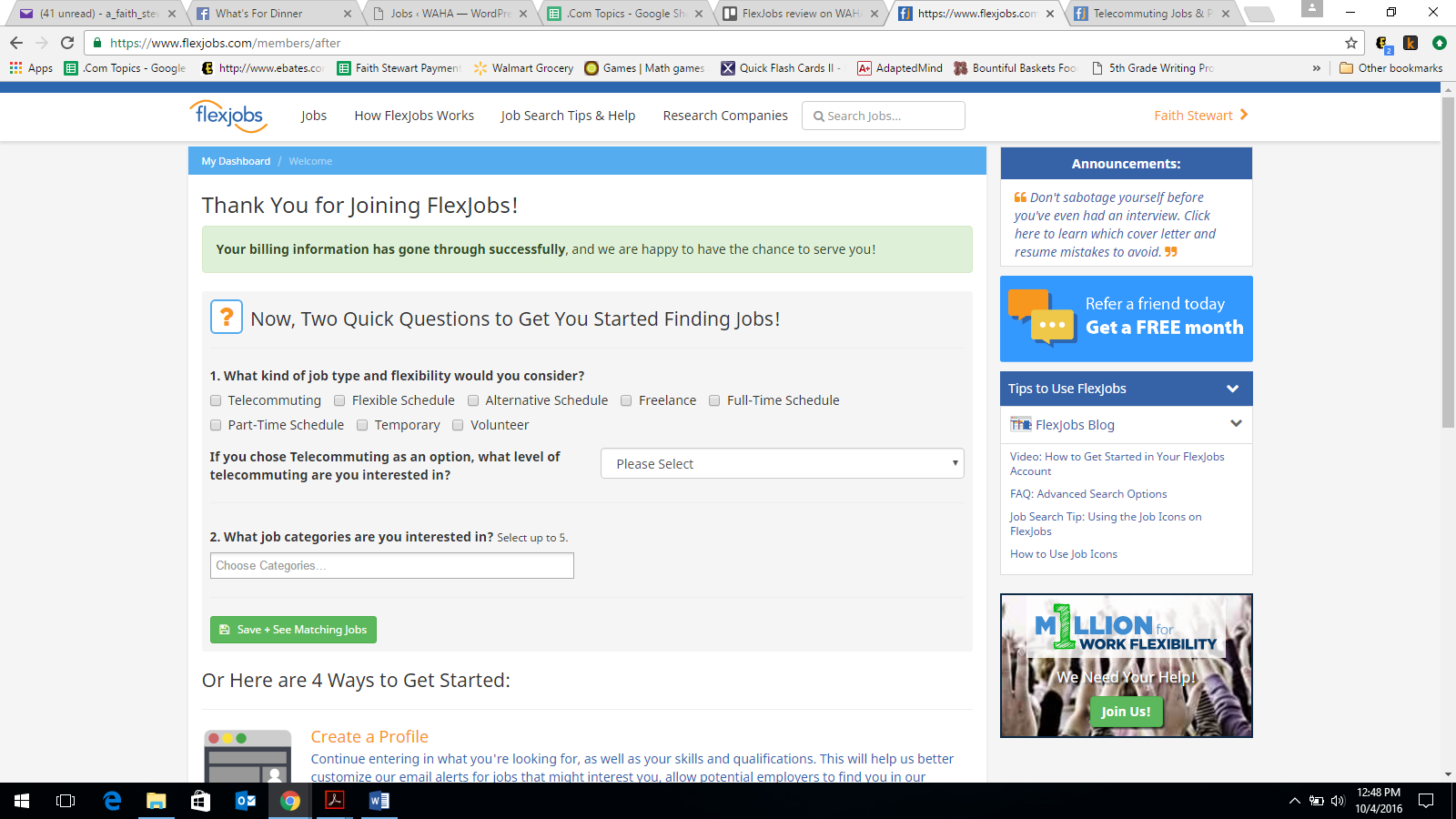 The process is very thorough but worth it to weed out those jobs you for which you would not be interested in applying.
You are asked to choose the level of telecommuting you are looking for and the categories of jobs you are interested in.
Then they list four ways to get started.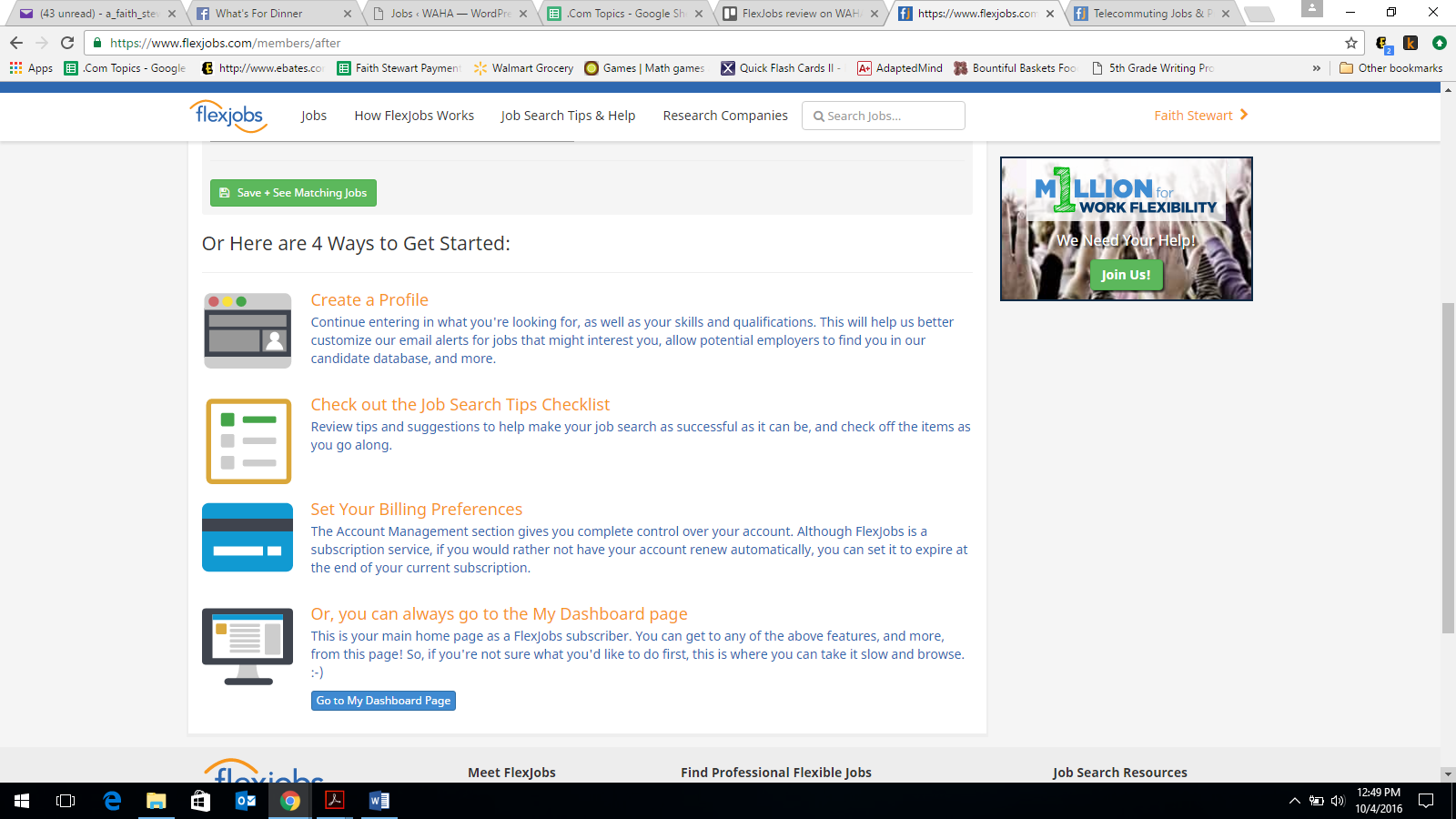 My suggestion is to head over to account management and take care of business first, so you can enjoy your time on the site without worry of automatic renewal.
If that is something that does not bother, skip it.
To make sure you do not auto-renew, even though I am positive you will want to renew, click on your name on the top right.
Click on account, then subscription management.
You will see options to upgrade, set to expire (this is the one that keeps you from auto renewing), and cancel immediately.
Don't do that. The fun is just starting!
Once you have taken care of business, I suggest you create a profile.
While you certainly do not have to, as you can search for jobs without it, it will allow those with jobs to fill to see your qualifications.
Setting Up a Profile
On your dashboard, you will notice several tabs.
The first one is About Me.
This is where you create your profile.
The number one tip offered by FlexJobs about profiles is to note the importance of a title.
You can see what I came up with on the screenshot below.
It will be the first thing you are asked to do, and it will be how people on the site see you.
FlexJobs suggests being as descriptive as possible without writing a book.
Something catchy that lets them know exactly what you offer.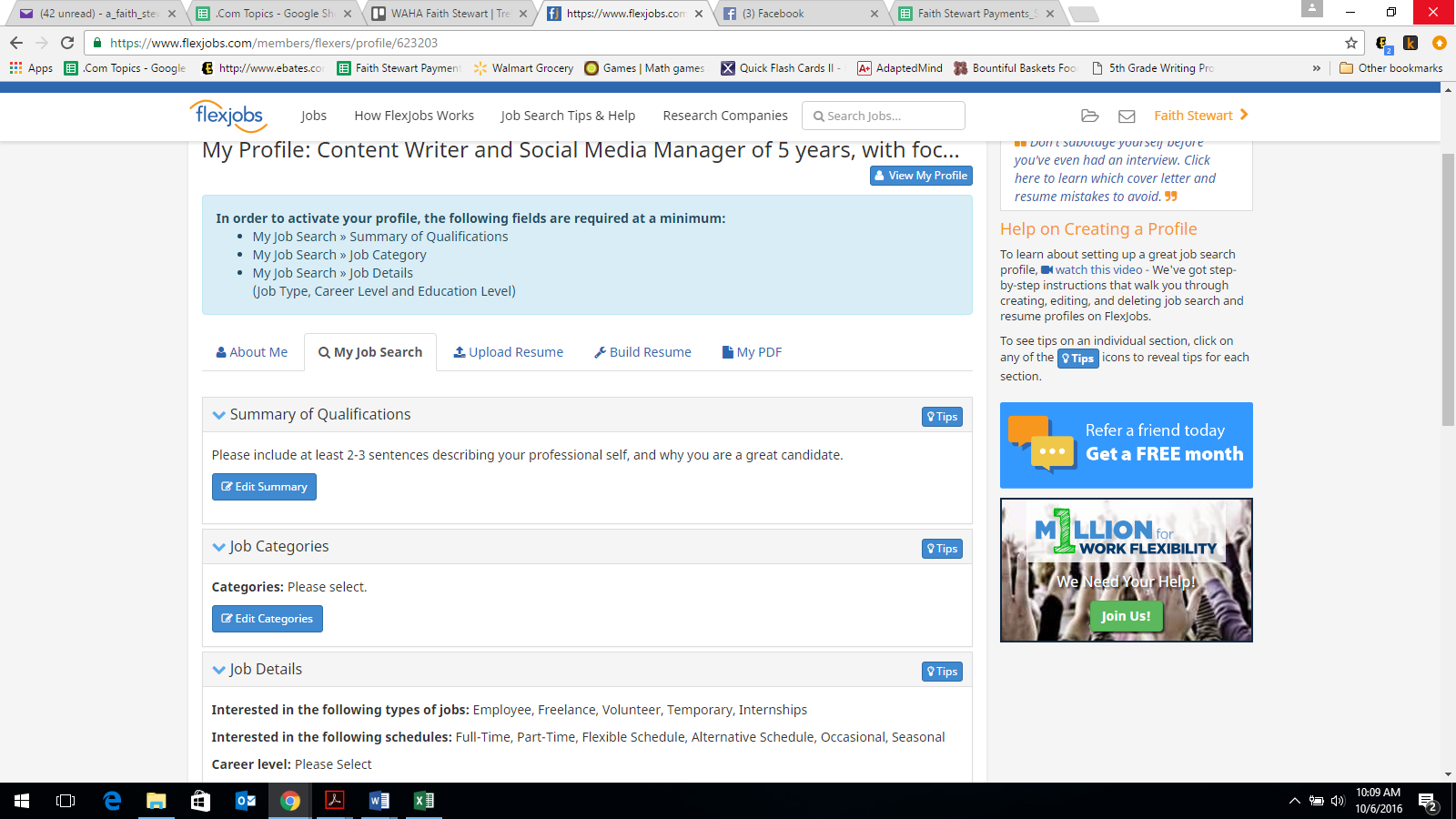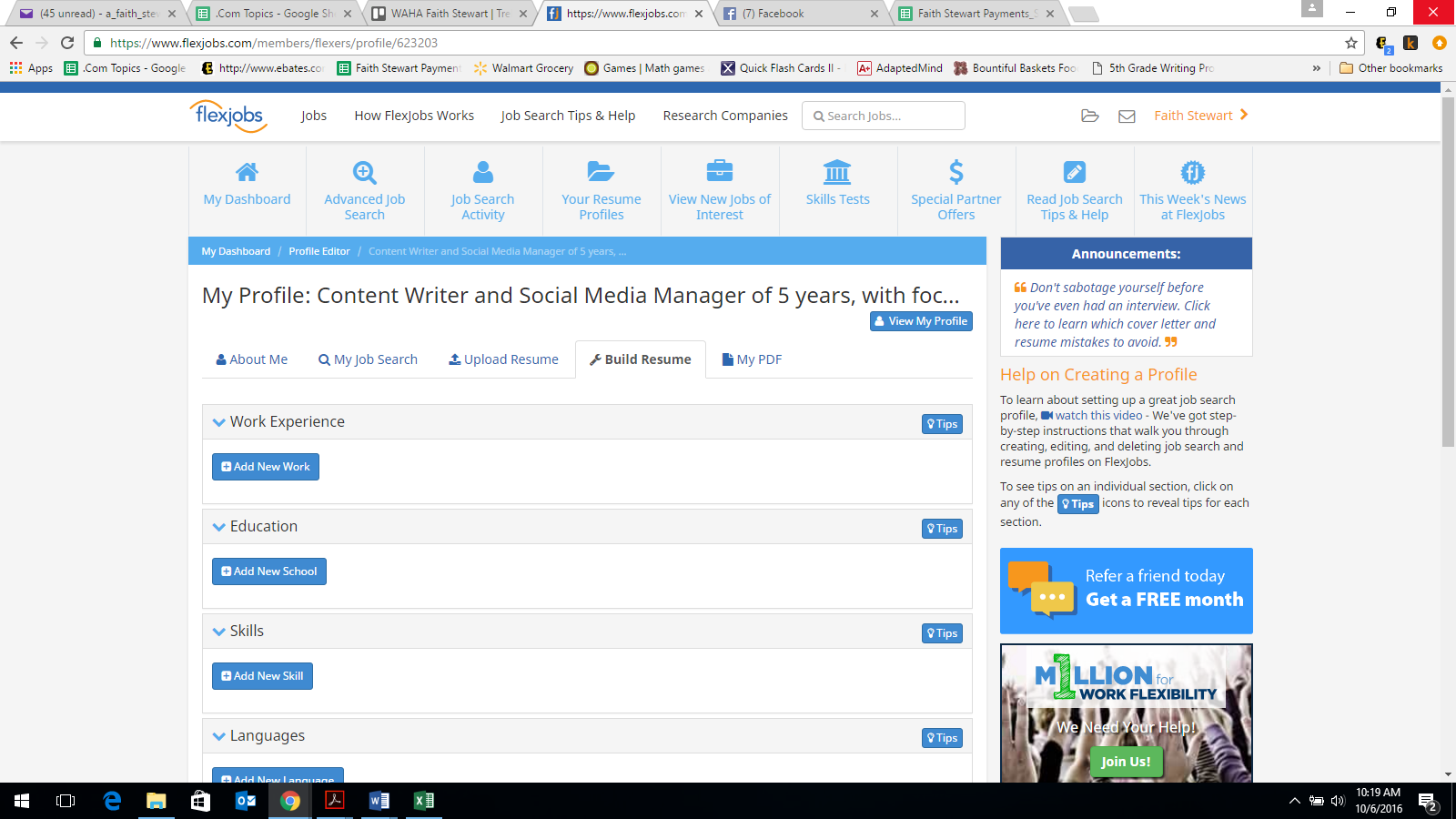 Your profile title is your first impression, and then you set up the meat of the profile.
You can attach social media accounts, and you can showcase samples of your work.
In addition, you can let those who view your profile know your home office set up and military status.
There a different privacy settings as well.
You can decide whether you want any employer to be able to see your profile, only those that are members of FlexJobs, or no one at all.
Also in this section are tabs for either uploading a resume, or building one from scratch.
You can link to a LinkedIn resume as well.
The "My PDF" tab will take you to a PDF containing all the information in your profile.
Job Search
This why you are here right?
There are two ways to search for jobs.
If you set up a profile, FlexJobs will search its database for jobs that fit your needs and wants based on what you tell it, and offer those as suggestions.
These will show up for you when you log in under "New Jobs of Interest," as well as in an email.
My results in this search have been right on target based on my setting thus far.
I get freelance writing, contract, and social media leads frequently.
Sometimes there are more than others, but they are always relevant.
Here is an example: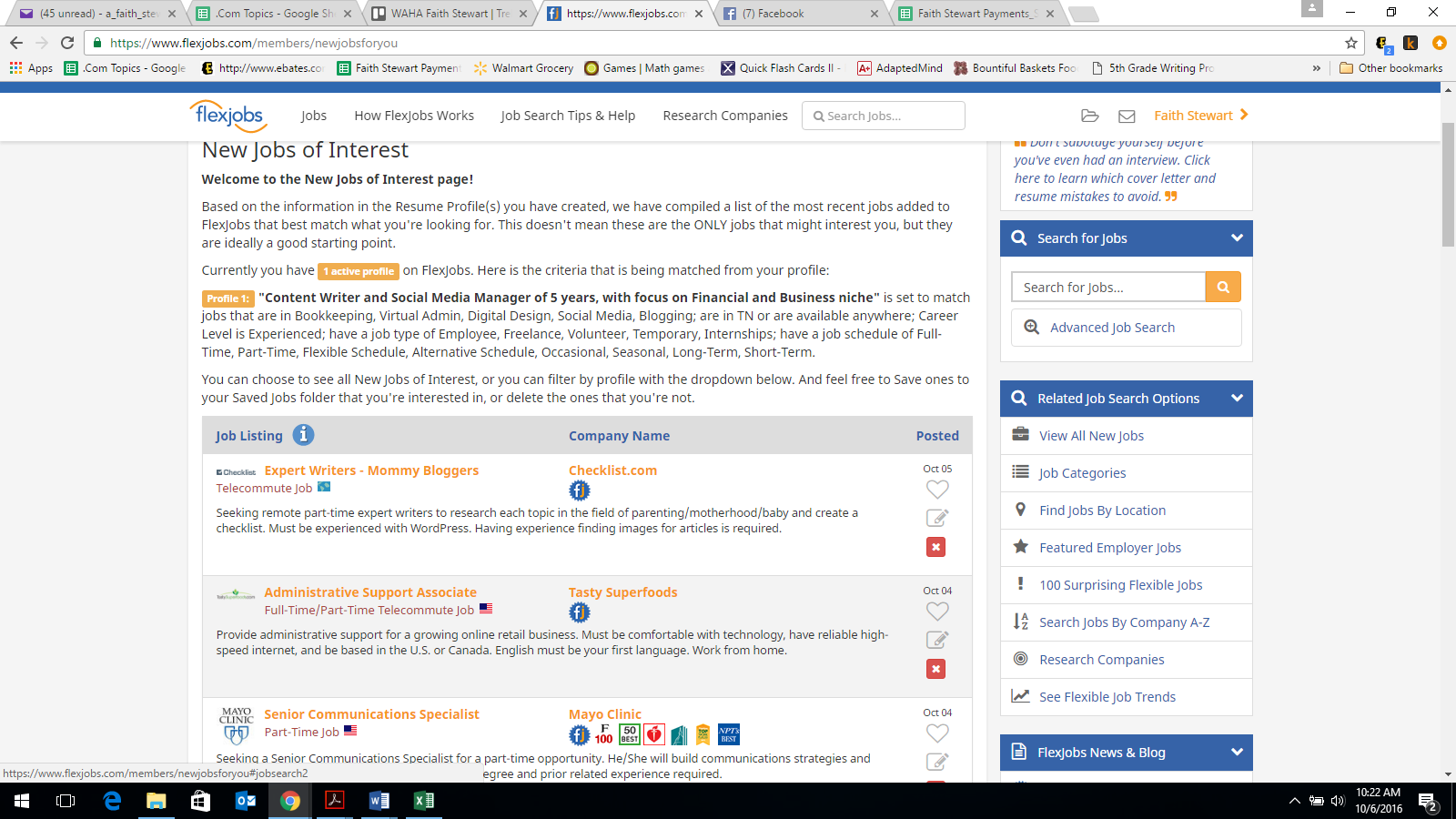 The next other option is an advanced job search.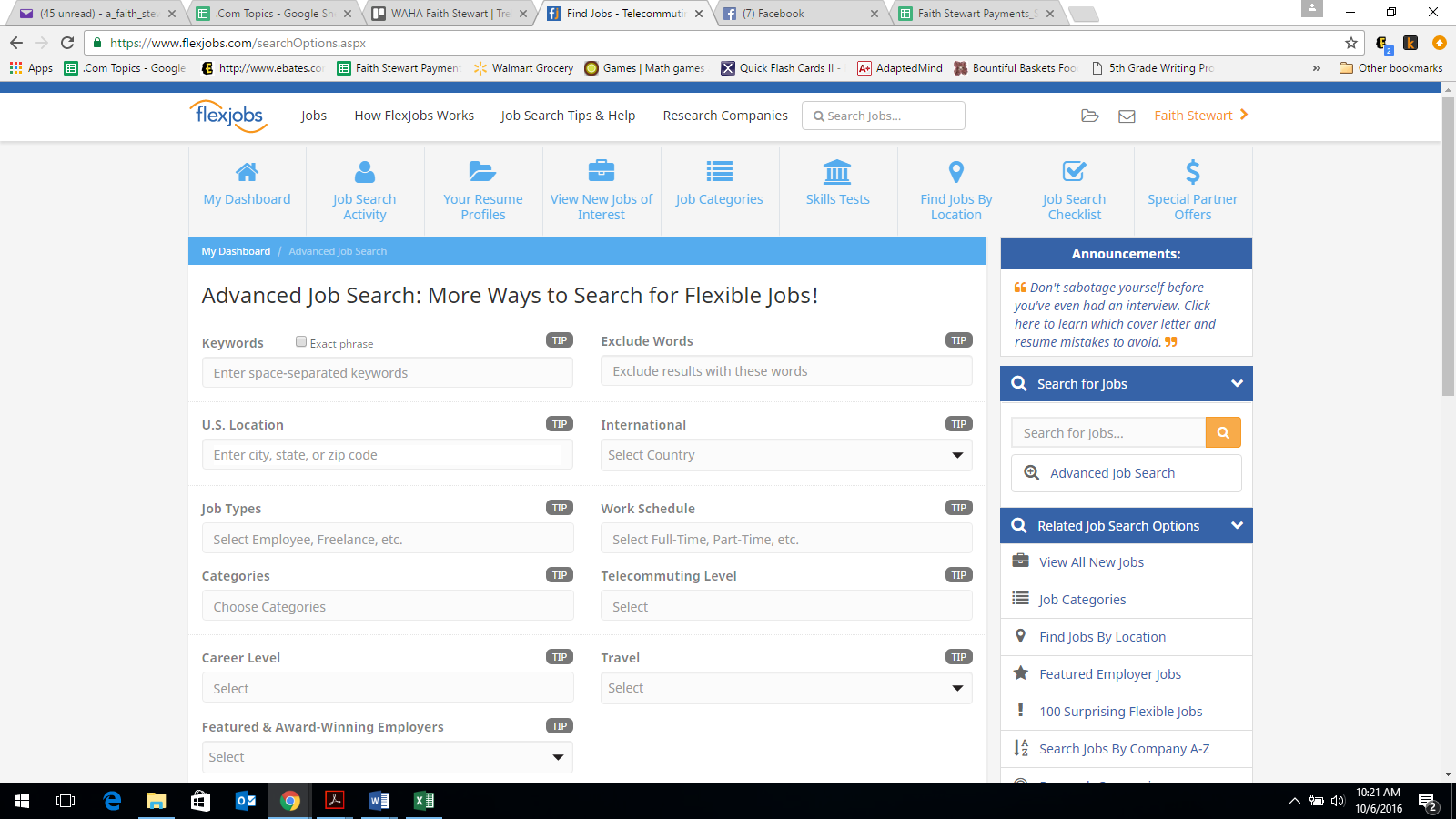 As you can see, this option allows you to enter in anything and everything you are looking for in a job in an effort to find those that fit exactly what you want as closely as possible.
I tried this out a few different ways as well and the result that came back were always promising.
You can also search jobs based on location by clicking on "Find Jobs by Location" at the top.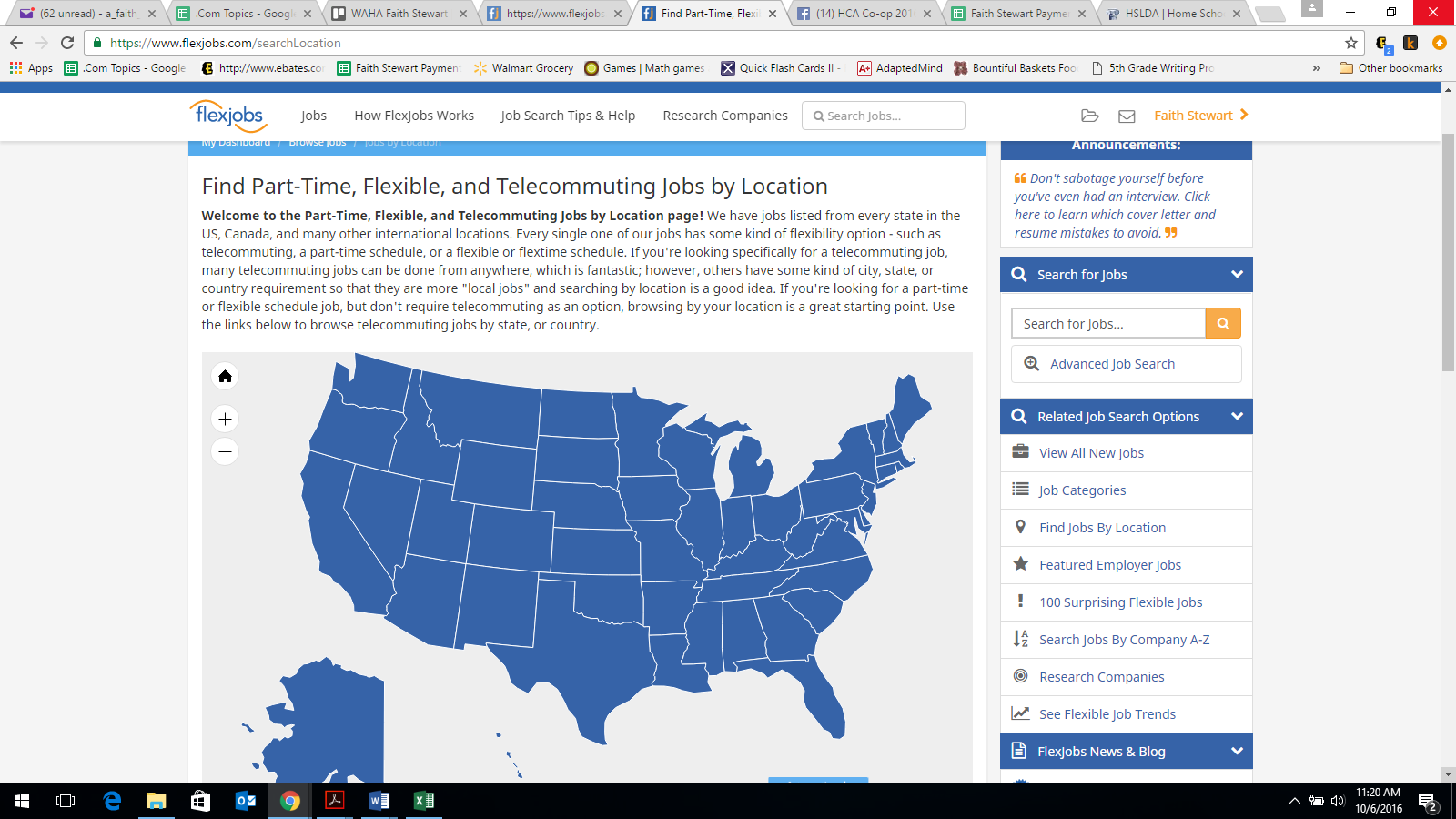 Alternatively, you can choose the "Job Categories" option and browse jobs by category.
Categories begin broad and as you click through you can narrow the field.
What Else Does FlexJobs Offer?
I am so glad you asked!
See, while finding job leads is the number one reason for using FlexJobs, once you are a member there are a few other perks that are pretty awesome.
One of these is the option to take skills tests.
Now, you can take these tests without a membership for $14.99 each, but they are free, as in they cost nothing, for members.
There are over 170 of them to choose from.
They are each 40 questions and take around 40 minutes to complete.
A score of 70% or greater will get a passing notation on your profile.
A score of less than 70% will not show up anywhere at all.
There is no penalty for a bad score, so you have nothing to lose.
You can retake a text after 24 hours, but note that the questions rotate so you will not likely be taking an identical test.
The highest score is the one that is kept.
There is no review of questions and answers after the test.
This is in an effort to continually measure organic knowledge, so that the tests remain useful and relevant.
What's the benefit of taking a skills test on FlexJobs?
These tests indicate to recruiters that you know what you're doing in your industry, which can help show them that you have the skills you'll need for their job.
If you apply to a job, your skills test results will show on your profile.
Good scores can help you stand out from the competition!
Here is just a sample of some of the tests offered.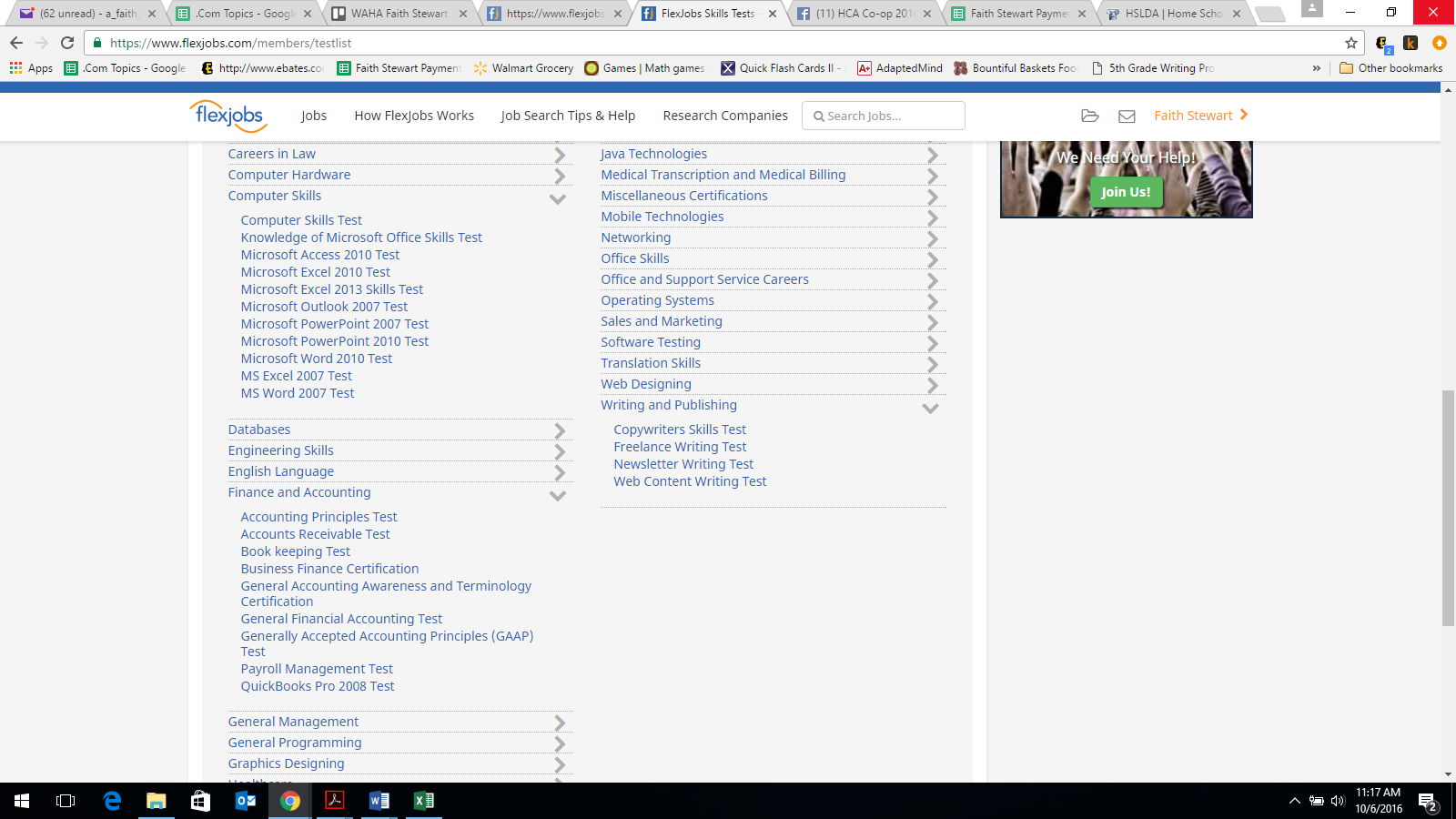 Another great perk of membership is partner offers.
FlexJobs has partnerships with multiple popular companies of various types to offer exclusive benefits to its members. Some current examples include:
20% off of a Grammarly subscription
1 month free trial to Skillshare with no credit card required
$50 worth of coupons and 3 free items for new Costco members
50% off a QuickBooks for Self-Employed subscription
Discounts on UrbanSitter.com
com discounts
That is just a few. Here is a look at some of the other partners.
In addition to these perks, FlexJobs can also help you research for companies that offer flexible work options that can help you find something exactly tailored to your needs.
They offer a current list of the most flexible companies and detailed information on each one.
This may include what positions have flexible working conditions, what those conditions are, who qualifies for them, and any benefits that may be included.
You can narrow your search to full-time, part-time, telecommute, and more to find exactly what you're looking for.
In other words, make your job work around you, not the other way around!
Flexjobs Reviews: What Do Others Say?
Better Business Bureau
The good news is that FlexJobs is accredited with the BBB and has been since 2008.
According to the BBB website, others think they are pretty great.
They have an A+ rating!
Be careful though.
If you just go to the Better Business Bureau web page and do a search for "FlexJobs," you are not going to get the results you want.
Follow the link including here, or search for "FlexJobs.com."
This is the business you are looking for, and as you can see, they are well respected.
Although BBB accreditation doesn't automatically mean a company isn't a scam, it's a good indication that a company wants to do right by its customers and gain their trust.
In that respect, we like that FlexJobs took the time to gain accreditation and continues to keep up its good BBB rating by quickly responding to disputes.
Wall Street Journal
The Wall Street Journal also has great things to say about the site
A helpful subscription site for job seekers is FlexJobs, which vets telecommuting and other flexible jobs and also publishes lists of the best companies for flexible work." –Sara Sutton Fell, chief executive officer.
Other FlexJobs Users
Of course, if you scour the internet for opinions you are going to get mixed reviews.
This is the case with just about any website, especially one you have to pay for to access all its goodies.
I found some users who were pleased with their Flex Jobs experience, while others were not.
I wondered at first if those were unhappy were those who had not found jobs, and those who were happy were those who landed great flexible jobs using the service.
However, after reading through a ton of reviews, there were people who had not yet found a job that were quite happy with the service.
Those who were unhappy were those with expectations that did not line up with what FlexJobs.com is offering.
These were people who signed up for the service expecting to find only work-from-home jobs, or that were disappointed in the types of careers that offer flexible scheduling.
While that would certainly be disappointing, FlexJobs is clear that they post jobs with all types of flexible scheduling opportunities.
FlexJobs never sells itself as a work from home-only job site, although that's what many people seem to think it is before they sign up.
Then they're disappointed when they find out that many of the jobs are on-site jobs, just offering more flexibility with their schedules and work requirements than other jobs.
They are also clear that they scour the internet for these jobs, but they cannot control what is actually offered.
Some job types lend themselves to more flexibility than others.
Knowing this, they offer every possible option for weeding out those jobs that are not relevant to you, and make it easy to cancel service if you try it and it does not work out.
Pros and Cons
Positives:
No Scams Guaranteed
No Ads (I wasn't sure about this one but I haven't seen one yet!)
Easy Peasy billing options if you do not want to be charged each month automatically
30-day money-back guarantee
Easy search and filter options
All those member benefits
Keeps flexible job searches in one place, right at your fingertips
Negatives:
The cost I guess… everyone wants free right?
Not ALL of the jobs are work-from-home jobs
Technically a lot of the jobs are posted publicly rather than exclusively on the FlexJobs, so you could find them on your own if you took the time to look
The site itself is a little cluttered
No free trial
Let's Get Down to Brass Tacks… Is it Worth It?
I say yes, at least for most.
Some members were unhappy, but virtually all of them had not read the reviews and had no clue what they were actually getting.
If you understand that FlexJobs is here to help match you with flexible jobs – not just work at home jobs (although you can find them here, too) – then you'll probably be much happier with your experience.
These are not all work from home jobs.
They are flexible jobs, hence the name, FlexJobs.
Some of them are work from home, some of them are flex time, and some them are a mix.
If you know what you are looking for, and you enter the information correctly into your search, you are going to save time and money.
How?
You are going to be given a comprehensive list of jobs leads that fit what you are looking, with the assurance that none of them are scams.
The staff at FlexJobs dedicates their time to scouring the internet each day for legitimate jobs leads, so you can simply enter your search criteria and start applying.
One last note. FlexJobs.com is NOT related to MyFlexJobs in any way. MyFlexJobs has been shown time and again to be a scam.
Do not confuse the two.
Bottom Line: Is FlexJobs Legit or a Scam?
Of course, Work at Home Adventures is an excellent FREE source for finding work-at-home jobs.
However, if you are serious about finding work that you can do from home, you need to use every legitimate resource you can find.
I truly believe FlexJobs.com is a great resource to have in your job search arsenal.
I always find something worth looking in to.
And, honestly, you might find your dream job in just one month, meaning that you've spent less than $15 to find it.
Sounds worth it to me.
Plus, you can always get your money back if the site just didn't live up to your expectations.
If you're interested in giving FlexJobs a try, you can sign up here.
Other Options for Flexible Work
FlexJobs might not be everyone's cup of tea.
Here are a few of my favorite job search sites that might suit you better than FlexJobs for finding remote, flexible, or at-home work:
Upwork used to be a completely free option for freelancers looking for gigs unless they chose to pay for a subscription, but there are now some low costs involved to apply for jobs.
Still, we're talking low here – usually less than $1 – to apply for a gig.
There are jobs in almost any industry here, so just about any freelancer can find work that meshes with their skills.
Just set up a profile, get it approved by the Upwork team, and you're ready to start looking.
Remote.com might be a better alternative for workers who are strictly looking for remote jobs rather than telecommuting jobs you'll mostly find on FlexJobs.
The site is super clean and easy to navigate and there are new listings posted daily.
Complete your profile and add your resume for recruiters to be able to find you!
This site is focused on helping women achieve their career goals by matching them with flexible opportunities that let them be both careerwoman and mom.
You can browse available jobs yourself or complete your profile to get automatically matched with jobs that fit your skills and interests.
Some of these jobs are remote or work from home jobs, while others will be traditional on-site jobs.
Be sure to check each listing to see what type of job it is before applying.
Tried out FlexJobs before? What has been your experience on the site? Please let us know in the comments!
Related Posts:
Earn Everything… nearly!
Join Ipsos iSay, one of the few Faithful and Honest survey panels and earn prizes, gift cards and donations. Stack your points and redeem them: Simple! No hidden fees and completely free!