Jingit Review 2023: Earn Cash from Shopping, Watching Videos, and More
Updated on: by Amy Kennedy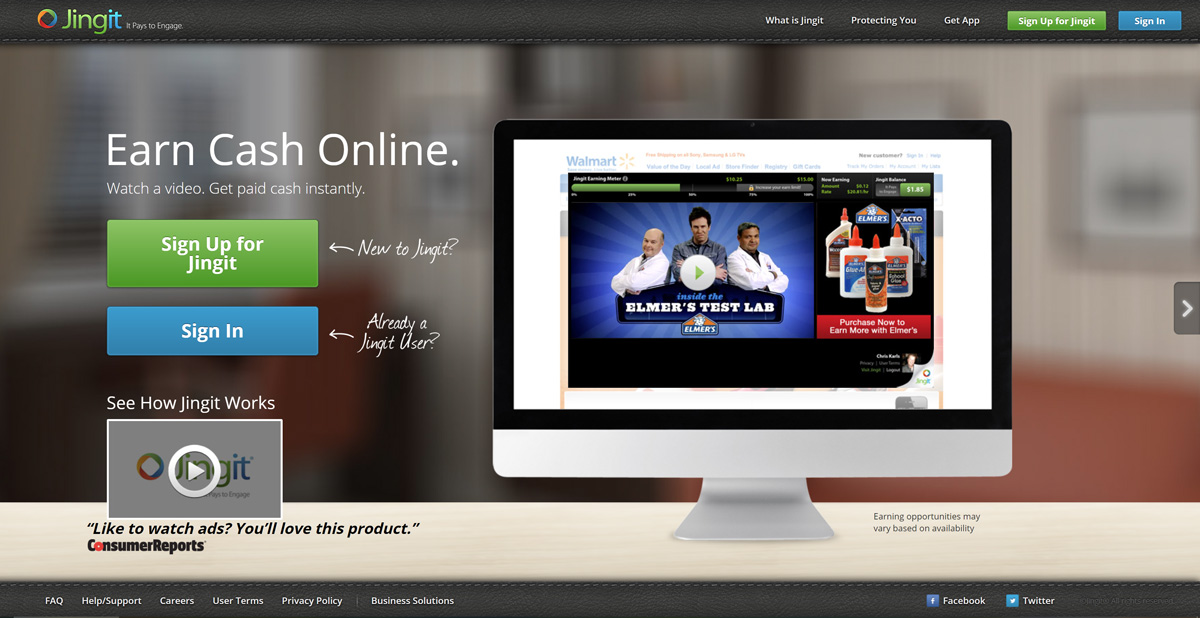 I'm one of those people who enjoys using fun apps to make a little extra money.
Need Easy Extra $350+/Month For Free?
I use my phone daily anyway and I'm usually spending a few minutes each day taking surveys, watching advertisements, and doing other stuff on my phone for some extra cash.
So, adding another app into my routine is something I do once in a while when I find one I enjoy using that actually works (many are scams, so it's just a matter of weeding out the fakes from the real moneymakers).
One app I've recently started using is called Jingit.
We reviewed it on this website several years back when it was still in its beginning stages, so it's understandably gone through a lot of changes since then.
It still offers many of the same types of tasks as it did in the beginning, but it seems to have become a much more solid way of earning a little extra cash each month.
Below, you'll find our previous review which I've updated to include all the most recent information I could find about earning money on the app, getting paid, and making the most of your time with Jingit.
What is Jingit?
Jingit is an app that pays you to watch commercials, answer surveys, and even check-in at certain stores.
The company is currently working with Wal-Mart, Kraft, and even Elmer's, and they are constantly looking to add new advertisers.
While it does not appear to be a way to make a living, it definitely seems has the potential to become a great way to make some extra spending money.
Jingit has been around for a few years now and still has plenty of people using it to earn some money online, which is a good sign if you're trying to figure out whether it's legit or not.
This Jingit review explains everything you need to know about the app and how to use it to make money.
Making Money at Jingit
There are several ways you can make money using Jingit, which is great if you don't necessarily like sticking to just one or two things.
Here are your options:
Shopping
Jingit offers cash rebates for your shopping trips, similar to what you'd see on Ibotta (although Ibotta, admittedly, hosts a lot more offers from my experience).
You can click on the rebates you want to use, shop for those products (make sure you shop for the exact product and pay attention to requirements, like purchasing two of that item, to get your reward) and then scan your receipt.
Need Easy Extra Cash?
Pinecone Research, a leading name in online survey panel honesty, absolutely guarantees $3 cash for every survey you complete!
Take advantage of their time limited New Membership drive and register NOW. Join today: 100% free!


Once you do this, Jingit will make sure that you met the requirements for the offer and then reimburse you into your Jingit account.
You should see your balance change in just a few hours.
Checking Into Stores
You can also just check into the stores that you frequent to earn money!
Jingit partners with several large retailers, so it makes money when you visit and make purchases with its partners.
All you need to do to get some of that money is use the Jingit app to check in when you arrive.
Super simple, and what a fun way to earn extra cash by doing something you're going to do anyway!
Watch Videos
Jingit partners with advertisers, which is the primary way it makes money.
Advertisers pay Jingit to show their ads to Jingit members.
The more members click on the ads and watch them, the more Jingit can make.
Although not everyone loves watching ads, you might not mind them as much if you know you can make some money off them, too.
Jingit passes along some of its earnings to you and other members every time you watch an ad.
The earnings here don't move up fast, but you can still typically earn a few cents for each ad you watch, which is better than earning nothing.
Take Surveys
Jingit offers paid surveys for members, too, where you'll get to provide your feedback on a variety of topics, from new products to political views.
Survey pay usually depends on how long a survey is expected to take, how many questions there are for you to answer, and the complexity of the topic.
You might need to also spend a few minutes qualifying for the survey before you're invited to take the full survey.
If so, you won't get paid for the qualifying part.
You'll only receive pay for completing the survey in its entirety.
Referring Friends
Finally, Jingit gives you paid bonuses for the people you refer to the app.
This is similar to most other apps, survey sites, and get-paid-to sites that offer similar ways to get paid by doing quick tasks.
Jingit will get paid more from advertisers as it gets more members, so this referral program not only helps the platform grow, but it can also help members grow their account balances.
All you need to do is invite your friends, family, and even social media followers to come join you on Jingit.
This referral program is quite a bit different than others though because it doesn't directly pay you.
Instead, you'll be able to grow your weekly earnings cap by $0.25 with each member you refer.
Jingit currently sets this cap at $10 (up from $5 when we originally reviewed it), so if you're able to refer 4 people, you'll get a cap of $11 per week instead.
It's not much, but it can still help you boost your earnings when you use Jingit regularly each week.
How Do I Get Paid?
Every time you complete an activity on Jingit, the app will pay you in real cash that goes straight to your account balance.
There is where it will stay until you cash it out.
You must apply for a Jingit Visa debit card to access your earnings.
To apply for the debit card, you must be 18 and you do have to provide your social security number and other basic information.
Earn Everything… nearly!
Join Opinion Outpost, one of the few faithful and honest survey panels and earn cash and gift cards for your opinion. Stack your points and redeem them: Simple! No hidden fees and completely free!


This is a prepaid Visa card, and I could not find where anyone had any trouble with this.
It seems to be fairly straight forward and come pretty quickly, like within a couple of weeks.
They are partnered with U.S. Bank for the debit cards and they need a social security number for a basic background check.
Note that is exactly what the website says, background check not credit check. That makes sense since this is a prepaid card.
You can transfer cash from your Jingit account to your card instantly after you earn your first two dollars.
You must earn $3 before you apply for the card to cover the enrollment fee.
There is reportedly a cap of 5 transfers per day and 30 per month.
You must have some activity within a 90-day period or there is an inactivity fee.
This is apparently easily avoided by transferring even as little as one cent every couple of months.
Since you don't have any minimum transfer amount needed to transfer money, this shouldn't be difficult to do.
You might even want to make it a habit to cash out anything in your balance on the first of every month, just to make sure you don't lose any money for inactivity.
How Much Can I Make?
To be honest, there is not a fortune to be made here. There is a cap of $10 weekly, which you can only raise when you refer people.
I'm not sure how much you can raise the weekly cap to, as I can't seem to find any information on whether there's a cap for referrals or not.
Still, even if the weekly cap could only go to $15, that's still up to $60 per month that you can make from Jingit alone.
Realistically, though, that's going to be tough to do.
It looks like viewing commercials pay anywhere from $.06 to $.50, and most check-ins seem to be paying around $.50.
Advertisements are all fairly short, only taking from a few seconds to a couple of minutes so it seems.
Shopping rebates tend to pay anywhere, on average, from $0.10 to $1.00, but can be $5 or more depending on the product.
If you keep an eye out and catch new opportunities when they are available, you could make some decent pocket change.
Still, you're not going to earn enough to compete with a regular job.
I suggest using Jingit in conjunction with other similar apps – I'll outline a few of my favorite alternatives below – to really maximize your earning potential each week.
If you also take online surveys and participate in get-paid-to (GPT) sites, then you could easily make a few hundred extra dollars every month.
Pros and Cons of Jingit
Like most money-making apps and websites, Jingit has both good and bad points.
I read through several reviews from real members to learn what they like and dislike most about Jingit.
Here are some of the more common pros and cons:
Pro: Pays in Cash Instead of Points
One of the biggest frustrations for me with reward sites and apps is that many of them pay in points.
It's usually difficult to know exactly how much you have available when you need to convert points to cash.
However, Jingit makes it simple by always giving you cash for your tasks.
The cash you make adds up in your account balance, which you can check at any time by looking at the homepage of the app.
It's a simple way to always know how much you've earned with Jingit!
Pro: Several Ways to Earn
No one likes being limited to just one way to earn money on an app.
Not only can it get boring quickly, but it can also limit how much you can make in your spare time.
I love that Jingit has a few options for earning.
If you're not having much luck or opportunities come your way with one method, you can try a different one to maximize your earnings.
Con: Weekly Earning Cap
A lot of members don't love that there's a cap to how much you can earn, even if you refer people to raise that cap.
It is a little strange to be limited by how much you can earn, but I assume that Jingit does this to prevent fraud by people who sign up and use bots or other scammy methods to make more money than members who do things the right way.
Remember, too, that it will probably be tough to reach your maximum limit each week, anyway, so I wouldn't be too concerned about the weekly cap.
Con: One Payment Method
Jingit does offer a different way to get paid that many other apps and sites don't with its prepaid card.
However, that's the only method available, unlike similar reward apps that offer gift cards, PayPal cash, and even checks.
You don't get a choice here, unfortunately, so if you're unable to sign up for the card, then you won't be able to get paid.
Is Jingit a Legit Way to Earn Money Online?
There do not seem to be any complaints about Jingit floating around, so from all appearances, it is legit.
If the company continues to grow like it has been, it's possible that it could be around for a while.
You do have to be 18 to apply for the debit card, but you can sign up for the app if you are 13 or older.
There is a place for parents to give permission for minors to get a card, so it can even be a fun way for teens to make some extra cash.
I haven't seen many complaints about people having issues getting paid or getting reimbursed for the activities they do with Jingit, so most signs point to this being a very legitimate cash-making app.
How Do I Get Started with Jingit?
Go to the Jingit homepage.
From there, you can click the Sign Up for Jingit button to fill out your information and get a link to download the app.
Alternatively, you can find the app in your app store, download it, and sign up for an account via the app.
You'll need to confirm your email address and then you're free to start earning!
Tips for Maximizing Your Earnings on Jingit
When it comes to maximizing your earnings on Jingit, there are several strategies you can employ. 
One key tip is to be active and check the app daily. 
By doing so, you can take advantage of the available earning opportunities and ensure you don't miss out on new ads, surveys, and shopping rebates that are regularly added.
Another important tip is to complete surveys promptly. 
Surveys on Jingit can fill up quickly, so it's crucial to jump on them as soon as they become available. 
This increases your chances of qualifying for surveys and earning rewards for your feedback.
In addition, it's beneficial to pay attention to the shopping rebates offered on Jingit. 
Make sure to carefully read the rebate details, such as the specific products required and any purchase quantity requirements. 
By following the instructions and submitting your receipts promptly, you can earn cash back on your eligible purchases.
Furthermore, referring friends and family to join Jingit can also help boost your earnings. 
While the referral program doesn't provide direct monetary rewards, it allows you to increase your weekly earnings cap. 
By inviting others to join and become active members, you can potentially raise your cap and earn more each week.
How to Opt-Out of Jingit
Firstly, you can contact Jingit's customer support team to inform them of your decision to opt out. 
You can find their contact information on the Jingit website or within the app. 
Reach out to them and clearly state your request to cancel your account.
If you have linked your Jingit account to your social media accounts, such as Facebook or Twitter, you may want to revoke Jingit's access. 
Go to the settings or privacy sections of your respective social media platforms and remove Jingit's authorization to access your accounts.
Additionally, if you have installed the Jingit app on your mobile device, you can uninstall it. 
Locate the app on your device, press and hold the app icon, and choose the option to uninstall or remove the app. 
This will remove the app from your device and prevent any further interaction with Jingit.
Remember to review any permissions or access you may have granted to Jingit on your device and revoke them if necessary. 
This will ensure that Jingit no longer has access to your personal information or device.
Lastly, if you have linked your Jingit account to any payment methods, such as a Jingit Visa debit card, ensure that you have transferred any remaining funds and close the associated accounts if desired
Jingit Alternatives
Although Jingit is a viable way to get some extra cash in a fun way, I also think it works out better for most people to have some other apps or sites lined up, too.
That way, when offers run dry at Jingit, you can switch to one of your other earning methods to keep making money in your spare time.
Here are a few of my favorite reward apps and sites:
Swagbucks is both an app and website that pays members for doing all sorts of things online, like shopping, taking surveys, watching videos, and completing offers.
Basically anything you can do on the website, you can do on the app too.
Swagbucks does pay in points, called SBs, but the conversion is really easy to figure out: Every 100 SBs equals $1.
You can cash out for as little as 300 SBs for some gift cards, like PayPal.
For paid shopping rebates, it doesn't get any better than Ibotta.
This app has tons of rebate offers for top retailers like Walmart, Dollar General, Rite Aid, and more.
You can browse the rebates, add the ones you want to your account, and go shopping.
After your purchase, just scan your receipt and Ibotta will search for the products you bought and their matching rebates.
You should then see the cash you earned in your Ibotta account on the app within 24 hours, although many of them go through instantly.
Once you have a minimum of $20, you can cash out directly to your PayPal account.
CashPirate is a little different than Jingit but it still offers paid opportunities for using your phone.
With CashPirate, the main way to earn money is by downloading and trying other apps.
However, you can also watch app trailers and other advertisements, take surveys, and complete other tasks to earn.
You get paid in Coins, which you can then turn in for gift certificates to popular places like Amazon, Steam, or PayPal cash.
Fronto is an app that puts a layer over your home screen.
The layer has advertisements that you can click on to earn cash.
Or, simply unlock your phone to ignore the advertisement and you'll still earn some money.
In other words, you'll make money just by unlocking and using your phone.
Fronto puts things you'd probably like, according to your interests, on your front screen so it won't feel like you're getting bombarded with useless articles and ads.
You can redeem your points for discounts, PayPal cash, or an Amazon gift card.
Have you tried Jingit or do you currently use it?
Feel free to drop a comment down below to let others know what your experience has been like with Jingit!
Related Posts:
Earn Everything… nearly!
Join Ipsos iSay, one of the few Faithful and Honest survey panels and earn prizes, gift cards and donations. Stack your points and redeem them: Simple! No hidden fees and completely free!