92 Best Jobs That Hire15 –Year-Olds
Updated on: by Amy Kennedy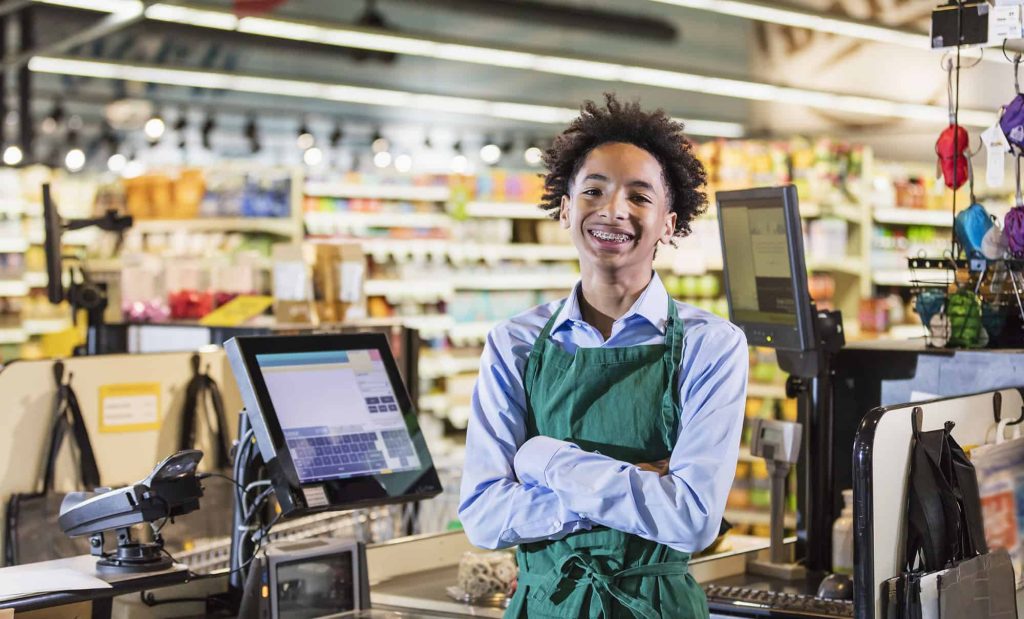 Need Easy Extra $350+/Month For Free?
Some children are desperate to earn cash to support themselves, their families, or even friends. The feeling of not getting what you really want, such as school trip fees, project capital, and sporting gear, just because you do not have money can be quite upsetting. This could prompt you to look for a job. 
However, as a minor, especially below 16, getting employment sounds like an impossible thing to do. This is due to the strict laws on child labor and how, at times, it may be regarded as child abuse or neglect. Luckily, nowadays, the Fair Labor Standards Act (FLSA) specifies the wages, working hours, and safety standards for minors. 
If you are 15 and desperate to land a better-paying job, here are the best jobs you can seek, register for, and work. Besides, the legal employment age is 14 per the US constitution. 
Jobs You Can Take as a 15-year-old
There are jobs where you can work full-or part-time, generate your own income, and help reduce the burden of relying on your parents for simple things. In this article, you will find simple to complex jobs that you can work and earn cash in minutes to hours. It will include firms that offer employment, payment for hobbies, side hustles, services, and online jobs. 
Here they are: 
Working at Eateries 
Although many eatery businesses sometimes employ younger workers, the minimum age regulations for each position might differ from state to state. You can confirm your state's rules on employment for these businesses. Furthermore, many of these organizations have a history of hiring minors as young as 15 for generations. 
Here are places you can apply for employment in the restaurant sector: 
1. McDonald's
Working at McDonald's is still a popular choice for teens, as it was in the past. One of the best ways to generate money while in high school is by working at a massive fast food establishment. With more than 13,000 sites around the country, there is probably a McDonald's restaurant (or many) near you. 
If you're fifteen years old, you may be able to obtain employment at a nearby restaurant in jurisdictions where it is legal. They offer numerous positions in cleaning, cooking, serving clients, and drive-through labor. 
2. Burger King
You can also visit your nearby Burger King restaurant and apply when they are hiring. Furthermore, Burger King has more than 7,000 restaurants throughout the country. In certain places, the organization may recruit people as young as 14, depending on local laws, even though it typically hires people who are 16 or older. 
As such is the case, if you're searching for businesses that employ 15-year-olds, it's worth checking with Burger King outlets in your area. If they hire 15-year-olds, the restaurant can confirm that. 
3. Tostitos Bell
In the US, there are more than 6,000 Tostitos Bell locations. Therefore, it is probable that you are close to a restaurant. Many places may recruit applicants as young as 15. 
Again, note that the minimum age varies by state, so ask when you can visit your local Taco Bell for more information regarding the employment details. 
4. Dairy Queen
You may find a job at Dairy Queen close to where you live as the company has more than 4,000 outlets nationwide. You can simply use Google and search for "Dairy Queen Shop Outlet near me," and on their website, you can see whether they are hiring. 
If you're 15, you could be able to work at one of the company's locations since they recruit individuals as young as 14 to work in the cash register, cleaning, food preparation, and customer service. 
Need Easy Extra Cash?
Pinecone Research, a leading name in online survey panel honesty, absolutely guarantees $3 cash for every survey you complete!
Take advantage of their time limited New Membership drive and register NOW. Join today: 100% free!


5. Starbucks
Starbucks has more than 8,000 company-operated locations and 6,000 licensed locations in the US. Because Starbucks seems to be everywhere, it's a fantastic spot for you to hunt for jobs. These places hire from 14, but it all differs with states. 
For instance, in Montana, an interested 14-year-old can work at Starbucks, despite the national average hiring age of 16. You can work in different areas such as the kitchen, waiter (waitress), barrister, drive-thru, and cleaning. 
6. Arby's
You may be able to locate nearby employment at Arby's, considering that the company has more than 3,000 locations around the country. Working here is simple, and you can be in charge of taking orders, serving clients, cleaning, and cooking. 
7. KFC
Although there are rules that limit minors under 16 to certain duties, they can work in areas such as using cooking appliances and specific kitchen areas. You may be able to get employment at one of the more than 3,900 KFC outlets located around the country. 
You could work in various positions, such as cleaning and customer service. 
8. Zaxby's 
Although the minimum age for working at Zaxby's is 16, the law does not limit the age to 16, and you can visit your local Zaxby's restaurant to see if you can land a job there. There are 913 sites around the country, 242 of which, or 26% of all Zaxby's locations, are in Georgia. 
9. Baskin-Robbins 
Is there a Baskin-Robbins store near you? You could be able to work at one of the more than 2,000 Baskin-Robbins stores in the United States. The firm takes on employees as young as 14. You can be in charge of servicing clients, taking orders, cleaning, or replenishing shelves. 
10. Ben & Jerry's 
Ben & Jerry's has more than 500 stores around the country, so you may be able to get employment there. Since the firm recruits 14-year-olds, 15-year-olds may also work there. The labor here involves customer service, stocking up, and cleaning. 
11. Boston Market 
Boston Market has more than 300 outlets in the US, and the organization hires young employees as early as 15. You can visit the nearest Boston Market outlet near you to check whether they are hiring. 
Young employees work in cleaning, food preparation, order taking, and customer service. 
12. TacoTime 
TacoTime deals with fast-food Mexican cuisine and typically hires people at least 16 years old. However, specific states may make an exemption. Thus, in particular locations, 15 is the minimum hiring age. Just ask the neighboring eatery if there are any openings. In the US, the network has more than 200 sites. 
13. Chick-fil-A 
There are over 2,500 Chick-fil-A restaurants around the nation, and they hire employees as young as 15. You can visit your local Chick-fil-A restaurants to check whether they are hiring. 
The restaurant provides a range of positions, including dishwashing, serving clients, and meal preparation. 
14. Subway Restaurants
With over 22,000 of them in the US, you can locate the nearest Subway Restaurant near you and request a job. These restaurants are well known for financing minors under 16 years who work as waiters and waitresses, in the kitchen, and as cleaners. And since they are one of the busiest restaurants in the US, employment at times is easy to find. 
15. Culver's 
Are you from the Midwest region of the US? You can find the nearest Culver's restaurant from the over 600 Culver's restaurants. Moreover, these restaurants hire 15-year-olds as part-time and full-time employees. Payment varies with your tasks, but they all revolve around serving guests and making meals. 
16. Rita's Italian Ice 
You might be eligible for employment there if you're 15 because the company hires people as young as 14 in one of the over 500 Rita's Italian Ice shops spread all over the country. Jobs include openings for servers and cashiers. 
17. Pizza Hut 
Considering that there are roughly 6,600 locations throughout the country, you could likely find work in a Pizza Hut restaurant nearby. These restaurants are part of a well-known chain specializing in Italian-American food, including pizza and pasta. 
Luckily, the organization has had a history of hiring employees from 15, and visiting one of their locations may give you a place to work. There are several positions available, such as serving clients and deliveries. 
18. California Pizza Kitchen
You can also visit your local California Pizza Kitchen near you. With more than 250 sites in 32 states and ten foreign countries, there could be a restaurant close by where you can find employment. If local regulations allow it, certain California Pizza Kitchen stores will recruit people as young as 15. 
19. Bruster's Real Ice Cream 
You can apply for a job at one of the over 160 locations of the ice cream shop chain Bruster's Real Ice Cream across the nation. Since the retailer is renowned for creating fresh ice cream in its shops, this can include serving ice cream or perhaps making it. 
Working in the Markets 
These are among the biggest employers of youths below 15 since they offer part-time employment during schooling and a full-time job on the holidays. These include supermarkets, grocery shops, and fish markets. However, not all of these markets encourage under-16 jobs as the age regulations differ from state to state. 
Here are the best market-based businesses that may hire a 15-year-old: 
20. Giant Eagle 
Giant Eagle has more than 200 sites around the country and offers employment opportunities for teens under 16 years old. Here you work as a deli employee, a shopping cart attendant, a pastry employee, or a shelf stacker. Nonetheless, you can find the age restrictions for teen employees and any opportunities at your neighborhood shop. 
21. Harvey's 
Although there are not many Harvey's supermarket locations across the US, if you live near one, it can provide an ideal place for you to work. For instance, if you live in Georgia, you can seek employment in one of the 29 Harvey's supermarkets. 
If you can land a job there, you may be able to work there as a bagger, cashier, or grocery assistant. However, the age limit of the establishments is 16, but they can make agreements with their parents' consent to work here. 
22. Winn-Dixie
There are around 500 Winn-Dixie outlets nationwide, and most shops provide openings for 15-year-olds. You can visit your local Winn-Dixie outlet to learn whether or not it is hiring. Work involves arranging shelves, stocking and restocking, and taking inventory. 
23. Stop & Shop
You may find employment at your local Stop & Shop throughout the US, with over 400 locations. Visit the nearest outlet and see if they have a vacancy. The work involves the store manager's assistant, bakers, and florists. 
24. Giant Food 
Although Giant Food has many of its outlets in the Eastern states of the US, they are famous for offering job vacancies to minors under 16. For a 15-year-old, you can work as a deli clerk, floral associate, cake decorator, cashier, bagger, and shelf-stacker, among the many jobs available here. 
25. Publix
Publix is a nationwide grocery chain with more than 1,200 stores. More than 800 of its outlets are in Florida, where the corporation is headquartered. You can apply for a job if you live near one of their outlets to work as a store clerk, bagger, cashier, or service desk clerk. 
Earn Everything… nearly!
Join Opinion Outpost, one of the few faithful and honest survey panels and earn cash and gift cards for your opinion. Stack your points and redeem them: Simple! No hidden fees and completely free!


26. Wegmans
Wegmans is a regional grocery business, and it has 104 locations nationwide. Furthermore, it has locations in Massachusetts, North Carolina, Virginia, Pennsylvania, New Jersey, and New York. If you live in one of these states, you can seek employment in one of the Wegmans shops. 
With 52,000 workers, it is among the biggest private firms in the nation. Additionally, it was ranked among the "Top 100 Companies to Work For" by Fortune. 
27. Kroger 
Kroger is one of the country's biggest and most famous grocery stores, with more than 2,700 locations. In areas where state laws allow it, the business does recruit teenagers as young as 15. Simply contact your local Kroger outlet to see if they are hiring. 
The jobs you are likely to do as a worker here include stocking and bagging. 
28. King Soopers 
King Soopers is another supermarket that employs 15-year-olds. This business differs from the others because it has almost all its locations in Colorado. Furthermore, of the 117 King Soopers locations around the US, 116 are in Colorado. 
In reality, King Soopers is a Kroger grocery brand with a considerable presence on the eastern slope of the Rocky Mountains. Thus, you can consider working at King Soopers if you reside in Colorado. Your neighborhood shop may employ you as the shop cashier. 
29. Safeway 
Safeway has more than 800 Safeway outlets across the US. Although the firm's default age as an employee is 16, most of the time, especially during the holidays, they stretch their employment age to 15. 
You can visit your local Safeway outlet and request to apply for a job, and you might be lucky to get a job. You can work in several positions at these shops, including cashier, shelf-stacker, and food bagger. 
30. Hy-Vee
Hy-Vee is one of the top 25 grocery chains operating in more than 260 supermarkets in eight states in the Midwest. If you are a teen and live in the Midwest US, you can locate your nearest Hy-Vee outlet and seek employment. 
Although the age limit is 16, exceptions may be made, and for an independent run, Hy-Vee stores employ from 14 as they determine their own employment policies.   
Jobs in the Entertainment Sector 
Fun fact: your local town has an entertainment store, shop, or theater. These places provide an ideal employment place for most teens under 16. You can visit your local store or theater to seek employment if you want to earn some cash. 
The following are the different places that can hire you as a 15-year-old teen: 
31. Six Flags
Although not all spots offered by Six Flags, the biggest regional theme park operator in the whole globe, are open for minors under 15, there are other areas you can work in on the 26 parks spread throughout the United States, Mexico, and Canada. 
You may work as a gaming attendant, a server, or in various other positions. The employment available differs from place to place and season to season. 
32. AMC Theaters
AMC Theaters has more than 380 locations across the US, and it's an ideal place for employment for teens, especially 15 and above. Several jobs are available at the theater, including ticket sales, ushering, working at the snack bar, cleaning, and ticket collection. 
You need to apply for a vacancy at your nearest AMC Theater to get employed. 
33. Hershey's Chocolate World
Although Hersheypark and Hershey's Chocolate World are both parts of the Hershey Trust Company, each functions independently. Hershey Entertainment and Resorts Company (HE&R) owns Hersheypark, and The Hersey Company owns Hershey's Chocolate World. 
You can seek employment in any of their stores and note that the jobs you may do vary with age so as the pay. 
Moreover, as an employee, you can receive numerous advantages, including free entrance to the majority of attractions, reduced pricing for friends and family, a sweet treat on your birthday, a 50% discount on meals, discounted candies, free beverages, and one complimentary meal every shift for food service staff. 
34. Hershey Park
Employment at Hershey Park begins at 15. Here you may do various jobs such as ticket collections, serving the clients, cleaning, and offering directions and reservations in the different companies within the park, such as in retail, food and beverage, and lifeguarding. 
Again, the organization offers additional benefits such as free Hersheypark entry, complimentary tickets for family and friends, and savings at Hersheypark. 
In House Jobs
You can work several jobs in people's homes and get paid. These works vary and require various attributes and personalities. Nonetheless, most of them revolve around trust, honesty, and quality. 
The following are the various house-based jobs for a 15-year-old: 
35. Babysitting
Babysitting, especially at 15 years old, is one of the most paying jobs in the US. The tasks involve taking care of your parents' friends, coworkers, or any family's children. It pays around $8 to $17 per hour. 
You can also sign up with your local babysitting agency, such as Bambino Sitters, or even create your own agency offering babysitting agencies. 
36. Housesitting
Some families sometimes leave their homes for days and need someone to maintain their grass, dust their floors, and water their gardens and flower beds. You can seek such individuals and even create a website or agency where people can book your services. 
37. Window Cleaning
You can offer window cleaning services to the community members in your region since people constantly need someone to clean their windows. You may even advertise your services to neighboring residents and perhaps expand to washing windows for nearby communities. You can receive up to $15 an hour for Window washing. 
38. Pet sitting 
If you have experience taking care of pets, you can start looking for jobs involving pet care services. You can get families leaving their homes, and they may need someone to take care of their pets while away, such as feeding, brushing, washing, and cleaning their houses. 
This requires trust and hardwork, and if you can demonstrate this, you can start earning. You may even put up signs advertising your services in your area, or you can let your parents know that you're seeking a pet-sitting job so they can notify their neighbors, colleagues, and other family members. 
39. Dog Walking 
To ensure better health for their dogs, many people across the US need someone to walk them if they work away from home. You can start an agency and have different people know you can walk dogs. A dog walker may earn $14 per hour. 
40. Pool maintenance
You may consider providing pool cleaning services if you reside in a warm region where many people own swimming pools. Of course, you can choose your own pay rates within reason, and it's a great way to spend more time outside during the summer. 
41. Laundry Service 
Many US people are too busy to do their own laundry. Why not offer nearby residents a laundry service if such is the case? You might promote your services in local Facebook groups and in the newspaper. Additionally, you might request the assistance of your relatives and friends in spreading the news about your washing business. 
42. Shoveling Snow
For those who live in snowy regions, you can start offering snow shoveling business and get paid. 
43. Car cleaning 
In many communities across the US, car cleaning is a ready job, and those who know how to clean a car can get a ready market for their services. If you can clean cars, you can advertise your services to offer the locals with car-washing services. 
44. Dog washing
You can also start dog washing services in your area. All you need is clients. 
45. Errand-running service
Again, due to job and family obligations, folks may not have the time to conduct errands. This is where you may enter and earn from. You may be paid to do errands for others, such as picking up their dry cleaning or making a run to the supermarket. 
Make sure your neighbors are aware that you are providing an errand-running service. You might request that your parents inform their friends and the rest of the family about your willingness to help with errands. 
46. Landscape and yard work
Although the federal prohibits under 15s from using yard work equipment such as lawn mowers, grass trimmers, or weed eaters, you can work on the more general yard and landscaping labor as a year old. This includes caring for fences, removing weeds, power washing pavement, and watering plants. 
Online 15 year Olds Jobs
The internet has become the biggest market and employer worldwide, leaving alone the US only. In addition, over 95 US children have access to and know how to use the internet. This is according to the American Community Survey (ACS), 2019 research. With that, you can be guaranteed that there is more to work than just babysitting, mowing the lawn, and bagging for work if you are a 15-year-old. 
Here are the quickest and most lucrative options for teenagers to earn money online right now: 
47. Music Reviews
Do you like internet music reviews and listening to music? Now, do you think you can earn money just by listening to music and reviewing them online? 
Some sites like SliceThePie compensate users for reviews of music, advertisements, apparel, and other items. Brands, record labels, and artists use your feedback to refine their items before they go on sale. 
These organizations pay depending on your review level and the site's star rating. Again, they send your payments through your PayPal account, and you can withdraw as low as $10. 
48. Watch Ads for Cash 
There are online companies that hire 15 years to watch ads. If you think your parent can allow you to sit through hours of commercials and will enable you to earn money, some websites, such as MyPoints, pay users for watching adverts. 
49. Work as an online assistant
Among the many jobs a virtual assistant may carry out are organizing meetings, creating publications, preparing presentations, and uploading information to social media. Again, these are things that you can do duties for a small company owner or corporate executive without leaving your house. 
You can visit Indeed.com, which offers the best job search engine. However, note that virtual assistant jobs differ with age; some are restricted to adults only, but some sites don't need users to be a certain age to join. If you have computer knowledge and are fifteen, you can apply to see which organizations offer these jobs. 
Online Marketing 
You can sell things online if you have anything that you think can generate a few dollars. However, you should know that parents must approve these items for sale as a precaution. If you're serious about generating money this way, you may even want to start purchasing goods to resell for a profit. 
You can get cash from the following websites: 
50. Fiverr
If you know graphic design or video editing, you can visit Fiverr and request employment, and you can sell your design and edit videos. The organization also contracts with independent contractors and offers platforms for you to work in more than 200 main categories. 
51. Craigslist
You can sell anything for free using Craigslist. The website allows you to sell items you wish and the broad online market to see your items. 
52. Facebook Marketplace
Like Craigslist, Facebook Marketplace is free, and you can create an account and sell your items for free. 
53. Etsy
You can sell almost anything on Etsy, including handmade crafts or old stuff. Furthermore, if you have artistic talent, you may be able to sell your work there. The majority of the products on the website are handmade, restored, or vintage. 
54. BookScouter
This website deals with book and magazine selling; thus, if you have a book you need to sell, you can create an account and follow their guidelines. 
55. CardCash
If you have gift cards you don't want or can't use, you can sell them using cardcash.com. 
56. Amazon's Marketplace
Amazon's Marketplace allows you to sell even bigger items such as electronics, appliances, secondhand goods, and used records. 
57. eBay
Unlike most online marketing platforms, eBay allows for auction sales, and when you find the highest bidder for your item, you can sell it and make money. 
Online Surveys
There are so many websites that offer online surveys but without the parent's consent, and they pay for different online activities. They include the following: 
58. Pinecone Research
Pinecone Research accepts participants under 18 as long as a parent, or legal guardian gives permission. You may be paid to do surveys on this website. And after only one survey, the website will pay you. $3 is the pay for a survey. You may be paid through a check, PayPal, or Visa gift card, among other methods. 
59. Swagbucks
You can also join Swagbucks. The website rewards you with points for activities like online shopping, gaming, viewing movies, and completing questionnaires. You receive your payment through PayPal and gift cards. And you just need a dollar to withdraw your money. 
60. InstaGC
If you have parental permission, you may join InstaGC as early as 13. You may earn money with InstaGC by viewing videos and conducting surveys. Your profits may be withdrawn for as low as $1. You may also get a gift card or payment through PayPal. There are more than 300 gift card choices to select from. 
61. SurveySavvy 
Accounts on SurveySavvy are open to minors above the age of 13. Sign up, fill out your profile, and SurveySavvy will ask you to participate in a survey via email when your profile meets the requirements for that survey. 
SurveySavvy pays through checks; thus, you must wait 4 to 12 weeks to get your money. You may withdraw your profits even with only $1 in your account. 
62. MyPoints
Use of the survey website MyPoints is open to anybody over 13. It is also a website that offers cashback rewards for online purchases. You may be paid by PayPal and redeem gift cards for as low as $5. The greatest thing is that enrolling will get you a $10 Visa or Amazon gift card. 
63. Features
This website offers rewards in exchange for your online purchases, survey participation, and the use of free applications. You can receive payment by PayPal or a gift card to various stores, including Amazon, Walmart, GameStop, Xbox, and Target. Anyone may register for FeaturePoints. 
Online Hobby-Based Employment 
Did you know you can earn money by doing what you love most? Here are some of the hobbies you can get paid for: 
64. Play online video games
Do you love online video games and think you are good at them? Hundreds of gaming companies, such as Mistplay, hire people to play their games on android and PC. 
All you need to do is create an account, find new games to play, and collect "units," which are points. Once you have accumulated enough units, you may withdraw money using gift cards like Google Play or Visa. 
65. Online Articles Writing
Many websites provide young individuals, particularly students in high school, with a ton of freelance writing opportunities. For instance, the fantastic website Hubpages.com welcomes 15-year-olds (with parental consent) to get experience in actual freelance writing via this. 
You can write anything you're strong at, including writing, translating, animation, video, programming, graphic design, and voiceover. You can visit Fiverr.com to apply for jobs to work for around $5. Again, these websites are free to join. 
66. Design and Market Your Products Online
There are so many websites where you can create your designs and sell them for a reasonable amount. If you are interested in graphics designs, for instance, you can visit cafepress.com, an online website that offers the best gift store in the world, and you can sell your design there. 
If your parents approve your application to join the market, you can make between 5 and 10% of the selling price for each item you sell, depending on the markup you apply to your products. Furthermore, you can get expertise as a graphic designer, and you can design almost anything, including: 
Clothes, such as t-shirts and pants

 

Furniture

 

Stationery

 

Drinkware

 

Signs and stickers
67. Arts
Painting, drawing, and design can pay. Some people love new pictures for office, home, and shop décor and may be willing to pay for your items. You can establish or visit an online website such as Etsy, where you can post these items for sale. 
68. Market your crafts
Consider selling your goods at regional craft fairs or other gatherings like flea markets if you are a talented craftsperson. Or just sell them to locals. You might promote your products online. Craft events are often conducted on the weekends, so it's a fantastic side business to accommodate around studies. 
69. Comics
Many comics industry employees are teens to read their comics and get their reviews before publishing them. So if you love comics, you can search for comic companies or individuals that are willing to pay you to review their comics. 
Self-Online Employment
You can also become your own employer through the various online platforms available. Here you get to do what you really want and deliver content your audience loves most. These include; 
70. Blogging
Although this is not for immediate cash, it may lay the groundwork for a future passive income stream. You might share your knowledge by discovering how to launch your own blog if you are passionate about a subject and have learned much about it. You might earn money through adverts, affiliate connections, or even by creating your own online courses if Google helps drive visitors to your site. 
Websites such as Bluehost.com lays the perfect foundation for children like you to share your views and voices. 
71. YouTube channel 
Nowadays, YouTube is among the most paying organizations for almost all generations. You can create a fun and paying channel if you can access YouTube. Your enthusiasm and enthusiasm for your topic may attract visitors to your YouTube channel, whether personal, finance, music, fashion, literature, furniture, or video games. 
In addition, you also increase your chances of generating additional income through affiliate marketing, and Google AdSense advertisements will increase as your audience expands. Social media is incredibly effective and has given young people many online employment and income opportunities. 
72. Online Tutoring
You might provide locals in your area with tutoring services. This is perfect work as you increase your knowledge when also helping others. You can promote your business in your local school and community. You can tutor students from the same grade as you or below for money. 
73. Retail arbitrage 
Retail arbitrage involves the buying and reselling of items for a profit. You may find things cheaper at charity events, discount shops, Toby Maxx, Marshall's, Ross Craigslist, and OfferUp. 
15 Local Places You can get employment 
There are local places where you can get employment from. They include: 
74. Mini-Markets and supermarkets 
75. Grocery and food stores 
76. Local café 
77. Arcades 
78. Waterparks 
79. Museum 
80. Boutiques and clothing store 
81. Libraries 
82. Zoos 
83. District parks 
84. Public pools 
85. Skate parks 
86. Music and recording stores 
87. Bowling lanes 
88. Community building 
Professional Jobs
Some professional jobs hire minors under 18. These are professional-based and well-paying jobs. They include the following: 
89. Filming Category
Television movies and reality shows are the most paying professionals for minors under 16. You can audition with various filming companies such as ABC, Amazon, Netflix, and Werner Bros. Co. These works are contractual and differ from the filming company. 
90. Music Industries
Can you play musical instruments or sing? That is a talent that you can turn into professionalism. You can locate music recruiters and agencies, and you can get hired. You can also start your local music band and book gigs with your local church, clubs, parks, and homes. 
91. Choreography
Are you a dancer, and you want to turn that into cash? Many agencies in the US recruit new choreographers to teach and perform for money. Thus, be on the look for such an opportunity. 
92. Circus Theater
If you believe you can do some magic tricks, you are flexible, and you can mimic animals in various ways, the circus industries still exist, and you can turn the talent into a professional. You can contact online agencies with your parents' approval and join one of their theaters. 
Conclusion
There is a large pool of jobs to choose from as a 15-year-old. However, these jobs pay differently, and of course, it depends on the employer. Just because your friend is earning more than you do doesn't mean you are being oppressed.  
If lucky to land a job, give it your best shot. In cases where the work is trust-based, ensure that you do not break it between you and the employer. Instead, extend it to an extent the employer is confident to recommend you to others.  
Related Posts:
Earn Everything… nearly!
Join Ipsos iSay, one of the few Faithful and Honest survey panels and earn prizes, gift cards and donations. Stack your points and redeem them: Simple! No hidden fees and completely free!