Top 18 Sites That Let You Listen to Music for FREE (Plus, Two That Pay!)
Updated on: by Amy Kennedy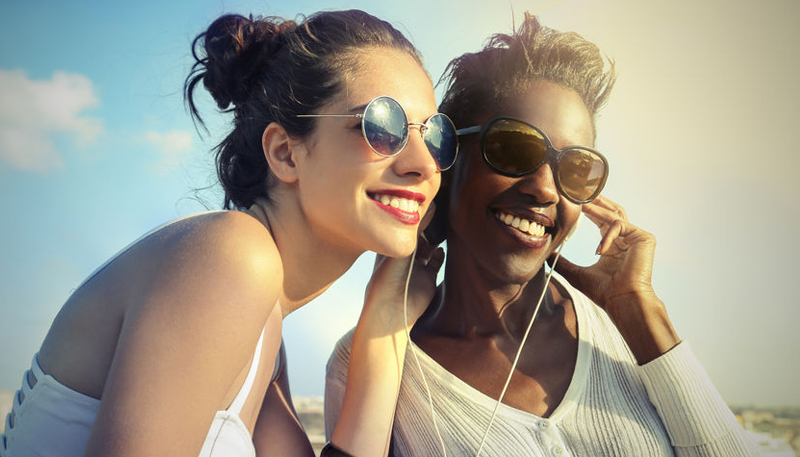 Who doesn't love free music?
Need Easy Extra $350+/Month For Free?
Of course, you could always pay to download every song you want to listen to, or pay a subscription fee for online radio.
But, why would you when you can get your favorite music for free with no downloading or sign-ups?
I'm going to show you how to do just that in this post!
I'm a budgeter, so I rarely go along with anything that costs money before checking out my other options.
That's what brought me to writing this post.
I know plenty of people who are paying for music when they don't have to.
You can easily save $10 or more every month by switching to one of the sites I'm going to tell you about below.
Free Music Websites, No Download Required!
This list includes only websites that will let you listen to music for free online.
That's completely free, no subscriptions or download costs involved.
And, you don't even have to sign up to use them.
Sounds good, right?
Here's the list:
8Tracks is a cross between internet radio and social media.
Here, people can create playlists to share with others based on their favorite music.
You can listen to free playlists – there are thousands of them – without having to sign up for a subscription.
Need Easy Extra Cash?
Pinecone Research, a leading name in online survey panel honesty, absolutely guarantees $3 cash for every survey you complete!
Take advantage of their time limited New Membership drive and register NOW. Join today: 100% free!


There is an ad-free option, too, that's about $5 per month, which also gives you access to every playlist on the site.
But, if you don't mind some ads between songs (just like regular radio), then the free option will probably work for you.
8Tracks is also available for iOS and Android devices.
If you're an Amazon Prime member already, you can have access to tons of free music through Amazon Prime Music.
I noticed that most Prime members don't even realize they have access to this awesome feature!
Amazon Prime comes with so many benefits that it can be difficult to keep track of them all.
I definitely wouldn't recommend signing up for Prime just to get access to free music.
But, if you already are a member, this is an additional feature with no additional cost.
Amazon does also offer a paid membership to Amazon Unlimited Music, which gives you access to more songs to download and listen to offline.
I figured I'd mention that because it's one of the cheapest monthly subscriptions for music around!
Still, you can find plenty of the songs and artists you love through your Prime account without paying anything extra.
You can listen via the web player, your mobile device, or even through your Amazon Echo, Echo Dot, or Tap.
Deezer offers over 43 million tracks for you to enjoy – completely for free!
Like other free services, Deezer makes money from advertising between songs.
You can make your own playlists, browse other users' playlists, and discover new music online or on your mobile device with the Deezer app.
There are also some subscription plans available if you ever decide to switch, which will give you access to your music even when you're offline.
I've personally used iHeartRADIO for years and always discover new music with it.
One of the coolest things about it is that you can tell iHeartRADIO what type of music you love and it will automatically discover music that fits your taste.
You can even create stations related to your music preferences or browse stations from other users.
iHeartRADIO isn't only about music, either.
You can listen to news, podcasts, and more.
Unlike some other music listening apps that limit how many times you can skip songs, you have unlimited skips here.
Keep skipping until you find the songs you want to listen to.
You can also 'heart' songs to help iHeartRADIO better match you with songs and artists you'll love.
Find the app for our iOS or Android device for music on the go!
Listen to Jango music online for free!
This is a super simple web-based app that lets you listen to all your favorite songs and artists online.
Plug in a song or artist you want to listen to, and Jango will pull it up.
There are also plenty of genre stations to choose from, like top 100 lists or music fit for the workplace.
Earn Everything… nearly!
Join Opinion Outpost, one of the few faithful and honest survey panels and earn cash and gift cards for your opinion. Stack your points and redeem them: Simple! No hidden fees and completely free!


You don't have to sign up for anything to start listening, but you can create an account and decrease the number of ads that play to only one per day!
Jango also has an Android and iOS app available.
Last.fm is an excellent place to go if you want some free tunes.
This site gathers music from other streaming music platforms, like Google Play Music and Deezer, to bring you a bunch of music in one spot.
Last.fm also has a lot of ways to discover new music, like checking out the trending artists from around the world or listening to songs that other users are currently listening to.
There's also an app available for your iOS and Android devices.
MixCloud's motto is, "Re-Think Radio."
That's because it focuses on bringing you the largest collection of radio shows and DJ mixes around, unlike other radio networks that focus a lot on mainstream radio.
You can even upload your own music here for a chance to get discovered!
You'll have a good chance of discovering new artists here and staying ahead of your friends in the trending music department.
MixCloud also has an app available for mobile devices that can sync up with the music you play on the web player.
Yes, MySpace is still around – kind of!
It's definitely not the social media network it used to be, but it's still going strong in its musical abilities.
You don't have to sign up to check out great music on MySpace.
This platform is one of the best for discovering new artists and songs that haven't become hugely popular yet, as a lot of undiscovered artists get their start here.
But, there's also plenty of tunes you already know from your favorite artists and genres.
You can even connect with the artists you love! But, you'll need to sign up for an account to do so.
Pandora is, by far, one of the most popular ways to listen to internet radio.
I use it, too, because it's so simple to find what you want to listen to, and to discover some new songs and artists.
Although a paid version of Pandora gets you higher quality audio, unlimited skips, and zero ads for about $5 a month, you can still opt for the free version.
Pandora has tons of stations to choose from in various genres, from Christmas music to nature sounds and everything in between.
I like picking some new stations every week to expand my music tastes!
You can save your favorites to play later if you complete a quick sign-up, but it's not mandatory to start listening.
You can listen to Pandora stations on your computer, iOS, or Android device.
Slacker Radio is one free music spot that I hadn't heard of until I started researching for this post.
It's similar to others in that you can choose from various stations to listen to.
I like how it's laid out on the front page, with easy access to dozens of popular stations.
The free version gives you access to all the already-made stations and the ability to create your own custom station.
There are some paid versions available that range from $3.99 to $9.99 per month for an ad-free listening experience, unlimited skips, and more.
You can also get Slacker Radio on your mobile device!
SoundCloud is a popular mobile app for both iOS and Android devices, but you can listen on the web too.
This is a good place to go if you want to listen to undiscovered music, as artists can upload their own tracks to the SoundCloud system.
Use the Discover feature to find all the newest stuff!
You can also 'like' songs and artists so the system will fine-tune the music it plays to your tastes.
SoundCloud also lets you connect with others – including artists – making it somewhat of a social network for music lovers.
Spotify is a super popular way to stream music online.
You can do so through the web or mobile apps.
Spotify features ways for you to play only what you want by searching, or you can always discover new stuff by browsing top charts, new music, and more.
You can even listen to your favorite podcasts and watch videos for free!
The main differences between the free and paid versions are that you won't get unlimited skips or an ad-free listening experience with the free version.
If that doesn't bother you, then Spotify is a great option!
TuneIn has over 120,000 radio stations to choose from, including news and sports stations in addition to music.
The free version also gives you access to millions of podcasts!
TuneIn is available on the web, and also for Microsoft, iOS, and Android devices.
Vevo is technically a website that lets you watch music videos from your favorite artists for free.
But, you can obviously enjoy the music too!
If you're in the mood for some visual listening, then Vevo is a good place for you.
You can watch music videos on the web or with the Vevo mobile app.
Of course, there's always YouTube!
Much like Vevo, this is a place where you'll find music videos rather than just streaming radio and songs.
But, even if you don't want to watch a video, you can just leave YouTube on in the background and listen to your favorite artists!
YouTube also has mobile versions for iOS and Android devices, and you can find it on most smart devices and TVs.
Bandcamp is a music platform that allows artists to share and sell their music and merchandise directly to their fans.
For listeners, it's a goldmine of both popular and emerging artists covering almost every conceivable genre.
You can listen to tracks on Bandcamp for free online, and many artists offer their tracks as 'name your price', which includes the option of free.
It's a fantastic way to discover new music, support independent artists and you can also buy directly if you wish to.
Bandcamp also has an app available for both iOS and Android devices.
Jamendo is a community of independent artists and music lovers.
The site boasts over half a million tracks from around the world, all available for you to listen to for free.
You can browse through the extensive library by genre, instrument, mood, or theme.
The site also offers various radio channels for you to discover new music.
If you're an artist, you can also upload your music here for free, which makes it a great platform for both listeners and creators.
Jamendo has an app for iOS and Android, so you can enjoy music on the go.
AccuRadio is an independent, multichannel internet radio platform that features hundreds of customizable radio channels, spanning over 50 different musical genres.
You can select from over 975 curated channels, and you also have the ability to skip songs, customize your channel to match your taste, and rate songs.
AccuRadio is ad-supported, hence, you might experience occasional ads but the music experience is still fantastic.
It's available for listening on the web, and there are also AccuRadio apps for iOS and Android devices.
Bonus: Make Money Listening to Music!
Slice the Pie is another way you can listen to music online – but this time, you can get paid for it!
Here, you'll listen to new songs and rate them.
You can leave a detailed review and any constructive criticism, and get paid for your time.
The better, more in-depth your reviews, the more chances you have to get paid (and the more you can earn for each review!).
I thought this would be a good bonus site to add for those who love discovering new music.
Artists from all over the world use Slice the Pie to learn what others think of their music before they release songs to the public!
You'll get to be a part of the process and get some extra cash to do so.
RadioEarn is a new website that will pay you cash to listen to internet radio stations in the background while you browse the web.
Just pin the open tabs in your browser and listen to up to four stations at a time on a single IP address (Dance / Remixes, Mixed music / Top 100 / News, Easy Listening, and Rock / Pop).
It's completely passive.
You'll earn as much as $10 per month and you can cash out via PayPal. There are also 3 referral levels.
Conclusion: Listen to Free Music Online Without Downloading Anything or Signing Up for a Subscription
This post gives you several places to listen to music online for free, so get to it!
You'll never be without some free tunes again, whether you want to listen while you work at your computer, or while you're on your next road trip.
Do you use any of the above sites or apps for free music?
Which is your favorite?
Let us know in a comment!
Related Posts:
Earn Everything… nearly!
Join Ipsos iSay, one of the few Faithful and Honest survey panels and earn prizes, gift cards and donations. Stack your points and redeem them: Simple! No hidden fees and completely free!