Do You Live in The Grey?
I was recently contacted through email from a PR rep who basically congratulated me for Living in The Grey. Initially, I thought it sounded like an insult but as I did a little reading on the website, LiveInTheGrey.com, I began to realize I am totally living in the grey and I am so proud of it!
Need Easy Extra $350+/Month For Free?
What is Live in The Grey?
Live in the Grey is a philosophical movement beginning from two guys who through their own revelations realized they wanted to stop having a black and white / work and life balance but instead live in the grey. Meshing both work and life in a way that you are following your passion to make a living from living something you love.
Grey is all about blending. 
What it Means to Me
This 'movement' hit home for me in a deep way.I have only found my true passion within the last couple of years.
I love graphic design. I also love building websites and watching them grow.
However, both of these passions can be difficult to follow.
For one, I have no formal education in graphic design. The software programs I use have instruction books the size of most Family Marriage Bibles. There are college courses just on Adobe Illustrator and Photoshop. I had to start very slow and learn as I go- I still have a lot to learn!
Blogging is also a slow process. Work at Home Adventures has been active for almost 3 years now! It took me a full year just to make my first $100!
So, living in the grey wasn't something I was able to do over night. It took me doing what I love as more of a hobby while I turned to other more 'stable' online jobs as a means to make money. Eventually the blending began and my hobbies crossed over to my career and now I fully rely on my blogs and my design work for income.
So, let me ask you again-
Do You Live in The Grey?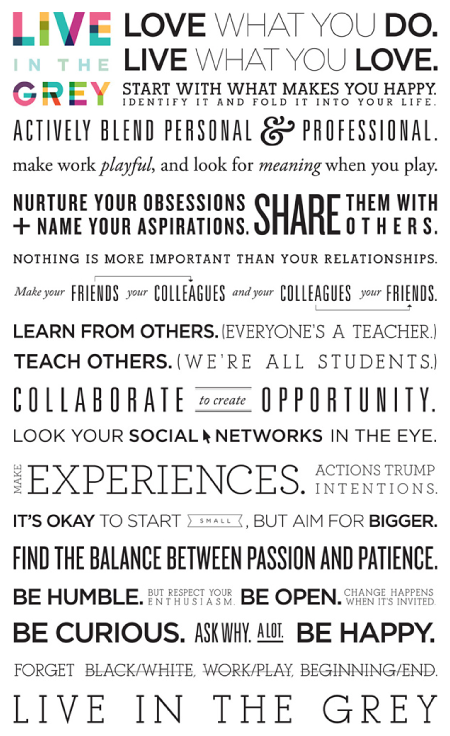 The Live in the Grey campaign sent me TWO of these awesome and inspiring wall posters.
When I read over the poster I was giddy with excitement as I felt each of those words and phrases hit straight to the heart.
Living in the Grey is part of ME.
Would you like this Inspiring Wall Poster?
I am going to give away one of these to the Work at Home Adventure Readers. Here is how you can enter:
a Rafflecopter giveaway

Related Posts:
Want more money?
Join Surveyo 24 #1 paid survey site. It's easy - complete a survey and receive payment. No hidden fees and completely free!
Need Easy Extra Cash?

Easy Extra Cash! Join PointClub and get access to the best paid online survey opportunities. Take Online Surveys, Make Money, It's That Easy! No hidden fees and completely free!