Top 23 Magazines That Pay for Your Personal Stories
Updated on: by Amy Kennedy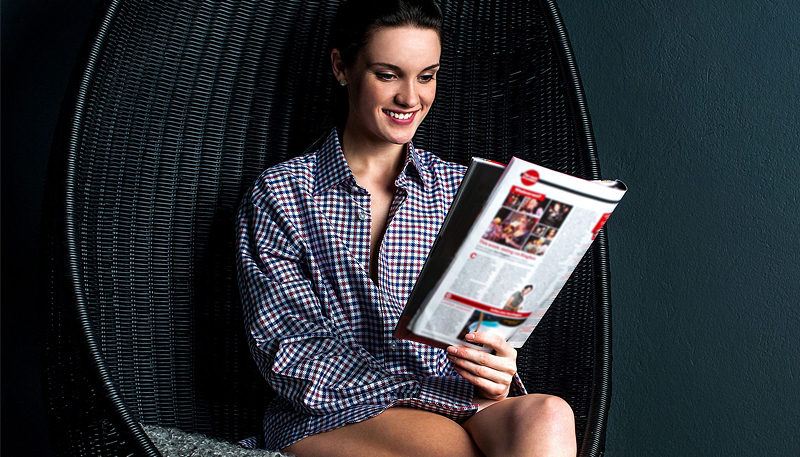 Whether you're a writer or not, you can still make some money off your real-life experiences.
Need Easy Extra $350+/Month For Free?
It may sound strange, but magazines will pay for interesting stories – and yours could be one of them.
If you're a magazine reader, then you've surely read some stories about people who have had near-fatal experiences, overcome huge obstacles, or even learned something profound over the course of their life.
There are millions of online and print publications in the world, so the chances of you finding the perfect one for your unique story are pretty good.
If you've ever dreamed of seeing your name – and your words – in a real magazine, then read on.
The websites below will all pay you real money just for your story!
Can I Really Sell My Weightloss Story for Cash?
Yes!
You really can!
It might surprise you to learn that you can sell real stories about your life to magazines and make real money from them.
People always want to read inspiring, funny, motivating, and even crazy stories of real people (there are even sex stories websites, just to give you an idea that anything goes!).
You don't even have to be a professional writer to sell your story.
All you need is a real, raw story that appeals to other people and you'll probably find a magazine to pay for it!
Places to Sell Your Stories
Boston Globe is both a print and digital magazine that suggests for writers new to the publication write for the Perspective column which focuses a lot on personal essays.
There's a chance you may have a story that would work well for an opinionated article like this.
Rates of pay will depend mostly on your piece's length.
Buzzfeed READER is the part of the popular buzz-worthy website that focuses on personal essays and real stories from real people like you.
Need Easy Extra Cash?
Pinecone Research, a leading name in online survey panel honesty, absolutely guarantees $3 cash for every survey you complete!
Take advantage of their time limited New Membership drive and register NOW. Join today: 100% free!


You'll have a chance to get your story in front of the millions of people who read the digital magazine every day.
The rate of pay isn't listed on the site, but it does mention paying "competitive rates."
Your essays should be somewhere between 1500 and 4000 words.
This isn't technically a magazine, but the Chicken Soup for the Soul books may be the perfect places to share your personal stories.
After all – that's what these books are all about.
And there are several versions of the books that cover different topics, so you can likely find one that fits your story perfectly.
Your story should be 1200 words or less. The publication looks for tight pieces that get to the point in a powerful way.
You'll get paid $200 for your published submission one month after the book publication – and you even get ten free copies to keep and share!
Cracked is one of the leading publications for humorous and witty articles.
Although it focuses mostly on list articles that pack a punch, you can also submit personal stories for the Personal Experiences column.
The exact pay isn't listed on the website and will typically vary by quality and length.
You can also sign up to write the listicle articles the site's famous for – and get paid for them!
DAME is a magazine that covers several political and social issues.
You can submit personal essays here if they relate to current events or issues.
As with most publications, you'll want to take a look around the site to get a feel for the type of content it publishes before submitting your pitch.
Stories must be somewhere between 800 and 2000 words, and you can agree to a rate when you speak with an editor.
Extra Crispy is a great place for any food-related stories to go.
This publication focuses on everything food, including recipes and food lists.
But, if you have a personal story relating to food, it can also find a home here.
The publication seeks very specific pitches, so make sure you have a clear idea and outline to pitch to an editor.
The rate of pay isn't disclosed on the site, so this is also something you'll need to discuss with an editor upon pitch acceptance.
Greatist is a lifestyle publication that deals with topics like fitness, food, relationships, and more.
The Unfiltered column is where you'll find personal stories and advice from real experts.
You can contribute to this section and get paid for it!
The website states that rates start at $125 for accepted pieces and essays should be between 1,000 and 1,500 words.
Kveller is a woman's lifestyle publication with parenting, pregnancy, and celebrity stories.
The magazine has a Jewish background, so your piece should focus on an issue through the eyes of a Jewish woman.
Your piece can be between 500 and 1000 words, and the rate of pay can be discussed with your editor.
If you're a mom with an incredible story, then Motherwell is one of the best publications for you to pitch to.
Earn Everything… nearly!
Join Opinion Outpost, one of the few faithful and honest survey panels and earn cash and gift cards for your opinion. Stack your points and redeem them: Simple! No hidden fees and completely free!


This website caters toward moms of all types and includes stories from moms with all kinds of stories, from inspirational to heartbreaking.
Your story can be up to 1200 words, and you can submit a pitch via the website.
Once your pitch is accepted, you can talk about a rate with the editor.
Narratively is the perfect spot for stories that you haven't told anywhere else.
This publication looks for unique stories by people who have incredible experiences to tell the world.
Your story should be one that people don't hear all the time.
Think of something with a unique twist.
You can submit your pitches via Submittable on the website.
The rate isn't disclosed on the site, but you can discuss it with an editor if your pitch gets accepted.
The New York Times is one of the most popular publications in the United States, and it appears both in print and online.
You have a good chance of getting your story in front of the eyes of a lot of people if it gets published here.
Although the Times focuses mostly on social and political issues, it also accepts personal stories with impact through its Lives column.
You can submit a pitch via the email listed on the website and discuss rates upon acceptance.
Salon offers breaking news in science, politics, entertainment, and several other areas.
You should spend some time on the site to get an idea of the type of content the magazine publishes.
You can also see what section your story might fit into best.
When you pitch your idea, be sure to send in some information about yourself and previously published samples for review.
The rate of pay isn't disclosed on the site, but it's reported online that most writers have a starting rate of around $100.
This magazine used to accept submissions from writers regardless of location, but it now seeks only local Charleston, South Carolina writers.
Skirt!Magazine is made for women, by women, so women-focused stories work very well here.
Your essays should be between 750 and 1200 words. You can discuss a rate of pay with an editor upon acceptance.
SLICE Magazine is a nonprofit publication that publishes stories about writers and authors and other important people in the industry.
If you have a personal essay related to your writing career, then this is the place for you.
You can earn $250 for stories and essays up to 5000 words.
If you're an adventurist, then The Alpinist could be the perfect publication to house your story.
This publication tells the stories of mountain climbers, alpinists, and adventurists.
You can submit a related story to The Climbing Life section, which focuses on personal essays from real climbers.
These essays should be up to 500 words in length and will pay $0.25 per word.
The Atlantic is one of the most popular publications that tells current news about politics, social issues, travel, and more.
You can submit stories to the appropriate category via email.
The website doesn't state a pay rate, but you can discuss it with an editor upon acceptance.
The Establishment publishes a diverse range of content, from fitness articles to current social topics.
You can fit a lot of different types of stories into the confines of this publication!
The Establishment accepts personal essays up to 1500 words for $125 per piece.
You can also submit long-form investigative pieces up to 3000 words for $500, but these will include interviews and research for more in-depth discussions.
The Frisky is a woman-focused publication for relationship, sex, celebrity, body, and other articles.
If you have a story to tell that relates to a current or past relationship, sex, body image, mental health, or something else that fits within the categories, then you may get published on the site.
Your piece should be between 700 and 1000 words.
You can only pitch stories to categories that aren't part of regular columns with an assigned contributor.
Check over the guidelines for more information.
If you keep up on current news, then you're probably already familiar with The Mirror.
This magazine covers news in the world of sports, celebrities, entertainment, and more.
The publication also seeks personal essays from people with interesting stories to tell. You can submit it via the form on the website.
The rate of pay isn't disclosed on the site, so you'll need to discuss it with an editor upon acceptance.
The Penny Hoarder is one of the most popular personal finance websites on the web.
This site is dedicated to helping people find unique work opportunities, save money, make money, and more.
If you have an interesting money-related story to share, then you could get published here and help others learn from your experiences.
Your article should be between 700 and 900 words and be evergreen – meaning that it shouldn't be something with information that won't be relevant a year or two from now.
The website states that you and an editor can agree to a rate upon acceptance, or you can waive the payment for a link to your website with your author bio.
The Sun is one of the largest online publications.
There's a category that's focused on personal essays and opinions, which makes for the perfect spot for your personal story.
The Sun pays up top $3000 for a personal essay that has purpose and personality.
You should spend a lot of time browsing the essay section to see what other stories have made it through.
It goes without saying that your story should be something totally unique and interesting to The Sun readers.
If you don't want to go through finding a place to pitch your story yourself, then you can use WeBuyStories instead.
This site acts as a middleman between you and the perfect publication for your story.
You don't even have to write your story to work with this company.
You can provide a brief outline of your experience and WeBuyStories will take it from there, as well as find the right place to house your story.
Once the company finds a place for it to go, you'll receive the profits.
Woman's World has articles that appeal to women, from inspirational to funny.
You can submit your own story to the publication for $100.
Woman's World also accepts a lot of other smaller stories, like funny stories about your kids or stories of someone doing an act of kindness, for $25 to $50.
Read Also: Top 44 Places That Pay Cash to Write Poetry Online
Conclusion: How to Sell Your Story to a Magazine
Ready to sell your story to a leading publication?
Hopefully, you found a place on this list that will be the perfect home for your experiences!
What kind of story do you have to sell?
We're interested in hearing a little about it!
Please leave us a comment below and let us know about your story and where you want to publish it.
Related Posts:
Earn Everything… nearly!
Join Ipsos iSay, one of the few Faithful and Honest survey panels and earn prizes, gift cards and donations. Stack your points and redeem them: Simple! No hidden fees and completely free!