20 Best Tips to Bump Up the Bank Account (Make 10000 Dollars Fast!)
Updated on: by Amy Kennedy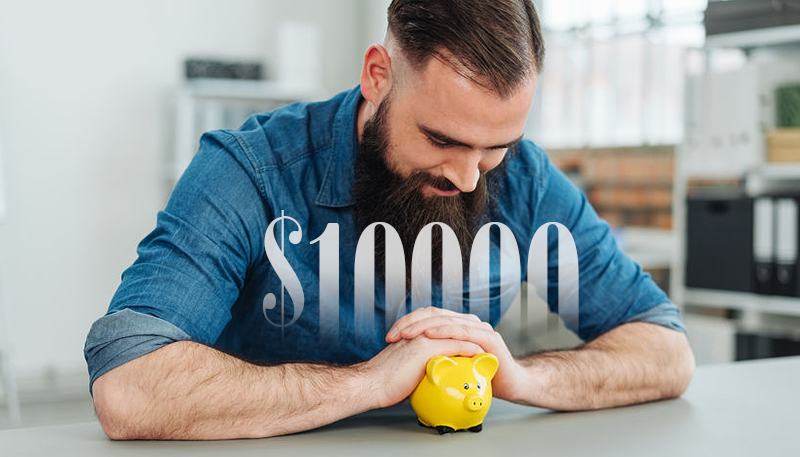 Do you ever find yourself saying, "I need 5000 dollars now"? What about $10,000?
Need Easy Extra $350+/Month For Free?
We all run into times when we could seriously use some extra cash, whether we owe back taxes or just need a vacation.
The average American household had over $15,000 in debt in 2017.
If you're one of the people that's carrying debt, then this article can help you out.
I'm always on the hunt for quick and easy ways to make a lot of money – not just for myself, but to help others too.
So, use the money you're about to make to pay off your student loans, save toward retirement, or use for a splurge.
You've earned it!
What's the Quickest Way to Earn a Lot of Money?
To start off, let's talk about the best way to earn fast cash, aside from your job: freelancing.
If you've never thought about freelancing, now is the time to start.
So many people are picking up freelance gigs in addition to their regular jobs to help them afford their bills and make some extra.
There are so many things you can do as a freelancer:
Write articles for blogs and companies
Design graphics for businesses
Become a virtual assistant for business owners
Be a consultant for startups
Manage social media accounts
Edit and proofread the work of other writers
Those are just a few examples.
You can pretty much leverage any skills you have and turn them into a freelance hustle.
You can market your services on your own website or start with some freelance marketplaces like Upwork and Guru to get your feet in the door.
Now that we have that out of the way, let's dig into some of the other ways you can earn money fast.
I bet you haven't heard of most of these!
Need Easy Extra Cash?
Pinecone Research, a leading name in online survey panel honesty, absolutely guarantees $3 cash for every survey you complete!
Take advantage of their time limited New Membership drive and register NOW. Join today: 100% free!


Other Ways to Earn Money Fast
Use Reward Sites
Reward, or Get Paid To (GPT), sites can take some time to earn money at first.
But, once you learn to maximize your earnings with them, you can receive consistent paychecks.
I personally do it with InboxDollars (review), my favorite GPT site, which I earn money from every month.
No, it doesn't replace my job, but it's so easy to earn money in my spare time on the website or using the app.
These 14 reward sites pay quickly with PayPal cash, so they're good ones to start with to get money quickly!
Become a Fitness Fiend
If you love working out, then why not get paid for your trips to the gym?
GymPact and other fitness apps will pay you to get healthy and fit.
All you have to do is make goals, meet them, and challenge your friends to do the same.
Other apps that will let you reap the rewards of working out (while staying in shape!) include:
Become a Living Statue
This incredibly weird way of making money may sound strange to you, but it's super easy.
And honestly, it sounds like it could be fun.
Some street performers use costumes and makeups to become real-life, human statues.
This could be a good opportunity for people who have museums or art galleries nearby, especially those who live in large cities.
Dress up and play the part, change your pose every once in a while to keep people entertained, and set out a bucket to collect your cash.
You might be surprised by how much you can earn in a couple of hours doing something like this.
According to an article in Forbes, you can potentially earn about $100 an hour doing this!
Become a Virtual Assistant
Virtual assisting is a great way to make money whenever you have spare time, and it also can give you a wide range of tasks to do so you'll never get bored.
Whatever internet skills you have, you can use them to your advantage!
And, you'll even be your own boss if you seek out your own clients or use a service that matches you with clients who need your help.
Check this list of virtual assistant companies that can help you get started with setting up your business and finding great clients to work with.
Eat…A Lot
If you like eating, then you'll love to know that you can get paid to do it.
Sure, there are some food eating contests that are simply for the bragging rights or a cool trophy.
But, others are for bringing you some big bucks, especially if you want to make a living out of being a professional eater.
The Nathan's Hot Dog Eating Contest in 2017 brought the first place winner $10,000!
Even 2nd place scored a cool $5k.
If you find a few of these a year – and win them – then you might even be able to replace your day job with this much more fun option.
See Also: Top 22 Companies That Pay You For Food Testing
Find Security Glitches
Have you heard about Facebook paying people to find their security glitches?
It's a real thing, and it's kind of like a form of hacking, although a completely legal one.
Earn Everything… nearly!
Join Opinion Outpost, one of the few faithful and honest survey panels and earn cash and gift cards for your opinion. Stack your points and redeem them: Simple! No hidden fees and completely free!


Several companies are willing to pay hundreds to thousands of dollars to people who find issues with their software that can lead to a security issue.
In other words, they have a bug bounty program for people to catch and report their bugs, so they know what they need to fix.
Here are a few bug bounty program companies where you can find this type of work:
Get a Tattoo
Back in 2005, one woman tattooed something on her forehead and got paid $10,000 to do it.
Why?
Well, she tattooed the logo of a company who won her auction to sell advertising space on her forehead.
It doesn't sound like a good long-term solution to making money, but if you play your cards right, I suppose it could be.
And, at the very least, you could wind up with a quick $10k in your pocket for a tattoo.
See Also: Make Money with Your Body! Here's The Best Way to Sell Tattoo Ads!
Get Cash Back from Credit Cards
As long as you don't spend outside your means using credit cards, you can really use them to your advantage, especially when they have cash bonus offers.
Some cards will pay you $300 or more when you open an account and make a certain amount of purchases within the first month or so.
You'll have to wait until the advertised period is over to get your cash, but it's something to consider doing while you're in the process of doing some other money-making tasks too.
Check Credible's Reward Cards page to see what the best offers are right now.
Get Into a Foodshare Program
If you sign up with EatWith, you can hang out with other people and host food events, cashing in on it at the same time!
Think of it like an Airbnb for food events.
If you're having trouble getting a catering business going, then this site can help you find people who might need your services.
If you do a great job with your first event, it's likely that you won't have much trouble getting referrals for more work!
Give Your Feedback
I know not everyone is into taking surveys for cash.
That's okay, I get it. It can be time-consuming, and you might have to sift through tons of surveys you don't qualify for to find ones you do.
But, there's another way to make your voice heard without taking surveys.
You could try website testing instead.
You'll visit websites, test out certain features, like shopping, and report any bugs you find and share your opinions with the company.
It's easy work, and you can typically get paid $10 for about 15 to 20 minutes of testing.
If you do a great job, you'll have more offers for tests with the potential to earn about $30 per hour!
Here's a list of website testing companies for you to try.
Make Money with Your Body
No, I don't mean like that.
There are other ways that you can make money with your body in legal ways that won't make you embarrassed.
And, you could even get thousands of dollars quickly!
If you're up for selling your hair, it's possible that you can earn $4,000 or so for long locks that other people want!
Or, you can sell blood plasma.
This won't give you money quite as quickly, but it's totally possible to earn $400 a month or so just by being a donor.
Of course, there's always sperm donation for cash too!
Recycle Wood Pallets
Do you know any local companies that get their deliveries on wood pallets?
You might want to consider calling them to see if you can take those wood pallets.
Why?
Because you can sell wood pallets for cash!
You can, on average, get about $2 per wood pallet, depending on where you sell them.
Or, you can use the wood to create something new, like furniture and decorations, and sell them locally!
Get your creativity flowing with this one.
Rent Your Stuff
You can easily earn a few hundred dollars per month if you rent out stuff you don't use.
Think outside of the box here.
Do you rarely use your car on certain days out of the week?
Weekends maybe?
If so, then rent it out for $50 to $100 a day and make an easy $400 per month at least.
If you have an extra room in your home, consider renting it to someone you vet.
That can easily land you a few hundred per month.
Or, rent out your unused garage to someone for storage.
You can even rent a parking space in your driveway if you have some extra room.
Read More:
Turo–Make Money Renting Out Your Car
Make Money Renting Out Your Space at Airbnb
Rideshare Driving
Rideshare driving is becoming one of the most popular ways to make money in addition to a regular job.
Lyft and Uber are two of the most popular companies.
Uber even lets you be a delivery person rather than a driver if you don't like the idea of picking up random people to ride in your car.
Or, if you don't really want to be a driver, you can rent your car to a rideshare driver with HyreCar.
Either way, you get more money in your pocket than you had before.
See Also: All About Car Wrap Advertising: Earn Up To $1,000 Per Month To Drive!
Sell Breast Milk
New moms can sell their breast milk for extra cash if they make more than their baby needs, or have decided to go the formula route instead.
It's better to make some money off it and help other moms who might not be able to breastfeed than let it go to waste, right?
Check out Only the Breast, which is like a Craigslist for buying and selling breast milk.
It seems that most women sell breast milk for at least $2 an ounce, so it can be a pretty lucrative business.
Sell Odd Things
If you've never checked out eBay for selling some stuff, then now's the time to do it.
Do you have some collections that could be worth money?
Even if you think they're strange, you can probably find interested buyers on eBay.
In fact, eBay is the perfect place to sell unusual things because it's usually the first place people will check to find the pieces they need for their collections, or off-the-cuff items that you can't find in stores.
Here's a guide to selling on eBay that can help you learn the ropes.
Sell Your Own Poop
It may sound like I'm being silly here, but it's 100% possible to sell your own bowel movements.
OpenBiome is a nonprofit organization that collects stool (i.e., poop) for Fecal Microbiota Transplantation (FMT), which can help clear certain infections in patients.
Your healthy stool will get transplanted in place of their unhealthy stool to give them a healthier gut and colon.
You'll get $40 per donation, and you can donate several times per week.
Start a YouTube Channel
People on YouTube are making some serious bucks just by playing games, singing, reviewing things, etc.
I mean, the little 6-year-old star of Ryan's ToysReview makes $11 million per year from his YouTube channel alone.
If that's not motivation for you to get on YouTube, I don't know what is!
Those who place their gameplay recordings on YouTube can also rack up some serious cash.
This YouTube support guide can help you learn how to monetize your channel with ads.
Write About Your Kids
If you are a parent, then why not make some money writing about them?
That's something almost anyone can do.
How difficult is it to tell some interesting stories about your kids and write articles that relate to other parents?
Several parenting blogs will pay for your articles, so this can be a great opportunity for parents to make some extra money on the weekends or evenings.
You can typically earn between $50 and $100 per article.
Try BabyFit and Freelance Mom for some paid opportunities.
Conclusion: How to Make 10000 Dollars Fast
Are you ready to make some money?
I'm sure you can find one or two things from this list that can definitely help you on your money making journey.
What are your favorite unique tips from this list?
Let us know in a comment what tricks you're going to try for yourself to earn some cash!
Related Posts:
Earn Everything… nearly!
Join Ipsos iSay, one of the few Faithful and Honest survey panels and earn prizes, gift cards and donations. Stack your points and redeem them: Simple! No hidden fees and completely free!