26 Best Ways to Make 5, 10, 15, or Even 20 Dollars Instantly Online
Updated on: by Amy Kennedy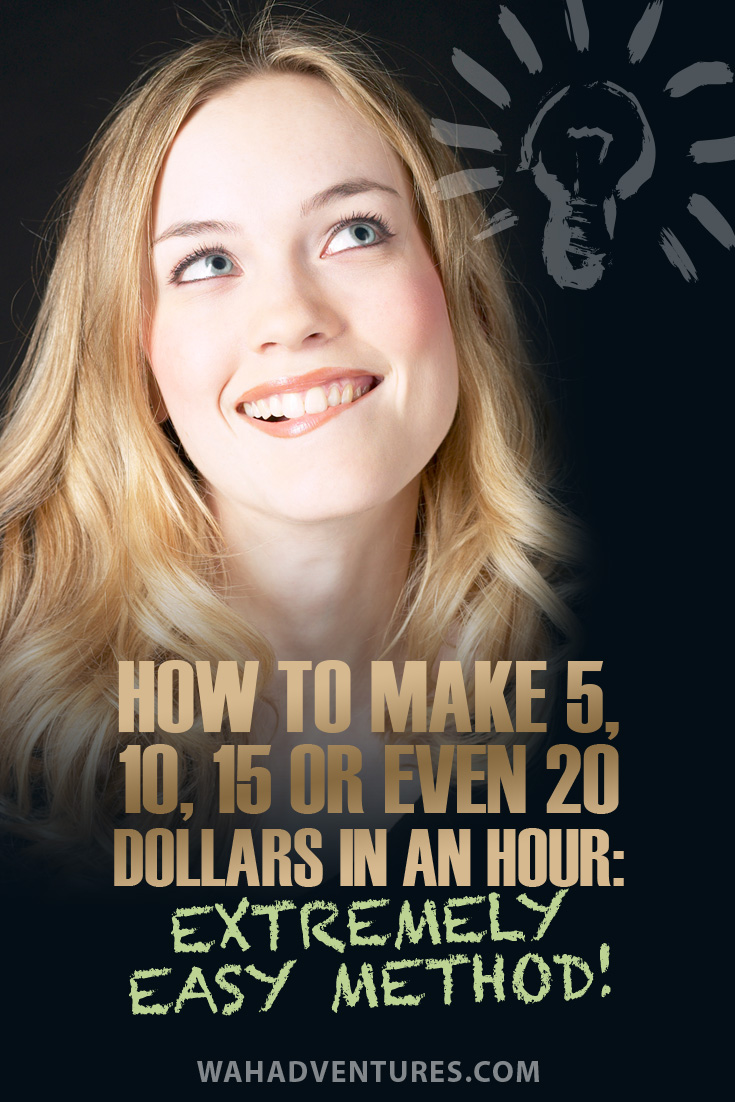 The internet provides so many opportunities for making money.
Need Easy Extra $350+/Month For Free?
Unfortunately, you often have to wait days – or even months – to get your cash.
Some rewards and surveys sites, for example, have high cash out thresholds and very low pay amounts per task or survey, making it nearly impossible to earn the amount you need to cash out.
Or, it can take you several months to make that amount. Is it even worth your time?
If you're saying to yourself, "I need 5 dollars now!", but have no idea how to do it online, then this article is for you.
I'm going to show you a few ways to get chances to win 10 dollars or more.
And, I even have a few ways you can be guaranteed to earn $5 or more as quickly as possible!
How to Make 5, 10, 15, or Even 20 Dollars Instantly Online
Complete Various Tasks with Swagbucks
Now, it's time to maximize your earnings.
I've mentioned this GPT site several times on Work at Home Adventures because it's one of the easiest to navigate and earn cash quickly.
When combined with your tasks on QuickRewards, you'll make a quick $20 in no time!
On Swagbucks, you can do most of the same things, like take surveys, complete offers, watch videos, and read e-mails.
Personally, I make the most from cash back shopping and offers on Swagbucks.
The payment system on Swagbucks is in the form of Swagbucks, or SBs, which are a point system.
You can get gift cards for as little as $1, or 100 SBs, or earn 2,500 SBs for $25 PayPal cash.
Swagbucks frequently has deals on its rewards, too, where it discounts the number of SBs needed to redeem a prize.
Keep an eye on these deals to make the most of your earnings!
Need Easy Extra Cash?
Pinecone Research, a leading name in online survey panel honesty, absolutely guarantees $3 cash for every survey you complete!
Take advantage of their time limited New Membership drive and register NOW. Join today: 100% free!


Read more: Swagbucks Review: The #1 Site to Earn Real Rewards
Swagbucks is a great place to earn, but you can earn more cash quicker by joining another top GPT site: QuickRewards.
If you want a quick way to make 10 bucks online, QuickRewards might be it.
QuickRewards is one of the lesser-known Get Paid To (GPT) sites, but it offers much the same as you're used to with other sites.
You complete various online tasks and get rewarded for doing so.
The difference with QuickRewards is how fast you can earn money.
While some GPT sites leave you hanging for weeks or months before you can finally cash out, QuickRewards has no minimum payment amount.
You can cash out whenever you want!
So, earn $5 on the site and cash it out as soon as you make it.
That's almost unheard of for a GPT site, which usually requires $10 or so as a minimum cash out amount.
Let's go through what you can do on QuickRewards to maximize your time and earnings and learn why it's one of the best GPT sites for quick cash.
What Can You Do?
QuickRewards offers many of the same things as other GPT sites.
Here, you can take surveys, earn cash back on your online shopping purchases, watch videos, print grocery coupons, read paid e-mails, visit sponsored sites, play games, and more.
Of course, some of the best ways to earn money is by making purchases through the site, either through online shopping cash back opportunities or cash offers.
But, if you're going to do some online shopping at one of the retail partner's websites anyway, you can quickly earn some cash back without spending money frivolously.
The same goes for cash offers. Advertisers will offer a specific cash back amount when you complete their offers.
These offers usually entail signing up for a trial or purchasing a product or service, so some money will be involved.
But, if it's something you would have purchased anyway, you're not really spending anything extra to get cash back.
There are plenty of free opportunities to earn cash, too.
QuickRewards has free offers that might require a website registration or an app download, but nothing that requires you to spend money.
Surveys, paid e-mails, games, videos, and more ways to earn with QuickRewards are also 100% free.
I suggest following QuickRewards on Facebook for up to date news about the website.
You'll find out when there are new sweepstakes, contests, games, and more, so you can try your hand at earning more cash!
How Much Can You Make?
The amount you make with QuickRewards really depends on the tasks you do and how often you visit.
But, if you use your time wisely, you can easily earn $5, $10, $15, or more quickly.
First, check out the cash offers. These are the highest-paying offers where you can even get $20 back from completing one.
If there's anything you'd consider spending your money on anyway, go ahead and do it.
The same goes for cash back shopping. Check QuickRewards first before you buy anything online to see if it has a cash back shopping offer for the retailer you'll use.
Most of the time, you can get between 3% and 5% of your purchase price back in QuickRewards cash!
Earn Everything… nearly!
Join Opinion Outpost, one of the few faithful and honest survey panels and earn cash and gift cards for your opinion. Stack your points and redeem them: Simple! No hidden fees and completely free!


Then, check out the free offers. Doing several of these can easily give you $10 or more within 30 minutes or so.
They're usually nothing more than a quick sign up form for $0.25 or more.
There are usually new offers added consistently to the site. If you run out of offers to complete, check back the next day to see if new ones have been added.
Surveys, paid e-mails, and videos are all good ways to earn a few cents here and there when you have some extra time.
But, don't rely on them for your main source of cash. It takes a lot of them to earn a quick $10.
How Does Payment Work?
This is the best part of QuickRewards. But, let me explain a bit how it works.
Most tasks on QuickRewards pay in cash. Surveys, paid e-mails, ad clicking, videos, and more smaller tasks will pay cash.
There are also QuickPoints, which are used for most of the offers. Simply, 100 points equal $0.01 (one cent), and QuickRewards automatically exchanges every 100 points for its cash equivalent.
Then, there are also Tokens, which are like bonus points for some things on the site.
QuickRewards will let you know if you're doing anything that will reward Tokens.
Your bonus Tokens can be used for special purchases from QuickRewards partners, like gift certificates and magazine subscriptions.
Now, the best part: Whenever you have an amount in your account that you want to cash out, you can request your payment!
QuickRewards doesn't make you wait until you have a minimum amount. If you want to cash out $1, cash out your $1.
You can cash out your balance to your PayPal account on any day.
In most cases, your balance will show up in PayPal in a few hours!
For a different way to make quick money online, try Transcribe Me.
This website is for transcriptionists to transcribe audio files into text.
Transcribe Me pays $20 per audio hour, so what you make depends on how quickly you can transcribe.
But, you only need $1 to cash out, so even if you only transcribe small amounts each day, you can still get your money daily.
You'll have to pass a basic skills test when you sign up before you're allowed to become part of the team.
But, it seems all that's needed are basic transcription skills, so it's worth a shot!
Amazon Mechanical Turk is a microtask site where you can do quick, small jobs for small amounts of money.
Although most tasks pay only a few cents each, they don't take much time.
The beauty of a site like this is you can log on whenever you have some time to spare, get some work done, and earn some cash.
It's flexible, and you can choose the tasks that fit your skills.
An example of a task you might do is tagging and categorizing images a client gives you.
Or, you might need to find some websites for a client to use for research on a specific subject.
Amazon MTurk also has only a $1 minimum cash out amount, which you can make quickly on the site.
As soon as a client approves your tasks, you'll see the amount credited to your account.
Then, you can transfer your earnings to your Amazon gift card account, or to your Amazon Payments account.
If you send it to Amazon Payments, you can link your bank account to transfer it straight to your bank.
The process should only take a couple of days at the most.
View Ads with Qmee
Qmee is another different way to earn quick cash online – and it pays instantly!
Qmee is a shopping app that runs in your internet browser.
When you visit an online retailer or search for a product, Qmee will show you advertisements for similar products or services you search for.
You earn cash just by viewing the ads, and you can earn more if you decide to purchase one of the items it advertises.
Link your PayPal account for instant transfer of your earnings to your account. You can also transfer your earnings to a variety of gift cards.
It takes up to 24 hours to see your earnings in PayPal, but in most cases, it arrives in a couple of hours.
Qmee is basically a hands-free way to earn money as you browse the web. It couldn't be any easier!
Take $50 Surveys with Mindswarms
Mindswarms is a company that offers online surveys, but not in the way you're used to.
These surveys are ones you take using your phone's video camera, not by answering a bunch of boring questions online.
Most surveys are about seven questions long, but some may be even shorter.
The full seven-question surveys pay $50 within a couple of days after completion and approval via PayPal!
Even if you don't have a full survey, you can answer the available questions and get paid $10 for each one of them.
Freelance Using Marketplaces
Using freelance marketplaces like Upwork and Freelancer can help you earn cash at your own pace, as quickly as you need it.
Of course, you'll have to seek out some clients and apply for jobs, so it won't quite happen at the drop of a hat.
But, if you apply consistently to gigs on these marketplaces, you could find yourself with a steady stream of work, which also means a steady stream of income.
Freelance marketplaces typically take a few days to pay out your cash for all approved work.
With Upwork, for example, your client will need to approve your submitted work before your money goes to your account.
The money then gets held for a few days before you can deposit it to your bank account.
That's why it's important to keep applying for gigs that fit your skills, or find clients that want to work with you on a long-term basis so you can rely on weekly or monthly work.
Promote Stuff You Love on Social Media
Post about products, services, and brands you love on your social media channels or your blog.
It's called affiliate marketing, and I'm sure you've at least heard of it by now.
With affiliate marketing, it's possible to earn a passive stream of income just by sharing posts about stuff you've used or think your audience would like.
When you first start, it's unlikely that you'll make money immediately, so this is more of a long-term goal.
But once you hit the sweet spot of finding stuff to promote that resonates with your audience, you could continuously earn commissions from those promotions.
Sign up for Share-A-Sale or Linkshare and start applying for affiliate programs.
Play Games Online
Playing games online doesn't guarantee you instant cash – or any cash at all – but it could give you a whole lot of cash!
Check out this list of free games that you can win cash from online!
UserTesting pays you to spend time online checking out websites and apps.
You'll get paid to be a tester by completing a set of tasks asked by a client.
It usually involves visiting a website, clicking on some pages, and completing a few other specific tasks to check for any errors or bugs.
On an app, you might need to play a game or test some functionalities for errors.
As you test, you'll need to speak your thoughts into a microphone and record them so the client can hear your opinions.
Get paid up to $60 per test via PayPal once your test has been approved!
Most tests take about 20 minutes and pay $10.
Sell Things Online
Use eBay, Amazon, Craigslist, or one of the many other online selling sites that help you get rid of stuff you don't need and make money off them.
There are also several product-specific sites online that can help you sell electronics, books, and more.
For electronics, Gazelle is a great place to go.
Bookscouter helps you sell old textbooks.
You can sell vintage and handmade items on Etsy.
You can even sell breastmilk online if you have an extra supply!
Most of these sites pay you relatively quickly for selling your stuff once the transaction has been completed by the buyer.
Answer Questions with 1Q
1Q is a market research company that pays you to take surveys – through texting!
I love how so many companies are starting to come up with new, fun ways to make money from surveys.
We all know that traditional question-and-answer online forms can get boring after a while.
With 1Q, you'll just use a mobile app to text back your responses to each question.
For every completed response, you'll get $0.50 transferred instantly to your PayPal account!
Keep answering questions, and you could have your first $5 quickly.
Help Students with Homework with Studypool
Studypool is a website that provides homework help to students with the use of online tutors in a variety of subjects.
Students can post homework and study help questions, and then choose from a pool of bidding tutors to help them.
If you're chosen, leave your response and get paid for your help.
When you send in a bid, you quote your price, so you'll have more control over your earnings here than at other tutoring companies.
Studypool does take between 20% and 30% of your pay as its commission, so keep that in mind when setting your prices.
You can get paid quickly once the student approves your answer.
Sell Your College Notes with Stuvia
If online tutoring isn't really your thing, then maybe you can find some success selling your college notes on Stuvia.
You won't necessarily make a lot of money doing this, but it can still be a worthwhile side gig if you have a lot of helpful notes sitting around.
All you need to do is upload your notes to the site.
When a student wants to download your notes, he or she can buy them and then download them.
You could end up selling the same notes over and over, meaning you'll pull in a passive income from them without doing any work.
Sell Photos from Your Phone with Foap
Foap is an app that lets you sell photos you took with your smartphone for other to purchase.
You'll earn 50% commission on everything you sell, and you can continue to sell the same photos multiple times.
Foap users can also respond to missions, which will ask for a themed photo or video for a brand.
Whoever gets chosen to win the mission could wind up with bonus cash for their efforts!
You'll also have a portfolio on the app so brands can find you directly to purchase your photos and videos.
Most photos sell for $10, so you'll get $5 for every sale, but videos can be more than that.
You'll get your cash via PayPal when you cash out.
Sell Online Courses with Udemy
Udemy is the home for hundreds of thousands of online courses in several industries.
As a Udemy course creator, you don't really need any course creation skills.
You just have to have a clear vision for a course and the direction in which you want it to head.
You can use various Udemy tools to create your course and then host it on the site for free.
Or, pay a fee for Udemy to complete marketing for you, making it easier for your courses to sell!
Start a YouTube Channel
The YouTube Partner Network has made it possible for YouTubers to get paid for their video content.
That's probably why so many people are switching over to YouTube to build an audience and get more subscribers and views.
The more of each you have, the more you can get paid for each video.
Even if you have 1,000 subscribers or less, you can take advantage of valuable YouTube resources that help you scale your channel for growth.
YouTube requires you to have at least 1,000 subscribers to monetize your channel, and at least 4,000 hours of video views every year to remain in the program.
Once you're that popular, there's no telling how much you can make!
Enter Blog Giveaways and Sweepstakes
I've seen and entered a lot of blog giveaways that give out nothing more than cash (it's the best prize, isn't it?).
The best part is that all you'll need to do to win, in most cases, is complete a few tasks, like following people on social media or leaving a blog comment.
It's super easy to enter most blog giveaways, especially when they use a built-in giveaway form.
I seek out giveaways with PayPal cash as prizes, just because I love PayPal and think it's one of the easiest ways to get paid.
But you'll also find plenty of giveaways that feature gift card prizes, which is almost as good as cash if the gift card is for stores you frequent.
Here are some places to find blog giveaways and sweepstakes:
Set Up an Airbnb Profile
If you have extra space in your home, then you shouldn't pass up listing it on Airbnb.
The site helps you find people who will be staying in your area and need lodging.
You can either hand over your whole house or rent out an area of your home for guests.
The site can make you consistent income, especially if you live in an area in, or close to, a popular city for traveling.
Sign Up for Ebates and Get $10 Instantly
Ebates is a cash back shopping site that pays you $10 just to sign up.
You can choose to get your $10 back as an Ebates credit to save for cashing out for a gift card, or an electronic Walmart gift card.
Either way, it's $10 free that you didn't have before.
Then, use Ebates to shop online and get cash back for your purchases at your favorite retailers!
Sell Gift Cards You Don't Want to Cardpool
Do you have gift cards sitting around that you'll probably never use?
You can cash them in at Cardpool, trading them for a different gift card or selling them outright.
You won't get the full value of your card, but you can earn up to 92% if its value, depending how desirable your gift card is.
When you sell on Cardpool, you'll get an instant offer from the company for your card that you can either accept or deny.
If you accept the offer, you can get an instant payout.
Other Ways to Earn Quick Cash Online
Here are a few more ways to earn a quick $5 or more online, but they won't pay you instantly. But, if you can wait a few days to get some cash, try these methods!
Fiverr – Fiverr is a gig marketplace where you can post $5 gigs for whatever skills you have, like writing, translating, graphic design, video editing, and more. You can even add extras to your gigs to make more money.
Fiverr does have some fees involved, so shoot for completing at least a few $5 gigs per day, if possible, to cover the fees. You can receive your funds via PayPal, but you can't withdraw your earnings until 14 days after your gig has been marked as complete.
So, it'll take a little bit of time in the beginning to get cash, but once you have a steady stream of gigs flowing, you'll start earning consistent cash.
iWriter – iWriter connects writers with people who need content. Yes, it's technically a "content mill" because it doesn't pay the best prices for articles. But, if you can write and need cash fast, it could help you in a pinch.
You get paid an amount per word based on your rating, which iWriter assigns when you sign up. The more you write and get a higher rating from clients, the more you can earn.
iWriter, fortunately, pays weekly on Tuesdays and your earnings go straight to PayPal, which can make it a convenient way to earn cash fast.
Textbroker – Textbroker is another content mill like iWriter.
You write the articles clients need and you can move up the ladder as you write more and increase your ratings. Even at high levels, you won't earn great prices, but Textbroker pays weekly so you can make cash fast.
Fancy Hands – Fancy Hands is for virtual assistants to get matched to clients who need various tasks done, like tagging images, quick research, or finding e-mail addresses.
Clients send "requests" which are no more than 20 minutes of work. If a task will take longer than that, you can indicate that to the client and the pay can be adjusted.
When you claim a task, you need to begin it right away. Once your task is approved, your account gets credited. You'll get paid every other week, but if you do continuous work, you'll have a steady income stream.
BerryCart – BerryCart is a shopping app similar to ibotta, but it doesn't have the $20 cash out requirement that ibotta Instead, it's only $5!
And, it pays within 24 hours to your PayPal account.
You earn cash when you send in a picture of your receipt with specific items you purchased. So, if you're going to shop and purchase those items anyway, it's a good way to get rebates back on the items you purchased.
Conclusion: Make $5 to $20 Quickly Online
As you can see, making a quick $10 online isn't off the table!
There are plenty of ways to earn fast money with minimal work – you just need to find out where to do it.
So, sign up for QuickRewards and try a few of the other websites I mentioned to maximize your earnings.
You'll likely make $20 faster than you thought possible. Good luck!
In what ways do you make quick money online?
Let us know in the comments!
Related Posts:
Earn Everything… nearly!
Join Ipsos iSay, one of the few Faithful and Honest survey panels and earn prizes, gift cards and donations. Stack your points and redeem them: Simple! No hidden fees and completely free!