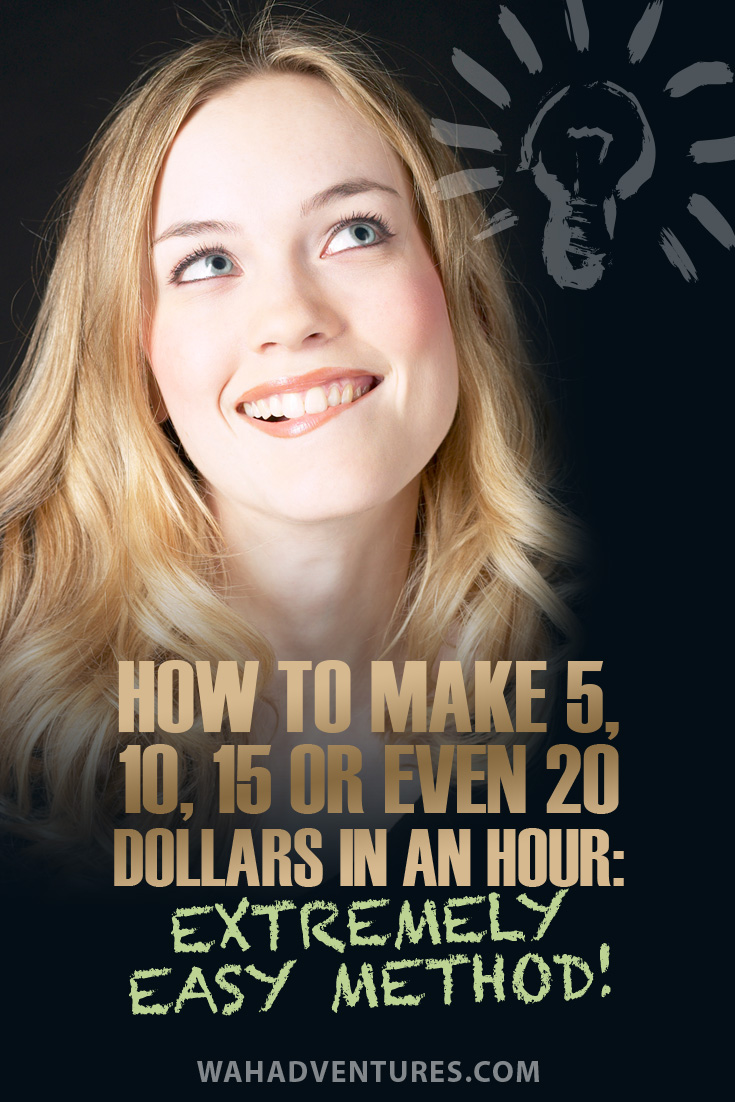 The internet provides so many opportunities for making money.
Need Easy Extra $250+/Month For Free?
Unfortunately, you often have to wait days – or even months – to get your cash.
Some rewards and surveys sites, for example, have high cash out thresholds and very low pay amounts per task or survey, making it nearly impossible to earn the amount you need to cash out.
Or, it can take you several months to make that amount. Is it even worth your time?
If you're saying to yourself, "I need 5 dollars now!", but have no idea how to do it online, then this article is for you.
I'm going to show you a few ways to get chances to win 10 dollars or more.
And, I even have a few ways you can be guaranteed to earn $5 or more as quickly as possible!
How to Make 5, 10, 15, or Even 20 Dollars Instantly Online
Complete Various Tasks with Swagbucks
Now, it's time to maximize your earnings.
I've mentioned this GPT site several times on Work at Home Adventures because it's one of the easiest to navigate and earn cash quickly.
When combined with your tasks on QuickRewards, you'll make a quick $20 in no time!
On Swagbucks, you can do most of the same things, like take surveys, complete offers, watch videos, and read e-mails.
Personally, I make the most from cash back shopping and offers on Swagbucks.
The payment system on Swagbucks is in the form of Swagbucks, or SBs, which are a point system.
You can get gift cards for as little as $1, or 100 SBs, or earn 2,500 SBs for $25 PayPal cash.
Swagbucks frequently has deals on its rewards, too, where it discounts the number of SBs needed to redeem a prize.
Keep an eye on these deals to make the most of your earnings!
Read more: Swagbucks Review: The #1 Site to Earn Real Rewards
Swagbucksis a great place to earn, but you can earn more cash quicker by joining another top GPT site: QuickRewards.
If you want a quick way to make 10 bucks online, QuickRewards might be it.
QuickRewards is one of the lesser-known Get Paid To (GPT) sites, but it offers much the same as you're used to with other sites.
You complete various online tasks and get rewarded for doing so.
The difference with QuickRewards is how fast you can earn money.
While some GPT sites leave you hanging for weeks or months before you can finally cash out, QuickRewards has no minimum payment amount.
You can cash out whenever you want!
Want more money?

Easy Extra Cash! Join the famed Vindale Research site and earn rewards by doing nothing more than sharing your experience of using the internet. Guaranteed 100% free membership.


So, earn $5 on the site and cash it out as soon as you make it.
That's almost unheard of for a GPT site, which usually requires $10 or so as a minimum cash out amount.
Let's go through what you can do on QuickRewards to maximize your time and earnings and learn why it's one of the best GPT sites for quick cash.
What Can You Do?
QuickRewards offers many of the same things as other GPT sites.
Here, you can take surveys, earn cash back on your online shopping purchases, watch videos, print grocery coupons, read paid e-mails, visit sponsored sites, play games, and more.
Of course, some of the best ways to earn money is by making purchases through the site, either through online shopping cash back opportunities or cash offers.
But, if you're going to do some online shopping at one of the retail partner's websites anyway, you can quickly earn some cash back without spending money frivolously.
The same goes for cash offers. Advertisers will offer a specific cash back amount when you complete their offers.
These offers usually entail signing up for a trial or purchasing a product or service, so some money will be involved.
But, if it's something you would have purchased anyway, you're not really spending anything extra to get cash back.
There are plenty of free opportunities to earn cash, too.
QuickRewards has free offers that might require a website registration or an app download, but nothing that requires you to spend money.
Surveys, paid e-mails, games, videos, and more ways to earn with QuickRewards are also 100% free.
I suggest following QuickRewards on Facebook for up to date news about the website.
You'll find out when there are new sweepstakes, contests, games, and more, so you can try your hand at earning more cash!
How Much Can You Make?
The amount you make with QuickRewards really depends on the tasks you do and how often you visit.
But, if you use your time wisely, you can easily earn $5, $10, $15, or more quickly.
First, check out the cash offers. These are the highest-paying offers where you can even get $20 back from completing one.
If there's anything you'd consider spending your money on anyway, go ahead and do it.
The same goes for cash back shopping. Check QuickRewards first before you buy anything online to see if it has a cash back shopping offer for the retailer you'll use.
Most of the time, you can get between 3% and 5% of your purchase price back in QuickRewards cash!
Then, check out the free offers. Doing several of these can easily give you $10 or more within 30 minutes or so.
They're usually nothing more than a quick sign up form for $0.25 or more.
There are usually new offers added consistently to the site. If you run out of offers to complete, check back the next day to see if new ones have been added.
Surveys, paid e-mails, and videos are all good ways to earn a few cents here and there when you have some extra time.
But, don't rely on them for your main source of cash. It takes a lot of them to earn a quick $10.
How Does Payment Work?
This is the best part of QuickRewards. But, let me explain a bit how it works.
Most tasks on QuickRewards pay in cash. Surveys, paid e-mails, ad clicking, videos, and more smaller tasks will pay cash.
There are also QuickPoints, which are used for most of the offers. Simply, 100 points equal $0.01 (one cent), and QuickRewards automatically exchanges every 100 points for its cash equivalent.
Then, there are also Tokens, which are like bonus points for some things on the site.
QuickRewards will let you know if you're doing anything that will reward Tokens.
Your bonus Tokens can be used for special purchases from QuickRewards partners, like gift certificates and magazine subscriptions.
Now, the best part: Whenever you have an amount in your account that you want to cash out, you can request your payment!
QuickRewards doesn't make you wait until you have a minimum amount. If you want to cash out $1, cash out your $1.
You can cash out your balance to your PayPal account on any day.
In most cases, your balance will show up in PayPal in a few hours!
For a different way to make quick money online, try Transcribe Me.
This website is for transcriptionists to transcribe audio files into text.
Transcribe Me pays $20 per audio hour, so what you make depends on how quickly you can transcribe.
But, you only need $1 to cash out, so even if you only transcribe small amounts each day, you can still get your money daily.
You'll have to pass a basic skills test when you sign up before you're allowed to become part of the team.
But, it seems all that's needed are basic transcription skills, so it's worth a shot!
Amazon Mechanical Turk is a microtask site where you can do quick, small jobs for small amounts of money.
Although most tasks pay only a few cents each, they don't take much time.
The beauty of a site like this is you can log on whenever you have some time to spare, get some work done, and earn some cash.
It's flexible, and you can choose the tasks that fit your skills.
An example of a task you might do is tagging and categorizing images a client gives you.
Or, you might need to find some websites for a client to use for research on a specific subject.
Amazon MTurk also has only a $1 minimum cash out amount, which you can make quickly on the site.
As soon as a client approves your tasks, you'll see the amount credited to your account.
Then, you can transfer your earnings to your Amazon gift card account, or to your Amazon Payments account.
If you send it to Amazon Payments, you can link your bank account to transfer it straight to your bank.
The process should only take a couple of days at the most.
View Ads with Qmee
Qmee is another different way to earn quick cash online – and it pays instantly!
Qmee is a shopping app that runs in your internet browser.
When you visit an online retailer or search for a product, Qmee will show you advertisements for similar products or services you search for.
You earn cash just by viewing the ads, and you can earn more if you decide to purchase one of the items it advertises.
Link your PayPal account for instant transfer of your earnings to your account. You can also transfer your earnings to a variety of gift cards.
It takes up to 24 hours to see your earnings in PayPal, but in most cases, it arrives in a couple of hours.
Qmee is basically a hands-free way to earn money as you browse the web. It couldn't be any easier!
Other Ways to Earn Quick Cash Online
Here are a few more ways to earn a quick $5 or more online, but they won't pay you instantly. But, if you can wait a few days to get some cash, try these methods!
Fiverr does have some fees involved, so shoot for completing at least a few $5 gigs per day, if possible, to cover the fees. You can receive your funds via PayPal, but you can't withdraw your earnings until 14 days after your gig has been marked as complete.
So, it'll take a little bit of time in the beginning to get cash, but once you have a steady stream of gigs flowing, you'll start earning consistent cash.
You get paid an amount per word based on your rating, which iWriter assigns when you sign up. The more you write and get a higher rating from clients, the more you can earn.
iWriter, fortunately, pays weekly on Tuesdays and your earnings go straight to PayPal, which can make it a convenient way to earn cash fast.
You write the articles clients need and you can move up the ladder as you write more and increase your ratings. Even at high levels, you won't earn great prices, but Textbroker pays weekly so you can make cash fast.
Clients send "requests" which are no more than 20 minutes of work. If a task will take longer than that, you can indicate that to the client and the pay can be adjusted.
When you claim a task, you need to begin it right away. Once your task is approved, your account gets credited. You'll get paid every other week, but if you do continuous work, you'll have a steady income stream.
You earn cash when you send in a picture of your receipt with specific items you purchased. So, if you're going to shop and purchase those items anyway, it's a good way to get rebates back on the items you purchased.
Conclusion: Make $5 to $20 Quickly Online
As you can see, making a quick $10 online isn't off the table!
There are plenty of ways to earn fast money with minimal work – you just need to find out where to do it.
So, sign up for QuickRewards and try a few of the other websites I mentioned to maximize your earnings.
You'll likely make $20 faster than you thought possible. Good luck!
In what ways do you make quick money online?
Let us know in the comments!
Related Posts:
Earn Everything… nearly!

Join Ipsos iSay, one of the few Faithful and Honest survey panels and earn prizes, gift cards and donations. Stack your points and redeem them: Simple! No hidden fees and completely free!