Make Copies Near Me for Free or Cheap: 42 Best Places to Try
Updated on: by Amy Kennedy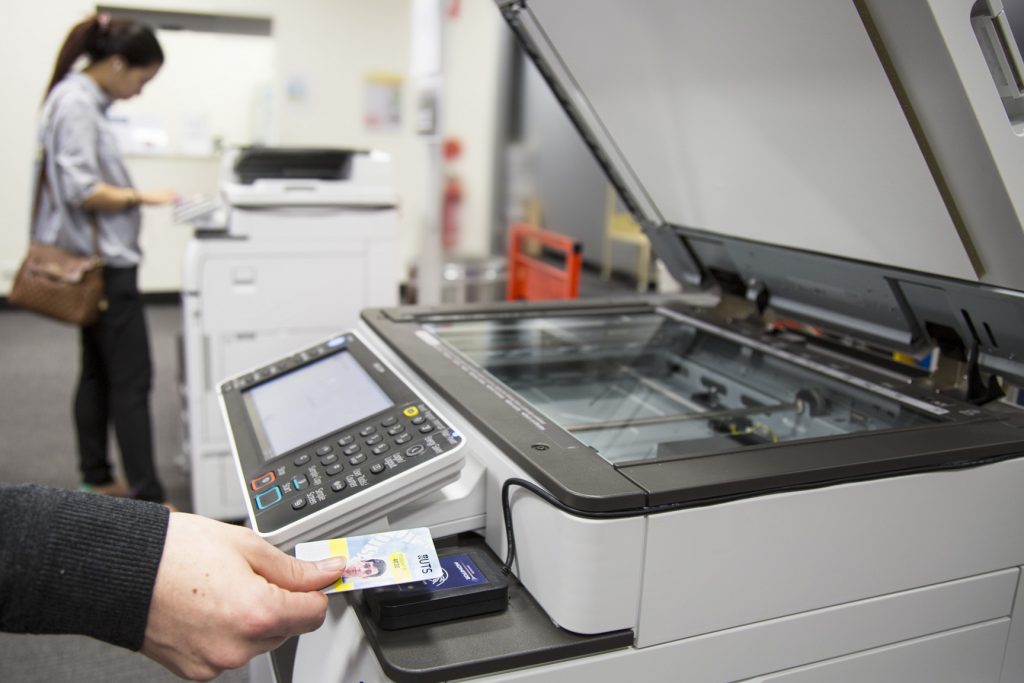 Even though everything seems to be digital these days, needing print copies of documents and photos isn't an uncommon thing yet.
Need Easy Extra $350+/Month For Free?
There are plenty of times when you might need copies of documents or paperwork, and having a place nearby that will copy everything for cheap or free can come in handy – especially if you don't have a printer with a copy function available at home.
And sometimes, it's cheaper to go somewhere to copy papers instead of using your ink in your home printer, which can be expensive to replace.
This article lists more than 30 places for you to get free or cheap copies of documents or photos made near you and online.
How Much Does a Photocopy Cost in Black & White and Color?
Copies can cost very different amounts depending on whether you want color copies or black and white copies and what place is copying them for you.
It's usually cheaper to get copies at a local community spot, like a library or a community center, because these places are focused on providing low-cost services to the public.
But some stores are also pretty accommodating when it comes to offering low prices for your copies, especially if you have a membership to the store.
Generally, you can expect color photocopies to be more than black and white because they'll use more expensive ink or toner (and more of it) for clear copies.
Color copies often range from $0.25 to $1 per page, while black and white copies are far cheaper, between $0.02 and $0.25 per page.
If you need double-sided printing, you can usually get a slight discount on the price of the second side.
For example, the first side might cost $0.10 but the second side will only be $0.05.
Cheap Printing Near Me (or Free!): Where to Copy Documents, Photos, and More
The following places are ones that will allow you to copy stuff for free or cheap – and they all might be right near your neighborhood.
The Library
The library is probably one of the best places to go if you need cheap copies.
In fact, some libraries will even let you copy a few pages for free, which is good if you only have a quick document to copy.
Otherwise, you can get copies made for just a few cents per page, which is cheaper than most copy shops and other places will let you do it.
You usually don't even need a library card to get copies made.
Need Easy Extra Cash?
Pinecone Research, a leading name in online survey panel honesty, absolutely guarantees $3 cash for every survey you complete!
Take advantage of their time limited New Membership drive and register NOW. Join today: 100% free!


Friends and Family with a Copier
Ask your friends and family if they have a printer with a copier.
Some will probably do you a favor for free, but it's nice to offer to pay something for your copies, especially if you need a few pages.
Or, offer to pay for a new ink cartridge for them.
Your Workplace
Your workplace might let you do some personal copies for yourself, but usually only to an extent.
You won't want to abuse the privilege if you have a nice boss who doesn't mind you using work equipment for personal use sometimes.
Be sure to ask before you do it, as it could look negative on you as an employee if you don't.
Your School
Do you attend a college or university, or are you an alumni of one?
You might be able to get some personal copies made there for a low cost.
Some community colleges may even do it for you even if you don't attend.
Read More: 28 Best Places to Sell College Textbooks for the Most Cash
A Local Job Search Service
If you have any companies or offices in your town that focus on helping people with their job searches, you can try there.
They'll have copiers in their offices because they copy resumes and other documents for people looking for work.
You'll likely have to pay for your copies, but they shouldn't be too costly.
The Post Office
Post offices will usually copy papers for you if you don't need too many.
They get busy a lot during the day, though, so try not to head there during their peak periods when the workers are trying to help other customers.
Avoid afternoons around 4-5 PM and lunch hours, around 11-1 PM, if possible.
Hotels
Many hotels have office and meeting rooms with equipment like printers, computers, and copy machines.
Ask the receptionist if it's okay for you to make some copies without paying for a room.
It might not be a free service like it would be for guests, but you should still be able to get the job done.
Your Apartment Complex
If you live in an apartment or a condo complex, you might have a common area with a copy machine.
Or, see if the office has one and is willing to do it for you.
Since you're a renter or owner there, you probably won't have to pay much to get your copies made.
Community Centers
Community centers are there to help the community, so they're good places to try for copies.
Try recreation centers, senior centers, YMCAs, or other community spots.
Shipping Centers
Do you have local shipping centers nearby, like a UPS Store or Fed Ex Store?
Some shipping centers are more general, helping customers send and receive items through UPS, Fed Ex, and other delivery services.
Any of the above are possible places for making copies.
You can find Fed Ex locations here and UPS Store locations here.
Local Courthouse
Your local courthouse or municipal building definitely has a copy machine – and it's possible that they'll let you use it if you really need copies made.
Earn Everything… nearly!
Join Opinion Outpost, one of the few faithful and honest survey panels and earn cash and gift cards for your opinion. Stack your points and redeem them: Simple! No hidden fees and completely free!


You'll probably have to pay per page, though.
Sheriff or Police Department
Sheriff and police departments may allow you to visit to get some copies made, but it's always a good idea to call first.
These places are busy, so call ahead and ask if it's okay if you stop in to get copies or what time would be a good time to visit.
Art Studios
Art studios often offer unique copying services tailored to the needs of artists and creative professionals. 
These studios may have specialized equipment and expertise in reproducing artwork, photographs, or other visual materials. 
Additionally, they may provide options for different paper types, finishes, and customization to ensure the final copies capture the essence and quality of the original artwork.
To find art studios in your area that offer copying services, consider searching online directories or local art communities for recommendations and reviews.
Bookstores with Printing Services
Some bookstores, especially larger or specialty ones, provide additional services such as printing and copying. 
These bookstores often have self-serve copy machines or offer assistance with various printing needs. 
Whether you need to make copies of documents, articles, or book excerpts, these bookstores with printing services can be a convenient option.
To locate bookstores with printing services in your area, check online directories or contact local bookstores directly to inquire about their available services.
Local Nonprofit Organizations
Local nonprofit organizations often play an active role in supporting the community and may offer various services, including copying and printing. 
These organizations aim to assist individuals, families, and businesses, and their services are typically affordable or even provided free of charge. 
Nonprofits like resource centers and social service agencies may have on-site facilities equipped with copy machines available for public use. 
They may also offer assistance with document preparation, printing, and copying for specific purposes like job applications, educational materials, or community events.
Local Grocery Stores
Several grocery stores offer copy services to customers.
Call around your town to different grocery stores to see which ones might offer the service and how much they charge for copies.
Airports
Most airports offer all kinds of services to travelers that you may not even think about.
One of those services is copying services for those who are on the go but still need stuff copied before they get to their final destination.
Airports aren't always the easiest to get into, so I don't recommend you using this option as your primary way to get copies.
However, if you're traveling, it's a good thing to keep in mind.
Local Print Shops
Do you have any print shops nearby?
These places specialize in printing stuff, so they'll likely be able to handle some copies for you, whether you need color or plain old black and white.
Coborn's
Coborn's is a grocery store that offers a bunch of helpful services to its customers, including selling tickets to local events, bus passes, postage services, and even dry cleaning!
You can also take advantage of its copy and fax services.
According to its website, every location has a copy machine located near the guest services counter, although each location can choose its pricing for the service.
Costco
You can either head to a Costco in person or utilize its online copy services to get your copies made!
Not all locations have copy services available, but most do.
Prices for both color and black and white copies are relatively cheap at Costco.
CVS Pharmacy
CVS Pharmacy locations not only have photo printing services available to customers, but they also have black and white and color copying available.
Black and white copies start at 19 cents per page while color copies start at 99 cents per page.
CVS can also save your scanned documents onto a CD for $3.99.
H-E-B
H-E-B stores with a business center typically offer printing services for customers.
Other services offered by these stores include equipment rentals, lottery ticket sales, and special pricing on tickets for local events and attractions.
Office Depot
Office Depot sells everything under the sun for businesses, so it's no surprise that it also caters to customers who need business services, like printing and copying.
You can drop off whatever you need to be copied at your nearest location and have it ready for pickup within an hour, in most cases.
Some locations even have curbside pickup so you can get your order conveniently from your vehicle.
Rite Aid
Some Rite Aid locations have copying services available along with their photo printing services.
It's a good idea to call your local store first before heading there to see if the service is available.
Sam's Club
If you're a Sam's Club member, you can head there to get some copies and prints made for cheap.
Not all locations have this service available, so call ahead just to be sure.
Staples
Whether you need simple or professional copies made, Staples can handle the job.
All locations offer printing services for customers, with copies starting at 13 cents per page for black and white printing.
The store also offers same-day pickup and curbside pickup services for convenience.
Walgreens
In addition to Walgreens photo printing services, the company also offers copying services through its business center.
You can start the process online to pick up your order at your nearest Walgreens later the same day, or bring what you need copied into the store.
Walgreens also offers bulk pricing for large orders.
Walmart
Some Walmart locations allow customers to get black and white or color document copies made while they shop in addition to their photo printing services.
You can call ahead to guest services to see if your local store offers it.
Use Google to Find More Places
If you're not having luck with the other places I mentioned in this article, you can always rely on Google.
Search for a term like, "copy documents near me," on Google to see what comes up.
You may end up finding a couple of spots that mention document copies on their websites as one of their services that you didn't know about.
Online Copying Services
There are several online copying services, too, where you can get cheap copies made without having to leave your home.
Swagbucks doesn't technically provide online copying services.
However, it's a good place to visit first before you decide on an online copying service to use.
Whether you need photos or documents copied, Swagbucks usually has current partners that will pay you discounts for using their services when you go through Swagbucks.
For example, as a Swagbucks member, you can click on links to Staples or Office Depot, both of which offer 1% cash back into your Swagbucks account when you use their online services or make purchases.
Always check here first to see if there are any current cash back offers and discounts that can save you money!
This place has some incredibly low prices for black and white and color copies, and you can complete the full process from your computer.
Black and white copies start at 2.7 cents and color copies are just 9 cents per page.
There's a range of services available with this online printing company, including full-color brochures, memo pad printing, and copying simple black and white documents.
If you need copies made in bulk, then this is a good place to go.
You can get as many as 1000 black and white copies made for about $55, for example, making it an excellent option for business printing.
Docucopies offers a range of printing services online, and it even has a rush printing option that lets you get what you need as quickly as the next day.
Get black and white or color documents copied with Print It!, which offers a huge selection of options for every document you need copied.
Get your copies made with this convenient site, and benefit from rush shipping options that can get them sent to your home or business in as little as one business day.
Vistaprint is known for its business and marketing printing services and products, like business cards, labels, and stationery.
But it also can handle copying plain old documents for you when you prefer to do it all online.
And, if you need some help designing a poster, brochure, or whatever else you need printed or copied, the company has you covered there, too.
OfficeMax is a well-known office supply retailer that also provides copying and printing services. 
Their copy centers are equipped with modern machinery to handle various copying needs, from basic document reproductions to more complex printing projects. 
OfficeMax offers black and white copies, color copies, as well as additional services like binding, laminating, and document finishing.
Phone Apps
Did you know that you can turn your phone into a scanner/copier?
It's true, and all you need is an app to do it.
Google Drive is completely free to use and you can get it in app form.
The app lets you take a photo of the document you want to copy. You can add more pages to the same document by clicking the Add button.
Save the document to print off elsewhere or print it at home with your printer!
If you have an HP printer at home, you can try the HP Smart app, which does basically the same scanning tasks as Google Drive.
CamScanner and Genius Scan are two other options that turn your smartphone's camera into a scanner to make copying documents and photos quick and simple.
Conclusion: Make Copies Near Me for Cheap or Free
I hope that this article helped you find some places near you – or online – where you can get copies made free or cheap.
It should never cost a fortune to copy simple documents, especially if you only need a few pages.
It's nice to know of at least a few spots you can go in your neighborhood that provide cheap or free copying services for your convenience.
If there are any other stores or community spots that you frequent for copies, please let us know in the comments.
Related Posts:
Earn Everything… nearly!
Join Ipsos iSay, one of the few Faithful and Honest survey panels and earn prizes, gift cards and donations. Stack your points and redeem them: Simple! No hidden fees and completely free!