Top 28 Ways to Make an Extra 1000 Dollars in a Month (It's Legit!)
Updated on: by Amy Kennedy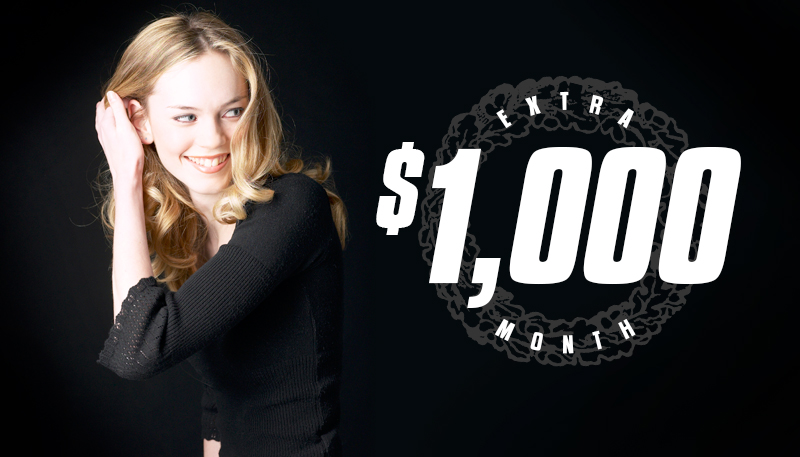 Need Easy Extra $350+/Month For Free?
Part-time gigs can sometimes make more money than full-time jobs!
The internet gives us so many ways to be creative and make a living off things we enjoy doing.
Which brings me to this post, which covers 25 ways in which you can earn an extra $1,000 every month, all from doing something part-time online or offline.
If you're saying, "I need 20 000 dollars a year!", then this article may be able to help you get there.
Especially if you utilize a few of these money-making tips to earn even more every month!
As a freelancer myself, I've learned that it's totally possible to use the internet to make extra money without setting yourself up for a full second job.
But, if making money online isn't the route you want to take, don't worry.
I'm also outlining plenty of offline ways to earn some extra cash, so you don't have to feel left out.
Onto the money-making opportunities!
Ways to Earn 1000 Dollars Online
First, we're going to talk about some of the ways to earn money online.
If you get serious about these tasks, or even combine a few of your favorite ideas, you can easily earn $1,000 or more each month.
Create Stuff for Etsy
Etsy is a great place to earn money if you have unique ideas and are crafty about bringing them to life.
After all, this site is all about handmade items!
People who use it to sell make things like wood furniture, doll clothing, personalized mugs and t-shirts, and even WordPress themes.
So, even if you're a graphics designer and create only digital items, you can even find your place on Etsy.
Need Easy Extra Cash?
Pinecone Research, a leading name in online survey panel honesty, absolutely guarantees $3 cash for every survey you complete!
Take advantage of their time limited New Membership drive and register NOW. Join today: 100% free!


Etsy is free to join and has low listing and selling fees, so you won't have to pay a ton to run your own Etsy shop.
And, with the right marketing tricks, like advertising your shop on a niche Facebook group, you'll end up with plenty of orders from people who want to buy from you!
We've also created a guide with other sites like Etsy, so you have plenty to choose from!
Design Websites
Do you have an incredible website design that you created yourself?
Sometimes, that's all you need to get other people to want to hire you to create their websites.
Web designers don't usually have to do a lot of marketing, which is great when they want to spend more time designing for cash.
But, you can always set yourself up with an Etsy shop, an Upwork profile, or a Facebook page to get more people to learn about your designs and what you can do.
Fiverr is also a good place to set your own gigs and prices.
Then, people who need web design services can find and hire you!
Microtask
Microtasking can take a bit of time to really understand what works best for you as far as earning cash.
Still, it's a legit way to make $1,000 a month if you get really good at it, especially using Amazon Mechanical Turk.
This site has tons of options for the type of work you can do, so you can figure out what you enjoy and what tasks you can complete most efficiently.
And, here's a list of other sites like Mturk to try out for more options and money-making opportunities.
Read More: 36 Best Ways to Earn Cash Online with Super Quick Tasks
Online Tutoring
Back in the day, you could only tutor students offline.
Thanks to how far the internet has come, you can now do this online with students all over the world in various subject areas.
Some sites don't even require you to hold a teaching degree.
Instead, they'll have you perform some assessments to ensure that you have sufficient expertise in your chosen areas to tutor others.
This list of the best online tutoring companies can help you get started with earning cash from home.
Search Craigslist for Jobs
Craigslist is a site on which you can find just about everything you could ever want to buy.
But, it's also great for finding odd jobs around your neighborhood.
This tip is a blend of online and offline, because you'll be using a website to find jobs offline.
However, Craigslist does also offer several online jobs, like content writing for blogs or managing social media accounts, so it's possible that you find some of those during your search, too!
Start looking in the Craigslist area of your town in the Jobs section for neighborhood gigs.
For online jobs, it's a good idea to search large cities, like San Francisco, Seattle, New York City, and Los Angeles, for remote opportunities.
Sell Clothing
There are probably more ways to sell clothing online than you think!
First, there's selling the clothing you already own but no longer need.
You can sell clothing in good condition to places like Swap and ThredUp for some extra cash every month.
You even have several options for selling your wedding dress online!
Earn Everything… nearly!
Join Opinion Outpost, one of the few faithful and honest survey panels and earn cash and gift cards for your opinion. Stack your points and redeem them: Simple! No hidden fees and completely free!


Then there are also tons of places to design and sell custom t-shirts online, like TeeSpring and Zazzle.
Alternatively, try out some of these handy selling apps to get rid of clothing you don't need and get some extra cash.
Sell on Craigslist or eBay
Craiglist and eBay are two of the most popular sites to sell just about anything online.
The difference is in their formats.
Craigslist is like an online newspaper Classifieds section. You post items to sell and then local buyers will arrange a meeting and payment.
eBay sales go through the site, so you can sell to people around the world. You can choose to create a fixed price listing or an auction.
Either way, you can sell things you no longer need using the online platforms.
If you're selling large items that can't be shipped easily, you should use Craigslist.
But, unique collectibles and smaller items will usually do well on eBay.
Here's a guide to selling on eBay, and here are alternative sites like Craigslist to give you some more options.
Sell Photos Online
You can sell your own photos to make some money!
And, you don't even have to own a professional camera. Some sites and apps, like Foap, let you sell photos from your phone camera.
But, if you have a passion for photography and know how to use a professional camera for high-quality shots, you can make a living off selling photos to stock photography sites.
Here are a few options that pay you commissions for photos you sell:
Read More:
21 Best Sites That Let You Make Money Online with Your Photography
Top 10 Ways to Make Money from Your Beautiful Instagram Photos
Sell Textbooks
One of my biggest pet peeves, when I was in college, was having leftover textbooks I didn't need after my classes ended.
What I didn't realize until after I completed my degrees was that I could sell them for extra cash.
No, this won't continuously make you money every month.
But, if you have a lot of textbooks saved up like I did and sell them all in one month, it's possible that you almost meet the $1,000 goal, or even surpass it.
I suggest using BookScouter to look up the ISBNs of your textbooks.
Then, you can compare prices from places offering to buy those books.
You can ship them for free to the buyers and get paid!
You'll earn up to 80% of your books' retail prices.
Read More: 28 Best Places to Sell College Textbooks for the Most Cash
Start a Freelance Gig
I can confidently say that starting a freelance gig is one of the best ways to earn $1,000 online because I've done it myself.
The best part is that there are so many ways you can start and so many things to do.
Pick what you're good at and go from there!
Take some time to browse Upwork and Fiverr to see what kinds of gigs are popular that fit your skills and interests.
This can also give you an idea of the kinds of prices you can expect for those types of gigs.
Create a profile on both.
With Upwork, you'll apply for open jobs.
On Fiverr, you create your own gigs for others to purchase.
Freelancing includes so many different money-making opportunities, that it's virtually impossible for you not to find something you can make money from.
Read More: Make Extra Money or Start a Freelance Business on Fiverr
Write for Blogs and Online Magazines
Freelance writing has become one of the most popular forms of freelancing over the past several years.
Why?
Well, businesses are quickly learning how important it is to have an engaging, updated, well-written blog to get visitors to their websites.
That's where good writers come in.
If you've owned a popular blog and know the basic rules of grammar, punctuation, etc., you can probably make some money with freelance blogging.
Some online publications also pay, but you'll usually need some already-published bylines to get accepted.
Search for writing jobs on Upwork, Craigslist, and ProBloggers.
You can also create writing gigs on Fiverr or contact blogs and publications directly to see if they have a need for a new writer on their team.
Read More:
These 28 Freelance Online Writing Jobs are Perfect for Beginners
8 Ways to Get Started as a Freelance Writer
Make Quick Money Offline
We've covered several ways to make money online, but using the web to work isn't the best option for everyone.
So, here are some ways to earn $1,000 offline this month, too!
Be a Professional Partier
Okay, not in the way that you think.
This method isn't so much about getting paid to show up and party, but instead to dress as a character for special themed parties, like kids' birthday parties.
It may not be the most luxurious gig, but it works.
You can expect to make anywhere from $40 to $50 per hour, which is well worth it to dress in a costume for a couple hours, right?
Check out Rent a Character to see if there are any gigs open that match your looks.
Or, you can start your own character business by renting costumes and marketing yourself to your friends and family who might be in need of your services!
Clean Houses
People don't really love to clean their own houses, but that's probably because they don't get paid for it.
Cleaning other people's houses is a good way to make some money, and you can make a decent amount of it!
Most cleaning services charge between $50 and $100 per hour, depending on how in-depth you get.
If you want to focus on quick, surface cleaning, you might want to set your prices a bit lower, like $25 to $30.
This helpful guide can help you learn what you need to know about starting a cleaning business.
Complete Neighborhood Gigs with Your Phone
Did you know that your phone can help make you money?
You can find plenty of neighborhood gigs just by using apps on your phone that point you in the right direction.
EasyShift, for example, offers quick tasks around your neighborhood and pays you within 48 hours with PayPal.
Gigwalk is a good app to find things that people need done, like painting rooms for landscaping tasks around their homes.
TaskRabbit also helps you find things you can get paid for in your town.
These apps can help you find plenty of gigs without spending time looking for who needs them done.
Donate Eggs
Women can donate their eggs for cash!
This obviously isn't something that all women would want to do, but since it is a way to earn some cash, it's worth mentioning.
The process for harvesting eggs for donation is much more involved than the process for donating sperm, which is why you can earn about $8,000 per donated egg.
You generally have to be at least 18 and in good health to donate.
Most centers will make you wait at least three months between donations, too.
But, that can equal an extra $32,000 per year, which almost triples your goal of $1,000 per month!
Donate Plasma
Many plasma donation centers will pay you up to $50 per donation, and will let you donate up to twice per week.
If you do the math, that works out to about $400 per month!
So, if you have a nearby donation center that takes blood plasma, check its requirements.
You'll need to take on an additional gig to reach your $1k per month goal, but this can get you almost half of the way there for only a few hours of your time each month.
Plus, you're helping people with health needs, which is an added bonus!
Donate Sperm
Donating sperm is another one of those things that isn't for everyone.
But, it can be a good side gig for someone who needs cash and doesn't mind the process.
Most men who are in good health and don't drink or smoke can qualify to be a sperm donor.
You can even potentially earn hundreds of dollars per month, and maybe $1000 or more, depending on your donation center.
This guide to sperm donation will let you know all the details.
Dumpster Dive
Ew, I know. It sounds gross, but you don't have to literally go in a dumpster (unless you want to).
The dumpster diving I'm referring to simply means making use of the things other people throw away.
Used furniture, for example, is something you might be able to fix up and sell for a profit.
Or, the lamp on the side of the road can be cleaned up, repainted, and sold.
It's basically like house flipping, but on a smaller scale.
Just be sure to check with your neighbors before you rummage around in their garbage.
Get Organized
Did you know that there's an actual organization for people who love to organize?
It's known as the National Association of Productivity & Organizing Professionals (NAPO).
So, if organizing is your thing, you can obviously find a way to do it for a living, or just a side gig.
You can check around with small local businesses to see if they have a need for office organization.
Or, perhaps some people in your neighborhood need some help with their home offices, playrooms, etc.
Put an ad in the paper or your local Facebook group, and you may find that plenty of people are interested in paying you for your help.
Paint the Neighborhood
Painting is one of the most dreaded tasks of homeowners.
You can swoop in and monetize their hatred of painting by offering the service yourself.
Get creative. Don't just stop at offering to paint bedrooms.
You can also offer to paid street numbers on curbs, touch up window trim, or even repaint outdoor kids' toys that have faded in the sun.
Participate in Medical Trials
Getting paid for clinical trials isn't something everyone will find easy to qualify for.
You'll need to meet certain health criteria, as well as requirements for age, weight, etc.
And, you'll also be agreeing to try out medicine that could have some potential side effects, which can be risky.
But, if it sounds like something you're interested in, head to ClinicalTrials.gov to see if there are current trials looking for participants.
Read More: 11 Best Places You Can Sign Up to Be a Human Guinea Pig for Money
Sell Hair
When all else fails, sell your hair like you just don't care!
In all seriousness, selling hair online is a legit way to earn extra cash.
Depending on how beautiful and long your hair is, you can get thousands of dollars for it!
Those with rare shades of hair and very long lengths can potentially sell their hair for $4,000 or more.
Browse around the listings to get an idea of what your long locks could sell for!
Share Stuff
It's never been easier to make money from things you share.
Uber, for example, lets you drive other people in your car, like a personal cab service, for cash.
You share some space in your car, people get to where they need to go, you get paid. It's that simple.
HyreCar lets you rent out your car to others to use for ridesharing services like Uber and Lyft.
You can make money when you don't need your car, like the weekends when you're home from work.
Or, you can even use Airbnb to rent out your home or space in your home to travelers.
You can get creative and think of other things to rent to people you know.
Rent textbooks to college kids, dresses to high school seniors attending prom, or even space in your garage to someone who needs some storage space.
Start a Lawn Care Service
Lawn care services are an excellent way to make money all year 'round.
Rake the leaves in fall, mend the garden in spring, plant new grass in summer, and clear snow from walkways and yards in the winter.
Regardless of what time of year it is, you can always make money from your lawn care skills.
And, it's a super easy gig to market. Just tell your friends and family and post your services on Facebook to get some quick bites!
Walk Dogs or Pet Sit
Love dogs? This opportunity is for you, especially if you have neighbors who know you well and trust you.
Go around to those in your neighborhood with pets and see if they need a dog walker or pet sitter.
Dog walkers can earn about $30 per 30-minute walk!
And, pet sitters can earn around to $50 per day to watch one dog or cat.
If you sit for pets in your home, you can have more than one there at a time to earn more cash and easily reach your goal of $1,000 per month.
Check out Rover to find pet sitting and dog walking jobs.
Teach a Skill or Subject
If you have expertise in a particular skill or subject, consider offering your services as a tutor or instructor.
You can teach anything from academic subjects like math, science, or languages to practical skills like playing a musical instrument, cooking, or art.
You can advertise your services locally or online through platforms that connect tutors with students.
Determine your hourly rate based on your experience and the demand for your teaching niche.
Offer Home Maintenance Services
Many homeowners require assistance with home maintenance tasks but lack the time or skills to do them themselves.
You can capitalize on this demand by offering services such as basic home repairs, painting, gardening, or seasonal maintenance tasks like gutter cleaning or snow removal.
Advertise your services through local directories, community bulletin boards, or online platforms.
Providing reliable and quality service can help you build a solid customer base and generate recurring income.
Start a Mobile Car Wash Business
With a mobile car wash business, you can offer convenience to busy car owners by providing car cleaning services at their location.
Invest in the necessary equipment such as pressure washers, cleaning supplies, and portable water tanks.
Offer different packages ranging from basic exterior washing to full detailing.
Advertise your services to residential areas, office complexes, and local businesses.
Building a loyal customer base and providing exceptional service can lead to referrals and repeat business.
Conclusion: How to Make an Extra 1000 Dollars in a Month
If you're willing to put in some extra work, you can easily find yourself $1000 richer at the end of the month.
And, if you find that you enjoyed the tasks you did to earn extra money, you could even turn it into a consistent money-making project.
Or, perhaps a full-time job!
Most of these options are ones you can turn into a more long-term solution.
It's up to you whether you want to have a business or continue with a side gig.
Either way, we wish you good luck in your endeavors!
Can you think of some other legit ways to earn $1,000 in a month?
Please let us know in the comments!
Related Posts:
Earn Everything… nearly!
Join Ipsos iSay, one of the few Faithful and Honest survey panels and earn prizes, gift cards and donations. Stack your points and redeem them: Simple! No hidden fees and completely free!