Make Extra Money or Start a Freelance Business on Fiverr
Updated on: by Amy Kennedy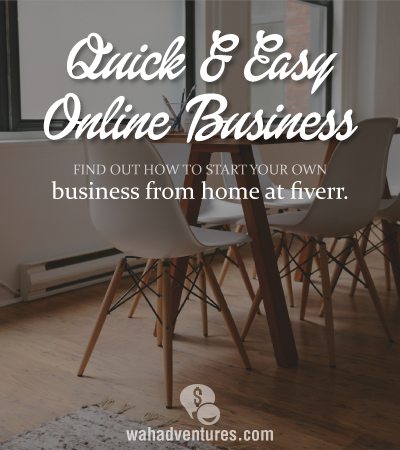 If you're trying to build a freelance business, there are several different ways you can do it. Websites like Elance and Odesk give you the opportunity to look at different projects and place bids on them.
Need Easy Extra $350+/Month For Free?
Another place that's become very popular for freelancers is Fiverr. In this post I'll explain how you can make extra money or start a freelance business on Fiverr.
What is Fiverr?
Fiverr is a website where people can sell products or services for $5.  You sell just about any product or service – some of the services I've personally taken advantage of include editing, eBook cover design, keyword research,  and SEO consultations.
In addition, some of the other gigs I've seen advertised include consulting gigs, where people will provide consultation services on a specific topic, social media management, gigs to design WordPress sites or fix WordPress site issues, transcription, and freelance writing.
You can also sell physical products on Fiverr – when you set up your gig, there's a checkbox that you can check that says "I charge for shipping" – check that box and put in the amount that you charge.
What are the Pros and Cons
Here are the ups and downs of this platform:
Pros of Working on Fiverr
Wide Range of Opportunities
Fiverr offers a diverse range of writing gigs, allowing writers to showcase their skills and expertise in various niches. This presents abundant opportunities to find clients who are specifically looking for the services you offer.
Flexibility and Control
As a freelance writer on Fiverr, you have the freedom to set your own rates, choose the types of projects you want to work on, and determine your workload. This flexibility allows you to manage your time effectively and maintain a healthy work-life balance.
Exposure to Global Clients
Fiverr is a global platform with millions of users, which means you have the potential to reach clients from around the world. This exposure to an international client base can lead to diverse projects and collaborations, broadening your experience as a writer.
User-Friendly Platform
Fiverr provides a user-friendly platform with a streamlined process for creating gig listings, communicating with clients, and managing orders. The platform offers tools for showcasing your portfolio, receiving feedback, and building a solid reputation as a writer.
Additional Income Streams
Aside from writing gigs, Fiverr allows you to offer additional services, known as "gig extras." These can include add-ons like faster delivery, additional revisions, or premium features, enabling you to increase your earnings and provide more value to clients.
Cons of Working on Fiverr
High Competition
Due to the popularity of Fiverr, there is significant competition among writers. Standing out from the crowd can be challenging, especially for new or less established writers. Differentiating yourself and attracting clients may require extra effort and a unique value proposition.
Lower Pricing Expectations
Fiverr's reputation as a marketplace for affordable services may lead some clients to expect lower prices for writing gigs. This can sometimes make it difficult to command higher rates and negotiate fair compensation for your work.
It's important to strike a balance between competitive pricing and fair payment for your expertise.
Platform Fees
Fiverr charges fees for its services, including a percentage-based commission on each completed order. While this fee structure supports the platform's infrastructure and marketing, it does reduce the overall income that writers earn from their gigs.
Dependency on Platform Algorithm
Fiverr uses an algorithm to determine the visibility of gigs in search results and categories. As a writer, your success on the platform can be influenced by factors such as your gig's performance, ratings, and overall customer satisfaction.
Need Easy Extra Cash?
Pinecone Research, a leading name in online survey panel honesty, absolutely guarantees $3 cash for every survey you complete!
Take advantage of their time limited New Membership drive and register NOW. Join today: 100% free!


Understanding and adapting to the platform's algorithm can be crucial for maintaining visibility and securing orders.
Limited Direct Client Interaction
On Fiverr, direct communication with clients is primarily conducted through the platform's messaging system. While this provides a convenient way to communicate and manage orders, it can limit the depth of personal interaction that some writers prefer.
Building long-term client relationships outside of the Fiverr platform might require additional effort.
Can I offer additional services as part of my gig?
Yes, once you've successfully delivered 10 gigs, you can add gig extras.  For example, if you're a freelance writer, you could add a gig extra to write an additional amount of words for more money.  I've added an extra to my transcription gig that says I'll transcribe an additional 30 minutes of audio for an additional $5, and I tacked on an additional two days for the order to be completed.
How do I offer my products or services on Fiverr?
Start by deciding what kind of product or service you want to offer for $5. Once you've done that, create an account at Fiverr, then go to the menu under your username and click on "My Gigs" which is listed under "My Sales," then click on "Add a New Gig" You'll have to give your gig a title – Fiverr gives you the structure they want you to use for your title – "I will (do something I'm really good at)".
Please keep in mind that your gig title can only be 80 characters – when you're typing your title, you'll get messages letting you know when it' s too long, too short, or just the perfect length. Then you'll add a picture to illustrate your gig. If you don't have pictures of your own you can go to someplace like Google Images to find a suitable picture. Next you'll describe your gig in at least 120 characters, preferably more.
When you're writing your gig description, be sure to clearly explain your service to your potential customers – include what you'll do and what you won't do. Next you'll add tags and decide on the maximum amount of time it will take for you to deliver the gig.
The last thing you'll do is add instructions for the buyer, such as information or files you'll need in order to deliver the gig – in the gig instructions for my transcription gig, I ask my buyers to provide links to or attach the files they want transcribed, as well as any templates they might have so I know how to structure the transcript, and provide any instructions on how they want the audio transcribed – do they want every word transcribed, or do they want it transcribed clean verbatim?
How and when do I get paid?
When someone orders your gig, they pay at the time they order the gig,  however you're not paid right away. After you deliver the gig, the buyer needs to mark it as complete. Once it's marked as complete, the payment will start to clear, and you'll normally be able to transfer it to your PayPal account or use it to order gigs for yourself two weeks after the buyer marks the order as complete.
You'll be able to see when payments for different gigs will clear your account in Revenues, which is located under My Sales.   For example, I received my first order on my Fiverr gig on December 30. I delivered it to my client on December 31 and he marked it as complete the same day. The funds cleared my account on January 14 and I transferred them to my PayPal account the same day.
Do I keep all the money?
Unfortunately, no.  Just like most other freelance sites, Fiverr deducts fees from the different gigs. You'll keep $4 out of the $5 that's charged to the client, and if you chose to transfer your earnings to PayPal there's an additional 8 cents taken out, so you'll receive $3.92 out of every $5 gig. Of course, if your client orders gig extras, or multiple gigs, you'll make more, but PayPal will also take out more for a fee.
What if I order gigs from other Fiverr sellers regularly? Can I put my earnings towards that?
Yes, if you order gigs from other Fiverr sellers regularly you can use your Fiverr earnings to pay for them – this is what my best Fiverr client dones. He has a few gigs on Fiverr that he offers, and the money he makes from those gigs he uses to order gigs from me and other transcribers on Fiverr so that he can have captioning on his videos for people who are hearing impaired or speak languages other than English. You'll still need to wait for your Fiverr earnings to clear before you can apply them to gigs you order, however.
Are there other ways I can offer my services on Fiverr?
Yes, Fiverr now has a section called buyer requests, where buyers can request a certain service – you can look through the list of buyer requests and if you see one that you think you'd be able to do, you can submit an offer to the requester with appropriate gig. In addition, you can create custom gigs for sellers that contact you, if your gig doesn't fit their needs.
If a seller contacts you about a custom offer, all you do is click the "Send a custom offer" button, fill in the description, select a category, decide on the maximum amount you would charge, and how long it would take you. Then click the "Send custom offer" button and see if the buyer accepts it.
What if I'm not going to be able to work for a while?
That's ok, just go into "My Gigs," click on "Vacation Mode" then choose the reason you'll be away and how long you'll be away.  Buyers can choose to be notified when your gig is reactivated, and you'll receive a daily update with the number of people on your waiting list.
Update 8-July-2023:
Since I originally wrote this post, Fiverr has changed their format slightly. The new features they've included are:
Additional Gig Packages
You can now choose to offer up to three gig packages, each with different services and different prices.
For example, on my clean verbatim transcription gig, which I currently have paused, I offer an interview transcription package, where I offer to transcribe a up to a 30 minute interview clean verbatim for $5, a sermon/speech transcription package for an audio or video of up to an hour for $10, and a podcast transcription package where I offer to transcribe up to a 2 hour audio for $20.
Fiverr has also added the option to include additional services – for my transcription packages, I include one revision, up to two or three speakers depending on the package, and proofreading.
Additional Services That Can Be Offered
Previously, the only additional service you could offer was extra fast delivery. Now, Fiverr has given sellers the option to offer extra services, depending on what kind of service they're offering.
For my transcription gig I'll transcribe longer recordings for an additional fee, add time-stamps, transcribe an audio with an extra speaker, and transcribe the audio full verbatim.
Option to Add an FAQ Section
If you find people asking you the same questions about your gigs over and over, you can add an FAQ section to clarify things.
Options to Transfer Earnings to Your Bank Account
When I wrote my original post, the only things you could do with your earnings were use them to order gigs, or transfer them to a Paypal account.
However, Fiverr introduced the ability to transfer your earnings to your bank account.
However if you choose this option, you have to use it exclusively – you don't have the option to choose where you want to transfer your earnings.
I can't say that I personally have made more money from these changes, because I haven't done much work on Fiverr since they made the changes. I do know that others have, however.
If you haven't set up a seller profile yet, now is a great time to do so, especially if you need to make some extra money for the holidays, or for other expenses you have coming up – you can sign up on their website at this link: https://www.fiverr.com/.
And if you're a contractor on Fiverr, I would love to hear about your experiences since they made the changes – please feel free to comment below.
Related Posts:
Earn Everything… nearly!
Join Opinion Outpost, one of the few faithful and honest survey panels and earn cash and gift cards for your opinion. Stack your points and redeem them: Simple! No hidden fees and completely free!


Earn Everything… nearly!
Join Ipsos iSay, one of the few Faithful and Honest survey panels and earn prizes, gift cards and donations. Stack your points and redeem them: Simple! No hidden fees and completely free!