5 Steps to Make Money Cleaning Houses ($1000 per Month or Even More)
Updated on: by Amy Kennedy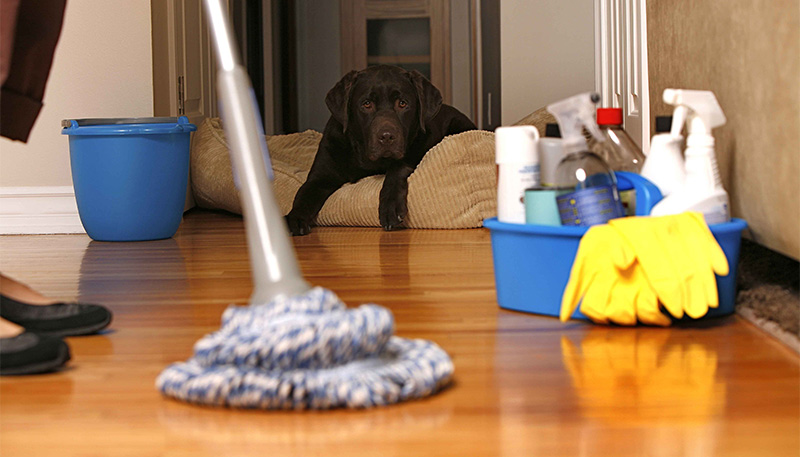 Are you looking for a way to make some extra cash?
Are you a hard worker but you lack any specific talents?
Often other ways to make more money take a lot of time and many jobs require a lot of investment in education. Various gigs may take lots of effort and time to make a decent income.
For example, starting your own product-based business can be overly complex.
However, there is a way to make more money much faster.
You'll need to take care of things that others may not want to do.
You can make as much as $1,000 per month for cleaning houses on the side.
This is one of several ways to make money quickly.
This isn't easy work so you'll need to roll up your sleeves.
However, it's a faster way to make extra cash than coming up with your own business ideas or attending years of schooling.
You will find that this type of house cleaning goes beyond the typical cleaning you'll do at your own home.
However, you can also charge more than minimum wage for this type of work.
The amount you make should be worth the effort of cleaning others' houses.
The rate you charge can improve the speed with which you make your monthly income.
Nonetheless, you need to look more deeply into it to find ways to make the most money.
You can make $1,000 or more a month cleaning houses but you'll need to consider a few issues first.
How to Make Money Cleaning Houses
You will need to follow a business model if you want to make extra cash cleaning houses.
Cleaning houses as a type of job has been around for centuries.
It has often revolved around more wealthy families in need of maid service.
The need for house cleaning tends to move with the economy.
When the economy is strong and families have plenty of money to spend, you'll find many more opportunities to make extra cash for cleaning houses.
If the economy has hit a downturn, though, you may not have as many jobs open to you.
Families tend to end their service to save their dough.
This doesn't mean you won't find any jobs, but there will be a lot more opportunities for your cleaning business to blossom in a good economy.
Before You Get Started Cleaning Houses Professionally…
You might think that cleaning houses is just one of those things you'll automatically be good at.
That's not always the case, even if you're amazing at cleaning your own house.
The thing is, you've likely gotten accustomed to your home and what needs cleaned the most often.
You've found a routine that works for you and your house.
All other homes are different, though, and they're going to require a different routine, different products, and different priorities.
The best thing you can do before you decide to get yourself into the house cleaning business is – you guessed it – practice, practice, practice!
Take time to practice deep-cleaning surfaces you might not work on much in your home, like the stove, oven, walls, baseboards, and windowsills.
You should also get some practice working with different floor types, since hardwood floors will require different cleaning methods and products than laminate, for example.
Check with your friends and family to see if anyone might be willing to pay you for a couple hours each week to work on their homes and get a good amount of practice in.
This will help you feel more confident in your ability that you'll be able to tackle just about anything that comes your way in the house cleaning world.
Read More: Top 8 Places to Find Paid House-Sitting and Caretaking Jobs Online
The Business Aspects of Cleaning Services
Are you one of those people who would rather have someone else handle things like cooking or other chores?
If so, then you likely understand the mind of the customer who seeks a cleaning service.
Even though this type of job is mostly centered around simple cleaning and possibly laundry, you will still need to use some business aspects to get your cleaning service off the ground.
You'll need to take into account of the price you charge, the costs you'll spend to clean, cleaning materials and appliances, and your own transportation, as well as business licensing and taxes (yep, it's a necessary evil).
Here are some of the most important considerations about starting a business in the house cleaning industry:
Your Rate
The rate you charge is one of the most important things you'll need to consider because it's what can catapult you from barely making ends meet to becoming a truly successful housekeeper.
You'll find that most cleaning services charge anywhere from $50 to $100 per hour.
The most common price you'll find for a team of two cleaners is $75 per hour.
Of course, prices vary a lot depending on where you live and the neighborhoods you clean homes in.
Are they mostly low-income homes or will you cater toward those with higher incomes?
Knowing this will allow you to compete with others by setting your rate accordingly.
You could keep your rates slightly lower than the average so that more families choose your cleaning service for its awesome deal.
For instance, if you're cleaning by yourself without a partner, you can set your price as low as $25 per hour, which will get you more customers and more money over the long run.
You'll also need to get more clients and clean more homes to make your desired salary this way.
However, if the distance and transportation costs along with material costs are high, make sure to increase your rate to something around $30 per hour, at least, to ensure you're adequately covering your expenses.
What You'll Need to Be a Successful House Cleaner
What expenses might you need right, in the beginning, to get you started with your business?
House cleaners will definitely need to spend money on quality cleaning supplies and safety gear before they get started, as you wouldn't expect your clients to foot the bill for all of that unless they want you to use something specific.
The good news is that, once you get your initial supply expenditure out of the way, your future expenses can be spread out more as you go along.
To get started, you'll need all the necessities, like:
Gloves
Goggles (your protection against chemicals and bacteria is super important!)
Scrubbers/sponges
A mop and bucket
A broom
Cleaning towels
Cleaners of all types (wood surfaces, bathroom/toilet cleaners, window cleaner, etc.)
A duster
Empty bottles to store cleaners
Anti-bacterial wipes
Trash bags
It's a good idea to save yourself money by buying in bulk when possible and buying concentrated cleaners to dilute yourself.
You can also save money by buying towels and clothes that you can wash and reuse rather than continuously going through disposable varieties.
Setting Up Your Business
Doing the behind-the-scenes business stuff can always be tricky, no matter how simple your business venture seems.
You'll need to decide on a business name and a business entity (the type of business you'll run).
Coming up with a name might be easy but remember that you'll need to check if that name's already registered in your state or if there is already a trademark on it so that you can avoid any infringement issues.
Choosing your business entity typically depends on whether you think you'll remain a one-person show or eventually hire others to help.
A licensed accountant or tax professional can help you decide what might be the best option for you.
If you're in the United States, you'll need to register your business with your state's Secretary of State office and it might also be required by your town or city to register there, too.
Be sure to also check with your locality about permits you might need to get started because each locality has different requirements.
Remember to grab an Employer Identification Number (EIN) (you can do this on the IRS website) that identifies your business apart from your social security number and set up a business checking account for your payments and expenses.
Paying the Tax Man
Ah, good old taxes.
The way you pay your taxes can vary greatly depending on where you live.
For those in the United States, most small businesses are required to file quarterly taxes for what they make from their business, even if they have a regular job too.
You don't have an employer who does this for you when you're your own boss, so it's up to you to ensure that you're setting aside money for taxes and getting them paid.
The best route to take is getting yourself an accountant.
Yes, it's an additional expense (but one you can usually write off come tax time) but it's crucial to making sure you're not getting yourself into hot water with Uncle Sam.
Getting Your First Few Starter Clients
Your first few clients can really make or break your house cleaning business, believe it or not.
Think about it: If your first three customers dislike your work, they're likely to bad-mouth you to others they know to warn them to go with someone else for house cleaning.
On the other hand, if they loved your work, you're likely to get word-of-mouth referrals from them!
That's why it's wise to carefully consider who you want those first few clients to be.
Usually, you can rely on close friends and family to spread the word about you.
You'll probably feel more comfortable working with them at first over a stranger, too, which can help you do the best job possible.
Once your clients start sharing with others about you, it shouldn't be too difficult to keep the train moving, so to speak.
Let everyone know you're in business by posting about it on social media or bringing it up when you see them to get a jump-start on gaining clients.
Advertise Your Services and You'll Get Paid to Clean Houses
Once you set a competitive rate for your cleaning services, you'll need to start getting the word out more so that more people can learn about you and what you do.
Advertising and marketing your business is key for growing your income and getting customers.
Some of the basic steps include setting up a listing on Craigslist, putting up flyers around town, and telling your friends and family to help get the word out.
Once you get a few clients, you'll be able to make at least several hundred dollars per month if you price your services correctly, and it can only go up from there.
Make sure to do a good job so that these families and customers recommend you to their friends looking for a cleaning service.
Your business will grow if you make a good first impression.
This is key for making more money and expanding your customer base.
Be sure the house is spotless once you finish so that you can get that great recommendation – it's one of the best forms of advertising you can do for yourself!
Laying the Groundwork for Business Growth
Eventually, you might want to consider investing in web hosting and a domain name for a business website.
Websites are one of the first places people go to find out more about a company or get contact information, so it can be a great marketing tool for you to keep expanding.
We'll get more into this topic in a bit.
You might also want to consider expanding your business with other forms of cleaning in addition to houses.
After all, if you can clean a full house from top to bottom, there's no reason why you can't clean something on a smaller scale, like an office or a car.
If you do decide to add more services to your business as you grow, you should take some time to contact your current and previous clients to let them know (and list them on your website if you have one).
It might be just what they needed to hear to ask for more work from you!
How to Continue to Grow Your House Cleaning Business
Now that you've gotten a good handle on how to start cleaning houses for a living, it's time to see how you can expand your cleaning business.
You can actually turn this side gig into a full-time opportunity if you like.
You'll need to figure out how you can expand and grow your business.
The publication Entrepreneur published advice for how you can succeed in the cleaning business.
First, you'll want to keep learning about technologies that could improve your work, chemical safety procedures, and how to improve your managerial skills.
There are lots of organizations and associations you can seek assistance from as well when growing your house cleaning business.
These associations can help you with marketing and the management aspects of running a business like this.
Be sure to have a system that would allow you to clean more effectively and efficiently.
Also, you can build a company and take on employees that can ensure a house cleaning schedule can be kept whether or not you're there to handle the cleaning itself.
If you do hire employees when your business takes off the ground, be sure to train them well and provide bonuses or incentives to improve their performance and gain customer approval.
Be sure to have a system in place for every step of the process including laundry, cleaning, customer service, supervision, and finance.
You can even hire someone to work from home and take phone calls from clients.
Another tip is to work carefully and avoid making any mistakes such as a spill or a stain.
The cost to repair or replace something that broke won't be worth the time you saved on cleaning.
You'll also need to have some basic computer skills in order to run a successful house cleaning business.
You will need to use a computer to manage billing, record-keeping, payroll, and inventory management.
You will also want to invest in customer service and build strong relationships with your clients.
You'll want to follow up with clients and see if there are any issues or if they need any other services.
Running a Successful Cleaning Business with the Help of a Business Website
I mentioned previously that getting a website can be an excellent way to inform people about your services and keep growing your cleaning business.
Unfortunately, a messy website that's not user-friendly isn't going to draw people to your service or entice them to call you.
A website test can be the perfect answer.
If you want someone to test your website to make sure it's user-friendly, you can check out this article with several website testing companies listed.
Your website would essentially be a great advertising strategy for those searching online for house cleaning services, especially if you learn to craft engaging and helpful blog posts.
Be sure to use effective search engine optimization (SEO) or keywords when creating your blog posts and web pages.
This will help your business grow tremendously since lots more people will be able to find you.
The cost of a host server should not be much, so creating a website is a great idea if you plan to invest in your cleaning business long-term.
Where You May End Up Years into Your Cleaning Business
The way a house cleaning business could take off may lead you to give up your old job to handle more of the managerial work and customer service.
Long-term, you may hire someone else to do the actual cleaning or laundry part of your business.
You can take on the hiring, supervision, and customer contact part of running a house cleaning business.
Another important reminder is not to forget about paying your taxes especially when you expand your business.
Businesses that fail to pay taxes could see major problems on the horizon, so get those taxes filed.
You'll find that starting a house cleaning business is a great way to make money since so many wealthy families are in need of maid services.
Whether you want an extra $1,000 per month or you want to make a full-time income from a house cleaning business, you'll just need to get started with customer service in mind and a few houses to clean.
Before you know it, you'll have so many clients, you'll need to hire more workers to help you out.
Need Help Finding Clients?
Some people may not have the best luck finding ideal clients for their house cleaning business.
Or, perhaps you're getting a lot of one-time clients but not enough long-term ones that want to stick around to help give you a more consistent salary.
If that's the predicament you're finding yourself in, then you might want to consider using these services that can help you find clients in your area in need of your help:
Airtasker is kind of like an online newspaper classifieds section where anyone can request help for things related to their homes or businesses.
You can sign up for free and browse tasks needed near you.
You might find someone looking for another person to clean their home!
The poster will outline what they need done and their budget for the job, so you'll always be able to choose the tasks that best match your skills and salary needs.
Care.com is a go-to place for people to find all kinds of services related to their homes, from babysitting to petsitting and just about everything in between.
There's also a section for housekeepers and people who need housekeeping done to find each other.
You can join for free by filling out an application that describes you and your services.
You'll then have access to the Care.com database of jobs posted by Care.com members in your area and can respond to any that are of interest to you.
Craigslist
People post their services all the time on Craigslist and I often find posts in my local Craigslist areas about needing a housekeeper or offering housekeeping services.
There's proof that this type of work is needed, even in smaller communities.
Search your Craigslist area and surrounding areas for "house cleaning" or "housekeeper" or something along those lines to see how people are structuring their service posts, or to see what people are specifically looking for.
That can help you word your post for effectiveness.
Facebook
Never underestimate the power of Facebook when it comes down to getting clients and sharing the word about your business.
Create a Facebook page for your business and invite your friends and family to like it.
Start sharing posts related to house cleaning or keeping a home organized along with a mix of funny and shareable posts that can help increase engagement.
You can then weave in posts about your services for your audience to learn more about you and include deals that might help get you some new customers.
You can also use your personal Facebook profile to share about your business, as well as post about your services in local groups, if allowed.
The Gigwalk app can be helpful for you if you want to find some fill-in work in between bigger jobs.
This app connects Gigwalkers (you) with requesters who need quick stuff done, whether it's a small repair in their bathroom or some yardwork done.
Housekeeping tasks are also available here, but they'll typically be smaller than your usual full cleaning.
They might, instead, be something like tidying up a basement or a deep-cleaning in the kitchen.
When you complete a gig, Gigwalk will verify it with you and your customer and you can get paid via PayPal.
As the name suggests, this site is all about matching housekeepers with people in their neighborhoods who need their help with cleaning tasks.
The site currently works in the United States and Canada.
You can post your profile for free for homeowners to find you and connect with you about working for them, or you can respond directly to already-created posts.
NeedTo.com is another helpful site for anyone who wants some help finding people who need their work, whether it's in-person or online.
You can browse the site for posted jobs near you.
There's a full category for household jobs and cleaning to make it easier to find what you need.
TaskRabbit is a free app that helps people find work in their area, like general handyman work, moving help, or household cleaning.
Use the app to search your area for jobs others posted and then respond to those jobs to complete the tasks.
Like Gigwalk, this is another helpful option if you're looking for smaller fill-in work when you have some time to spare between higher-paying work.
Zaarly is similar to Gigwalk and TaskRabbit in how it works, but you can search on the website instead of through a mobile app.
It's currently only available in select cities, though, so it's not a good option for people who live in small areas away from larger metropolitan areas.
The process to become a Zaarly business is more complex than other sites and apps, too, so you'll need to be able to pass a background check and phone interview, and you'll also need proof of insurance, if applicable, and customer references.
On the plus side, you could also end up with better paying clients if you choose to use this service.
Thumbtack is an online marketplace that connects customers with local service professionals, including cleaning service providers.
As a cleaning professional, you can create a profile on Thumbtack and showcase your services.
Customers can then submit requests for cleaning services, and you can respond with quotes and proposals to win their business.
Nextdoor is a neighborhood-based social networking platform that connects residents within a specific community.
By joining your local Nextdoor community, you can engage with neighbors and offer your cleaning services.
You can create posts promoting your services, ask for referrals or recommendations, and connect directly with potential clients in your area.
HomeAdvisor is an online platform that connects homeowners with service professionals, including cleaners.
As a cleaning service provider, you can join HomeAdvisor and create a profile. Customers looking for cleaning services can find and contact you through the platform.
Additionally, you can browse job requests in your area and respond to those that align with your services.
Local Networking Events
Participating in local networking events, such as industry conferences, chamber of commerce meetings, or community gatherings, provides an opportunity to connect with individuals who may require cleaning services or know someone who does.
These events allow you to build relationships, showcase your expertise, and generate leads by networking with potential clients or obtaining referrals.
Referral Programs
Implementing a referral program is a marketing strategy where you offer incentives or discounts to your existing clients who refer your cleaning services to others.
By encouraging satisfied clients to recommend your services, you can tap into the power of word-of-mouth referrals, which can be highly effective in attracting new clients.
Requesting testimonials or reviews from happy clients can also bolster your reputation and help attract more customers.
Conclusion: Your House Cleaning Story
Running this type of business isn't too difficult and neither is cleaning houses.
So get started and you'll soon be making an extra $1,000 on the side!
Have you ever cleaned houses for money?
If so, do you have any tips that have helped you succeed in this industry?
I'd love to hear from you! Please tell me your house cleaning story in the comments below.
Related Posts: