The Best Way to Make Money with ClickBank Without a Website in 2023
Updated on: by Amy Kennedy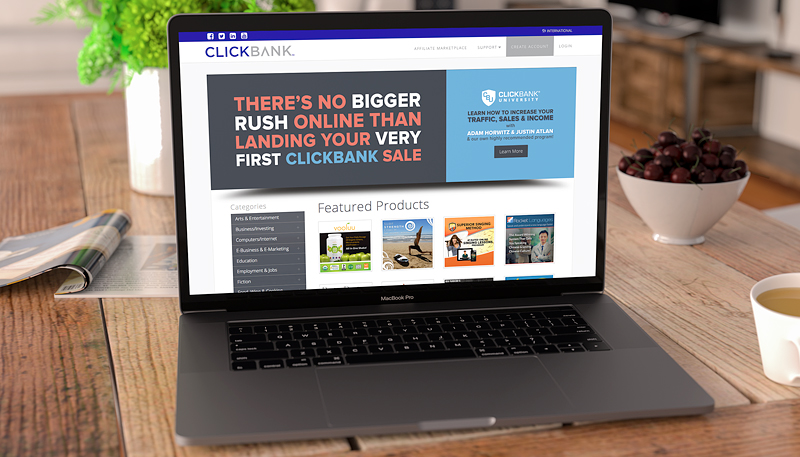 The question of the day is: is it possible to get into affiliate marketing without a blog?
The answer: absolutely!
While owning a website and placing affiliate links within content – especially blogs – is probably the easiest way to earn affiliate income, it's not the only way.
ClickBank is one of the biggest names in the affiliate marketing space.
It has thousands of awesome programs from top brands.
You can find links for just about anything you want to promote that matches the interests of you and your audience.
Fortunately, most programs let you promote products and services with methods other than a website if owning a website isn't your thing.
I'm going to teach you how to do that today!
Earn Cash with ClickBank Free Guide
ClickBank, in case you didn't know, is one of the top affiliate marketing networks.
Tons of brands have their affiliate programs through this network because it's so popular with influencers.
The site is easy to navigate and it's simple to find your affiliate links to start promoting products and services.
One of the best things about this particular platform that makes it different from others is that it focuses on high-converting digital products like software and eBooks.
Since brands and individuals don't have to spend nearly anything to distribute these digital products, they're able to give you, the influencer, higher commissions for promoting them.
So, for the purposes of this article, we're going to focus on making money through ClickBank without needing to own a website.
There are also two ways to make money with ClickBank, and I'll explain them both. Neither one of them involves owning a website!
The first way is to place your own digital products on the site.
The second is by promoting other digital products as an affiliate of other programs.
Place Your Own Products on ClickBank
The first way to earn money with ClickBank without a website is by placing your own products on the network.
If you're a software developer, you can add your games and programs to the site for others to promote.
Or, add eBooks that you wrote about business, education, or other topics in your niche.
The benefit of using an affiliate network is that influencers looking for products like yours can easily find them and promote them.
Essentially, you'll get more eyes on your products with a larger network of people promoting them than you could do on your own.
How Much Can I Make Promoting My Products on ClickBank?
As with any affiliate marketing network, there are fees associated with placing your products on ClickBank.
Of course, you'll need to pay your affiliates.
The good news is that you're in control of how much you pay them.
You can choose to give them a flat fee as a commission, or a percentage of the product sale.
As for ClickBank fees, you'll be subject to a $49.95 per product you place for promotion.
This includes the time and process ClickBank has to approve your product for its marketplace.
Then, ClickBank takes $1 + 7.5% of each sale.
ClickBank says that, on average, product creators pay their affiliates about 50% of their sales.
But, as I mentioned, you control this cost.
So, let's do a quick calculation to see how much you can make.
Let's say you have an eBook that you want to sell for $10.
Clickbank's portion of that sale will be $1 + 7.5% of the $10, which equals $1.75.
You want to give your affiliates 50% of each sale, which is $5.
You'll pay a total of $6.75 to ClickBank and your affiliate, leaving you with $3.25 of the sale.
You will need to sell 16 of those books to make up for the $49.95 fee ClickBank takes to place your product on the marketplace.
After that, you'll gain profit from every book sold.
Be sure to work out the math before you set your prices to make sure you're comfortable with your profit from each sale!
Become an Affiliate Marketer with ClickBank
Now you know how to place your own products on ClickBank to earn money, no website necessary.
But, not everyone has a product to sell, so the next tip we'll discuss is becoming an affiliate marketer with the network.
This is how you'll promote the products of other people – and you don't need a website to do it!
Once you sign up for the network as an affiliate, you'll be able to browse the categories and find products to promote immediately.
How to Find Products to Promote
How do you find the right products to promote out of the seemingly endless options?
For most people, this process will be somewhat of a trial-and-error.
Even if you think you've found the perfect products, you might find that they just don't make a hit with your audience.
Fortunately, ClickBank has some helpful tools to guide you toward finding products that might do really well with your audience.
ClickBank uses a measurement called "gravity" that helps you see how well a product performs with other affiliates.
The higher the gravity score, the better that product is performing.
In other words, it's popular among affiliates and the people they're promoting them to.
This, of course, also means that there's more competition for that product.
You'll be promoting the same product as many other influencers, but that doesn't mean you don't have a shot to earn some decent commissions.
In fact, since that product is trending, you can seize the opportunity to promote it in the ways we'll talk about below and even move past the competition.
You'll also want to look at the commission percentage you'll receive.
Higher commission percentages means you'll make more money from the product sales.
This shouldn't always be your number one consideration because you may find that you sell way more of a lower-commission product than a higher one.
But, it's still something to consider when choosing products.
It's also important to always think of your audience above your own interests.
Just because you're interested in something doesn't mean your audience will be. Choose products based on your audience's interests.
It's also a good idea to zero in on a niche and promote products within that niche.
If you get too all-over-the-place with your promotions, you'll risk turning your audience away.
How to Promote Your Products
Now, let's talk about a few ways that you can promote your ClickBank products without owning a website.
Social Media
Possibly the most obvious way is through your social media channels.
You'll want to be careful to add plenty of non-affiliate content to your social media networks, too, so you don't seem like you're spamming your audience with affiliate posts.
But, ClickBank does allow social media posting to networks like Facebook and Twitter.
And, if you have a large enough audience, you can really make some decent money promoting this way!
Remember that each social media network has different rules about affiliate links and other forms of advertising, though.
You'll want to read through their policies before placing links to ensure that you understand all the rules and can follow them.
If not, you'll risk your accounts being banned, which definitely will not be good for business.
Here are links to some of the advertising policies:
Craigslist
One way you probably didn't think you could make money with affiliate marketing is on Craigslist.
But, you can!
Some people post classified ads for free on Craigslist that include affiliate links to the products they promote.
Usually, these ads contain helpful information about the product and how it's used.
Any type of inaccurate or misleading information can result in you getting banned from posting any more ads on Craigslist, so you'll want to be 100% honest with anything you write in your ad.
You can use the 'For Sale' section of Craigslist to post your ad.
Write it as though that digital product is something you're selling.
In a roundabout way, after all, you are trying to sell it!
Make sure you add images to your post, which can help people understand more about the product and why they should buy it.
Add your affiliate link from ClickBank to the post and review your ad before submitting it.
Be sure to create your ad in the appropriate sub-category in the For Sale section.
Read More: 24 Websites Like Craigslist: (Most Let You Sell for Free!)
Write and Submit Articles
If you're a good writer, you can create articles about your promoted products to submit them to sites that allow article submissions for free.
This option is sort of like having a blog and creating content around your affiliate products for your visitors to see.
But, instead of doing it for your own website, you'll create the content to submit on other websites.
You can create promotional pieces about the product, tutorials or guides related to the product, or create articles within the same niche as the product with a call-to-action to purchase the eBook, software, or other item you're promoting.
Get creative!
The more engaging your piece is, the likelier it is that people will want to invest in what you're promoting.
Use basic SEO techniques in your article to draw in an audience from search engines.
Here are a few places that accept article submissions for free:
There are plenty of other sites to submit to that you can find with a quick Google search.
But, be sure to read the submission guidelines first, because some don't allow promotional content or affiliate links within content.
Conclusion: How to Make Money with ClickBank Without a Website
Hopefully, this article gave you some helpful tips for making money on ClickBank without needing to own a website.
Affiliate marketing is one of the hottest ways to make money online.
The best part is that it's mostly passive income.
Once you have your links in place, you can continue earning money from sales for years to come!
The tips I provided should help you get to the point where you can make a steady stream of income from ClickBank without a website.
Good luck!
Do you have any other tips for earning cash from ClickBank affiliate sales without owning a website?
Let us know in the comments!
Related Posts: