32 Ways to Make Money from Facebook Page Likes For Beginners!
Updated on: by Amy Kennedy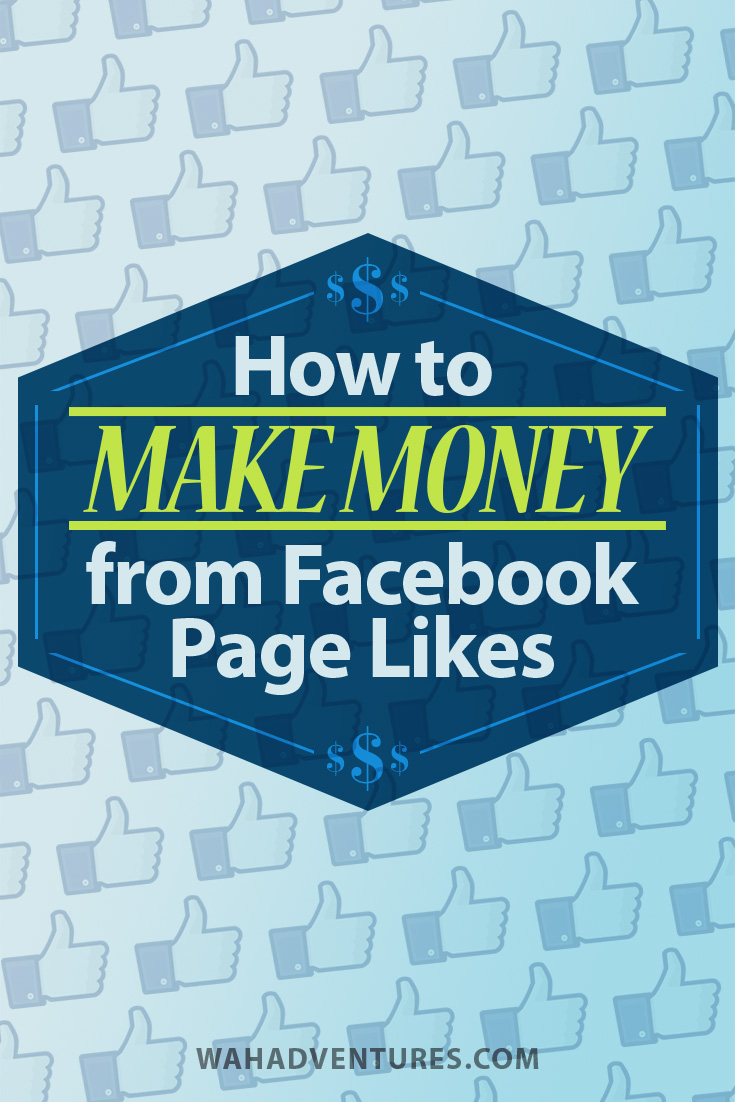 If you're like most people, you have a Facebook account and spend a good amount of time on it each day.
Need Easy Extra $350+/Month For Free?
Whether you use Facebook apps, play games, search for funny memes, or use Facebook for your business, you probably use it more than you think.
You probably never thought you could actually make money from Facebook, though, did you?
There's 1.94 billion active worldwide users on Facebook.
That's a lot of people, which also means an incredibly large number of eyes see things on Facebook every day.
So, not only is it one of the best social media networks to promote a business, but it's also one of the best social media networks for making money, period.
You just need to know how to do it!
Although there are many more ways to earn money from Facebook than what we're listing here, these ways can prove to be some of the most profitable. So, hop on Facebook now and get started!
Here's How to Earn Money Like Facebook Pros
Real people are using these methods to make money on Facebook (I've done a few myself!).
Depending on your skill set and time you have available, you can make them work for you, too.
Enter Contests and Giveaways
This is one of my personal favorite ways to score some money on Facebook.
And, even if the prizes aren't money, you can always sell prizes you win for cash.
Almost every business that uses Facebook – and even individuals with their own fan pages – hold Facebook contests or giveaways now and then.
Why? Well, it's almost like a free form of advertisement that can spread like wildfire, thanks to the viral nature of Facebook and other social media networks.
When a business page posts a contest or giveaway, they usually ask participants to tag friends, write a comment, share the status, and like the page.
When participants do this, the business gets a huge audience of potential customers who are dying to win the prize. Since there's a prize involved, people are more willing to share to try to win! So, it's really a win-win for everyone.
Need Easy Extra Cash?
Pinecone Research, a leading name in online survey panel honesty, absolutely guarantees $3 cash for every survey you complete!
Take advantage of their time limited New Membership drive and register NOW. Join today: 100% free!


Follow local and big businesses that you love on Facebook, and make sure you change your settings so that you 'follow' their updates.
That way, they'll show in your newsfeed and you have a better chance of knowing when they post contests.
The best thing about this method is that you usually don't have to do anything to win besides a quick share or comment, so it's minimal effort to try to win something worthwhile.
Join Online Garage Sale Groups
Facebook groups are just about the best type of garage sale there is.
You can browse conveniently online, search for the things you're looking for with the search feature, and bypass all the rest.
Look for local garage sale groups so you won't have to worry about as many scams and shipping costs.
Usually, searching Facebook Groups for terms like "[your city] items for sale" or "[your city] garage sale" will yield some results for these types of groups.
When you find some you're interested in, request to join them.
Be sure to read the rules for buying and selling, which most groups have listed in a pinned post within the group.
Also, take note of the administrator's name(s) so you can tag him or her if there's any issue.
People often do this if they have issues with someone not being truthful about a listing or attempting to scam members in another way.
Resell Items from Online Garage Sale Groups
Just as people do offline, you can buy things for low prices on Facebook garage sale groups to turn around and sell later.
The good thing about this is there are so many ways you can choose to sell the items.
Resell them in other Facebook groups, create your own Facebook group for selling purposes, sell them at a flea market or consignment shop, or even sell them online on Amazon, eBay, or other selling sites.
You can even sell your items on Facebook's own Marketplace, which is specifically designed for you to create eye-catching listings for local buyers to find.
The only skills you need to have are a great eye for finding awesome products at low prices that can turn a decent profit and marketing your listings, depending on how you choose to sell.
Join a Buy, Sell, Trade Facebook Group
Similar to Facebook garage sale groups are Buy, Sell, Trade groups.
Many locations all over the United States have these groups, also known as BST groups, specific to certain towns or counties.
For my area, for example, there is a BST group for my town and for my county.
I'm a member of both so I can target people very close to me and in my surrounding area with my listings.
The main difference between BST groups and garage sale groups is that, in addition to just buying and selling, you can trade items too.
Since there are more options available in BST groups, there are generally more members in these groups, too, which means a bigger audience for your listings.
Resell Your Items from Buy, Sell, Trade Facebook Groups
Much like garage sale Facebook groups, you can resell your items you buy or trade from BST groups.
Trading is a good idea if you have things you don't need, other things you want, and don't really want to spend the cash to get the things you want.
You may be able to save some money while scoring items via trading that you can turn for a decent profit.
Many people have luck selling items on places like Amazon and eBay, but it also depends on the type of items you buy.
There are niche selling sites online that may be more profitable for you since they have a very specific audience.
For example, if you're into buying and reselling electronics, Gazelle could be a good place to sell.
Clothing, on the other hand, would likely sell well on Swap.
Earn Everything… nearly!
Join Opinion Outpost, one of the few faithful and honest survey panels and earn cash and gift cards for your opinion. Stack your points and redeem them: Simple! No hidden fees and completely free!


Read More: No More Yard Sales! Here's How to Sell Successfully on Facebook
Start Your Own Profitable Group
If selling within other Facebook groups doesn't seem to give you the control you want over your listings, you can certainly start your own.
In fact, this is a great move to make if you intend to sell a specific type of item, like jewelry, furniture, or toys.
Create a group for your local area based on the category of products you want to sell.
As you gain more members by adding your friends and having your friends add interested people, you can expand your group in different ways.
For example, if you sell jewelry, you can start making your own pieces, too, or expand to sell a variety of accessories.
You may even want to consider joining up with some friends who sell similar items to make your group bigger and attract a broader audience.
Then, you can collaborate to create live sales and manage the group together, taking some of the weight off your shoulders.
Find Freelance Jobs
Believe it or not, you can use Facebook to find freelance jobs!
Again, specific groups on Facebook are excellent for this. Search along the lines of "freelance [skill/job]", like "freelance writer", "freelance designer", or "freelance photographer".
Your search will likely lead several results for groups, and you can weed through to find the most active and helpful ones.
Since the members of the groups either have experience in the field, or are still learning the ropes, you can all bounce ideas off each other.
It's a great way to network, find job leads, and even just gather a list of helpful resources to grow your freelance business to make more money.
Manage Facebook Accounts
I've always managed my own Facebook pages for my blogs and business, but I've known plenty of bloggers and business owners who have gladly handed off the task to someone else.
Managing Facebook pages isn't as easy as it seems.
Facebook has strange algorithms that take some time to master.
And, coming up with consistent content is time-consuming, and it's easy to run out of ideas.
Not to mention, you still need to do a lot of work to promote your content, build an audience, and really make your pages help your business.
Plenty of virtual assistants and social media managers make money just by taking over the Facebook pages of bloggers and businesses.
It takes a very organized person to do the job, but you can earn a full-time income if you gain enough clients.
You can even use Facebook to promote your Facebook managing services!
Become a Brand Ambassador
If you're already a blogger, you probably know all about brand ambassadorship.
If not, being a brand ambassador means promoting products and services you love.
In turn, the company sponsors you to gush about its products and services.
Most companies know how important social media is – possible even more so than blogs!
Social media is probably the easiest way to reach a large audience in the shortest amount of time.
If you have a Facebook page for your blog or business and have taken the time to build up your followers, you can likely qualify for brand ambassadorships.
Of course, companies like to see that people actually engage with your Facebook page with likes, comments, shares, etc.
Quality is more important than quantity in this case.
If you want to find companies that offer brand ambassador opportunities for bloggers and those active on social media, check out the list from Tiffany's Reviews.
Become an Authority
Becoming an authority figure in a niche or industry that you're interested in is always a good way to position yourself as a trustworthy person in that niche to gain more followers and eyes on your brand.
Facebook can help make that happen, and can be a good source of both direct and indirect income.
Create a Facebook group for your industry. Make it stand out so that it offers something different than others.
For example, if you want to offer a lawncare service, you can market your group to those you know in your town.
To make it unique, make the focus of the group a question and answer resource group for people to post their most pressing questions about lawncare.
You, as the admin of the group, have the power to quickly become an authority figure in your area on lawncare services by jumping in to answer your members' questions.
Then, utilize the platform to promote your services and let others know what you can do for them.
Make sure you're available often to quickly answer questions and provide your members with helpful tips.
Promote Affiliate Links
If you have an authority group all set up, another way you can make money with it is by promoting affiliate links.
If you're not familiar with affiliate marketing, let me explain.
Affiliate links are unique links to a specific product or service.
When someone clicks your link and makes a purchase, you receive commission based on the sales price or a fixed rate per lead.
Amazon Associates is a super popular form of affiliate marketing where you can recommend Amazon products and receive commission when someone purchases them.
So, let's use our lawncare Facebook group example.
Those in your group are interested in lawncare products and tips, right?
You can create a Facebook post in the group that highlights some of your favorite gardening products.
Use Amazon Associates links to link to some helpful gardening products, like shovels, gloves, and soil.
People click and purchase, and you make money.
Just make sure you follow Amazon's rules for affiliate links and disclosure, because it does keep an eye on its associates.
No Facebook group is necessary for this one, just your good old friends list!
But, a Facebook page with a lot of followers can definitely help.
If you're a member of places like Swagbucks and InboxDollars that have referral programs, invite your friends!
Swagbucks, for example, gives you 10% of your friends' lifetime earnings.
So, if they earn 100 Swagbucks, you get 10.
When you have a Facebook page or group with several followers or members, you can potentially get a lot of referrals.
Just make sure you don't get spammy with invites.
Create a helpful post that will make others want to sign up, outlining how the site has helped you make money.
It's even a good idea to provide some proof that you've gotten paid.
Begging your friends and followers to join will make you seem desperate, and they'll likely get annoyed by your constant requests.
Get into Direct Sales
Yes, direct sales are flooding Facebook and can be a bit irritating.
But, there's a reason those in direct sales are using Facebook to promote their businesses: it works!
Those in direct sales, like Younique, LuLaRoe, and Young Living Essential Oils, can create Facebook pages and groups to gain a huge audience for their products.
Now that Facebook has the Facebook Live function, direct sales consultants can use the feature for live sales, which are becoming a super popular way to sell.
Plus, your videos have the potential to get shared and go viral (especially if you offer your viewers a chance to win a prize for sharing!), which can grow your business fast.
Even with zero selling experience, you can make it big as a direct sales consultant when you use Facebook.
Host a Direct Sales Event for Someone Else
If you're not quite sure about hosting your own events – they do take a lot of time to set up and organize – you can host events for someone else.
Most direct sales consultants like to reach new potential buyers by utilizing their friends to host events.
This way, the consultant gets a bigger audience and can possibly find more people to join her team.
As a host for another consultant's event, you usually can score free stuff for yourself.
This depends on how much your friends participate and how many items get sold during your event.
The more sales that happen, the more you can potentially get for free.
Sometimes, even cash prizes are involved!
Turn in the Hackers
One little-known way to make money with Facebook is by turning in hackers and reporting serious security flaws.
Of course, it's a long shot to make money from this because the flaw has to have been undiscovered by Facebook already.
And, since Facebook has a complete team of security wizards, it's likely they already know about any bugs.
Still, one person made $15,000 from Facebook in 2016 by reporting a serious flaw that could allow potential hackers to gain access to user accounts without even needing a password.
This is all thanks for Facebook's Bug Bounty Program, which allows users to report any serious security issues to developers.
Reward amounts depend on how serious the issue is, but the minimum bounty is $500. Not a bad paycheck for reporting a flaw, right?
Advertise Your Business
Facebook pages are tricky to learn, but they can be a great way to promote a business.
Unfortunately, Facebook updates its algorithms regularly, which make it difficult to keep up with.
Even though you post several statuses to a page every day, only a small portion of your audience sees them.
Engagement is a huge part of Facebook's algorithm.
The more your audience likes, comments, and shares your stuff, the more people will see what you post.
So, it's important to have a healthy mix of shareable content with your promotions to maximize views.
Photographers tend to do very well advertising on Facebook because beautiful photos are something that people share naturally.
If you don't have a product or service that's as naturally shareable, you'll need to get more creative.
Offer contests or giveaways, share interesting content, or create shareable memes for more engagement.
Then, mix in some special promotions or discounts for your business that are of interest to your audience.
You can even spend a little money on Facebook ads to reach a larger audience.
Use PassUBuy
PassUBuy is an interesting system that can help out your friends while earning you money.
On PassUBuy, you can sell items through the app on Facebook. Your friends can see what you're selling if they also have an account.
They can either choose to buy an item or pass it on to one of their friends, which can bring more eyes to your items.
But, if you don't want to sell anything, you can simply make money by referring your friends to items they might be interested in!
This works the same way as when you sell. Browse your friends' items, refer them to your network, and if someone buys something, you get money.
The incentive amount depends on the price of the item, but you'll see the price near the listing if you choose to Pass It On.
Update 4/2020: It doesn't appear that PassUBuy is working anymore, but keep reading – I've listed other apps that connect to Facebook to help you make money!
Start a Facebook Ads or Marketing Business
Some people are in the business of creating Facebook ads for businesses and entrepreneurs or teaching them the ways of Facebook marketing.
Facebook is actually an amazing marketing tool when you know how to use it, and there are a lot of ways it can help businesses grow.
If you know the ins and outs of Facebook marketing, or are willing to take the time to learn, there's nothing stopping you from teaching it to others – or doing it for them – for a fee.
You can help set up Facebook ad campaigns, help business owners analyze their current campaigns, or teach others how to grow their audiences using the best methods on the platform.
Sell Likes on Fiverr
Selling Facebook likes isn't necessarily a process I'd condone, and Facebook itself isn't a supporter.
Still, it exists, so it's something that's worth mentioning.
If you look on Fiverr under relevant social media categories, you might find some sellers selling things like Likes, Shares, or Comments.
What they do is round up other Facebookers to go like your page or share your posts to help grow your audience.
The prices will vary, but some have packages starting as low as $5.
There's always room for you to offer a similar service.
The thing is, you'll need to deliver however many likes, shares, or comments you promise, so it's important to have a solid network of other Facebook users to get the job done.
Several sellers use bots with fake Facebook profiles to complete the job, but this is really frowned upon on Facebook and could get you and your profile banned if you're caught.
Develop Facebook Apps
Facebook has its own app development program within its website that developers can use to make more apps for the platform.
Facebook has games, social apps, productivity apps, and just about any other type of app you can think of that you'd find in other app stores, like Google Play.
They're free to Facebook users, but you can always charge in-store purchases for subscriptions, add-ons, and more.
As a Facebook app developer, you can also make money developing apps for others, or selling the ones you make to other people to take over.
Check out the Facebook Apps Development page to learn more about the process to create apps on the network.
You can usually find available gigs for app creation on freelance marketplaces, like Upwork, or you can reach out directly to app development companies.
Promote Your YouTube Channel with Facebook
Do you already have a YouTube channel that you use consistently to upload new videos?
If so, Facebook might be a powerful tool to help you grow your audience.
YouTube is all about numbers.
People who make money from YouTube are those who have a lot of subscribers to their channels and likes on their videos.
If you're looking to monetize your channel, you'll need to get a large, engaged audience.
Facebook can help you do that.
You can create a page for your business or specifically for your YouTube channel.
Use that page to promote your newest videos!
You'll have to build up your Facebook audience, too, so this will take some work.
But in the end, you'll have two successful audiences that help cross promote each other and get you some more cash in your wallet.
Use Facebook Selling Apps
I talked about developing your own Facebook apps for cash.
You can also use apps that are already created by others to make some money on Facebook.
These apps are selling apps that were either created specifically for Facebook or connect directly to your Facebook account to help you sell stuff.
eBay's Facebook app makes it possible for you to connect your eBay auctions to your Facebook profile or page to get more views.
The app places a button on your Facebook page that people can click to see what auctions you currently have available.
From there, they can follow the links directly to your items to bid on them or buy them.
It's just one more way to get your fans to see what you're selling, which is great if you've built up a business on eBay.
Want to learn more about making money with eBay?
Check out our guide to selling on eBay (yes, it's possible to make a living here!).
You can also check out this listing of sites like eBay!
The Magic Moments app comes from CafePress, a company that allows people like you to sell their unique designs on t-shirts, mugs, and more.
Use the app to connect to your Facebook account to share your designs and get them in front of your audience.
If you have a built-up Facebook page with an engaged audience, then it's likely that you can boost your sales by promoting your CafePress designs on your page.
This app is also great because you can use photos you take with your smartphone to turn into designs for sale via the app.
Sell Your Stuff is a free marketplace on which you can list items you want to sell.
It's meant for people in and near Trinidad and Tobago.
When you become a member and list your items, you'll have the option to share them on your Facebook profile or page.
You can also use your Facebook login to create your account and complete future logins, making it easy to connect everything to be ready to sell.
Flair is a really cool idea for people to make money selling their services, whether it's personal grocery shopping, handywork, or repairs.
The app is available for iOS and Android devices.
Sign up and list the skills you have.
You can then use the app to find people who need your help or wait for others to contact you when they have a need.
The app connects with Facebook, so you can even use your page or profile to help advertise your services via the app.
Import Your Store to Facebook with StoreYa or Shopify
StoreYa and Shopify are two companies that help you create online stores with ease.
You can host your ecommerce business with them yet have total control over what your shop looks like and how it runs to customize the user experience.
Both of them also come in handy with how they integrate with your Facebook account to help your fans have easy access to everything you offer!
StoreYa hooks directly to your Facebook page by placing a Store tab on your page.
Users will then see your products show up on Facebook.
Shopify works similarly when you set up the integration with the Facebook sales channel.
It'll place a Shop tab on your page, where your customers can shop directly through Facebook.
You'll also have the option of sharing your products to your Facebook profile or page through your Shopify shop.
Do you have things you want to sell locally?
Facebook Marketplace is one of the best places you can use to do that.
This is a marketplace set up directly by Facebook, so of course it integrates seamlessly with the platform.
Navigate to the Marketplace tab on your Facebook homepage, create a listing, add some photos and a description, and your items will show on the marketplace for free.
The thing I like most about this feature is that you can share your listings to your profile, a page, or even groups, which can give them a large audience of potential buyers.
Buyers can also rate you, which can help you get more customers in the future if you have consistently positive transactions (you can also rate buyers, to be fair).
Get Supported by Fans on Flattr
Flattr is probably one of the easiest ways to get paid using Facebook, or just about any other social media channel.
You sign up, connect the accounts you want to work with, and that's it.
Your fans will then be able to pay you directly to your Flattr account just because they feel like it.
If you're constantly putting out great content on Facebook, like videos or posts that inspire people or make them laugh, then it's possible that your loyal followers will want to give you money once in a while.
Flattr helps with all that.
In addition to Facebook, you can connect your YouTube account, Twitter profile, WordPress blog, and more.
You get 90% of what fans pay you, while the other 10% goes toward fees.
Sell What You Create on Facebook
Some Facebookers make a living by helping others create profiles, pages, and groups, building them up to grow their audiences, and then selling them for profit.
Doing this can not only make you a profit on what you built, but you might also be able to charge by the hour, or a project fee, for your service.
You can also get into the business of making your own pages and groups, building up their audiences, and then selling them to businesses or people who are interested in taking them over.
Note that it will take time to grow these things into something worth selling, but once you get into a consistent routine, you should also start having a consistent cash flow.
Crowdfunding
Crowdfunding has emerged as a popular way to raise funds for various projects or causes. 
It involves gathering small contributions from a large number of people, typically through online platforms. 
On Facebook, you can leverage the power of your page likes to run a crowdfunding campaign and engage with your followers.
Crowdfunding platforms such as Kickstarter and Indiegogo allow you to create campaigns and share them on your Facebook page. 
By sharing your campaign's link and appealing to your followers, you can encourage them to contribute and support your cause.
Live Streaming
Live streaming on Facebook has become a powerful tool for content creators, businesses, and individuals to engage with their audience in real-time. 
By going live on your Facebook page, you can share experiences, host Q&A sessions, showcase products, or provide valuable insights.
To start live streaming, you can click on the "Live" button when creating a new post on your Facebook page. 
Additionally, you can use third-party streaming tools like OBS (Open Broadcaster Software) or Streamlabs OBS for more advanced features and customization.
Sponsored Events or Meetups
Sponsored events or meetups offer a great opportunity to connect with your Facebook page followers in person. 
This fosters stronger relationships and building a sense of community. 
These events can range from workshops, conferences, charity drives, or even casual get-togethers.
By partnering with brands or businesses relevant to your page's niche, you can secure sponsorships to support these events. 
Sponsorship may involve financial assistance, providing resources or products, or even promoting the event to their own networks. 
Collaborating with sponsors can enhance the event experience and generate additional exposure for your Facebook page.
Facebook Instant Articles
Facebook Instant Articles is a feature that allows publishers to create interactive and fast-loading articles directly within the Facebook app. 
It provides a seamless reading experience for users and enables publishers to monetize their content through ads.
To start using Facebook Instant Articles, you need to sign up for the program and integrate it with your website's content management system (CMS). 
By formatting your articles according to Facebook's guidelines, you can optimize them for the Instant Articles format. 
This allows you to display ads within your articles, generating revenue based on ad impressions and clicks.
Find Sponsored Post Opportunities
Most people tend to think of sponsored posts as something only bloggers do, but that's not the case.
Those active on social media also can make money just by posting to their accounts.
You can work with brands you love directly, but a lot of brands actually work through influencer networks because it's easier for them to find influencers who are interested in this type of monetization.
Here are some of my favorite networks to find sponsored post opportunities for bloggers and social media influencers:
Clever is one of my all-time favorite influencer networks.
It has a lot of projects available at any time, both for blogging and social media.
The social media promotions are usually for Twitter and Facebook, so you might be required to post to both platforms.
Each campaign will have a specific set of instructions depending on the brand, its products or services, etc.
Follow the directions, including any messaging and imagery required for completion, and you'll get paid within a month or two from Clever.
Most of these campaigns pay anywhere from $25 to $75, just for some social media posting.
Massive Sway comes from Sway Group, a network of digital influencer companies in the United States and Canada.
This one is very active, too, with several campaigns going on at once.
Many of them are for bloggers, but there are also some that are only for social media promotions, usually noted as "Amplifications."
Most of these campaigns might also request for an Instagram or Twitter post in addition to Facebook and pay anywhere from $50 to $100.
IZEA has been around a while and usually has several social media sponsored posts available at any time.
This one requires you to bid on available campaigns, so you may not get top dollar for your work.
However, you never have to settle for any campaigns that are below your desired rate either.
Clients can also send you direct offers if they want, which you can accept or deny via your dashboard.
Activate is a super active influencer network that does a lot of food-related campaigns, but there are others too.
Campaigns will designate whether they're meant for sponsored blog posts or social media posts.
Some campaigns will have a set payment, while others will ask you to quote your desired price for the work described.
Be sure to also write a note for each campaign that tells the client why you're the best influencer for the job to help you get approved.
Tomoson is the network I've used the longest.
It used to be only about free products in exchange for blog reviews or social media posts, but the platform now allows influencers to get paid for their work too.
This network focuses on specific products that you'll promote to your audience.
Be sure to look for campaigns that give both a free product and compensation for your time.
Write an eBook Using Your Facebook Knowledge
Last but not least, you can always consider writing a Facebook eBook using your expertise of everything you've learned about the network!
The ironic thing is that your Facebook profile or page can also work to promote the book!
Kindle Direct Publishing is probably the easiest way to go about publishing your own book.
It's a service provided by Amazon that makes eBook creation, selling, and marketing about as simple as possible.
Your book will be in front of all Amazon customers, plus you can create whatever sales price you want and you get to retain all rights to your book.
It's free to publish and you can make up to 70% of your sales after Amazon takes its cut of the sales price.
The best part is that it only takes a few minutes to get your book published on the platform, and you can typically see it up for sale within 48 hours!
Now You Know How to Make Money from Facebook Page Likes (and More!)
See? There are tons of ways to make money from Facebook just like the pros do.
This list only scratches the surface.
Of course, as with almost any way of making money, most of these ways will take time.
If you couldn't tell, creating a Facebook group is one of the best ways to make money on Facebook.
You can use a group in so many ways to earn money, from business promotion to selling items, and more.
If you want to go the business route, I recommend checking out this post about using Facebook groups to build your business.
It's an excellent resource for learning how to promote a business in already-made groups and for those you create and manage.
Have you earned money on Facebook from any of these methods?
Are there other methods you'd recommend?
Let us know in a comment below!
Related Posts:
Earn Everything… nearly!
Join Ipsos iSay, one of the few Faithful and Honest survey panels and earn prizes, gift cards and donations. Stack your points and redeem them: Simple! No hidden fees and completely free!