Top 14 Ways to Make Money from Your Beautiful Instagram Photos
Updated on: by Amy Kennedy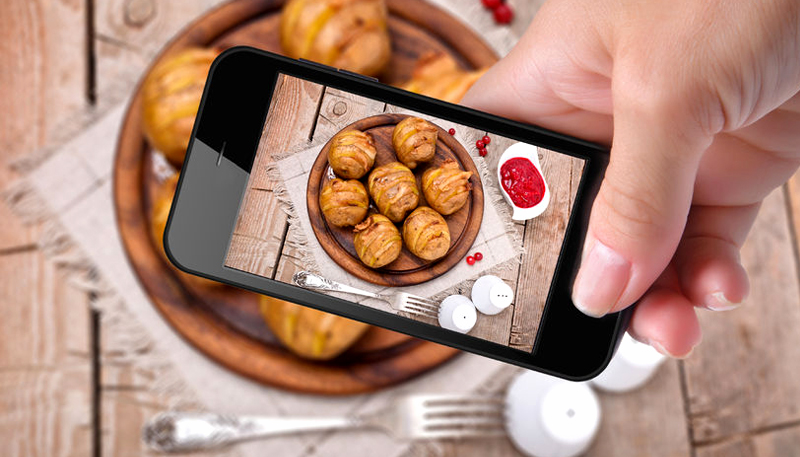 Instagram has become one of the biggest social media networks around.
Need Easy Extra $350+/Month For Free?
What started as a little place to share your favorite photos has exploded into a place where individuals, brands, and businesses can create visually stunning accounts and snatch uploads of followers.
Most of your favorite celebrities and brands have accounts on Instagram and share everything from daily happenings to their favorite products.
Instagram isn't only about the pictures anymore, though.
Like many other social networks, it's become a place where people can earn money for posting!
Celebs, for example, post photos, videos, and stories about sponsored products and services for cash.
Bloggers use their accounts to also post sponsored Instagram photos.
But, did you know that you can make money simply by selling your Instagram photos?
It's true! No sponsorships involved.
Your own photos can earn you some cash, and I've done some digging around the web to find out how.
Can I Really Sell My Instagram Photos for Money?
Yes, you can!
It sounds far-fetched, but, if your photos are popular enough, you could make money off them.
You don't even have to be a professional photographer.
In fact, Instagram is pretty good at making even the blandest photos look appealing with the right crops and filters!
And, this method of making money is simple.
It doesn't require a bunch of work on your part, which makes it a great way to earn cash in your spare time.
Need Easy Extra Cash?
Pinecone Research, a leading name in online survey panel honesty, absolutely guarantees $3 cash for every survey you complete!
Take advantage of their time limited New Membership drive and register NOW. Join today: 100% free!


Here's Where to Sell Your Instagram Photos
Unfortunately, if you're wondering how to sell your photos on iStock, you won't be able to find that here.
Some stock photography sites only allow contributors to use real cameras, rather than their smartphones, with high-resolution photos.
iStock is one of them, so Instagram photos won't fly here.
But, there are plenty of other places you can use that accept smartphone photos from your Instagram account!
Your Instagram Account or Website
If you have a really large following on Instagram, you might find success selling your Instagram photos through your account.
Incredibly, one photographer named Daniel Arnold sold $15,000 worth of his Instagram photos in one day.
What was his secret?
He didn't have one!
He simply made a post stating that, for one day, he would be selling 4×6 prints of any of his Instagram photos.
He charged $150 per print.
Before he knew it, his followers snatched up their favorites left and right, giving him a solid $15k in just that day.
Maybe it was because of the exclusive, limited-time offer he made that made his followers scramble for his photos.
Who knows?
But it's worth a shot, especially if you have a big following.
You might want to try a week-long sale or even a weekend sale, just to see what kind of response you get.
And, be sure to collect your payment up front.
Although Arnold had $15k worth of requests, he collected only $5,000 – still a good chunk, but $10k less than his followers said they'd pay!
You can always invoice your followers using PayPal, and make sure you keep the tracking information of your shipments, so you have proof that each photo print made it to its destination.
Alternatively, you can sell your Instagram photos on your photography website, if you have one.
It's pretty simple to create a shop on your website if you use a platform with shop integration available, like WordPress.
Display your photos, let your customers choose their print sizes, and go to town selling!
Websites can be marketed through social media and SEO practices, too, which can get even more eyes on your photos.
Shopify Store
If you like the idea of selling your favorite Instagram photos via an online shop, but aren't too thrilled about setting on up yourself, you can use Shopify as an alternative.
Shopify is an online store platform that does most of the tough work for you.
You can pay for a subscription to sell your photos on the site, and you'll have the benefits of a simple drag-and-drop shop editor, marketing tools, a payment system, and more.
And, when you sign up, you can even get 14 days for free just to make sure it's right for you.
Shopify even has specific themes meant for photographers, which can showcase your Instagram photos beautifully to your audience.
You can even consider partnering with an online photo lab to bring more products and prints to your customers.
Shopify recommends Printful, which can print your photos on tons of different products, from pillows to mugs, and could make your shop even more appealing to people who want unique photo gifts.
Earn Everything… nearly!
Join Opinion Outpost, one of the few faithful and honest survey panels and earn cash and gift cards for your opinion. Stack your points and redeem them: Simple! No hidden fees and completely free!


Etsy is another option if you want to sell your Instagram photos online.
With Etsy, you'll create your own store.
Etsy's dashboard will set everything up for you, and you can customize it to fit your branding and business.
Photographers on Etsy sell photos as prints, canvases, digital prints, and on other products, like clothing.
The sky's the limit.
They're your images, and you can sell them how you want to!
You might even consider creating a niche for your Instagram photos, such as placing them on greeting cards you create, to help market a unique idea to Etsy customers.
Or, specialize in a certain type of photography, like pet or beach photography.
Then, use plenty of keywords that target your type of photography business in your descriptions, so people can find your products.
Etsy does take some time to learn how to become successful with marketing.
It's a good idea to have social media accounts and a website that coincide with your business so that you'll have plenty of marketing tools available to point people to your Etsy shop.
Like most places you'll sell photography on, Etsy does have some fees: $0.20 per listing, and 3.5% of your selling price.
So, make sure to take the fees into account when you set your prices.
Candidly is all about photographers that focus on authentic images and the people who want to buy them.
The creators of this marketplace wanted this site to be different from other stock photography sites with posed models and white backgrounds.
It's all about real photography, which is perfect for those who are active on Instagram!
Anyone can sign up to create an account on Candidly.
You'll have your own page that features any photos you upload.
Each seller earns 50% of the profits from any photo sold, and there are no other fees involved for uploading photos or selling them.
Every photo sells for $10, so you'll earn $5.
Candidly also does a fair amount of marketing for photographers to help them sell photos, taking some of the work off you.
Clashot is a mobile app for iOS and Android devices.
Using the app, you can upload your favorite photos, including those you've placed on Instagram.
The app integrates with Depositphotos, a huge name in digital photography.
People using Depositphotos will see your photos on Clashot and can purchase them through the site.
So, it's almost like you get double marketing here.
Photos range from $0.50 to $80, and you'll receive a commission from each of your photo's sales.
Once you have $50 in your account, you can withdraw your cash with PayPal or Skrill.
Be sure to have model releases if any people are used in your photos, or they won't be allowed to be sold.
Dreamstime is one of the biggest names in the stock photography industry.
The regular Dreamstime site doesn't allow mobile photos, but instead has the Dreamstime Photography Companion for this purpose.
This is an app for both iOS and Android devices that works a lot like Clashot.
Upload your favorite mobile photos, Instagram included, to place on your profile.
This app also integrates with tons of other photo services, like Flickr and Dropbox, so you can upload your other photos from around the web for even more cash.
Anyone searching on Dreamstime can find the photos you uploaded with the app and purchase them.
Your pay depends on your contributor level, which can vary depending on whether your photos are re-downloadable or exclusive and how many downloads you've had.
The commissions range anywhere from $0.35 to $40.80 per photo.
Foap has quickly become a huge name in the mobile photo space.
You can make money directly through the iOS or Android app by becoming a "Foaper," or someone who uploads their photos to Foap.
Foap is more like a fun community than just a photo marketplace.
Yes, you can simply upload your favorite photos using the app and wait for them to sell.
But, Foap takes it a bit further by partnering with several top brands to help you sell your photos.
Brands will have missions in which you can enter a photo that matches their criteria.
If it's chosen, you'll get paid 50% of the profits and can be entered to win a prize worth $50 or more.
You'll get paid easily using PayPal.
Instaprints specifically seeks Instagrammers to sell their photos on the site!
All you have to do is upload your favorite Instagram photos, and then Instaprints will take care of the printing.
The site prints your photos on a variety of print sizes, canvases, and more.
There is even clothing and accessories available, like phone cases, that customers can purchase.
Instaprints takes care of all the behind the scenes stuff, like packaging and shipping your prints and even handling customer service.
You'll get either a check or PayPal cash once a month on the 15th for anything you sold the previous month.
The best part is that you can set your own prices, taking into account how much Instaprints charges for its materials and shipping costs.
You'll see all the costs in your dashboard and can set your prices accordingly, ensuring that you get the profit you want off each sale.
Snapwire is a photography marketplace that connects photographers to clients.
Snapwire will place challenges based on the needs of its clients.
You can respond to the photography challenges with your photos.
If the client chooses your picture, then you can level up.
Higher levels mean better opportunities, like direct requests from buyers.
Snapwire also chooses some of the best photos to place in its marketplace for direct sales from which you can earn a commission for your photos.
You'll keep 70% of the profits from any of the challenges or requests you win, and 50% of the profits from direct sales in the marketplace.
Once you have enough points, you can become a Master on Snapwire, which gives you access to the highest profits from buyers who want the absolute best.
Twenty20 makes it super easy for you to sell Instagram photos using your mobile phone.
The app is currently only available for iOS, but is in development for Android devices.
You can license your Instagram photos for commercial or editorial purposes.
You can tag your photos with keywords to help people find them.
The FAQ section states that Twenty20 customers prefer authentic, candid imagery, so keep this in mind when uploading.
You can also participate in Challenges, which will require specific types of imagery to meet the needs of buyers.
This is also a good way to see what's trending so you can be sure you have some photos in your account that fit what customers are wanting.
You'll earn $2 per licensed photo, which works out to 20% commission.
This is fairly low, but you can sell the same photo an unlimited number of times, so you can earn an unlimited profit from just one picture.
If you win a photo challenge or get commissioned from a brand for a photo, you'll earn 100% of the profits!
You get paid whatever is in your account once a month with PayPal.
Alamy is a popular stock photography website that accepts images from various sources, including Instagram.
It has a wide customer base, including publishers, businesses, and media professionals.
To sell your Instagram photos on Alamy, you'll need to create an account and submit your images for review.
Alamy has strict quality standards, so make sure your photos meet their requirements.
Once approved, your photos will be available for purchase by customers, and you'll earn a royalty on each sale.
Alamy offers competitive commission rates, and you retain the copyright to your photos.
Adobe Stock is a well-known stock photography platform that allows photographers to sell their images, including those captured with smartphones like Instagram photos.
As part of the Adobe Creative Cloud suite, it offers a large customer base and exposure for your work.
To sell your Instagram photos on Adobe Stock, you need to become a contributor by signing up for an account.
After that, you can upload your photos, keyword them for discoverability, and submit them for review.
If approved, your photos will be available for licensing, and you'll earn a commission on each sale.
Adobe Stock offers competitive royalty rates.
EyeEm is a global photography community and marketplace that allows photographers to sell their photos through their platform.
It caters to both professional and amateur photographers, offering opportunities to showcase and monetize their work.
To sell your Instagram photos on EyeEm, you can connect your Instagram account to your EyeEm profile and select the images you want to sell.
EyeEm uses advanced algorithms and AI technology to curate and promote photos to potential buyers.
When someone purchases a license for your photo, you'll earn a royalty.
EyeEm also hosts photo missions and competitions where you can earn additional income and gain exposure.
Shutterstock is one of the largest and most popular stock photography websites, serving customers worldwide.
It offers a vast collection of images and caters to a broad range of industries.
While Shutterstock primarily focuses on professional-quality images, it also accepts high-quality smartphone photos, including those taken with Instagram.
To sell your Instagram photos on Shutterstock, you need to become a contributor by creating an account and submitting sample images for review.
Once approved, you can start uploading your photos and adding relevant keywords.
When customers license your photos, you'll earn a royalty based on the type of license and the size of the customer's plan.
Conclusion: How to Sell Your Instagram Photos
I hope this article helped you see how easy it can be to make some money off your Instagram account!
Be sure to read through the FAQ section of each site or app to learn rules about licensing, because the laws can be tricky.
To make the most of your time with each site, you'll need to adhere to the licensing and photo requirements, including getting all required releases for models.
Good luck!
Do you know of other ways to sell Instagram photos?
Please let us know in a comment!
Related Posts:
Earn Everything… nearly!
Join Ipsos iSay, one of the few Faithful and Honest survey panels and earn prizes, gift cards and donations. Stack your points and redeem them: Simple! No hidden fees and completely free!