9 Easy Steps to Turn Your Etsy Shop into a Business
Updated on: by Amy Kennedy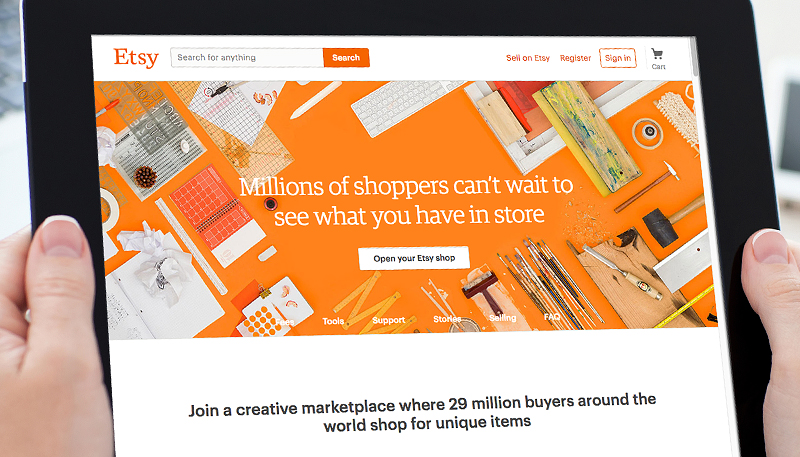 "Can you make a living on Etsy?"
Need Easy Extra $350+/Month For Free?
That's a question we get a lot here at Work at Home Adventures.
I'm here to tell you today that, yes, you can earn a living on Etsy!
Take a look at the subreddit for Etsy and you'll find quite a bit of information from people who have turned their shops into their full-time jobs.
One user pulls in up to $2,000 per week from their Etsy shop alone.
In 2014, Etsy shop owner Erin True made more than $1 million from her Etsy shop that sells wooden furniture!
However, as with any kind of selling you might do online, there are tips and tricks you should know that can help you grow your Etsy business.
I'm sure you're here because you, too, want to know the secrets of Etsy and how to maximize your earnings.
I haven't personally sold anything on Etsy, but I have been a shopper!
Therefore, I do know my way around the site, and I have a good eye for what catches the attention of a shopper.
I did some digging online, though, because I wanted to bring you an article that can help you learn how to become successful with an Etsy shop.
Between my buyer knowledge and tips from experts who make a living on Etsy, this article should give you a good idea of what it takes to get started.
Earn Cash Selling Jewelry on Etsy (And Other Items)! Here's How to Do It
Before you jump right into Etsy, you should learn what it takes to have a successful shop.
Etsy is a lot different than other selling sites. It's more niche-focused than others.
eBay sellers, for example, can sell just about anything and get away with it.
But, Etsy sellers come there specifically for handmade, unique, and vintage items.
Need Easy Extra Cash?
Pinecone Research, a leading name in online survey panel honesty, absolutely guarantees $3 cash for every survey you complete!
Take advantage of their time limited New Membership drive and register NOW. Join today: 100% free!


It might take some getting used to, but once you find a niche that works on Etsy, you'll notice that your products may sell themselves.
Let's dive in to Etsy selling!
Know the Fees
Etsy selling doesn't happen for free.
Etsy needs to make its own share of the profits for letting you host your shop.
Fortunately, the fees aren't too bad.
You'll get a bill at the end of each month for all fees associated with your listings and sales for that month.
To list an item, it's $0.20.
However, that's only for a listing, not an item.
If you have 25 of one item to sell, you won't get charged 25 times, only once.
Then, Etsy takes a transaction fee of 3.5% of the price, without shipping included, that your item sells for.
The good part about the transaction fee is that it will fluctuate with your prices.
So, you don't have to worry about a flat fee that could majorly cut into your profits on low-price items.
You'll also need to keep in mind that you may get charged extra fees from certain types of payments.
PayPal, for example, will have its own 2.7% plus $0.30 fee per transaction.
Now that you have an idea of what you'll need to spend to get started selling on Etsy, let's move onto setting up your shop and selling items.
Setting Up Your Shop for Success
You might think that setting up your Etsy shop is as simple as just signing up and opening it.
It is, in theory, as easy as doing that.
But, does that mean your shop will be successful just because you set it up quickly and easily?
Nope!
This step is probably the most important one you can make in getting your Etsy business off the ground.
No one wants to purchase from a shop that looks cluttered or sketchy.
They want to see information about the shop and its products.
They also want to see a clear shop name and branding.
Would you be more likely to buy from a shop that has a profile photo of the seller's face, or one that has a beautiful logo and catchy branding?
The one with the branding and logo shows that its owner values it as a business.
Etsy has a Quick Start Checklist that you should definitely check out before going too far in the process.
This simple, helpful guide shows you exactly what you should have in your shop to get ready to start selling.
That includes having at least one item prepped and ready to sell.
You should also have a name picked out before you open your shop.
Earn Everything… nearly!
Join Opinion Outpost, one of the few faithful and honest survey panels and earn cash and gift cards for your opinion. Stack your points and redeem them: Simple! No hidden fees and completely free!


You can change your shop name numerous times before it's open, but once you open it, you'll only have one name change available.
Make sure it's something you love that makes sense for the items you'll sell!
You should also have a refund and returns policy outlined so that you can have it in place as soon as you're ready to open.
Have a Clearly Defined Niche
I mentioned finding a niche a little bit ago.
I can't stress the importance of having a niche on Etsy enough.
Your branding depends on your niche.
Without having a clearly defined niche you want to focus your items on, you probably won't have much success with having repeat buyers and people recommending your shop.
Some sellers focus on selling custom furniture.
Some make custom t-shirts.
Others sell handmade jewelry.
Etsy accepts a lot of different kinds of products, but you still need to zero-in on the ones you want to sell.
And, you can think outside the box here.
Maybe you want to sell Native American-inspired items.
That's totally fine!
Sell home décor, furniture, clothing, and jewelry that all fit the bill.
This gives you more leeway to add in more items in the future without sacrificing your branding and loyal customers.
Finding your ideal niche will make it much easier to market your shop once you get it up and running, so just trust me on this one.
Digital Vs. Physical Products
One of the biggest issues you might face when choosing what you want to sell on Etsy is whether you should sell digital or physical products.
Etsy does allow the sale of some digital products, like website themes, printables, and graphics.
If you're a designer and struggling to figure out of you should sell something like this or stick with physical products, know that you're not alone.
But, let me give you something to consider: digital products cost no overhead!
There's no inventory to store and no shipping costs involved.
You just need to deliver the digital product via email and call it a day.
When you think about it that way, you might be more inclined to jump into the digital world of Etsy selling.
I've found that I've actually purchased more digital products from Etsy than physical products over the years!
From website themes to printable photos and art, Etsy is the perfect place to find it all, especially if you want something customized.
I've even seen sellers offering full web design services for $1,000 or more.
Just because you might not sell physical products doesn't mean you can't be hugely successful on Etsy.
So, I wanted to include this bit for the digital creators out there. It's certainly something to consider.
Know What Buyers Want
Now, it's time to focus your attention on your buyers.
Think about what you want to see when you shop online:
Clear, beautiful photos of products you're considering buying
A trustworthy shop
In-depth descriptions of products
Fair pricing
Easy to find exactly what you're looking for
Clear return and refund policy
Helpful, friendly interactions between the owner and customers
Excellent reviews
These are likely some of the more common things you look for before deciding whether to make a purchase.
On Etsy, these are the things you'll want to strive for in your own shop.
Your item descriptions should have plenty of relevant keywords that will help shoppers find what they're looking for during an Etsy search.
Your pricing should be both fair to you and your customers.
And, you'll want to be sure to thank customers who take time to leave a review, good or bad, because potential buyers can see your interactions!
Finally, focus on your photos!
You can add several photos to each listing on Etsy.
Clear, high-quality photos can sometimes be a game changer if people are deciding between two similar products.
Etsy is very photo-centric.
Buyers will see your photos in a search before they read your item description.
Clothing that looks beautiful in real life but crappy in photos will probably sit in your shop for a long time.
Check out Etsy's photography guide to get you started on the right foot.
Customer Service is Key
I am much more likely to recommend a seller to my friends and family if I had an excellent experience shopping with them.
The Etsy sellers that stick out in my mind are the ones who went out of their way to ensure that they had my order right, kept me in the loop about its delivery, etc.
In other words, they kept in contact with me and wanted to make sure I was happy every step of the way.
They valued me as a customer!
I rarely ever return to shop somewhere where no follow-up was given, or I never heard a peep from the seller.
As an Etsy seller, it's your job to make sure your customers are happy, even when something goes wrong.
You can't make everyone happy all the time.
But, if you do mess up, the way you handle the situation is what can make or break your selling success.
I recommend following up with customers for every order, especially when they have a custom order.
Send a quick email, rehash what they just bought to ensure its accuracy, and invite them to contact you if they have any questions.
A little bit goes a long way!
Make It Personal
Speaking of outstanding customer service, here's a way to make your shop stand out even more to customers:
Go above and beyond with personalization!
I once got a handwritten thank you note from a seller in my package, thanking me for supporting her small business that she's worked so hard on.
She also sent me two promo codes for future orders with her.
Another seller sent me an email follow-up a couple of weeks after I purchased a custom printable as a gift for my son's teacher.
The seller wanted to know if the teacher loved the gift!
It was such a simple way to check in and make sure that everyone involved was happy.
The point is that spending a few minutes getting personal with your customers can make a world of difference in your shop's success.
Marketing Your Etsy Shop
Once your shop is ready to roll, and you start getting some orders in, you'll want to ramp up your sales with some marketing.
I've seen people marketing their Etsy shops in a lot of creative ways, so the sky is the limit for you.
If you have a blog, for example, you can write some posts that focus on your products.
Don't forget to add links to your shop on your blog and social media accounts too!
I've also noticed that people hang out in places where their ideal customers might be.
For example, one Etsy seller who is also in a work at home Facebook group I'm a member of occasionally drops a link to her shop that includes funny t-shirts targeted to people who work from home.
I've also seen Etsy shop owners who make baby bows or handmade toys mention their shops in parenting forums.
Etsy's marketing guide can give you some more pointers for marketing your shop on social media, YouTube, and more.
Maximize Your Sales
It'll take some time to get the word out about your business (in most cases – some people are lucky and get off to a great start from the get-go!).
Until then, you can still do some things to maximize your sales and get your business moving.
First, don't let any stone go unturned!
Have you mentioned your shop to your friends and family?
They might be just as interested in what you're selling as strangers who visit your shop, and they might even be quick to share your shop on their social media channels.
You might also consider handing out a few free products to your favorite bloggers for mentions on their sites and social media channels.
You'll lose the sales of a few products, but hopefully will gain a lot of sales in return.
Lastly, consider the amount of time you spend working on your shop.
If it's only for an hour or so each day, perhaps you can double that time.
The more time you spend putting into your shop now, the more rewards you can reap later!
Read Also: The 15 Best Websites to Sell Handmade Jewelry, Plus 5 Bonus Tips!
Conclusion: How to Make Money on Etsy
Making money on Etsy is something just about anyone can do with the right tools.
Hopefully, this article acts as the toolkit you needed to get started with your business!
Do you currently sell on Etsy or are you looking to get started?
Let us know your thoughts in a comment below!
Related Posts:
Earn Everything… nearly!
Join Ipsos iSay, one of the few Faithful and Honest survey panels and earn prizes, gift cards and donations. Stack your points and redeem them: Simple! No hidden fees and completely free!