The Ultimate Guide to Help You Make Money on Music Xray
Updated on: by Amy Kennedy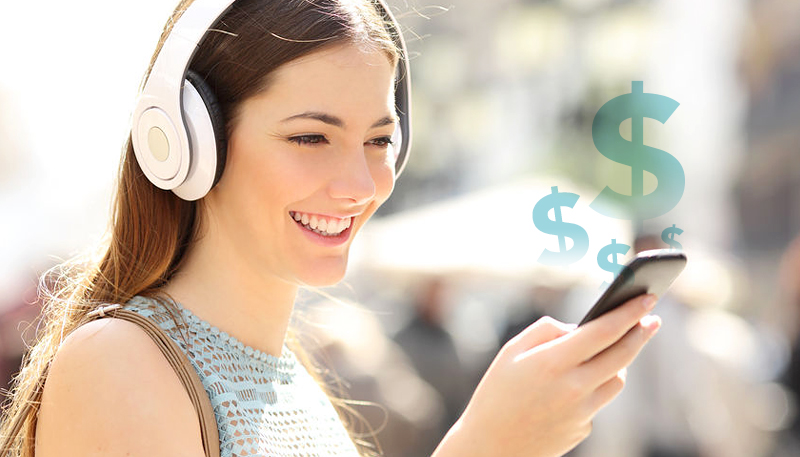 Do you ever wish there was a website or app that would pay you to listen to music?
Need Easy Extra $350+/Month For Free?
Or, maybe a site that would offer you more song choices than what you currently listen to, ask you to listen to a sample and give your feedback, and then give you cash for your time?
You're lucky, then, because MusicXray is a site that does all of that.
MusicXray is one of the most fun websites that pays because it gives music lovers a way to discover new stuff while making money.
If you're a person that spends several hours a day listening to the radio or music anyway, then this opportunity is one you won't want to pass up.
After using MusicXray for a while myself, I decided to write this guide to help others learn more about it and how to maximize their earnings.
Using MusicXray.com to Earn Cash Online
Learn how to sign up for MusicXray, listen to paid song samples, and cash out your earnings!
First, let's talk more about what MusicXray is.
This site is a place where music lovers can connect with artists to hear their newest songs before they go mainstream.
More importantly, it's not one of those sites that hopes people will want to just sign up to hear new music.
Instead, it values the time you spend listening to songs and reviewing them by paying you to do it.
And, a bonus if you're a music maker:
This site can display your music and even help you connect with industry professionals who might discover your talents and jump start your career!
When you sign up for a music artist account, you'll also get a fan account, which means you can both share your songs and get paid to rate other songs.
Therefore, instead of just being a review site for music, MusicXray acts as somewhat of a social network for fans, budding artists, and professionals in the music industry.
How Does MusicXray Work?
MusicXray can be a little confusing to navigate, so this information should help you get set up, running, and on your way to earning money for your reviews:
Need Easy Extra Cash?
Pinecone Research, a leading name in online survey panel honesty, absolutely guarantees $3 cash for every survey you complete!
Take advantage of their time limited New Membership drive and register NOW. Join today: 100% free!


Step 1: Sign Up for MusicXray
Go to this page to first learn more about Fan Match, which is how you'll get paid to listen to music.
Then, click the Sign Up For Free button to go to the signup page.
You can either sign up using your email address or click on one of the other options, like Facebook, SoundCloud, or Google.
Connecting one of the other accounts leads to a quicker signup and makes it easy to sign in again later without needing to remember a password.
Once you're signed up, you'll need to choose an account: Music Fan, Artist/Song Owner, or Industry Professional.
Obviously, you'll want the Music Fan account unless, of course, you're an artist who also wants the benefits of uploading music.
In this case, you'll also get a fan account where you can review songs for cash.
Unfortunately, MusicXray doesn't always have openings for Music Fans, and when this happens, the option won't be available, and you'll need to check back another time.
If you can create a Music Fan account, you'll continue onto the next page where you'll be asked to connect your Facebook account.
This helps MusicXray match your music tastes with current songs on the platform based on artists or music you like on Facebook.
You don't have to do that, though.
Instead, just pick the genres you tend to like most (you can pick up to 5) and save your selections.
This process creates your Fan Match profile to help you get song and artist matches that suit your tastes.
Step 2: Listen to Music with Fan Match
Now, you'll need to wait for MusicXray to send you some songs.
You'll get invites in your email inbox alerting you when there are some new opportunities.
You can also find them in your MusicXray dashboard under the Fan Match tab.
Click on a song you want to listen to.
Listen to it for at least 30 seconds.
You then should see MusicXray add money into your account for that song, which will be $0.10, if you did it correctly.
The site will then ask you if you want to be a fan of that song or not. Just click your selection and move on.
It won't affect your payment if you select that you didn't like a song.
Step 3: Get Paid
Your earnings for each song should show up once you've reached the 30-second requirement for it.
After that, you'll need to wait until you reach $20 to cash out.
Currently, PayPal is the only payment method, so only people who are eligible for a PayPal account will be able to get paid.
How Much Money Can I Really Make on MusicXray?
I won't lie and say that you'll make a lot of money on MusicXray.
The thing is, that's not what this site is for.
Instead, it's a way to monetize something that you likely already spend your day doing, at least for a few minutes: Listen to music.
MusicXray pays 10 cents per song you listen to for at least 30 seconds.
That works out to $12 an hour.
Earn Everything… nearly!
Join Opinion Outpost, one of the few faithful and honest survey panels and earn cash and gift cards for your opinion. Stack your points and redeem them: Simple! No hidden fees and completely free!


That's not bad, but you have to remember that you won't always have a consistent stream of songs to review.
To earn $12 in an hour, you'd need to have 120 songs in your Fan Match tab, which likely won't happen.
It's likely that most people will only get enough opportunities to make a few bucks a month on MusicXray, so don't think of it like a full-time income opp.
Think of it as a fun side gig that pays you to listen to music in your spare time – it's perfect for that!
Ways to Make More Money with MusicXray
There aren't ways you can necessarily manipulate this system to work better for you, but there are a few features on MusicXray that may help you earn more:
Referrals
Like most online money earning sites, MusicXray has a referral program.
This means that you can refer your friends and family to the platform and make money when they become active users and start earning their own cash.
Unfortunately, the referral program seems to have changed so that you can only earn 15% of cash artists spend, rather than making money off other fan accounts.
Your best strategy with the referral program, then, is to refer artists you know and convince them to upload their songs and spend money on the platform.
Be an Active User
There's nothing that MusicXray specifically states in its FAQ about active members, but it's safe to assume that those who are most active on the platform will continue to get the most opportunities.
That's how most of these sites work.
If you show that you're a valued member who consistently signs on to check for and participate in new song opps, then you'll likely be one of the first ones to have songs matched to your profile.
Connect Your Accounts
MusicXray notes that if you don't connect your Facebook profile for a fan account, the site likely will not function correctly for you.
It's a good idea, then, to sign up with your Facebook account and make sure it's connected when you use Fan Match to finish setting up your profile.
Facebook helps make the platform learn more about your interests, which can help bring more songs your way.
If you sign up for an artist account that doubles as a fan account, you can even connect your music profiles, like SoundCloud, to your profile for more matching opportunities.
What Do Users Say About MusicXray?
I researched some reviews from real members of MusicXray, just to give you an idea of other experiences people have really had with the platform.
Among the most common perks were that MusicXray:
Has quick, reliable payments
Is an easy way to earn money with music
Gives members a fun way to discover and connect with new artists
And common complaints included:
Not being able to sign up for a Fan Account when signups are closed
Not many opportunities to listen to new music
Doesn't pay much per song
Is MusicXray a Scam or Legitimate Way to Make Money Online?
A lot of people tend to associate sites like MusicXray with scams because they don't earn a lot of money from them.
MusicXray is absolutely not a scam.
It's a legit way to earn money with music.
But, no, you won't earn a lot.
However, a scam is a site that promises you big earnings you'll never achieve or never pays what you earned.
MusicXray is neither of those things.
You may not earn a lot, but it never claims you will, and it'll definitely pay you what you've earned once you're eligible for a cashout.
Other Ways to Make Money Listening to Music
MusicXray may not be the best choice for everyone, but there are some other similar sites out there that'll let you listen to music and get paid.
Research FM is an interesting way to turn your love for music into Amazon gift cards.
The site wants people like you to rate new music in the form of a survey after you've listened to a music sample.
Once you've done so, you'll be able to claim an Amazon gift card for your time.
The surveys don't seem to be very frequent here, but you should expect to get at least a couple of them per month.
Just be sure to check with your email provider to ensure the emails from Research FM go to your inbox and not your spam folder.
In addition to listening to samples on your computer, you can also do so with your iOS device.
Slice the Pie is another popular site that pays you to review music.
You'll need to listen to a full minute of a song, at least, to begin writing a review, just to make sure you've heard enough to be fair.
Slice the Pie puts a lot of importance on in-depth reviews and only wants the best reviewers in its system, so it's crucial that you're consistent and take time to write constructive feedback about each song you hear.
Reviewers get rated by the system based on the work they do, and higher reviewers will earn about 10 cents per review.
When you get $10 in your account, you can cash out with PayPal.
Slice the Pie pays twice a week, so you can earn at least $20 each week if you have consistent reviews coming your way!
RadioEarn is a platform that offers a unique opportunity to earn rewards simply by listening to online radio stations.
Upon signing up for free, you can access a wide range of radio stations available on the platform.
As you tune in to these stations and listen to music, you accumulate points, which can later be redeemed for cash or gift cards.
The process is straightforward: once you've logged in, you can select from the available radio stations and start streaming music. RadioEarn tracks your listening time and rewards you with points accordingly.
The more time you spend listening, the more points you accumulate. This allows you to passively earn rewards while enjoying your favorite tunes.
When you've accumulated a sufficient number of points, you can choose to redeem them for cash, which can be transferred to your preferred payment method, or for gift cards that can be used at various online and offline retailers.
RadioEarn typically has a minimum payout threshold that you need to reach before you can request a cash-out.
RadioEarn provides a convenient and enjoyable way to make the most of your time spent listening to music. It not only allows you to explore different radio stations but also rewards you for doing so.
HitPredictor is a music feedback platform that offers music enthusiasts the opportunity to discover new songs and actively participate in the music industry.
As a member of HitPredictor, you can listen to pre-release or newly released tracks from various artists and provide valuable feedback on their potential success.
Upon signing up, you gain access to a catalog of songs that are seeking feedback.
You can listen to these tracks and rate them based on your personal preference and opinion.
Additionally, HitPredictor often requests specific feedback criteria, such as rating the song's catchiness, lyrics, and production quality, among other aspects.
Your feedback plays a significant role in determining the potential success of a song, as it helps artists, record labels, and music industry professionals gauge audience reception and make informed decisions.
As you actively participate in rating songs and providing feedback, you earn points on HitPredictor.
Accumulated points on HitPredictor can be redeemed for rewards, including gift cards, music downloads, or other merchandise.
This allows you to enjoy perks while engaging with the latest music releases and having an impact on the industry.
MusicFans is a platform that connects music lovers with emerging artists, providing an avenue for discovering new music and supporting talent.
As a member of MusicFans, you have the opportunity to listen to tracks from up-and-coming artists and provide feedback to help them refine their craft.
By signing up for MusicFans, you gain access to a collection of tracks from aspiring musicians across different genres.
You can explore these songs, listen to them, and offer feedback directly to the artists. Your feedback can include comments on elements like melody, lyrics, production quality, and overall impression.
Your participation and constructive feedback hold great value for artists as they strive to improve and gain insights into audience preferences.
In return for your engagement, MusicFans rewards you with points that can be converted into cash or used to purchase music-related merchandise.
Read More: Slice the Pie Review – How to Earn Money for Reviewing Music
FusionCash is a GPT site that pays you $5 just to sign up!
Additionally, you can earn money watching videos, referring friends, playing games, completing offers, taking surveys, and more.
One of the more popular tasks here is listening to the radio to earn a little bit of extra money.
The site connects to Radio Loyalty, another program that helps you discover new music, listen to stuff you love, and get paid.
However, Radio Loyalty only offers its members gift cards for participation.
On FusionCash, you can earn real cash, which is a huge plus if you'd rather have more money in your pocket than another gift card.
Once you sign up for the site, you can navigate to the Radio tab to find the paid radio.
Every 30 minutes, you'll need to fill out a captcha that proves you're still actively listening and not just leaving the radio station to run while you do other things.
When you fill out the captcha, you earn $0.03.
It's not a lot, but you can earn a bonus penny if you make at least $0.15 that day.
It's a good way to earn a little cash if you'd be listening to the radio anyway!
Think about it: Keeping the radio on for 3 hours gives you $0.18 plus the $0.01 bonus for a total of $0.19.
Do that every day and you'll get close to $6 a month just for listening to songs.
Want more places to try out?
Check out our list of places to listen to music online and earn cash!
Make Money on Music Xray by Discovering New Music!
MusicXray is a fun way to discover new artists and songs, especially if you're usually open to hearing new genres you may not have heard before.
Not only do you get to see what else is out there, but you can get paid to do it.
And, you'll even get a chance to connect with artists that are on the platform!
Even if you don't get a lot of opportunities through MusicXray, you can keep your profile active. You never know when more music review opps will become available.
Also, consider signing up for some of the other sites on this list to make even more cash when you listen to your favorite tunes.
What are your favorite music genres or artists?
Have you tried MusicXray?
What was your experience like?
Related Posts:
Earn Everything… nearly!
Join Ipsos iSay, one of the few Faithful and Honest survey panels and earn prizes, gift cards and donations. Stack your points and redeem them: Simple! No hidden fees and completely free!