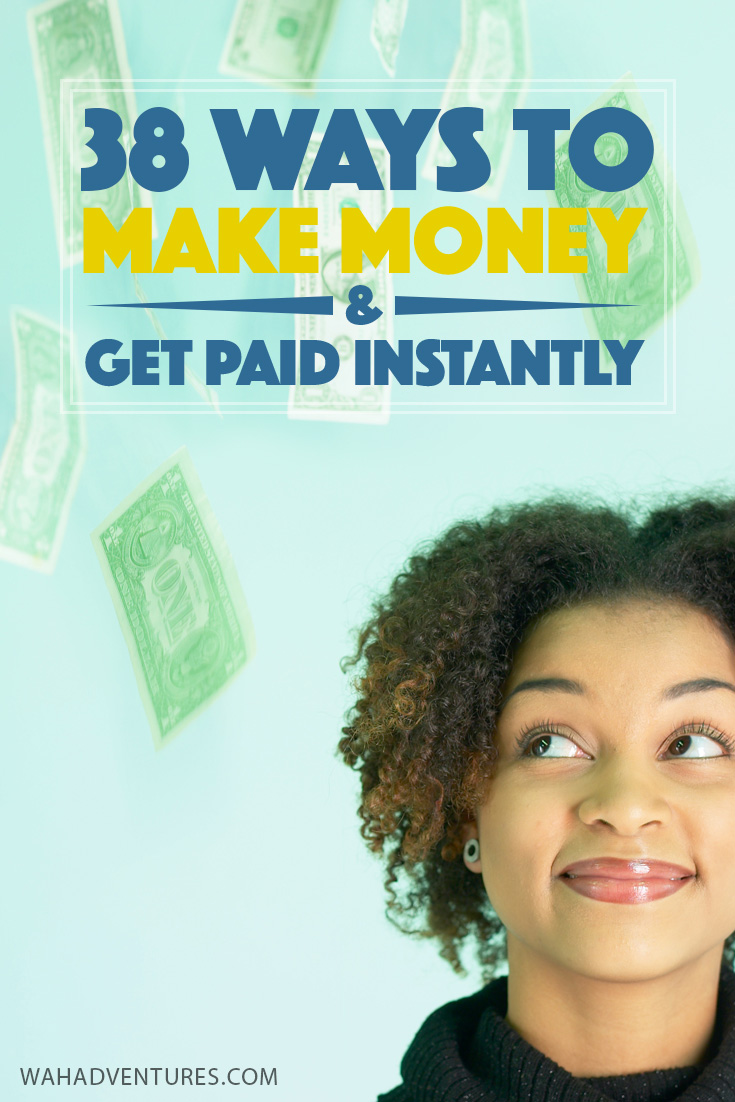 Much like "offline" jobs, many online jobs take a week or more to pay you the money you make.
Need Easy Extra $350+/Month For Free?
Some only pay monthly!
That makes it hard for you to keep track of your finances and your budget.
If you're looking for online jobs and tasks that can make you money in 3 days or less, these jobs are for you.
Not only will you see your earnings quickly through the website or app, but you'll actually have your money in your PayPal account in 72 hours or less.
You can complete these jobs from your home or location of your choice.
And, you can make money any day you want when you have some free time.
How to Make Money in 24 Hours to 72 Hours Online
The following websites pay quickly – in 72 hours or less – after you cash out your earnings.
Most of these are not websites that you can make a ton of money from, but they're perfect for some side cash to make during your free time.
Before you sign up for these websites, make sure you have a valid PayPal account.
Most of these jobs will require you to have PayPal to receive your money.
It's free to sign up and there are no monthly charges, but PayPal does sometimes deduct some fees from money sent to your account.
Swagbucks pays you to watch videos, refer friends, take surveys, complete paid offers, and more.
You earn Swagbucks for each completed task, which you can turn into a PayPal gift card.
Your PayPal redemption will be transferred to your account instantly.
The more tasks you complete on Swagbucks, the more you can earn.
So, if you're a daily user, you'll earn Swagbucks fast with daily tasks and bonuses for reaching Swagbucks milestones.
Must be at least 13 if living in the United States, and 16 if living in the United Kingdom to join.
Pinecone Research is one of the most popular survey-taking websites for quick earnings and fast payments.
Earn Everything… nearly!

Join e-Poll, one of the few faithful and honest survey panels and earn cash - paid via PayPal - gift cards for Amazon, Best Buy, iTunes, Starbucks, and Walmart, plus Retail e-vouchers.
The surveys are aimed at entertainment-related research, covering such things as personal TV watching habits, give feedback on new TV commercials or to review DVDs that are sent to your home.
For USA residents aged 13+. No hidden fees and completely free!


Since the demand to sign up is so high, it only accepts new survey-takers on an as-needed basis, but you can bookmark the website to keep checking back.
People living in the US, UK, Canada, and Germany are eligible to sign up, and age requirements depend on the country's laws.
Pinecone Research offers PayPal as a payment option, and you can request a transfer once you reach $1 in your account. Payments to PayPal are usually made within 24 hours.
You must live in the United States and be at least 13 years old to join Opinion Outpost.
This website pays you points to take surveys for research purposes for its clients.
You'll be answering questions about electronics, advertisements, politics, and more.
10 points equals $1, and you'll need 100 points, or $10, to cash out with PayPal.
You should see your money in your account within about 24 hours.
Do you like being the first one to hear new songs or keep up on the latest fashion trends?
You can get paid for your honest reviews of new music, fashion, and more with Slice the Pie.
If you provide high-quality, consistent reviews, you have the opportunity to earn even more money.
Slice the Pie lets you cash out with PayPal once you've earned $10.
It makes its payments every Tuesday and Friday. So, if you review a lot, you can potentially earn money twice a week with Slice the Pie!
Amazon Mturk is a micro-task website where you can complete small tasks, known as Human Intelligence Tasks (HITs) and get paid on your own time.
You can pick what tasks you want to work on, like checking spelling errors, rating search results for keywords, and categorizing products.
Once your HITs have been approved by the requester, your earnings show up immediately in your account, which you can request to move daily to your Amazon Payments account (this also happens immediately).
From there, you can choose to have your earnings transferred to your bank account within a couple of days, or you can get an Amazon gift card immediately.
BerryCart is a mobile app that lets you get paid to shop for groceries.
More specifically, health foods!
The app is all about rewarding you for healthy shopping by giving you rebates on organic, non-GMO, gluten-free, and other healthy foods.
You just need to buy the items you want and you'll get money back in your BerryCart account after taking a receipt of your shopping trip.
Most rebates go to your account within 24 hours and you can redeem your earnings through PayPal or a gift card of your choice.
Easyshift is an app for Android and iOS that pays users to complete quick tasks, known as "shifts", around their neighborhood, like check prices and promotions, take photos of specific places or products, or review experiences.
You earn points for the shifts you complete.
Better quality earns you more points and more points earns you more money.
You can also reserve more shifts at a time as you move up the ranks.
A person on the Easyshift team will approve your shifts.
Once approved, you will get your payments through PayPal within 48 hours.
This GPT site rewards members for various online tasks, like completing offers, taking surveys, or playing games.
You can choose to redeem your points for physical products, which can take up to 3 weeks to arrive, or elect to have them sent over as cash to your PayPal account, which shouldn't take more than 72 hours to receive.
The Ibotta app is a great way to earn cash back on your purchases.
Using your iOS or Android device, unlock Ibotta rebates before you go shopping.
Then, use the app to scan your receipts to verify your purchases.
Your Ibotta savings will show up in your account within 48 hours.
From there, you can cash out your earnings with PayPal for the quickest transfer, or by bank account or debit card.
You must have at least $20 in your account.
If you choose PayPal, you can see your earnings within 72 hours.
Microworkers is similar to Amazon Mturk.
It's a marketplace for employers to seek workers for microjobs like research, data entry, product categorization, and more.
Employers will rate your tasks based on how well they believe you completed them according to instructions.
You can qualify for more microjobs and more earnings by becoming a highly-rated "Best Worker".
Once you've reached at least $9 in your account, you can request a withdrawal via PayPal.
Microworkers pays these withdrawals every Sunday and Wednesday, so you can potentially have your money in your PayPal account in 72 hours at the most.
Do you love taking online surveys?
Mindswarms might be the place for you, especially because it offers a fun way to take surveys online instead of doing it the traditional way.
Through Mindswarms, you'll take video surveys using your phone!
Each survey is short with only 7 questions, and pays $50.
Some surveys are shorter, but you'll still get paid $10 for each question, usually up to 3 or 4.
The site pays with PayPal instantly once your video survey has been approved for quality and completion, so you can usually expect to get your money within 24 to 48 hours.
Similar to Ibotta, Mobisave gives you cash back for your grocery store purchases.
Mobisave provides a lot of flexibility, though, since you can shop at any grocery store that provides an itemized receipt.
Mobisave has no minimum cash out amounts, so anything you receive is eligible for withdrawal when you want it.
You can cash out your earnings with PayPal, and you'll see your money in your account within 24 hours.
The Mobisave app is available on Google Play and iTunes.
Although its name is Offer Nation, this GPT site doesn't just have paid offers.
It also includes online surveys and other money-making tasks to boost your earnings, but offers could be the most profitable.
Offer Nation only requires that you have a minimum of $1 in your account to cash out, which is extremely easy to get.
Request your earnings through PayPal and you should receive your pay in no more than 24 hours.
Verified members are allowed to request a payment once each day up to $40!
Formerly known as Crowdspace, the OneSpace Workplace is a one-stop shop for freelancers to match with available jobs.
The Workplace offers a variety of tasks, like editing, writing, design, research, and more.
You pick what you want to do according to your skillset, and apply for open positions.
With OneSpace, you don't even have to request your payment.
Once your work is approved, it is released to your PayPal account, and you should see it within 24 hours.
Paid Viewpoint is a survey-taking website that pays you for your opinions.
To register, you must be at least 13 years old, and it accepts members from several countries.
As long as you take your time with surveys and answer them honestly, you'll get a better TraitScore, which determines the number of surveys you'll be able to qualify for.
Paid Viewpoint lets you cash out with PayPal once you reach a $15 minimum.
Payments will show in your account within 72 hours after cashing out.
Are you good at coming up with catchy phrases and slogans?
If so, you can get paid to provide catchy domain names to clients searching for the perfect domain names for their websites.
If a client picks your name, domain, or slogan, you receive 40-60% of the total sale, which average between $25 and $75.
You'll also get paid a small commission for any suggestions, even if they weren't picked.
Your earnings will be sent to your PayPal account automatically, and you should see your funds within 24 hours.
A GPT site with tons of ways to earn, QuickRewards is one of the most popular on the web.
It's also one of the fastest paying sites after you make money through surveys, games, watching videos, completing offers, and more.
The site has over 50 redemption methods with its various gift cards, like Amazon and Walmart, but the quickest way to get paid is through PayPal.
The best part?
You only need $0.01 to cash out, so you probably can earn enough to cash out daily if you choose.
PayPal payments typically take up to 72 hours to receive, but may come sooner.
Short Task is a job seeker and job solver matching website for microtasks.
As a Solver, you can choose when you want to work and what tasks you want to complete from the open listings.
There is no limit to the number of tasks you can work on, but make sure you follow instructions so your work gets approved faster.
Solvers who do great work are eligible for bonuses from Seekers.
Once your tasks are approved by the Seeker, your earnings will show in your account.
When you've reached at least $10, you can cash out with PayPal and you'll see your funds within 24 hours.
UPDATE 12/2018 – ShortTask no longer seems to be a working site.
If you have advanced knowledge in one or more subjects, you can become a tutor for Studypool, a marketplace that matches students with tutors.
Students ask a question about an assignment or a solution to a problem and tutors can bid on the question to be chosen as the accepted tutor.
Once a student chooses you, you'll respond to the question by the deadline you set.
The student approves your answer and you can see your earnings immediately.
You then have the option to cash out with a check or a payment, both of which process within about 3 business days.
Taskrabbit is a smartphone app that connects you with people near you who need help with something – moving, mowing their lawn, or even hanging pictures inside their home.
You set when you're able to help out and people searching for help will find you through the app.
Once an appointment's been set, you do the work and invoice the client.
He has 24 hours to approve your invoice, and your funds will be released immediately.
Note: You'll have to wait for funds to clear through your bank, which usually takes 2-3 business days.
It's rare to find a transcription company that pays as quickly as TranscribeMe, which allows transcriptionists to request their payments at any time via PayPal.
That's probably one of the reasons it's consistently rated as one of the top online transcription companies for freelancers and independent contractors.
Workers can earn up to $22 per audio hour here, while top earners make over $2,000 a month.
You can also choose between transcribing long or short audio clips, depending on how much time you have available.
The site has real-time tracking software that helps you keep track of everything you make so you'll know exactly how much you're getting paid.
Treasure Trooper is a good place to earn money in your spare time.
You'll earn cash from paid surveys, completing offers, referring friends, and more.
Offers seem to be the quickest way to earn money, but if you're consistent in using the website, you can earn money rapidly from many of its paid tasks.
Treasure Trooper is open worldwide for ages 13 and older.
Once you reach a minimum of $20 in your account, you can cash out with PayPal and get your funds deposited immediately.
Zaarly is a marketplace for clients to find workers in their area to complete tasks like house cleaning, landscaping, plumbing, home repairs, and more.
You can become a Service Expert for Zaarly and get paid quickly for completing work for clients in your area.
Once you complete your job, you charge your client.
The funds will show up in your bank account within 1-3 business days. You can earn more on Zaarly and gain more exposure with a Storefront.
After you've proven yourself a trusted worker, you can apply for a Zaarly Storefront to bring more customers to you.
Make Money Instantly with These Task Websites
These places pay out instantly once you cash out your earnings for the easiest and quickest way to get your money when you need it!
Writers can earn some good – and fast! – money with ClearVoice, a marketplace for writers and clients to connect.
Writers can choose the types of assignments they want to complete and can be sent offers for only jobs that are within their pay range.
People looking for content will send out assignments to those who meet their criteria and choose the best candidate.
Or, they can choose you directly if they think you're the perfect fit.
Once you complete a writing assignment and it's been approved by the client, you'll immediately get your funds through PayPal.
The more you write, the more clients will notice you and the more you can make.
Field Agent is an app for iOS and Android users.
As a Field Agent, you'll receive offers through the app to complete tasks in your current location.
Examples of Field Agent tasks include taking photos of stores or products, reviewing in-store displays, and more.
Once you complete your profile, you can search for tasks near you.
Make sure you're close by, though, because you'll only have 2 hours to complete the tasks you choose.
Each task, on average, pays between $3 and $12, and you get paid instantly with PayPal once you cash out.
1Q is a market research company that helps its clients get the answers it needs through quick surveys.
Instead of traditional surveys, though, 1Q has you answer quick texts on your mobile device.
Most of the time, they're just a few questions long that you can answer in a few minutes.
As soon as you complete a question, you can receive money to your PayPal account instantly!
You'll have the choice between a $0.25 survey and $0.50 survey, with the higher paying surveys taking longer to answer.
When you sign up, be sure to fill out your demographic information in your profile so that 1Q can match you with opportunities accurately.
This site lists paid surveys you can take for cash.
There are also hundreds of offers to take part in that can help boost your earnings.
Shop online and earn cash back for more cash and refer your friends to earn a percentage of everything they make.
BankRollBucks has a few different minimum amounts for cashouts depending on the reward you choose, but if you want to get paid the quickest, you should go for the PayPal cash.
You only need $1 to use PayPal and can typically receive your money in a few hours.
Gigwalk is a workforce management platform that matches companies with remote workers in specific locations they're looking to target.
As a "Gigwalker", you'll choose the tasks you want to complete through the Gigwalk app, available for iOS and Android.
Once you register your account and link your PayPal account to the app, you are ready to search for open jobs.
You can complete things like providing answers to questions about a company's store displays at a specific location or take photos of products.
Once your completed Gig is accepted by the client, you'll get paid immediately with PayPal.
Qmee is a background application that runs in your computer's browser.
As you shop online like you normally would, Qmee offers suggestions for products relevant to your search.
You'll earn money from clicking through on the advertisements and making purchases. You can also earn cash from surveys and referring friends to Qmee.
There are several options for cashing out your earnings with Qmee, but PayPal offers instant cash payments.
You don't need to earn any minimums first, so you can cash out any time you earn money from shopping with Qmee.
Scribie pays you to transcribe short audio files, 6 minutes long or less.
You can work as much or as little as you want, so it's great for flexibility.
Scribie pays between $5 and $20 per audio hour, depending on the complexity of the audio file.
You can also earn a monthly bonus of $5 per 3 audio hours you transcribe.
Scribie pays with PayPal once per day. You don't need any minimum in your account to cash out your earnings, and your funds should show up quickly in your PayPal account.
So, you can work AND earn every day with Scribie for a consistent cash flow!
DollarClix not only has great ways for you to earn money online (mostly through surveys), but it also has an awesome referral program that gives you 20% of everything your referrals earn!
You can get paid via bitcoin, Amazon rewards, or PayPal.
PayPal is the method that will get you paid instantly, with most members claiming that they've gotten paid within an hour or so of cashing out.
Earnably is a site that rewards members mostly for completing paid offers through its offer wall, although there are some other tasks here too.
You can also make money from referrals by earning a percentage of everything they make.
The site offers several rewards in the form of gift cards, so the minimum balance needed to cash out will vary according to the prize.
However, you can get a $5 Amazon gift card with just 500 points and you'll typically receive it within an hour to your email inbox.
Feature Points is an app for Apple and Android devices that lets you get paid to download and try other apps.
This is a fun way to discover new apps and games you may never have tried before, and you'll even make some money from doing it.
You can either use your points in your app store to get paid apps for free, or you can redeem them for a variety of prizes, including iTunes, Google Play, Amazon, and PayPal cash.
PayPal cash comes instantly, but most prizes delivered electronically won't take long to receive.
InstaGC
Not only does InstaGC deliver gift cards electronically and instantly, but it also has a virtually endless amount of them to choose from.
The rewards catalog is so massive that you'll probably have a tough time narrowing down your choices!
Like most GPT sites, InstaGC helps you earn cash online by filling out surveys, watching advertisements, shopping online, and completing web searches,
You'll also get 10 points free for referrals plus 10% of everything they earn besides bonus points.
Another fun GPT site, this one gives you cash for completing offers and taking surveys.
There are also opportunities to win contests for prizes and cash, and you can always refer your friends to earn 10% of all their earnings.
You only need $1 in your account to get PayPal cash, which is the site's quickest form of payment, but it also offers several gift cards, including Amazon, in its rewards catalog.
If you love to write blog posts, forum posts, and articles, then Postloop is for you.
This site connects writers with websites that need help with content.
Postloop used to be focused mostly on forum posting, but has since branched out to several forms of web content.
Website owners post their sites on Postloop and writers can browse the listings to find sites that they can help with.
After joining, writers need to create 10 quality posts on Postloop forum so that editors can judge your quality and assign you a rating.
You'll then be able to choose what websites to work on.
You'll earn money for each post or blog you create, which varies according to length, content, etc.
You need at least $5 worth of points to cash out and then you can get paid with PayPal, which should arrive instantly.
PrizeRebel is a GPT site with surveys, offers, and other tasks for making money.
There are hundreds of gift card rewards to choose from, including Amazon and Wal-Mart, all of which get delivered electronically and fast.
You can also opt for PayPal, which can get you paid the quickest.
SuperPay.Me is a GPT site with one of the most generous referral programs, offering 25% of what your referrals make for tasks!
The best thing about this site is you only need $1 to cash out, which you can earn fast from taking surveys, completing offers, and doing other tasks.
You get $0.20 free when you join and also have the opportunity to participate in cash contests as a member.
Rewards include an Amazon gift card, bitcoin, Skrill, and Payza, but PayPal is the only one that pays instantly.
Are You Ready to Make Money Online Fast?
These websites won't make you big bucks by themselves very fast, but you can optimize your earning potential by signing up for a few of the most appealing websites or apps.
If you're consistent in completing paid offers or tasks for a small amount of time each day, you have the potential to earn money every day of the week with your PayPal account.
Good luck!
Related Posts:
Want more money?

Easy Extra Cash! Join the famed Nielsen Computer and Mobile Panel site, install the app and earn rewards just for using the Internet as you do today! Nielsen gives away $10,000 each month.
Guaranteed 100% free membership.