How to Make Money Online with Directly.com
Updated on: by Amy Kennedy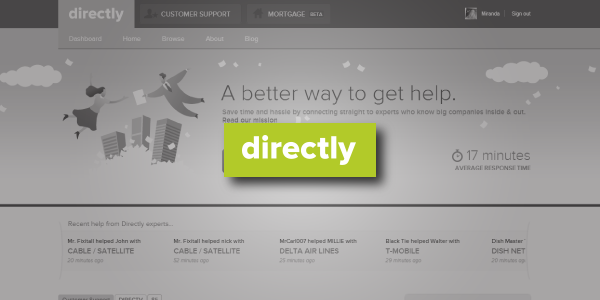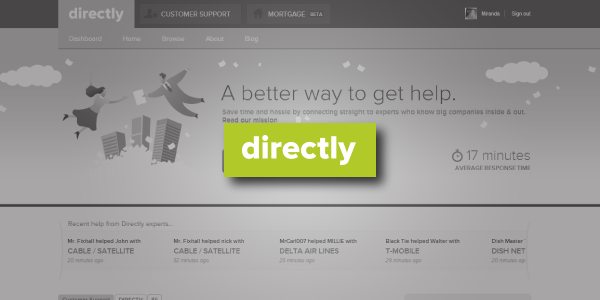 Need Easy Extra $350+/Month For Free?
Have you ever wished you had a friend on the 'inside' of some company when you needed customer support? Like someone who could tell you how to program the remote to your cable box for example? Directly.com is pretty close to that. Directly hires experts of companies like Dish Network, ReMax, Bank of America or just about any other company you can imagine. These are people who know the companies from the inside out, usually they have worked their in the past or maybe they have a lot of customer experience with them. Then, users can ask the experts questions.
It's like a hub of customer support for many known companies.
Who does Directly Hire to be Experts?
Directly.com claims to hire you as an expert for companies you know from the inside out. As a Directly Expert you would answer questions that come through on your subjects of expertise. But it is not really clear how or if you have to prove your 'expertise'. You are asked to connect through Facbeook and LinkedIn and you are then given a long list of companies to browse and mark the ones you know inside and out.
I have never worked for Sprint but I have been a customer for over 10 years. My husband is a technology geek and so I have sat through many conversations about Sprint and their tower updates, new phone plans, which phones are receiving updates and so on…I have by no choice of my own become (in my mind) a Sprint Expert.
But the only way I had to explain my 'expertise' with Directly was checking a box for Sprint. So, not really sure how much of an 'expert' you must be to work with Directly.
I have applied but am on a waiting list over 500 people long.
How does Directly Pay?
Once you have reached $2.00 you can request pay out and according to an insider- Directly claims to send your money within 2-4 days of request via PayPal. However, Directly's FAQ page says experts are paid through Amazon Payments.
How Much can be Made at Directly?
I get the feeling this isn't a full time job but an extra money making gig. I have not been able to find much information about Directly online but one forum user at WorkPlaceLikeHome.com says they earned over $8 in a day by answering questions  at Directly.com. There really is no indication how many questions they answered or how much time they spent on it.
Directly.com says users who ask questions do not have to pay for them but are encouraged to offer payment for higher quality expert responses. As an expert- if you answer a paid question you split the payment with Directly.com.
(If a user asks a question and offers $20- you would receive $10 if you provide a quality answer- decided by the Question maker)
Additionally, if you provide help but possibly did not have the full answer to a question- the question maker is encouraged to give a tip. Which again, would be split 50/50 with Directly.com.
My Opinion of Directly.com
As I mentioned earlier, I applied but I am in a line of over 500 people. Their site claims it takes 1-2 days for approval.
I don't know much about Directly but I have a feeling this wont be worth spending a lot of time with, but possibly an enjoyable way to fill extra time between other responsibilities.
Some Pros and Cons
Like any service, Directly.com has potential pros and cons, which are likely to depend on specific use-cases and contexts. Here are some potential advantages and disadvantages:
Pros:
Need Easy Extra Cash?
Pinecone Research, a leading name in online survey panel honesty, absolutely guarantees $3 cash for every survey you complete!
Take advantage of their time limited New Membership drive and register NOW. Join today: 100% free!


Efficiency: Directly.com's use of AI can speed up the customer service process by quickly addressing common or simple queries.
Expertise: The platform uses experienced users for complex issues, which could potentially improve the quality of solutions provided.
Scalability: AI allows customer service to be available 24/7 and can handle multiple queries simultaneously, a vital asset for growing businesses.
Cost-effectiveness: Automating routine queries can reduce the need for large customer service teams, potentially saving money in the long run.
Customer Engagement: The platform's rewards system for expert users can improve engagement and foster a strong user community.
Cons:
AI Limitations: While AI is becoming increasingly sophisticated, it still has its limitations. It may not fully understand or appropriately handle complex or nuanced customer queries.
Quality Control: The quality of human-provided customer service may vary depending on the expertise and communication skills of the user offering assistance.
Privacy Concerns: Depending on how Directly.com manages data, some customers may have concerns about their personal information being handled by other users, although steps are usually taken to anonymize and secure this data.
Dependence on User Community: The quality and effectiveness of the service may be dependent on maintaining a large and engaged user community.
How to Apply for Directly.com
To become an expert for Directly you will be asked to link your Facebook and LinkedIn page. If you do not have either account or would prefer not to link them to Directly you can share links to your blog/website or any other page that shows your work history. Visit the application page to begin.
Related Posts:
Earn Everything… nearly!
Join Ipsos iSay, one of the few Faithful and Honest survey panels and earn prizes, gift cards and donations. Stack your points and redeem them: Simple! No hidden fees and completely free!