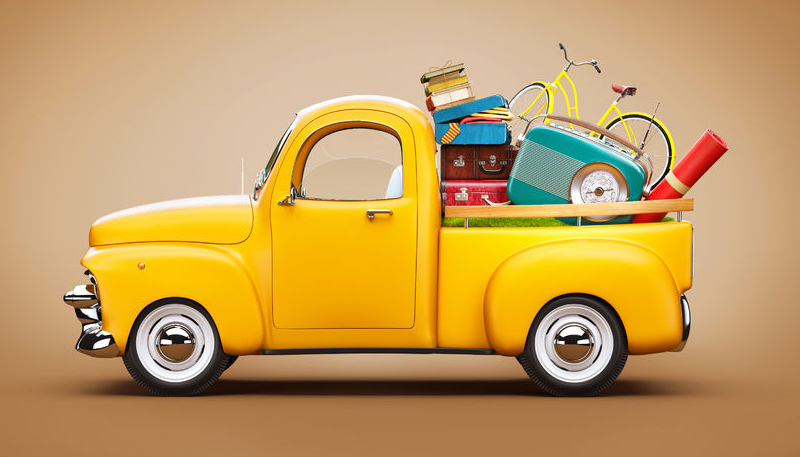 Need Easy Extra $350+/Month For Free?
I'm a pretty creative person.
If you're like me, you like to find ways to make money off things you already own.
This is the best way to start a small business or side hustle because your startup costs are minimal, if anything at all.
If you really want to be creative, why not use your own vehicle to make money?
Do you own a pickup truck?
If so, you're in luck.
A pickup is one of the best vehicles you can possibly own for a side hustle or business.
There are so many ways it can work to your advantage so that you can make some money without needing to buy an extra vehicle!
From hauling to delivering, a pickup truck is a versatile piece of equipment that has plenty of business opportunities if you just get a little creative.
So, pickup truck owners – this article is for you!
Find out how to make money using your beloved pickup.
So, How Can I Make Money with My Pickup?
Want to know things to do with a truck and trailer that can actually make you money?
Here's where you'll find all that!
Pickup trucks can be quite an expense, especially if you financed one new.
Most of them equal several hundred dollars a month in finance payments and insurance.
Need Easy Extra Cash?

Pinecone Research, a leading name in online survey panel honesty, absolutely guarantees $3 cash for every survey you complete!
Take advantage of their time limited New Membership drive and register NOW. Join today: 100% free!


But, using the following money-making tricks, your pickup can pay for itself – plus some!
You can even turn some of these into a lucrative side hustle or small business for part or full-time income.
Advertise on Your Truck
This idea is good for a side hustle.
You might even make enough to cover your truck payment and insurance every month.
We've talked before about car wrap advertising that can pay you up to $1,000 per month.
If you own a pickup truck, you have an even better chance of making that top dollar amount because you have more square footage of space to advertise on than you would with a smaller vehicle.
Basically, you'll have your pickup wrapped in an advertisement for another company.
There are a few legitimate places that offer this, each with its own requirements.
Generally, though, you'll need to drive a certain number of miles per month, have a vehicle in good shape, and commit to some sort of contract that outlines how long to keep the wrap on for.
Then, you'll get paid every month you adhere to the contract.
Your pickup will essentially work as a moving billboard for the companies you advertise on it.
The company gets some unique advertising, and you get paid for your vehicle's help.
Try Carvertise and Wrapify to see what you can potentially earn.
Just remember that this is a commitment, so if you plan to sell your vehicle anytime soon, this isn't the best option.
Blog About Your Love for Pickups
This may sound a little odd, but trust me, it could work for you.
Blogging makes money if you do it right.
And, you can virtually blog about anything and still make money.
That's because there's always an audience for any topic ready to eat up the information you provide.
If you feel that you have enough expertise on the subject of pickups, or just really love them enough to write about them, then you could create a blog all about pickup trucks.
Other people make this sort of thing work all the time.
Look at Jalopnik, for example, which is an online magazine devoted to all types of vehicles, and even has a special section for trucks.
And Truck Trend, another website that's all about trucks and the people who love them.
Find a unique angle for your pickup blog and create your own little niche, like pickup truck repair or the latest news about trucks.
Not sure where to start when it comes to making money from your blog?
Check out our making money with blogging guide for some helpful tips!
Start a Moving Service
Okay, now let's get into the nitty-gritty of actually using your pickup truck to earn some money.
After all, you own it because you love to drive it, right?
The first idea that popped into my head for this article was using your pickup to start a small moving business.
You have a vehicle with space that's perfect for hauling and moving things, and you can probably find customers right in your neighborhood.
Earn Everything… nearly!

Join Opinion Outpost, one of the few faithful and honest survey panels and earn cash and gift cards for your opinion. Stack your points and redeem them: Simple! No hidden fees and completely free!


Most people don't have a vehicle that can help them move to another home.
They have to rely on a moving company, which can cost thousands of dollars on top of an already expensive process.
You can swoop in, offer your services to move large furniture and boxes to a family's new home, and charge a fraction of the price a moving company would.
That way, your prices stay competitive, and you can potentially snag some new customers who will happily recommend you to their family and friends!
Local Business Deliveries
You probably have some small businesses in your town that would love a delivery person to deliver their products to homes or other businesses.
Large businesses usually contract with delivery companies to do this, but that can get expensive for mom and pop shops.
Maybe there are some antique shops in town that can benefit from a person with a pickup who can deliver some larger items to customers?
Or, maybe a pool store could use an extra delivery person to bring materials to a residence.
It doesn't hurt to check into businesses that might be interested in your services and let them know what you can do to help.
Get Paid to Haul Stuff Away
Similarly, businesses may need you to get rid of stuff they don't need!
Old inventory, broken furniture, or even unneeded wood pallets and trash could provide the perfect opportunity for you to make some money.
You can pick up what the businesses don't need and take it to the local recycling center for a fee.
People in your neighborhood could also need this service, too, especially if they're in the process of remodeling their home or going through their storage areas to prepare for a yard sale.
Deliver Materials to Construction Zones
Small construction companies might want to pay for your private delivery services instead of using a large company that may charge more.
You can bring large materials to and from residential and commercial construction zones.
Or, you might even be available for the cleanup process when it's time to bring leftover materials to the recycling or trash center.
Deliver Large Items
Large items, like furniture, four-wheelers, or even large ride-on toys, can be difficult for most people to fit in their vehicles.
But, that's not true for a person with a pickup!
This can be a super easy side hustle to market because people can always use a delivery person for things like this.
You can probably even put an ad in your local newspaper and offer to pick up toys, appliances, furniture, or other large items from stores or other residences for a small fee.
Or, let small businesses know you're available for this service.
They might be willing to place your flyer or business card in their shops to let their customers know that you can help.
Offer Landscaping Services
You can also offer to deliver or haul materials relating to landscaping, or even start a small landscaping service yourself.
Either way, your pickup truck can definitely come in handy for transporting flowers, dirt, rocks, and other landscaping materials.
This type of service can work year-round, like hauling bags of leaves in the fall or plowing snow in the winter!
Use Your Pickup in Parades
Does your town host any parades through the year?
Perhaps a holiday parade or a parade in the beginning of the Little League baseball season?
If so, you might be able to rent your pickup truck to be used as a float, or even as a moving advertisement for local companies.
You might be able to contact the local radio station or newspaper to let you know when any parades are coming up.
Appliance Repair and Delivery
Large appliances, like refrigerators and washing machines, sometimes need to be sent off for repair.
But, the average person doesn't have a vehicle large enough to hold them, which means they'll have to pay extra for transportation.
You might find that, if you stay competitive with pricing, others will be more willing to pay you for this service.
You can also check with local rental centers and stores that sell appliances to see if they might be interested in a backup delivery person for busy days.
Start a Towing Service
Why not start your own towing service in your spare time?
You can really cash in by making yourself available on weekends when some towing services are closed or only have emergency hours available with very high rates.
Price yourself competitively as a weekend towing service, and you'll probably get a lot of customers!
Just be sure to know how much your truck can tow, as you risk damaging your pickup and the other vehicle if you try to tow too much weight.
Then, you'll be responsible for damage repair costs.
If you're serious about this service, you should also look into any insurance that your insurance company might require for towing.
Also, your finance company may have clauses against this type of thing, so it's in your best interest to look over your loan agreement and any other legalities first.
Getting Started with Your Business
If you want to turn any of the above money-making hustles into a business, you'll need to look at them with a business set of eyes!
Here are a few things you should know before transitioning your service from a gig to a business:
Finding Customers
Where should you look for customers?
Fortunately, most of these options are fairly straightforward when it comes to finding customers.
Your ideal customers are those right in your neighborhood!
From small businesses to individuals, just about everyone in your town can be a potential customer.
If you can afford to do some newspaper or radio advertising, you'll probably gain customers quickly.
But, you don't necessarily have to shell out any money.
Instead, you can contact businesses over the phone to see if any might be interested in your hauling or delivery services.
Walk around the neighborhood and put some feelers out to the neighbors.
Even if they aren't interested, they might know someone who is.
You can also spend a few dollars on a set of business cards or flyers and pin them up in public areas, like the library or a board at the local coffee shop.
Don't forget about social media, which can be one of the best free advertising methods.
Advertise your services on your social media accounts and invite your friends to share your posts.
And, participate in local Facebook groups to share your services with others.
Charging What You're Worth
The key here is to be super competitive against larger companies that do what you do, but charge more to do it.
But, you'll still want to charge what you're worth.
Remember that you'll have to cover gas costs, wear and tear on your vehicle, your personal time, etc.
Come up with an hourly rate you'd like to have that's reasonable. Then, add in your best estimates for the other costs involved.
You should come up with an hourly rate that not only pays you, but also pays for the costs associated with your vehicle.
Compare your rates with local companies that offer similar services, and try to stay just under their rates to remain competitive.
Don't Forget the Business Aspect
Even if you only want to use your truck for some side cash, you'll want to look into the business implications as far as taxes and your local laws.
Most money you make, even from a side gig, needs to be reported as income on taxes.
You can check out the IRS website for more information if you live in the United States.
Some localities also have specific rules about businesses, and yours could fall under those rules even when you don't personally think it's a business.
Check with your local Chamber of Commerce or agency that governs businesses in your area for more information.
Read Also: Best Way to Become a Dump Truck Driver and Be Your Own Boss
Conclusion: How to Make Money with a Pickup Truck
Now that you have several ideas of how to make money with your pickup, it's time to get rolling!
You can get as creative as you want with your pickup truck, as long as it follows your local laws and the rules set by your financing and insurance companies if you're financing your vehicle.
Good luck!
Do you own a pickup truck?
What one of these ideas is most appealing to you to make some extra money with your pickup?
Let us know in a comment!
Related Posts:
Earn Everything… nearly!

Join Ipsos iSay, one of the few Faithful and Honest survey panels and earn prizes, gift cards and donations. Stack your points and redeem them: Simple! No hidden fees and completely free!