30 Lucrative Ways to Make Money with a Pickup Truck
Updated on: by Amy Kennedy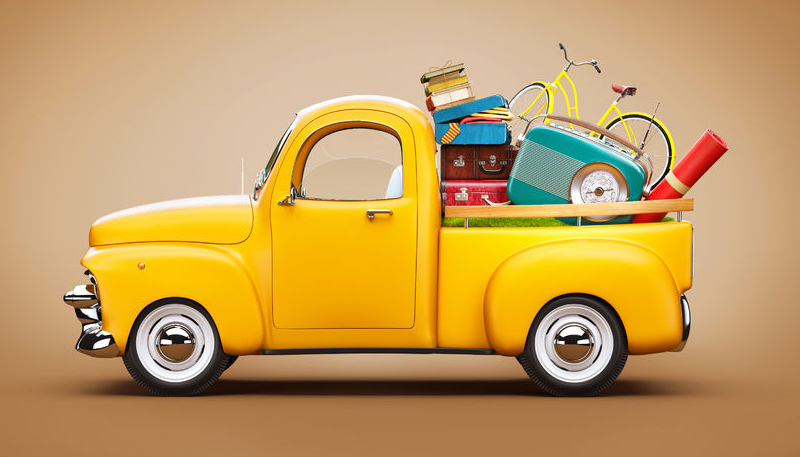 Need Easy Extra $350+/Month For Free?
I'm a pretty creative person.
If you're like me, you like to find ways to make money off things you already own.
This is the best way to start a small business or side hustle because your startup costs are minimal, if anything at all.
If you really want to be creative, why not use your own vehicle to make money?
Do you own a pickup truck?
If so, you're in luck.
A pickup is one of the best vehicles you can possibly own for a side hustle or business.
There are so many ways it can work to your advantage so that you can make some money without needing to buy an extra vehicle!
From hauling to delivering, a pickup truck is a versatile piece of equipment that has plenty of business opportunities if you just get a little creative.
So, pickup truck owners – this article is for you!
Find out how to make money using your beloved pickup.
So, How Can I Make Money with My Pickup?
Want to know things to do with a truck and trailer that can actually make you money?
Here's where you'll find all that!
Pickup trucks can be quite an expense, especially if you financed one new.
Most of them equal several hundred dollars a month in finance payments and insurance.
Need Easy Extra Cash?
Pinecone Research, a leading name in online survey panel honesty, absolutely guarantees $3 cash for every survey you complete!
Take advantage of their time limited New Membership drive and register NOW. Join today: 100% free!


But, using the following money-making tricks, your pickup can pay for itself – plus some!
You can even turn some of these into a lucrative side hustle or small business for part or full-time income.
Advertise on Your Truck
This idea is good for a side hustle.
You might even make enough to cover your truck payment and insurance every month.
We've talked before about car wrap advertising that can pay you up to $1,000 per month.
If you own a pickup truck, you have an even better chance of making that top dollar amount because you have more square footage of space to advertise on than you would with a smaller vehicle.
Basically, you'll have your pickup wrapped in an advertisement for another company.
There are a few legitimate places that offer this, each with its own requirements.
Generally, though, you'll need to drive a certain number of miles per month, have a vehicle in good shape, and commit to some sort of contract that outlines how long to keep the wrap on for.
Then, you'll get paid every month you adhere to the contract.
Your pickup will essentially work as a moving billboard for the companies you advertise on it.
The company gets some unique advertising, and you get paid for your vehicle's help.
Try Carvertise and Wrapify to see what you can potentially earn.
Just remember that this is a commitment, so if you plan to sell your vehicle anytime soon, this isn't the best option.
Blog About Your Love for Pickups
This may sound a little odd, but trust me, it could work for you.
Blogging makes money if you do it right.
And, you can virtually blog about anything and still make money.
That's because there's always an audience for any topic ready to eat up the information you provide.
If you feel that you have enough expertise on the subject of pickups, or just really love them enough to write about them, then you could create a blog all about pickup trucks.
Other people make this sort of thing work all the time.
Look at Jalopnik, for example, which is an online magazine devoted to all types of vehicles, and even has a special section for trucks.
And Truck Trend, another website that's all about trucks and the people who love them.
Find a unique angle for your pickup blog and create your own little niche, like pickup truck repair or the latest news about trucks.
Not sure where to start when it comes to making money from your blog?
Check out our making money with blogging guide for some helpful tips!
Start a Moving Service
Okay, now let's get into the nitty-gritty of actually using your pickup truck to earn some money.
After all, you own it because you love to drive it, right?
The first idea that popped into my head for this article was using your pickup to start a small moving business.
You have a vehicle with space that's perfect for hauling and moving things, and you can probably find customers right in your neighborhood.
Earn Everything… nearly!
Join Opinion Outpost, one of the few faithful and honest survey panels and earn cash and gift cards for your opinion. Stack your points and redeem them: Simple! No hidden fees and completely free!


Most people don't have a vehicle that can help them move to another home.
They have to rely on a moving company, which can cost thousands of dollars on top of an already expensive process.
You can swoop in, offer your services to move large furniture and boxes to a family's new home, and charge a fraction of the price a moving company would.
That way, your prices stay competitive, and you can potentially snag some new customers who will happily recommend you to their family and friends!
Local Business Deliveries
You probably have some small businesses in your town that would love a delivery person to deliver their products to homes or other businesses.
Large businesses usually contract with delivery companies to do this, but that can get expensive for mom and pop shops.
Maybe there are some antique shops in town that can benefit from a person with a pickup who can deliver some larger items to customers?
Or, maybe a pool store could use an extra delivery person to bring materials to a residence.
It doesn't hurt to check into businesses that might be interested in your services and let them know what you can do to help.
Junk Removal
Junk removal is a service where you help people get rid of unwanted items.
With your pickup truck, you can offer a convenient and efficient solution for hauling away items such as old furniture, appliances, yard waste, or general debris.
Advertise your services locally, and charge a fee based on factors like the volume or weight of the items being removed. Properly dispose of the items by taking them to recycling centers, donation centers, or waste management facilities.
This service can be particularly valuable for people who lack the means or time to dispose of large or cumbersome items themselves.
Mobile Billboard
Transforming your pickup truck into a mobile billboard presents a unique advertising opportunity for businesses in your area.
You can rent out space on the exterior of your truck for businesses to display their advertisements. As you drive around town, the eye-catching ads on your pickup truck will capture attention and promote the businesses' products or services.
Reach out to local businesses, especially those with a target audience that aligns with your usual routes, and negotiate advertising rates based on the size and duration of the advertisement.
Make sure to comply with any local regulations regarding mobile advertising.
Pet Transport
Pet transport services can be in high demand, especially for pet owners who need assistance with transporting their pets to appointments.
Use your pickup truck to offer a safe and comfortable pet transport service. This can involve transporting pets to the veterinarian, groomer, daycare, or even helping with pet relocations.
Ensure your pickup truck has appropriate safety measures such as secure crates or carriers and non-slip surfaces. Advertise your services to pet owners through local pet-related businesses, online platforms, or community groups.
Set reasonable rates based on distance and the specific requirements of the pet transport.
Mobile Car Wash
Transform your pickup truck into a mobile car wash and offer on-demand car washing and detailing services.
With the convenience of your pickup truck, you can visit clients' homes or office parking lots to clean and detail their vehicles. Invest in quality car wash equipment, including water tanks, pressure washers, and cleaning supplies.
Advertise your services through flyers, social media, or partnering with local businesses. Offer various packages such as basic exterior wash, interior cleaning, or full detailing.
Set competitive pricing based on the size and condition of the vehicles, as well as the level of service provided.
Ensure you operate in compliance with any local water usage or environmental regulations.
Deliver Food and Other Stuff
So, delivering for businesses is one way to make money with your truck.
But there's also delivering to people by joining one of many companies that hire you to help them out with deliveries of everything from packages to food.
With a pickup truck, your abilities are versatile because you have plenty of space to deliver whatever you need to deliver.
Here are a few companies you can try out and start making money with delivering:
GrubHub is all about getting tasty stuff sent to people who order food from local restaurants.
It pays independent contractors to become delivery people for restaurants who many not have staff availability for deliveries and would rather outsource that service.
It gives restaurants even more business through delivery while offering a more affordable way for them to operate.
You can track your hours and schedule right in the app and find out how much you're getting paid.
The best part is that your hours are determined by you, so a flexible schedule is right around the corner.
Looking for more of these types of delivery businesses to use with your pickup truck?
Check out our list of delivery companies that pay.
With Amazon Flex, you'll be in charge of helping Amazon deliver all its packages to customers to get them there as fast as possible.
You'll create a schedule that works for you, and you can even sign on to work all seven days of the week if you choose.
Amazon Flex drivers make between $18 and $25 an hour!
You'll need to use the Amazon app to sign up and get started by providing your details and delivery area.
Most blocks of time to choose from are between three and six hours.
Postmates is kind of an all-around delivery service, whether you're needing food, groceries, medicine, or something else.
As a member of the Postmates fleet, you can earn 100% of everything you make with no fees taken out.
You'll create your own schedule around when you want to work, so you're not tied into anything.
The app even shows you exactly how much you've earned after each delivery, so it's easy for you to track everything.
Get Paid to Haul Stuff Away
Similarly, businesses may need you to get rid of stuff they don't need!
Old inventory, broken furniture, or even unneeded wood pallets and trash could provide the perfect opportunity for you to make some money.
You can pick up what the businesses don't need and take it to the local recycling center for a fee.
People in your neighborhood could also need this service, too, especially if they're in the process of remodeling their home or going through their storage areas to prepare for a yard sale.
Deliver Materials to Construction Zones
Small construction companies might want to pay for your private delivery services instead of using a large company that may charge more.
You can bring large materials to and from residential and commercial construction zones.
Construction companies sometimes find themselves in a jam when a project is more than their trucks can handle.
In those cases, they'd probably be thrilled to outsource some work to you to keep them fresh with deliveries while they get their job done.
Clear Construction or Renovation Sites
Or, you might even be available for the cleanup process when it's time to bring leftover materials to the recycling or trash center.
You can haul away dirt, rocks, logs, materials, or anything else a construction or renovation company needs when it's done with a project.
Renovation projects, especially, require a lot of cleanup when they're finished, so it would be helpful to be on hand to not just help clean up but to also use your truck to take away old items like appliances or cabinets.
You can talk to construction or renovation companies in your area to see if anyone's willing to sub-contract work to you for large projects.
Deliver Large Items
Large items, like furniture, four-wheelers, or even large ride-on toys, can be difficult for most people to fit in their vehicles.
But, that's not true for a person with a pickup!
This can be a super easy side hustle to market because people can always use a delivery person for things like this.
You can probably even put an ad in your local newspaper and offer to pick up toys, appliances, furniture, or other large items from stores or other residences for a small fee.
Or, let small businesses know you're available for this service.
They might be willing to place your flyer or business card in their shops to let their customers know that you can help.
Offer Landscaping Services
You can also offer to deliver or haul materials relating to landscaping, or even start a small landscaping service yourself.
Either way, your pickup truck can definitely come in handy for transporting flowers, dirt, rocks, and other landscaping materials.
This type of service can work year-round, like hauling bags of leaves in the fall or plowing snow in the winter!
Snow Plowing
Snow plowing is another way you can use your truck in the winter when it's past the time for landscaping.
You'll need to check with your local laws, of course, because there are usually regulations in place for using snow plows on public roads.
You can also plow large driveways, area business parking lots, and highways, if allowed by your local laws.
You might consider tacking snow plowing onto your landscaping services if you're already doing that just to add some more work to your list throughout the winter.
Use Your Pickup in Parades
Does your town host any parades through the year?
Perhaps a holiday parade or a parade in the beginning of the Little League baseball season?
If so, you might be able to rent your pickup truck to be used as a float, or even as a moving advertisement for local companies.
You might be able to contact the local radio station or newspaper to let you know when any parades are coming up.
Appliance Repair and Delivery
Large appliances, like refrigerators and washing machines, sometimes need to be sent off for repair.
But, the average person doesn't have a vehicle large enough to hold them, which means they'll have to pay extra for transportation.
You might find that, if you stay competitive with pricing, others will be more willing to pay you for this service.
You can also check with local rental centers and stores that sell appliances to see if they might be interested in a backup delivery person for busy days.
Start a Towing Service
Why not start your own towing service in your spare time?
You can really cash in by making yourself available on weekends when some towing services are closed or only have emergency hours available with very high rates.
Price yourself competitively as a weekend towing service, and you'll probably get a lot of customers!
Just be sure to know how much your truck can tow, as you risk damaging your pickup and the other vehicle if you try to tow too much weight.
Then, you'll be responsible for damage repair costs.
If you're serious about this service, you should also look into any insurance that your insurance company might require for towing.
Also, your finance company may have clauses against this type of thing, so it's in your best interest to look over your loan agreement and any other legalities first.
Rent Your Truck to Others
Did you know that you can rent your pickup to other people to make some money?
Whether they want it for some hauling themselves or they want to use it for ridesharing, you can still make money by offering it up when you don't need it.
So, maybe on your days off, you can allow someone to rent it.
Turo is one service that helps you do this by sharing your truck on the marketplace for others to find.
It's free to start a listing, and you're in charge of all the rules for your vehicle.
For example, if you don't want anyone using your truck as a work truck, you can have that listed as a rule before anyone rents it.
You'll get up to 85% of the trip price for each rental!
Read Also: Best Way to Become a Dump Truck Driver and Be Your Own Boss
Start a Thrifty Resale Business
Resale is a huge market right now.
People love when something old turns new again.
So if you have the knack for finding old items that you can refinish or refurbish to make them look awesome again, then a resale business could be for you.
Your pickup can be especially helpful for lugging large loads to your workplace, especially when there are large pieces of furniture involved.
But you can also use your truck to hit storage unit auctions, thrift stores, or yard sales, when you'll need to haul away a bunch of items at one time.
You might also use your truck to deliver your finished products to buyers once they sell for an extra fee.
Help Others Set Up for Events
Use your pickup truck to set up for events in your area.
You might help with large birthday or anniversary parties.
Maybe a business is having a ribbon-cutting ceremony.
Or, maybe your town is having a large craft fair.
You can be responsible for delivering tents, food, party supplies, and whatever else the event hosts need to get their event going.
This could even come in handy for events like weddings and receptions, graduation ceremonies, or funerals.
Scrap Metals
Another way to earn cash is with scrap metal.
Metals like brass, aluminum, and copper, can all sell for money at scrap yards in your area.
Using your pickup truck, you might head to businesses or homes in your neighborhood that have scrap metals for you to pick up.
Pick them up for free, deliver them to your local scrapping facility, and you might have just found your new side gig for some extra money each month.
Aluminum can recycling is one way to make some good money from metal scrapping, and you might even be able to turn it into a business!
Make Money with Wood Pallets
Did you know that you can get about $700 a week from a wood pallet scrapping business?
It's true, and your pickup is just the right tool for the job.
You can use it to hit up local businesses to grab wood pallets they don't need after their deliveries.
Then, you can refurbish the wood pallets to something new or sell them to other businesses who might need them.
You can even deliver your wooden creations to buyers with your pickup truck for some extra fees.
Some recycling centers and pallet facilities will even pay you directly for your pallets without you needing to do much to them at all.
Start Your Own Trash or Recycling Service
Does it seem like your neighborhood needs some help with trash or recycling services?
You might be able to swoop in and provide that service on a smaller scale with your pickup truck.
Maybe there are a few blocks in your neighborhood that seem to have more trash than others.
Some trash companies could be willing to sub-contract work to you if they see a need in their coverage area.
Or, you might get some work your way during busier periods, like the holidays or weeks where company employees had a day off for a holiday.
You can also check with local business laws about starting your own trash or recycling service in your neighborhood.
Use Your Truck for Ridesharing
Pickup trucks aren't usual vehicles for ridesharing drivers, but that doesn't mean you can't have one.
Pickups with a backseat area are more ideal than just two-seaters, but you can still use a two-seater to pick up one person at a time.
It can be a good option to fill in your spare time with your pickup, like ridesharing for a few hours in the evenings or on weekends when you're not busy with your other ventures.
Do Odd Jobs in Your Neighborhood
With a pickup, you can be ready to handle almost any odd job someone in your neighborhood needs done.
They can be especially convenient for handyman service providers, as a pickup allows you to hold several tools and has plenty of space for you to bring necessary items to jobs and haul stuff away when you're finished.
Taskrabbit and Wage are two apps that allow you to find people in your neighborhood who needs some help with various tasks.
Transport Firewood
Talk to local firewood or tree companies to see if you can help with firewood deliveries for the company.
You can become a sub-contractor with them who helps when business picks up and needs some assistance, getting a portion of the fees for deliveries of firewood.
Alternatively, you could become a tree cutter yourself if you have the licensure and expertise for the job.
You can then use your pickup to haul away the stumps you've cut and turn them into firewood to deliver to your customers.
Deliver Stuff for Yard Sales
Many yard sale customers run into the problem of wanting something they spot at the sale but not having a way to take it home.
Most yard sale hosts have the stipulation that if you want an item, you'll need to haul it away yourself.
When that happens, you can come to the rescue with your pickup truck.
You might start a business advertising yard sale delivery as one of your services.
If you spot yard sales happening around town, be sure to let the hosts know that you're available.
If they run into any situations where a customer needs your help, they can call you and let you know.
Putting an ad in the paper to let yard sale goers know about your service can also help your business grow.
Charge, Fix, or Move Scooters
Uber isn't just for ridesharing.
It also has another venture called JUMP where people can rent one of its electric scooters to make their way around cities in which they're located.
You can use the JUMP app as a scooter technician, too, to make money with your pickup.
As a technician, you could be responsible for moving scooters to other locations, charging them up, or doing minor fixes on them to get them back in shape.
The app will let you know when there's any work that needs to be done.
Your pickup can come in handy when there are several scooters that need to be moved, charged, or fixed.
Deliver Vehicles for Auctions
Another idea is delivering auction vehicles either to the auction or to their buyers after the auction.
If your pickup can handle towing vehicles, then this is an option to consider.
You might also deliver bikes, motorcycles, ATVs, boats, and other vehicles using your pickup truck after they sell at an auction.
Check with auction houses near you to see if this is a service they might consider using.
Getting Started with Your Business
If you want to turn any of the above money-making hustles into a business, you'll need to look at them with a business set of eyes!
Here are a few things you should know before transitioning your service from a gig to a business:
Finding Customers
Where should you look for customers?
Fortunately, most of these options are fairly straightforward when it comes to finding customers.
Your ideal customers are those right in your neighborhood!
From small businesses to individuals, just about everyone in your town can be a potential customer.
If you can afford to do some newspaper or radio advertising, you'll probably gain customers quickly.
But, you don't necessarily have to shell out any money.
Instead, you can contact businesses over the phone to see if any might be interested in your hauling or delivery services.
Walk around the neighborhood and put some feelers out to the neighbors.
Even if they aren't interested, they might know someone who is.
You can also spend a few dollars on a set of business cards or flyers and pin them up in public areas, like the library or a board at the local coffee shop.
Don't forget about social media, which can be one of the best free advertising methods.
Advertise your services on your social media accounts and invite your friends to share your posts.
And, participate in local Facebook groups to share your services with others.
Charging What You're Worth
The key here is to be super competitive against larger companies that do what you do, but charge more to do it.
But, you'll still want to charge what you're worth.
Remember that you'll have to cover gas costs, wear and tear on your vehicle, your personal time, etc.
Come up with an hourly rate you'd like to have that's reasonable. Then, add in your best estimates for the other costs involved.
You should come up with an hourly rate that not only pays you, but also pays for the costs associated with your vehicle.
Compare your rates with local companies that offer similar services, and try to stay just under their rates to remain competitive.
Don't Forget the Business Aspect
Even if you only want to use your truck for some side cash, you'll want to look into the business implications as far as taxes and your local laws.
Most money you make, even from a side gig, needs to be reported as income on taxes.
You can check out the IRS website for more information if you live in the United States.
Some localities also have specific rules about businesses, and yours could fall under those rules even when you don't personally think it's a business.
Check with your local Chamber of Commerce or agency that governs businesses in your area for more information.
Conclusion: How to Make Money with a Pickup Truck
Now that you have several ideas of how to make money with your pickup, it's time to get rolling!
You can get as creative as you want with your pickup truck, as long as it follows your local laws and the rules set by your financing and insurance companies if you're financing your vehicle.
Good luck!
Do you own a pickup truck?
What one of these ideas is most appealing to you to make some extra money with your pickup?
Let us know in a comment!
Related Posts:
Earn Everything… nearly!
Join Ipsos iSay, one of the few Faithful and Honest survey panels and earn prizes, gift cards and donations. Stack your points and redeem them: Simple! No hidden fees and completely free!