Top 14 Ways to Earn Money Posting on Forums, No Experience Necessary
Updated on: by Amy Kennedy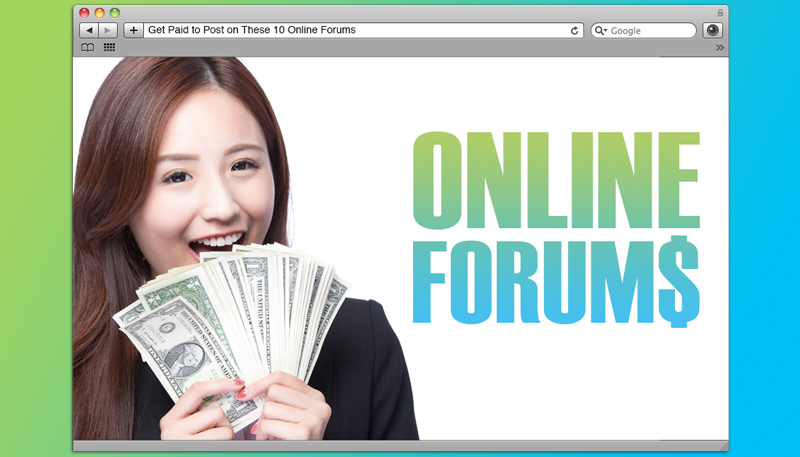 If you've ever owned an online forum or message board, you know that they can take some time to progress.
Need Easy Extra $350+/Month For Free?
For a while, if you have no other administrators or moderators to help, you'll be the only one posting threads until new members join and become active.
It can take more time than you'd expect to get activity flowing.
For those who operate their own forums for a business, it might be easier to outsource most posting to other people.
This is where paid forum posters can come in handy!
You can earn money from online forums by creating new threads and commenting on other threads to boost activity.
Some companies are in place to be a middleman between paid forum posters and forum owners.
Forum owners pay the company to find writers for their forums, and then you'll get paid to post by the company.
Some forums will even pay you themselves to post!
I'm going to let you know about both ways to get paid to write on forums, so let's get started with this unique money-making opportunity!
How to Get Paid to Post Comments and Start Threads on Forums
The following companies and forums will pay you to write.
The best part is that you don't necessarily need writing experience to start earning money this way.
Of course, you should have a good command of English, including proper spelling, punctuation, and grammar.
But, you don't have to provide writing samples or be published anywhere to get started.
In fact, this type of work can be an excellent springboard to other writing opportunities by giving you some online writing experience.
Let's find out more about the companies, websites, and forums that can give you real cash just for posting!
Need Easy Extra Cash?
Pinecone Research, a leading name in online survey panel honesty, absolutely guarantees $3 cash for every survey you complete!
Take advantage of their time limited New Membership drive and register NOW. Join today: 100% free!


The Digital Money Talk Forum is one that will pay its posters to create new threads and comment on other threads.
The forum is focused on Forex trading and various forms of e-currency, so you'll need to understand these topics to be a member.
You'll get paid in points for every thread you create and comment you leave on other threads.
Forex forums pay more points for new threads and comments than other forums, but you'll get paid for any of them.
You can then trade in your points for real cash. Every 100 points equals $1, and you can cash out with a minimum of $1 for a maximum of $10.
The forum pays via Payza, Payoneer, PM, and Bitcoin.
ExtraDime provides both a helpful forum for its members and a way to earn some extra cash.
The forum is focused on coupons, credit card offers, and other fun ways to save money.
Every thread you create you post can give you credits, which equal cash.
You can get up to $0.15 per thread you create on the forums, but replies will earn you 2 credits, which equals $0.02. Every 100 points here gives you $1.
You can earn $0.50 just for joining, and an additional $0.50 for every person you refer as a new member!
ExtraDime will remove credits given for repeat threads, irrelevant threads, and threads that violate other terms in the agreement.
You can cash out with a minimum of 500 credits for $5 via PayPal. You'll be capped at $49 every month and $599 every year posting at ExtraDime.
Fiverr is a gig marketplace in which you can post your own gigs for just about any online task that matches your skills.
Forum posting is one way people choose to make money on Fiverr.
In fact, you can see some of the paid forum posting gigs on Fiverr, just to get an idea of how other people are using this type of gig to earn money.
Most gigs start at $5, but you can offer more for more money or make your services a bit pricier with add-ons, if you choose.
Just be sure to charge enough for the work you offer to where it will work out to your desired hourly rate.
It's easy on Fiverr to want to compete with others in a similar niche as yours – which is a good idea – but you shouldn't be so competitive that it will hurt your profits.
Forum Coin gives you virtual currency for your activity on the forum, which mostly has topics related to business and websites.
You can earn ForumCoin, the virtual currency, by posting in any of the forums (each will give you a different amount) and providing products and services in the Exchange forum.
And, you'll get 25 ForumCoin for every person you refer.
They just have to make 20 posts for you to get your referral bonus.
You can turn in your earnings for various things, like $5 PayPal, website hosting, bitcoin, web content, and more!
Forum For U has an interesting forum concept in which members get paid in virtual currency that they can exchange for goods and services.
You'll earn 2.00 FFUC (the forum's virtual currency) for every thread, and 0.10 FFUC for every reply.
Your thread or reply must have at least 100 characters to be eligible.
You even get paid for the replies you receive on your thread, at 0.25 FFUC per reply!
And, Forum For U lets you write articles and tutorials for extra cash.
Earn Everything… nearly!
Join Opinion Outpost, one of the few faithful and honest survey panels and earn cash and gift cards for your opinion. Stack your points and redeem them: Simple! No hidden fees and completely free!


The site says you can earn between $10 and $100 for each one with a minimum of 450 words.
You can exchange your earnings for things like web hosting, graphic design, and advertising in your signature.
FusionCash is known for being a good place to get rewarded for online tasks, like taking surveys and playing games.
But, the site also has its own forum community that pays you to post!
If you make 30 or more posts in any of the forums within a month, you'll be eligible for a $3 bonus for that month.
However, you won't get any extra cash for every 30 posts you make.
The bonus is for the 30 posts only and won't be any more than $3.
And, this bonus counts toward your $25 minimum cash out amount!
You'll need to submit a forum bonus request form in order to get the bonus, so don't forget to fill that out.
You can find out more information here.
ITalkMoney is a forum that has a paid to post section for you to earn money in.
You must post in English, and the forum doesn't allow you to use automatic translation software, so fluency is a must.
The site also has strict rules about posting and formatting.
Be sure to read the rules before posting any threads to make sure you're credited.
Once you reach 100 posts, you can request a payout.
The forum pays via PayPal, AlertPay, and other methods, but your payout will include fees.
MyLot is more than just a forum or message board.
Instead, it's a full community that features tutorials, blog posts, forums, and other helpful forms of online communication for its members.
When you start or comment in, a discussion, you'll earn money.
You'll get more money the more people interact with it.
So, if your post is very helpful or engaging and receives a lot of votes and replies, you'll earn more.
You need at least $5 to cash out with PayPal.
MyLot pays once a month, on or around the 15th.
It's a good idea to take advantage of the tags feature when you create new posts.
Use relevant keywords that people searching for your topic might be looking for so you'll have better opportunity to rank in the system and earn more money.
Paid Forum Posting is a business that connects professional forum posters to forum owners who need their help.
You can sign up as a writer, and you'll be able to view the available forum posting jobs within your niche.
Once you sign up for a job, you'll need to register as a member of the forum and start creating posts of 25 words or more.
Each job will offer a different pay and requirements, so be sure to read through them before applying.
You must be at least 18 years old to apply to be a writer.
You'll also need to submit 7 sample forum posts for the team to review.
You can find out more about the process here.
Post On My Forum started with a website owner who wanted a way to pay for college.
Since then, it's turned into a business that helps connect forum posters with forum owners who need to get new forums off to a running start with a boost in activity.
The site is geared more toward the forum owners than the writers, but you can contact the owner of Post On My Forum by creating an account and logging in to see what the process entails to sign up as a writer.
Postloop is, by far, one of the most well-known places to make money while posting on forums.
But, I want to note that it does have some mixed reviews.
While some users say they make some good extra income here, others claim that it's a waste of time for the amount of work you do.
Still, it might be worth checking out to see if it works for you or not.
You can view the forums that need your help from the Postloop dashboard.
You need to make 10 trial posts at Postloop's forum before you'll get accepted into the writer's database.
Postloop says that, on average, you can earn about $0.07 per post you make on forums here.
The site also accepts people from any country, as long as they're fluent in English.
To start posting on Professional Forum Posters and earning money, you'll need to submit 10 sample forum posts and threads.
The editors will review your work to ensure that you have proper grammar and follow other rules of English.
You can reapply in 90 days if you don't pass the initial test.
The forum doesn't give a lot of information, but others on the web say that each post, once you're accepted, will equal $0.25, and that you can cash out once you reach $10 in your account.
The Forum Wheel offers writers a way to earn some cash by posting on forums of forum owners who need help with activity.
You'll need to make 10 test posts before getting approved.
Approval typically takes around 12 hours.
The minimum pay is $0.05 per post, but this rate can increase as your rating improves and you post more.
At the most, you can earn $0.13 per post.
There's no minimum payment amount needed to cash out here.
When you're ready, you can withdraw your earnings to PayPal.
Upwork is one of my favorite freelance marketplaces because you can find jobs that meet just about any online skill you have.
Some clients on Upwork even post jobs for paid forum posting.
You can see some recent ones here to get an idea of what they might entail.
After you register on Upwork, you can search for paid forum jobs.
You'll need to use your "connects" to bid on jobs that are interesting to you.
Be sure to check out the client's rating and how much their budget is to make sure the job aligns with your needs.
Then, write out your proposal. Include any relevant forum posting experience you've had, if any.
The client will contact you if you're a good fit for the job and you can get to work!
Upwork also provides a safe escrow payment service so that you can ensure you get paid from clients with verified payment methods.
Conclusion: How to Make Money Posting on Forums
You likely won't earn a significant income from posting on forums, especially if you only use one of these sites.
It's best to sign up for a few of them and remain as active as you can to earn some extra cash every month.
Do you know of other sites or forums that pay you to post?
Feel free to let us know about them and your experiences with them in a comment below!
Related Posts:
Earn Everything… nearly!
Join Ipsos iSay, one of the few Faithful and Honest survey panels and earn prizes, gift cards and donations. Stack your points and redeem them: Simple! No hidden fees and completely free!