Top 12 Self Publishing Companies: Start Making Money from Your Books!
Updated on: by Amy Kennedy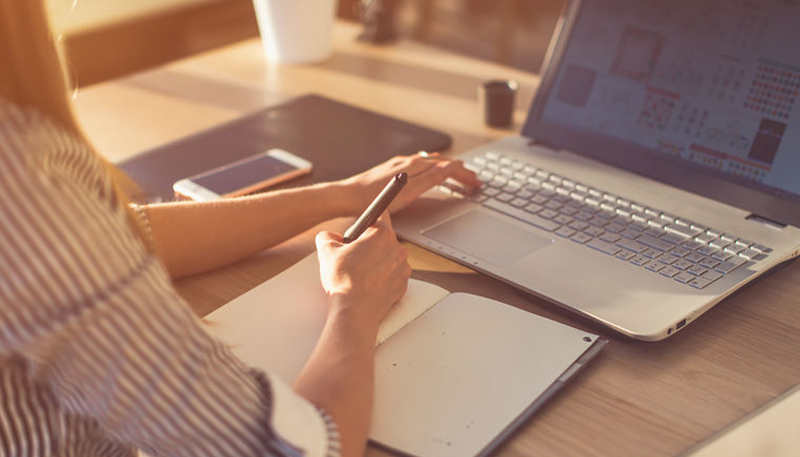 Is it one of your biggest goals in life to publish a book?
Need Easy Extra $350+/Month For Free?
Maybe it is but you don't know where to get started.
How do you find a publisher?
How will you afford to pay a publisher?
These are common questions for authors to ask.
After all, before you start selling a book, it can be difficult having a lot of funds available to publish and market it.
That's where self-publishing can come in handy.
Not only can it be a faster process than traditional publishing, but it can also help you keep some money in your pockets.
You can keep a lot more of the profits from selling your book when you self-publish – usually, between 50% and 90%!
Most publishing houses offer anywhere from 10% to 25%.
So, if you're ready to see how self-publishing works and get started for yourself, this is the post for you!
Helpful Tips for Self Publishers
Since you're looking to publish your own books, I think it's important to share some helpful tips that can get you through the process a little easier.
Proofreading and Editing
Any successful author knows that they can't always catch their own mistakes.
The more you write, the more immune you become to your most common mistakes, which is why it's a great idea to have at least one other person read your book before attempting to publish it.
You should read it aloud, too, which can help you catch typos and other errors, like weird sentence structure.
If you don't mind giving out a few free copies to other people to proofread for you and give you their opinions, then you can probably get extremely helpful feedback.
Need Easy Extra Cash?
Pinecone Research, a leading name in online survey panel honesty, absolutely guarantees $3 cash for every survey you complete!
Take advantage of their time limited New Membership drive and register NOW. Join today: 100% free!


And, hiring an editor is a necessity, no matter how awesome you think you are at writing.
An editor can look at your work from an unbiased point of view and correct spelling, punctuation, and grammar mistakes.
If you want to be taken seriously as an author, the last thing you want is tons of mistakes in your book.
Creating Cover Art
Once you have your finished manuscript, you'll need to figure out how you'll create your cover art.
If you're multi-talented, then you can probably create it yourself using tools like Canva or Photoshop.
But, if you're not into the designing thing, you can always outsource this task to someone else.
Pick a freelancer on Fiverr or Upwork. Or, you can find a designer on 99Designs!
Get an ISBN
ISBNs help distinguish books from each other with a unique 13-digit number.
Each version of a book you have will need a different ISBN, but if you're only planning on creating one version – at least for now – then you'll only need one ISBN.
You can buy an ISBN even before you write your book!
So, it's a good idea to prepare by buying one before you go to publish it so that you can be one step ahead of the game.
A single ISBN will cost the most, but the price decreases when you purchase packages of 10 or more.
Some of the publishing companies that we'll talk about in this post also offer ISBNs for low prices, so check there first!
You can find out more about ISBNs and the process to get one at ISBN.org.
Know the Guidelines Inside and Out
Each self-publishing site will have its own guidelines that you'll need to follow.
Some even have guidelines for formatting your book.
It's a good idea to have your company picked out before you start writing, if possible, to save yourself time editing later.
Be sure to read every part of the guidelines to ensure the most seamless publishing experience possible.
Market Your Book
After you write and publish your book, you need to market it.
In other words, self-promotion should go hand-in-hand with self-publishing!
If you don't have social media channels set up, now is a good time to do so.
You'll want to have social media accounts in place so that your readers can find you easily.
And, a blog is a great place to promote your book.
You can use your own quotes to form longer blog posts, promote your book through advertisements on your website, or even create a special website or landing page for your book.
Some self-publishing companies also help you do this with free and paid tools after you publish your book through them.
What Are the Best Rated Self Publishing Sites?
Now, onto the best self-publishing sites!
The following 12 sites will get your book out to the masses in no time and will save you a lot of money in the process.
Yes, you can even publish your book for free with some of these companies!
AuthorHouse is a self-publishing company based in the United Kingdom, but authors all over the world can use its service.
Earn Everything… nearly!
Join Opinion Outpost, one of the few faithful and honest survey panels and earn cash and gift cards for your opinion. Stack your points and redeem them: Simple! No hidden fees and completely free!


There are various packages that you can choose from to publish your book, including black and white publishing and color publishing.
The packages will even include some marketing items, like social media promotion training and press releases.
Each package includes an ISBN and UPC barcode, too, so there's two less things you have to worry about!
AuthorHouse is kind of like a one-stop shop for authors, too, because it also has design packages, formatting service, additional marketing and promotion services, and more.
The website occasionally features authors, too, which can be excellent additional promotion for your books!
Blurb is an online book creation service where you can not only create photo books and eBooks, but you can also create print books, magazines, trade books, and more.
The site lists various prices according to the type of book you need.
But, the more you purchase, the better discount you get.
Best of all, Blurb helps you design everything using the web designer, which has a pleasant interface and is super easy to use.
There are even various templates housed in the software to help you get started, even if you don't have an ounce of design experience.
You can choose to sell your creations through Blurb, Amazon, Ingram, or Apple iBooks.
Or, you can pre-sell some books through Kickstarter if you need some funds to get your book off the ground!
BookBaby lets you create and publish eBooks and printed books all in one spot.
The site even lists an all-inclusive, professional eBook file conversion for just $99!
This site also acts like a full resource for authors, including professional editing services, design services, eBook and printed book distribution, and more.
And, BookBaby offers marketing tools and services for your book to make the whole process even less work for you.
Pricing here starts at around $578 for 100 printed books, or around $278 for an eBook of about 200 pages.
The more you order, the better discount you'll receive.
There are also printed and eBook packages that can save you some money.
BookRix is one of the awesome self-publishing sites that will let you publish your books for free on Amazon, Kobo, and other top eBook stores.
So, this is a place to use only if you want eBook versions of your book.
You'll receive 70% royalties on your book sales, which is an excellent profit considering you don't have to pay anything for publishing.
You can also set up an author profile for yourself here, which is a good way to promote yourself and your books, especially if you're a beginner without a website yet.
And, network with other authors!
This can be a great way to schmooze with others in your industry and perhaps tap into their audiences too.
CreateSpace is an Amazon company that lets you self-publish everything from CDs and DVDs to eBooks!
The site has tons of online tools that help take your book from start to finish, from writing and formatting to finished touches.
Then, you can get a free proof of your book before you're ready to distribute it.
Use the free distribution service to get your eBook out there, or you can choose from some paid options that can help you with marketing your book.
However, it's important to note that the royalties are pretty low here.
For a black and white eBook with 200 pages that sells for $10, you'll earn close to $3 on Amazon.com.
But, selling elsewhere will only give you about $1 in royalties.
This is a good way to go if you want to sell fast to get started, but you may want to look into other options for a long-term solution.
Draft2Digital offers self-publishing services while supporting authors through the process.
You keep all the rights to your book, but will have assistance with formatting, publishing, and then distributing your book.
The site offers tracking tools to help you track your sales and profits.
This company doesn't charge anything to format and distribute your book.
You only get fees taken out when your book sells.
Draft2Digital will take a 10% cut of the price you list your book for.
You'll get paid via PayPal, Payoneer, direct deposit, or check once per month.
I know so many writers who choose Kindle Direct Publishing (KDP) as their self-publishing company.
It's simple to use and you can start selling your eBooks on Amazon right away.
Seriously – it can take about five minutes to publish your book and then it'll be available on Kindle stores within 24 to 48 hours.
And, not only can you publish eBooks, you can also make print versions.
In the U.S., Canada, and several other countries, you can earn up to 70% royalties for your books, plus even more if you enroll through Kindle Unlimited and Kindle Owners' Lending Library.
One helpful thing about KDP is that you can change your books at any time.
If you catch an error, go back and fix it without changing anything to your book listing.
Kobo sells eBooks, audiobooks, eReaders, and more, and lets you become an affiliate for all of your favorites.
But, you can also publish your books on Kobo.
It only takes a few steps to publish on Kobo and you can set your own prices.
Your books will be seen by readers all over the world, giving you access to a huge potential audience for lots of sales.
You can even host your Kobo books on other platforms to maximize your earnings.
You get 70% royalties on the selling price of your books, making Kobo one of the highest-paying platforms.
But, you'll have to wait to receive a payment until you earn $100, unless it takes six months to earn that amount. In that case, you'll get paid at the six-month mark.
As long as you earn over $100 though, you can get your money 45 days after the end of the month in which you earned it.
It's not super quick to pay, but the high potential earnings may outweigh that factor.
iUniverse offers various tools and services for authors looking to self-publish their books.
From editing and evaluation to design and distribution, this place does it all.
You, of course, can pick and choose what services you want with a variety of packages.
iUniverse has a full editing team that can make your book everything you've dreamed it could be.
Packages start around $999 and include cover designing, book distribution, ISBN assignment, and more.
But, there's also a free publishing guide that you can read to help you get started.
Enter some of your details and goals for your book and you can download the guide for free.
Lulu is one of the best places to go if you want to publish your book for free.
Create your book, get an ISBN, format your book, set your prices, and publish – it's that easy with Lulu, and the platform lets you do it at no cost.
You'll only pay Lulu when your books sell, and you'll earn anywhere from about 40% to 90% revenue on everything you sell.
Lulu also has packages available for print books, photo books, and more, with discount prices available the more you buy.
Smashwords lets you publish and distribute your eBooks to several online retailers, like Kobo, Scribd, and Barnes & Noble.
You'll earn 60% of your list price when you sell on other retail sites, but you can earn up to 80% selling on the Smashwords platform!
Creation and publishing are 100% free.
You'll only pay when your books sell.
You even get a free ISBN, author profile page, unlimited updates to your books, eBook conversion, marketing tools, and more.
Basically, it's a whole self-service platform at your fingertips!
Xlibris is a platform that lets you publish and sell your books on its marketplace.
The packages here are pricey, but they also include everything you need to take your book from a manuscript to a print book.
It's important to note that Xlibris doesn't focus on eBooks, but instead, only hardcover and paperbacks.
There are also some marketing packages you can buy to help get your book out to the masses.
BookVenture is a self-publishing platform that offers a range of services to authors.
From editing and cover design to marketing and distribution, BookVenture provides comprehensive assistance throughout the publishing process.
The site offers different publishing packages to suit various needs and budgets.
You can explore their website for more information on their services and pricing.
IngramSpark is a popular self-publishing platform that provides authors with the tools to create and distribute both print and e-books.
With IngramSpark, you can easily reach major bookstores, online retailers, and libraries.
The platform offers various publishing options and customization features to ensure your book meets industry standards.
They also provide resources and support to help you navigate the publishing journey.
Self-Publishing.com offers a range of services to assist authors in self-publishing their books.
They provide editing, formatting, cover design, and marketing services to ensure your book stands out.
The site also offers educational resources and guidance to help authors navigate the publishing process.
Self-Publishing.com offers different publishing packages to suit your needs and budget.
You can visit their website for more details on their services and pricing.
Conclusion: Top Self Publishing Companies
Self-publishing books is becoming more and more popular as people seek to cut out the middleman and go it alone.
Fortunately, many of these top publishing companies help you through the process so you're not alone!
It's the best of both worlds!
Even struggling writers can start out quickly without spending a dime.
All you'll need to worry about is selling your books and the companies will take their cut, leaving you with the rest.
But, purchasing a full package can be a good option if you already have some great sellers under your belt and are looking for full-service options to help you edit, market, and more.
Either way, these companies can get your book rolling!
Have you used any of the above companies for self-publishing?
What ones are your favorite?
Tell us all about your experiences in a comment!
Related Posts:
Earn Everything… nearly!
Join Ipsos iSay, one of the few Faithful and Honest survey panels and earn prizes, gift cards and donations. Stack your points and redeem them: Simple! No hidden fees and completely free!