How to Make Good Money Making and Selling Homemade Candles
Updated on: by Amy Kennedy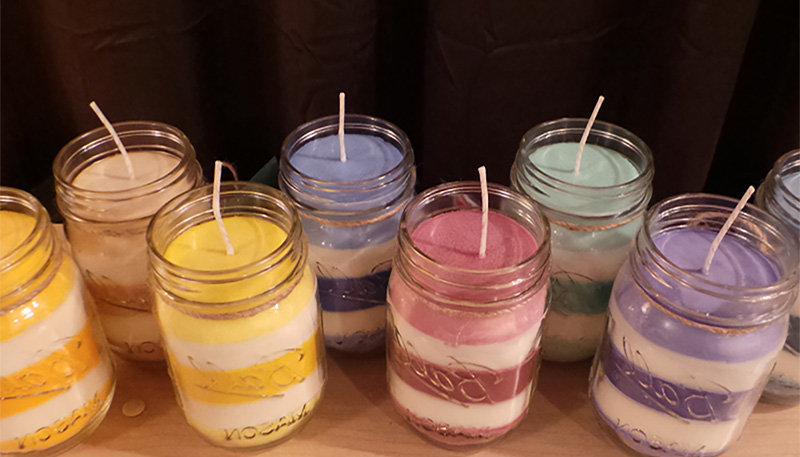 Combining your hobbies and interests with a business is an excellent idea.
When you love what you do and you're passionate about it, everything else with your business will more easily fall into place.
Candle making for profit is a good business idea for those who love candles and understand the process of making them.
The good thing about candles is that there is a never-ending supply of scents you can create to appeal to just about anyone.
Once you learn how to make long-lasting and long-smelling candles, you can likely find a steady stream of buyers.
People love candles, even just for decorating around their homes.
And, this business doesn't necessarily cost a lot up front, so it stands to be highly profitable as long as you know how to market your business.
It may even become a great way for stay at home moms to start their own business quickly so they can stay home with their children and have a flexible job.
Here's everything you need to know if starting a candle business is something that interests you.
What Do I Need to Start?
Let's get started on the basics.
If you've never had your own business, then you need to know some important information about becoming the owner of one.
When it comes to candle making, you'll also have a few important decisions to make regarding the type of candles you want to sell and the process it takes to make them.
Decide What to Sell
You may be surprised to learn that there are a lot of different types of candles that you can focus your business on.
Pink Zebra, a popular direct sales company, focuses its products on small pieces of scented candle wax that people can use to create their own mixed scents with a variety of colors.
And there are also several different types of standard candles, from small votives to dipped candles to candles in decorative or plain glass containers and jars.
You may also want to make your candle making business unique against the competition by focusing on certain types of scents, like beachy scents or candles made with therapeutic properties using essential oils.
Or, molded candles in fun shapes can also be a good focus for something different, especially since they can be highly marketable during holidays and for special occasions.
I'm offering you this information first because your decision is important for your business model.
When you go into a business with a clear path, you'll be able to create focused marketing campaigns and target the perfect customers – and create a name for yourself in the industry!
Learn the Candle-Making Process
Once you figure out the right types of candles for you, it's time for you to learn how to make them.
Fortunately, the internet is ripe with tutorials for making just about any type of candle you want.
Pinterest is one of the best resources. A simple search for "[type of candle] tutorial" should bring up plenty of results!
Craftsy is also a good place to look for some helpful classes.
This site has numerous classes and tutorials for a variety of crafts, including candle making, taught by experts.
And, you can even find materials here once you know what you're doing.
If you decide to eventually expand your business into candle-related products, like decorative jars, mats, or cozies, Craftsy also has tutorials and patterns for those types of products.
Most classes do cost money, but it's a good investment to jump-start your business if you don't mind spending some money up front.
Of course, there is always YouTube, which has plenty of candle tutorials for free.
This is a good option for visual learners who like to see things getting made before they try it themselves.
Once you feel confident to try it out, you can practice to your heart's content.
Just make sure that you test your candles before you begin selling them.
You should be able to tell people about how long they'll last and make sure that they have long-lasting scents.
Continue to practice and tweak your formula until you find the perfect combination for your products.
Understand the Legalities
It's also important to note that you shouldn't completely copy someone else's candle recipe to sell as your own – that's stealing, and it's a serious legal issue.
Instead, use the information you find as knowledge rather than your own recipe.
You should research to find out the basics of making candles and then use that information to build upon and create your very own unique recipe.
Additionally, running your own business comes with its own set of legalities that you should be aware of.
Before ever starting a business, be sure to check into your state and local business licensing and permit policies.
Each state has its own set of regulations, and each city, town, or county may also have its own.
Some locations require permits for home businesses, whereas others are fairly lenient.
Usually, it depends on whether you have customers coming in and out of the home that may bother other residents near you.
So, if you sell all your candles online, you may be in the clear, but some locations will still require a permit.
Call your local Chamber of Commerce (if you're in the United States) to find out more details.
You can also check with the Small Business Administration about your state's laws for business licensing.
Your candles may also require specific information on their labels that show each ingredient.
You can find out more about candle labeling for homemade candles from the National Candle Association.
Don't Forget the Taxes!
If you're in the United States, you'll also have to get up to date on your tax knowledge.
Yes, even as a self-employed business owner, you'll need to worry about taxes!
In addition to any income tax you may need to pay from a regular job, you'll now be responsible for self-employment tax and estimated tax payments each quarter.
You can find out more information about self-employment taxes from the IRS.
If you want to turn your business from a one-person business to a larger business with a partner or two, that will also have different tax rules.
I encourage you to read the "Starting a Business" section of the IRS site to find out more information about taxes and how they fit into your candle making business.
Is Candle Making Profitable?
Yes, it can be!
Likely, your biggest costs are going to be upfront to get your business up and running.
You may run into a few mistakes along the way as you learn to create perfect candles, which could leave you with some wasted materials.
Plus, you may not have many customers at first – that's to be expected!
Depending on how much budgeting you do when buying materials and how careful you are when making your candles, you could end up with a good profit for each one.
If you're careful about where you buy supplies from and not spending too much on packaging, the overall candle making process doesn't cost a lot.
Keep accurate records of what you spend on materials and how much you use for each candle.
Do some math to figure out how much one candle costs you and how much time it takes to make.
From there, you can make some tweaks to learn what you could be doing better to make a higher profit.
It'll take time – don't expect to be a candle making profit expert from the start.
This candle making niche study is an interesting read showing that there is a lot of room on Etsy for candle makers to earn a good profit since this niche isn't overcrowded on the site yet.
Your Best Bet for Making a Good Profit
You're likely looking to make the very best profit possible on your love of candle making since you're interested in starting a business.
How can you do that?
Finding candle businesses for sale and buying one!
Think about it:
A business that's already been around for a few years has a steady customer base if the owner's been doing everything properly.
It's already a known business with loyal customers and it's obviously done things right if it's been in business for a few years.
Even though a business might be popular and doing well for itself, that doesn't mean it'll last forever.
Some business owners just lose passion for their businesses over time and move onto other things.
This can be the best time to swoop in and buy your own candle business.
Yes, it's going to take money up front to buy any business.
But you'll also be buying the customers that go along with it and the inventory that's already there.
That's a lot less work on you to try to figure out how to build a business because you'll already have one built.
If you think you can afford to make an already established business work finance-wise, then this is definitely something to consider.
You should first look locally to see if anything like this exists in your area, especially if you're interested in brick-and-mortar businesses only.
If that's not important to you, you can spread out your search online.
There are plenty of women entrepreneur Facebook groups that might help you find an online candle making business to buy!
Online vs Local Candle Business
That brings me to my next point to consider:
Is an online candle making business or a brick-and-mortar one the best choice for you?
Really, that depends on how you want to do business.
Do you love the feel of the old school mom and pop shops?
Do you love getting to meet new people and have the feeling of community associated with your business?
Maybe you like getting word of mouth referrals from your customers or getting referrals from other local businesses.
If any of those apply to you, then a brick-and-mortar setup is probably best.
The downfall is that you'll have a lot more overhead costs with this setup than you would selling online.
Renting or financing a shop can set you back hundreds to thousands of dollars per month even without including everything that goes along with it, like electricity, water, toiletries if you have a public bathroom, etc.
When you sell online, you'll only need to worry about the cost of your online shop (web hosting) and your inventory.
Web hosting, even for very large and busy websites, won't usually touch the monthly expenses you'll pay with a brick-and-mortar shop.
Unfortunately, you'll also have to rely on getting web traffic to visit your shop, which can sometimes be a challenge.
You also won't have the same close-knit community of customers you might have when you own a local business, so you'll need to weigh what matters most to you.
Where to Buy Supplies and Packaging
It's a good idea to buy your supplies from a wholesaler, if possible, rather than a retail store.
Retailers hike up prices from the wholesaler so they can make a profit, of course.
But, that cuts into your potential profit, even if the prices seem low.
And, being mindful of your ingredients is super important.
You want candles that last a long time and really stand out in terms of looks, performance, and scent.
But, you need to balance all that with your expenses or you won't have a good profit.
Try to avoid using several oils or colors for one candle, because that means more ingredients for each one.
Bulk Apothecary is one wholesaler to consider for your candle making supplies, but there are plenty of similar ones to choose from.
You may even find one local to you or in your nearest large city.
If so, stop in, ask about prices, and pick up a catalog so you can price out what you need.
Don't forget about your packaging materials, too.
You'll want your packaging to be elegant and appealing, but spending a lot on materials for packaging alone is a big mistake.
Consider whether you'll be just selling candles locally or if you might also sell online.
If you sell online, you'll need to figure out shipping packaging too.
You can always contact your local post office to inquire about shipping costs, box sizes, and the best shipping methods for your candles.
How to Market Your Candle Making Business
One of the trickiest aspects of business is marketing.
You need to know how to market a business if you want it to get customers.
Fortunately, between websites and social media, marketing to a broad audience has never been easier.
You can choose to keep things more local to people you know through local Facebook groups or marketing via other social media methods.
You can throw candle making parties or host other fun local events to become more known around your town.
Or, you can expand to online sales by creating a website and selling candles through it, selling on Etsy, or selling on eBay or similar sites.
Whatever avenue you choose, it's a wise move to learn some basic social media marketing, as many business owners have success with using social media to get their business out there.
Don't Want Your Own Shop? Here's Where to Sell Instead!
Owning a shop and tracking inventory just isn't right for everyone.
Being a business owner requires a lot of patience and basic knowledge of everything a business entails, such as accounting, tax payments, licensure, and more.
Regardless of how exactly you run your candle making business, you'll still need to have somewhat of a grasp on all that stuff.
But you can take one thing out of the equation – an actual shop – to make things a little simpler.
There are plenty of options for you to sell locally or online, still own a business, and earn an excellent profit from selling candles.
Here are some of the best places to do it:
Selling Locally
Flea Markets
Selling candles at flea markets may very well be one of the best ways for you to get your candles out to the public and get them sold quickly.
On their busiest days – usually on the weekends throughout the summer – flea markets can pull in people from all around surrounding areas and locally.
It's a great way to get people talking about your homemade candles and spreading the word to their friends and family.
Flea market costs are generally low, too, especially if you sign a contract for longer terms, like 3-month or 6-month, that allow you to set up shop on a weekly basis.
All you'll need to worry about is keeping your supply up with demand while the flea market owners worry about the overhead of the building.
Facebook
On Facebook's Marketplace, you get built-in access to Facebook users in your area, which makes it an excellent place to sell stuff to locals.
Listing on the Marketplace is free and your listing takes only minutes to set up.
Add some pictures of your candles along with pricing information and descriptions and you'll be on your way to selling immediately.
Facebook also lets you share your listings with others in your groups or on your profile or page.
You can even use a business page to market yourself and sell directly from there!
Craigslist
Craigslist is an excellent website for selling just about anything.
It may not be the best option for the primary selling avenue for your candles, but it could be an idea if you have old inventory you're looking to get rid of for fair prices.
Listing on Craigslist is free in most areas (some large cities do cost a fee) and it's easy to list, set a description, add photos, and respond to people privately.
You can set up bulk meeting times in a public location for several people to meet you at once to purchase candles.
Craft Fairs
Many communities have craft fairs, usually in the spring, to support local programs.
You can check with your local Chamber of Commerce (if you're in the United States; check with your local business overseeing agency if you live elsewhere) to see if any similar events will be held in your area.
Usually, setting up a booth is relatively inexpensive and the price you pay goes toward supporting the organization the event supports, so it's doing good for the community!
Craft fairs are often big events with several vendors, activities for kids, raffles, and more, so this can be an excellent opportunity to get noticed by your local community.
School Fundraisers
You might even be able to talk to your local school district about setting up a local fundraiser with the schools in your area!
Not only would you be getting business for yourself, but you'd also be helping out students, teachers, and the school system by raising funds for their academics and school programs.
You could charge a little more on top of your usual prices and donate a percentage of sales to the schools.
Be sure to come up with a pricing structure and flyers for the school to consider.
You'll also need to purchase enough flyers for each student to bring home, along with order forms to go along with them, so make sure you account for all this in your total costs.
Selling to Local Businesses
You might try to get your candles sold within local mom and pop shops who already have a solid customer base that loves to buy locally!
Check with a few locally-owned businesses that make sense to sell your candles in, like a thrift shop, home décor store, or a general market.
Selling Online
Etsy
Etsy is one of the first places I tell people to look into if they want to sell handmade stuff online.
It's focused on vintage and handmade items, so people sell everything from handmade clothing to refinished furniture and jewelry on the site.
People seem to have a lot of success selling on Etsy, too, especially once they've gotten a few glowing reviews for their products.
Etsy generally favors very active sellers with lots of 5-star reviews, so once you get a few sales under your belt, make sure you follow up with your customers to encourage them to leave you a review.
eBay
eBay is another option, although it's a lot more generalized than Etsy and is more of a place you'd go to sell used stuff or rare items that are part of a collection.
Still, people do sell handmade stuff here, too, so it's possible that you'd find buyers for your candles.
eBay is also pretty versatile in how you sell.
You can choose to ship to buyers in another location or sell locally with the pickup-only option, for example.
You can also choose to list your candles as auctions or fixed price, or you can even let buyers give you their best offers.
Shopify
Shopify isn't necessarily a website that you'll use for selling candles, but you can use it to create an online shop for your candles in just about the easiest way possible.
Shopify has premade shop templates you can use to get your candle shop up and running without any design experience needed.
It also has backend tools and analytics for you to keep track of sales, inventory, and more.
It basically takes care of everything you need to run your shop from the moment someone comes across your site to the second they click the Place Order button.
Shopify also connects to several other marketplaces so that sellers can dropship items they want to sell, which doesn't require holding any inventory!
This can be a great solution for you if you have handmade candles you want to sell but can't keep up with the demand of a fast-growing business.
Simply use a partnered vendor like Oberlo, which also has candles you can place in your online shop.
Oberlo will take care of packaging and shipping your customers' orders from their marketplace without you needing to hold them.
Read More: 33 Places to Sell Handmade Crafts Online (Some Are FREE!)
Alternative: Direct Sales Candle Businesses
It's not always easy to have your own business.
If the thought of everything that goes into a business makes you hesitant, you're not alone.
That's one of the reasons direct sales companies are so popular!
If you still want a business but without being responsible for the legalities and details that come with it, you may want to consider a direct sales business that specializes in candles.
There are several available, but these are some of the most popular ones:
This company has candles and flameless fragrance products in a variety of designs and scents.
You can get started as a seller by purchasing a kit, which will include your own website, sales materials, and products to get you on your way to making your first sales.
Kits start at $150 and go up to $300.
Have you ever wanted to find a hidden piece of jewelry in a candle?
If so, you're in luck, because that's exactly what Jewelry Candles has to offer.
This company features candles and other scented products with hidden jewelry inside, as well as other fun items like charm candles and cash money candles.
Representatives for Jewelry Candles get a 20% discount on their purchases plus 20% commission on anything their customers buy through them or their site.
There are no monthly fees, either.
To get started, you can purchase a starter kit between $19.95 and $499.95.
This company has bath bombs, aromatherapy products, body washes, and of course, candles, for its consultants to sell.
The company's jewel candles are among its most favorite products.
There are hidden jewels inside each natural soy candle.
Each jewel is valued between $20 and $7500, and it's always a surprise what kind you'll get.
Consultants can join the team for only $10 a month and can cancel at any time if you ever feel like it's not the right opportunity for you.
PartyLite has starter kits for $99 that can get you started with just about everything you'll need for your business.
This company has several types of candles to sell, plus home décor items, flameless candles, and more.
You can make money with PartyLite by hosting parties or selling products online via your consultant website.
As mentioned before, Pink Zebra has a very unique business model.
The candles from this company are made with small wax beads that, when melted, form a normal candle.
But, customers can create their own mixed scents and colors by combining different beads to make customized candles!
You can become a consultant for as little as $99 and start picking up customers through in-home parties or selling at local craft fairs or events.
Scentsy is another popular direct sales business for people who love fragrances.
In addition to candles, Scentsy carries air fresheners, laundry products, personal care products, and more.
But, its candles and candle warmers seem to be among the most popular products for the company.
This is another company that you can join for just $99 to start your own business!
Scent-Sations comes from Mia Bella, another direct sales company.
This sub-company focuses on Mia Bella's wax scented candles, flameless candles, and bath and body products.
You can join the team for as low as $39.95 per month, which puts you into an autoship program to maintain your status and get wholesale discounts.
With this package, you'll automatically receive $25 in points good toward a purchase and your own website.
Other kits will cost more but give you the option of getting more inventory and perks each month.
You can also earn more commission with higher-priced subscriptions.
Sparklefly is a newer company that sells Sparkle Stones, which are scented "stones" you can use to create flameless scents in the home.
Sparkle Stones come in a range of scents, like Raspberry Mint Cream and Sweet Orange Chili Pepper!
You can earn up to 50% off regular prices and up to 25% commission on everything you sell when you become a representative.
You'll even get your own website to sell and track sales.
It all costs $99 as a one-time fee.
Yankee Candle is a well-known and reputable direct sales candle company.
They offer a wide range of candles in various sizes, scents, and styles, catering to different preferences and occasions.
Their candles are known for their high-quality fragrance and long burn time.
As a representative for Yankee Candle, you can host home parties, sell products online, or participate in local events to reach customers.
Joining Yankee Candle as a consultant provides you with training, marketing materials, and support to help you succeed in your business.
Country Scents Candles is a direct sales company that offers a unique twist to traditional candles.
They specialize in hand-poured soy wax candles infused with delightful scents.
What sets them apart is their focus on using natural and environmentally friendly ingredients.
In addition to candles, they also provide other home fragrance products like wax melts, room sprays, and warmers.
As a consultant, you can earn commissions by selling these products through home parties, online platforms, or in-person events.
Country Scents Candles offers training and support to help you build and grow your business.
Conclusion: How to Make Good Money Making and Selling Homemade Candles
Making and selling your own candles can be a profitable business venture if you're willing to put in the time to learn.
But, for those who aren't keen on setting up a business and navigating legalities, there's always direct sales too!
Do you have a candle making business or are you considering one? Let us know your thoughts in a comment below!
Related Posts: