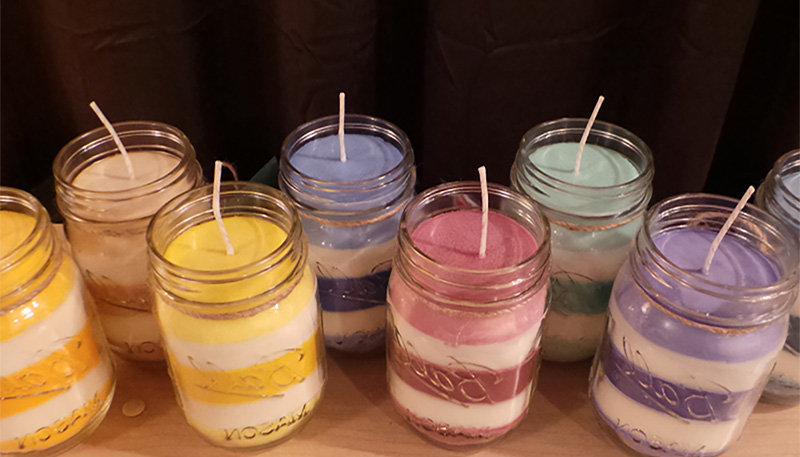 Combining your hobbies and interests with a business is an excellent idea.
Need Easy Extra $350+/Month For Free?
When you love what you do and you're passionate about it, everything else with your business will more easily fall into place.
Candle making for profit is a good business idea for those who love candles and understand the process of making them.
The good thing about candles is that there is a never-ending supply of scents you can create to appeal to just about anyone.
Once you learn how to make long-lasting and long-smelling candles, you can likely find a steady stream of buyers.
People love candles, even just for decorating around their homes.
And, this business doesn't necessarily cost a lot up front, so it stands to be highly profitable as long as you know how to market your business.
It may even become a great way for stay at home moms to start their own business quickly so they can stay home with their children and have a flexible job.
Here's everything you need to know if starting a candle business is something that interests you.
What Do I Need to Start?
Let's get started on the basics.
If you've never had your own business, then you need to know some important information about becoming the owner of one.
When it comes to candle making, you'll also have a few important decisions to make regarding the type of candles you want to sell and the process it takes to make them.
Decide What to Sell
You may be surprised to learn that there are a lot of different types of candles that you can focus your business on.
Pink Zebra, a popular direct sales company, focuses its products on small pieces of scented candle wax that people can use to create their own mixed scents with a variety of colors.
And there are also several different types of standard candles, from small votives to dipped candles to candles in decorative or plain glass containers and jars.
You may also want to make your candle making business unique against the competition by focusing on certain types of scents, like beachy scents or candles made with therapeutic properties using essential oils.
Or, molded candles in fun shapes can also be a good focus for something different, especially since they can be highly marketable during holidays and for special occasions.
I'm offering you this information first because your decision is important for your business model.
When you go into a business with a clear path, you'll be able to create focused marketing campaigns and target the perfect customers – and create a name for yourself in the industry!
Learn the Candle-Making Process
Once you figure out the right types of candles for you, it's time for you to learn how to make them.
Earn Everything… nearly!

Join e-Poll, one of the few faithful and honest survey panels and earn cash - paid via PayPal - gift cards for Amazon, Best Buy, iTunes, Starbucks, and Walmart, plus Retail e-vouchers.
The surveys are aimed at entertainment-related research, covering such things as personal TV watching habits, give feedback on new TV commercials or to review DVDs that are sent to your home.
For USA residents aged 13+. No hidden fees and completely free!


Fortunately, the internet is ripe with tutorials for making just about any type of candle you want.
Pinterest is one of the best resources. A simple search for "[type of candle] tutorial" should bring up plenty of results!
Craftsy is also a good place to look for some helpful classes.
This site has numerous classes and tutorials for a variety of crafts, including candle making, taught by experts.
And, you can even find materials here once you know what you're doing.
If you decide to eventually expand your business into candle-related products, like decorative jars, mats, or cozies, Craftsy also has tutorials and patterns for those types of products.
Most classes do cost money, but it's a good investment to jump-start your business if you don't mind spending some money up front.
Of course, there is always YouTube, which has plenty of candle tutorials for free.
This is a good option for visual learners who like to see things getting made before they try it themselves.
Once you feel confident to try it out, you can practice to your heart's content.
Just make sure that you test your candles before you begin selling them.
You should be able to tell people about how long they'll last and make sure that they have long-lasting scents.
Continue to practice and tweak your formula until you find the perfect combination for your products.
Understand the Legalities
It's also important to note that you shouldn't completely copy someone else's candle recipe to sell as your own – that's stealing, and it's a serious legal issue.
Instead, use the information you find as knowledge rather than your own recipe.
You should research to find out the basics of making candles and then use that information to build upon and create your very own unique recipe.
Additionally, running your own business comes with its own set of legalities that you should be aware of.
Before ever starting a business, be sure to check into your state and local business licensing and permit policies.
Each state has its own set of regulations, and each city, town, or county may also have its own.
Some locations require permits for home businesses, whereas others are fairly lenient.
Usually, it depends on whether you have customers coming in and out of the home that may bother other residents near you.
So, if you sell all your candles online, you may be in the clear, but some locations will still require a permit.
Call your local Chamber of Commerce (if you're in the United States) to find out more details.
You can also check with the Small Business Administration about your state's laws for business licensing.
Your candles may also require specific information on their labels that show each ingredient.
You can find out more about candle labeling for homemade candles from the National Candle Association.
Don't Forget the Taxes!
If you're in the United States, you'll also have to get up to date on your tax knowledge.
Yes, even as a self-employed business owner, you'll need to worry about taxes!
In addition to any income tax you may need to pay from a regular job, you'll now be responsible for self-employment tax and estimated tax payments each quarter.
You can find out more information about self-employment taxes from the IRS.
If you want to turn your business from a one-person business to a larger business with a partner or two, that will also have different tax rules.
I encourage you to read the "Starting a Business" section of the IRS site to find out more information about taxes and how they fit into your candle making business.
Is Candle Making Profitable?
Yes, it can be!
Likely, your biggest costs are going to be up front to get your business up and running.
You may run into a few mistakes along the way as you learn to create perfect candles, which could leave you with some wasted materials.
Plus, you may not have many customers at first – that's to be expected!
Depending on how much budgeting you do when buying materials and how careful you are when making your candles, you could end up with a good profit for each one.
If you're careful about where you buy supplies from and not spending too much on packaging, the overall candle making process doesn't cost a lot.
Keep accurate records of what you spend on materials and how much you use for each candle.
Do some math to figure out how much one candle costs you and how much time it takes to make.
From there, you can make some tweaks to learn what you could be doing better to make a higher profit.
It'll take time – don't expect to be a candle making profit expert from the start.
This candle making niche study is an interesting read showing that there is a lot of room on Etsy for candle makers to earn a good profit since this niche isn't overcrowded on the site yet.
Where to Buy Supplies and Packaging
It's a good idea to buy your supplies from a wholesaler, if possible, rather than a retail store.
Retailers hike up prices from the wholesaler so they can make a profit, of course.
But, that cuts into your potential profit, even if the prices seem low.
And, being mindful of your ingredients is super important.
You want candles that last a long time and really stand out in terms of looks, performance, and scent.
But, you need to balance all that with your expenses or you won't have a good profit.
Try to avoid using several oils or colors for one candle, because that means more ingredients for each one.
Bulk Apothecary is one wholesaler to consider for your candle making supplies, but there are plenty of similar ones to choose from.
You may even find one local to you or in your nearest large city.
If so, stop in, ask about prices, and pick up a catalog so you can price out what you need.
Don't forget about your packaging materials, too.
You'll want your packaging to be elegant and appealing, but spending a lot on materials for packaging alone is a big mistake.
Consider whether you'll be just selling candles locally or if you might also sell online.
If you sell online, you'll need to figure out shipping packaging too.
You can always contact your local post office to inquire about shipping costs, box sizes, and the best shipping methods for your candles.
How to Market Your Candle Making Business
One of the trickiest aspects of business is marketing.
You need to know how to market a business if you want it to get customers.
Fortunately, between websites and social media, marketing to a broad audience has never been easier.
You can choose to keep things more local to people you know through local Facebook groups or marketing via other social media methods.
You can throw candle making parties or host other fun local events to become more known around your town.
Or, you can expand to online sales by creating a website and selling candles through it, selling on Etsy, or selling on eBay or similar sites.
Whatever avenue you choose, it's a wise move to learn some basic social media marketing, as many business owners have success with using social media to get their business out there.
Alternative: Direct Sales Candle Businesses
It's not always easy to have your own business.
If the thought of everything that goes into a business makes you hesitant, you're not alone.
That's one of the reasons direct sales companies are so popular!
If you still want a business but without being responsible for the legalities and details that come with it, you may want to consider a direct sales business that specializes in candles.
There are several available, but these are some of the most popular ones:
PartyLite has starter kits for $99 that can get you started with just about everything you'll need for your business.
This company has several types of candles to sell, plus home décor items, flameless candles, and more.
You can make money with PartyLite by hosting parties or selling products online via your consultant website.
As mentioned before, Pink Zebra has a very unique business model.
The candles from this company are made with small wax beads that, when melted, form a normal candle.
But, customers can create their own mixed scents and colors by combining different beads to make customized candles!
You can become a consultant for as little as $99 and start picking up customers through in-home parties or selling at local craft fairs or events.
Scentsy is another popular direct sales business for people who love fragrances.
In addition to candles, Scentsy carries air fresheners, laundry products, personal care products, and more.
But, its candles and candle warmers seem to be among the most popular products for the company.
This is another company that you can join for just $99 to start your own business!
Conclusion: How to Make Good Money Making and Selling Homemade Candles
Making and selling your own candles can be a profitable business venture if you're willing to put in the time to learn.
But, for those who aren't keen on setting up a business and navigating legalities, there's always direct sales too!
Do you have a candle making business or are you considering one? Let us know your thoughts in a comment below!
Related Posts:
Want more money?

Easy Extra Cash! Join the famed Nielsen Computer and Mobile Panel site, install the app and earn rewards just for using the Internet as you do today! Nielsen gives away $10,000 each month.
Guaranteed 100% free membership.