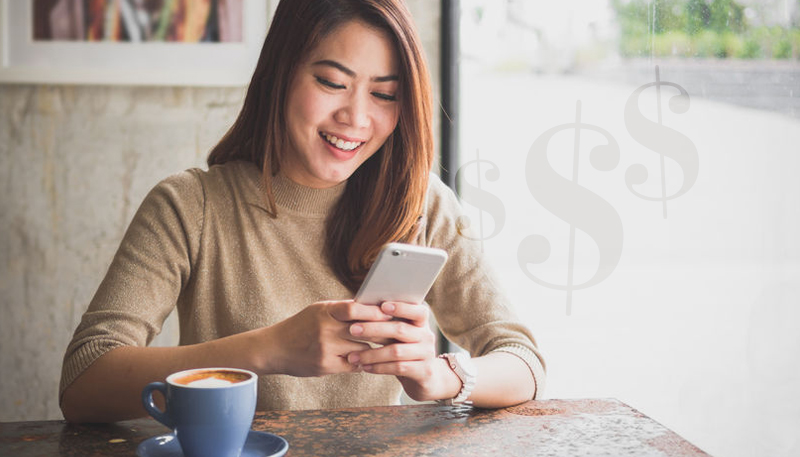 Need Easy Extra $350+/Month For Free?
We all love using our cell phones, especially for texting.
In fact, statistics show that Americans, especially, prefer to send text messages than talk on their cell phones.
Unfortunately, most people that spend several minutes – or even hours – every day don't get paid for that time.
Until now.
I'm going to show you how you can actually make some money off your texting habit!
It's amazing what cell phones can do, isn't it?
Can I Really Get Paid for SMS?
Yes!
If you've ever had that "OMG, I need a job!" moment, but weren't sure what to do to make some cash in the meantime, this could be the perfect opportunity for you.
Texting is so popular, and companies know that.
More people want to spend their time using their cell phones, participating in live chats, and text messaging others than they do talking to people on their phones.
So, some places are opting to cash into this trend and use the communication method that people love.
The good news is that you can get paid to send texts in various ways, and I'm going to show you how.
Where Can I Find the Best Texting Jobs?
Back in the day, a place called ChaCha was the best way to make money using your phone.
There were some popular positions there, like a ChaCha Guide and ChaCha Vetter, that allows people to answer questions from other ChaCha users via a text message.
You didn't necessarily have to have any skills other than knowing how to send a message and having some expertise in at least a category or two.
Need Easy Extra Cash?

Pinecone Research, a leading name in online survey panel honesty, absolutely guarantees $3 cash for every survey you complete!
Take advantage of their time limited New Membership drive and register NOW. Join today: 100% free!


It didn't pay a ton, but active ChaCha users loved that they could make some extra money just by answering questions.
Unfortunately, the site no longer exists, and many are scrambling to find something similar that lets them cash in on text messages.
Which brings us to this article!
It's totally possible to make some extra money by texting your friends and family.
And, this is a good source of some extra income if you're in between jobs, trying to save some cash, or just need a little extra each month.
I'm going to start with the best option for earning money from your texts, from an app known as Blabber.
What is Blabber and How Does It Work?
Blabber is a text messaging app that can replace your phone's default messaging app.
Basically, you sign up for the app and invite your friends to use it too.
Once they're signed up, you can start sending text messages to each other.
Every 15,000 messages you send equals $15 for you!
How does Blabber afford to just give away money for texting?
Well, it actually makes money by showing you advertisements through the app on occasion.
So, in exchange for its users seeing the ads from which it gets paid, it lets you make some money for your time.
Basically, it works similarly to reward sites that partner with companies for advertising purposes, but gives you a fun new way to make some money by viewing ads.
What Are the Requirements?
There aren't many requirements to use Blabber.
It's available for iOS and Android devices.
There isn't much information available regarding age limits, countries, etc., but I'd assume that, if you can get a PayPal account, you can receive money from the app.
What's the Pay Like?
Blabber makes your payments super simple to figure out.
You get paid $15 for every 15,000 text messages you send.
If you send 30,000 text messages in a month (wow!), then you can earn $30 a month.
Obviously, this will work out better for people who are frequent texters.
Casual texters definitely won't see as much of a benefit from Blabber.
On average, people age 18-24 send almost 4,000 texts per month.
Using that figure, you won't see your $15 for almost four months.
Still, you're getting paid to do what you do every day anyway.
And, if you have several people you text every day, you could easily meet your $15 payment in a month or two.
Once you earn your $15, Blabber will send it to your PayPal account that you have on file in your profile.
What Are Some of the Benefits of Blabber?
There are a lot of apps that claim to be a lot like Blabber.
Text message your friends, get paid.
Earn Everything… nearly!

Join Opinion Outpost, one of the few faithful and honest survey panels and earn cash and gift cards for your opinion. Stack your points and redeem them: Simple! No hidden fees and completely free!


But, not all of them deliver as well as Blabber.
If you check out its reviews on Google Play, you'll see that it has a high rating over 4 stars.
What do people like about it?
First, your payment will come through immediately to PayPal once you cash out.
There's no waiting around for days to get your money.
Second, there are no fees from the app itself.
Do be aware, though, that your cell phone service's text and data rates will still apply.
Third, you can still send and get messages the same way as you normally would.
That means that Blabber lets you send multimedia messages in addition to regular texts, so you don't have to worry about them not going through on either end.
Finally, the app secures your information so no third party will ever have access to the content in your texts.
Are There Any Drawbacks to Using Blabber?
Unfortunately, you won't get credited for the text messages you receive, only the ones you send.
So, even if your Granny Dorothy texts you ten times a day saying how much she misses you, those texts won't go toward your 15,000 texts requirement.
It's also important to note that you and your texting recipients have to remain active in the chat to get credited.
Blabber stops you from sending texts after three texts in a row to a recipient who hasn't responded yet.
Once the person texts back, you can send more.
Blabber does that to prevent people from scamming the system by sending hundreds to thousands of texts in a short period of time just to get paid faster.
That's actually a good feature to prevent fraud, but just know that you won't be able to send texts as you normally would.
There are some limitations.
Another thing to remember is that Blabber gets paid from the ads it shows you.
If you don't want to view ads between texts, this app may not be the best choice for you.
One final drawback is that the app can be much laggier than the messaging app you're used to.
The ads do tend to slow things down a bit, especially if you send several texts in a row to friends.
Older devices may even see this problem more than newer devices.
How Can I Start?
If you're interested in signing up, head to the app store for your device.
Here are the direct links for Google Play and iTunes.
Once you've installed it and signed up, you can import your contacts to the app.
Be sure to invite your friends so they can download the app and help you start earning!
Other Ways to Get Paid to Text
If Blabber doesn't look super appealing to you, don't worry.
There are other ways that you can make money from texting!
Here are a few of my favorites:
1Q is an app that pays you to use your mobile device to assist brands in their market research efforts.
It's sort of like a paid survey app, but not quite.
Basically, companies can browse the database of members to find ones that meet their needs for age, location, interests, etc.
They'll send you a message through the app asking a question.
You'll respond with your answer and get paid up to $0.50 per answer!
Sometimes, companies will want to know more so they'll send more questions.
In that case, you'll continue to get paid more for your responses.
Be sure to have a PayPal account set up, as that's the only current form of payment that 1Q offers.
AQA 63336 is a UK company that pays you to answer questions using your text messaging service.
You have to be at least 16 to join and start earning cash.
This place is a lot like ChaCha used to be.
Members can ask any type of question, and within minutes, a responder will have an answer for them.
You'll have to apply for a job here by sending your resume and cover letter to the email address listed on the site.
If you look to be a good fit, someone from the company will contact you.
It's not clear if you have to be a UK resident to apply, but you can always send an email and ask.
It does appear, though, that you'll need to have a good knowledge of British English and slang so that you can fully understand the questions being asked.
Chat Recruit offers a paid text messaging service that won't be for everyone, but it's still one I thought I should add because it might be a good opportunity for some.
Here, you'll text message men who want to chat with women.
You can use your imagination, but should be aware that the chats can end up pretty racy.
There are other ways to make money here, too, including live camera chats, phone chats, and email messaging.
The UK-based company pays you for your time via bank transfer.
You can choose to get paid once or twice per month.
Drizzle SMS is similar to Blabber, but not quite as popular.
This app tends to slow down some devices from ads, but still gives you a way to make some money from texting.
To avoid the slowness factor, you can even reply to your friends and family with Quick Reply, which doesn't require you to open the app.
Like Blabber, Drizzle SMS makes money from advertisements and pays you from the ads it places within your texts.
As a bonus, you can choose from Amazon gift cards, PayPal cash, and more rewards, rather than just the PayPal cash you get from Blabber.
KGB is another site that's similar to how ChaCha used to be.
You can use your phone to provide assistance through text messaging to others.
KGB agents must be at least 18 years old, live in the United States, and be eligible for work in the United States.
You get ten cents for each response that you give, or you can earn five cents from another answer you find that answers the question.
You can work on a flexible schedule, but you must remain active every 30 days, or KGB may release you from contract work.
See Also: Top 22 Email & Online Chat Jobs from Home
Conclusion: Make Money Sending Text Messages
If you love text messaging, you'll love making money with these sites.
No, they won't pay all the bills, but at least they'll help you out.
I definitely recommend trying Blabber first.
It has the highest success rate and the most potential to get you paid.
The other options are good backups for some extra cash.
Have you tried any of these sites and apps?
Let us know your experiences in a comment below!
Related Posts:
Want more money?

Easy Extra Cash! Join the famed Nielsen Computer and Mobile Panel site, install the app and earn rewards just for using the Internet as you do today! Nielsen gives away $10,000 each month.
Guaranteed 100% free membership.