Skillshare – Make Money Teaching What You Know
Updated on: by Amy Kennedy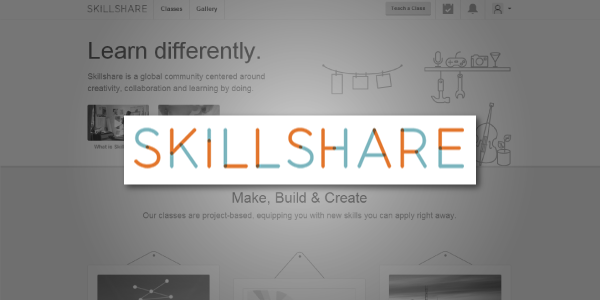 Need Easy Extra $350+/Month For Free?
Skillshare.com is a platform where pretty much anyone can teach virtually anything to anyone. Teachers create classes, decide on a price, and allow students to sign up to take the class. Subjects taught range from web design to techniques for applying eye makeup, and classes can be taught worldwide through online classes as well as locally.
Who Can Teach?
Anyone that has a skill to share can apply to create and teach a class through Skillshare.com. For online classes, however, they require proof that you know what you are talking about. For example, if you want to teach a class on web design, you will have to do a short project to show them that you know what you are doing and are qualified to teach on that topic.
If you are teaching a local class (offline) then there is no application or 'proof of skills' required.
Does it Cost Anything?
Creating a class is free. You choose what to charge and you are responsible for getting students to attend. When applying to teach an online class, a requirement you may see when registering is that you you must get 200 students to sign up for the class to be held. This caused me to be concerned. What happens if you don't get 200 people? Will you have to manually refund everyone who signed up? So, I contacted Skillshare via Twitter and they let me know that the 200 students is not actually a requirement. So, maybe that is more of a goal marker?
Skillshare has various marketing tools and tips to help you out however, and they also have tools to help with curriculum planning. Skillshare receives 12% of the proceeds from the class, so do remember that when setting the ticket price.
What about the Money?
Students purchase tickets directly from you and pay you via PayPal for both local workshops and online classes. This means you get paid per ticket, and then you pay Skillshare their cut. How much you make depends on what you charge, how many sign up, and how many classes you teach. You could make $100,000 per year (as some have), or you may not have anyone sign up.
When choosing your class ticket price, remember to consider the PayPal fees involved. (PayPal fees are 2.9% + $0.30 per successful charge)
What Can I Teach?
Local Workshop classes don't seem to have any limits as to what you can teach. However, since the online learning is still in the Beta phase, they state that the online classes must fit into one of the following categories:
Design
Illustration
Technology
Film
Photography
Fashion
That being said, after browsing through the online classes I was surprised at some of the things that they considered to fit, so check it out before your rule out your idea. For example, how to apply eye shadow is an online class under fashion. As for crafting and other similar topics, they can currently only be taught as local workshops.
Another point I found interesting while browsing the current classes is that many of them are set up in a way that allows the teacher to prepare a lesson and then students can go through the class at their own pace, versus it being a live class. So, essentially if you have a really great lesson plan set up- it could earn you revenue for an extended period of time!
What Current Teachers Are Saying
The current teachers that are speaking out love it. However, I could only find where the successful teachers were talking. I am sure there are plenty out there that post classes which no one takes or they can't get enough people to sign up for- resulting in not getting paid. The good thing is, if you are not successful, you are not out anything but the time to create the class. If you are, you only pay 12% of your proceeds. Most of those that are having success either do it as a side job, or they started out that way and then moved on to doing it full time once they saw they could afford to. Skillshare does not promise you will make a living or even make a penny, but they do offer the opportunity to try.
What are the Best Strategies to Attract Students to Your Skillshare Class?
When it comes to teaching a Skillshare class, attracting students is crucial for the success of your course. Implementing effective strategies to promote and market your class can significantly increase enrollment. Here are some proven strategies to attract students to your Skillshare class:
Create an Attention-Grabbing Title and Description
Your class title and description play a vital role in capturing the interest of potential students. Craft a compelling and descriptive title that clearly communicates what your class offers. Use relevant keywords and phrases that resonate with your target audience. In the description, highlight the value and benefits students will gain from taking your class.
Leverage Social Media Platforms
Utilize the power of social media to promote your Skillshare class. Create dedicated accounts or pages on platforms like Facebook and Instagram to showcase your expertise and engage with potential students. Share enticing snippets of your class content, testimonials, and student reviews to generate interest and drive traffic to your Skillshare profile.
Offer Promotional Discounts or Free Enrollment
Consider offering promotional discounts or limited-time free enrollment for your class. This can help attract students who are hesitant to invest in a new course. By providing a value proposition upfront, you can entice students to enroll and experience the quality of your teaching, potentially leading to positive reviews and word-of-mouth recommendations.
Need Easy Extra Cash?
Pinecone Research, a leading name in online survey panel honesty, absolutely guarantees $3 cash for every survey you complete!
Take advantage of their time limited New Membership drive and register NOW. Join today: 100% free!


Collaborate with Influencers or Peers
Partnering with influencers or peers in your industry can expand your reach and attract a broader audience. Seek out individuals who have a relevant following or expertise complementary to your class topic. Collaborate on cross-promotions, guest blog posts, or joint social media campaigns to tap into their established audience and drive more students to your Skillshare class.
Engage in Skillshare's Community
Skillshare has a vibrant community of learners and teachers. Engage actively in the community by participating in discussions, answering questions, and providing valuable insights. This involvement not only positions you as an authority but also increases your visibility within the Skillshare platform, potentially attracting more students to your class.
Utilize Email Marketing
Build an email list of interested individuals by offering a free resource related to your class topic. Send regular newsletters or updates to your subscribers, providing them with valuable content and showcasing the benefits of your Skillshare class. Encourage them to enroll in your class through exclusive discounts or limited-time offers.
Request Reviews and Testimonials
Positive reviews and testimonials from satisfied students can significantly boost your class's credibility and attract new enrollments. Encourage students who have completed your class to leave a review or provide a testimonial highlighting their learning experience and the value they gained. Display these testimonials prominently on your Skillshare profile and in your promotional materials.
Skillshare Conclusion
It appears that Skillshare.com is a legitimate way to make money online. While it is legitimate and it seems there are those making good money, there is no guarantee of a steady income. It costs nothing to give it a shot, so if you have a skill to share and you want to give it a try, it seems like there is really nothing to lose but a little time setting up the class.

Related Posts:
Earn Everything… nearly!
Join Ipsos iSay, one of the few Faithful and Honest survey panels and earn prizes, gift cards and donations. Stack your points and redeem them: Simple! No hidden fees and completely free!