How to Make Quick Money Legally: 11+ Ways to Earn Cash Fast
Updated on: by Amy Kennedy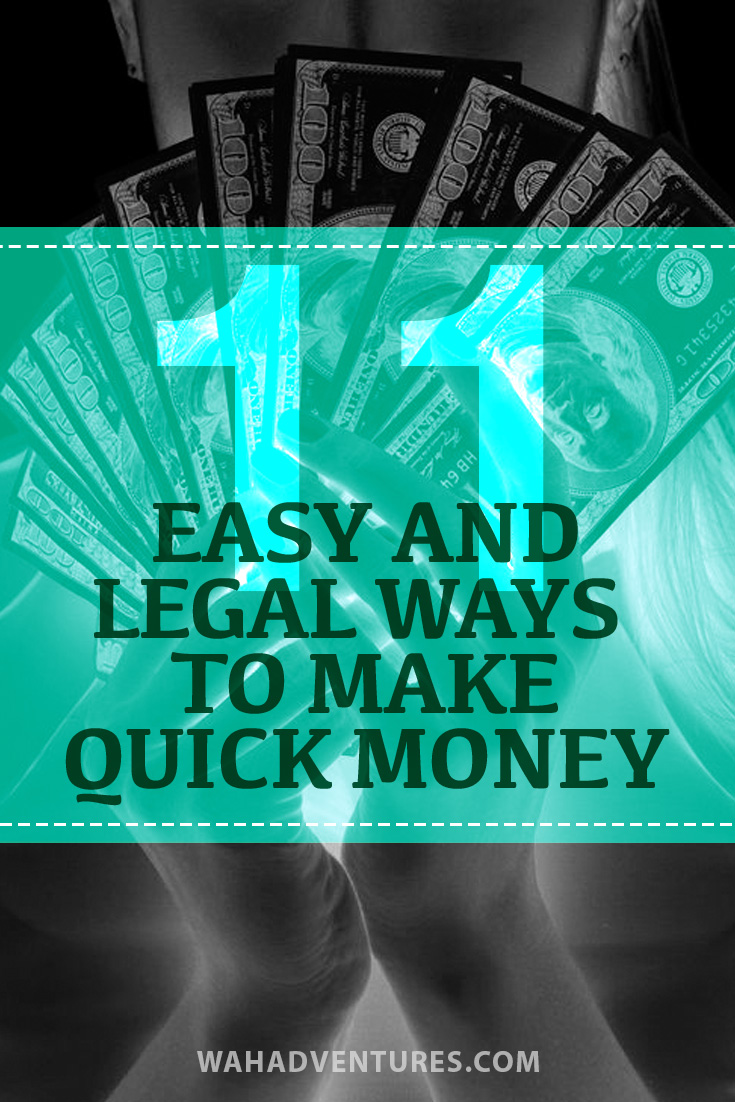 I'm sure you don't want to do anything illegal to make money fast, right?
Need Easy Extra $350+/Month For Free?
Making money illegally is not for most people, and for a good reason.
There are so many ways to make money online and offline, but not all of them are within the realm of the law.
In fact, scams even have a way of disguising themselves as completely legitimate opportunities, only to find out later that you may have been partaking in illegal activities.
Fortunately, you can make money quickly – both online and offline – without getting yourself into trouble.
You just have to think outside the traditional box of money-making opportunities.
From legitimate side hustles to ways to earn $500 a day, I always have some ideas up my sleeves for you!
Here are some of the best legitimate ways to earn money fast; who knows – one may turn into a full-time opportunity for you!
How to Make Quick Money Legally Online
Craigslist
Craigslist can fall under both the "online" and "offline" categories, but since it all starts with use of the website, I'll categorize it as an online money-maker.
Most people use Craigslist to sell locally, but you can also use it to find people in need of your digital services, like web design or article writing.
Craigslist, unfortunately, has its share of scams.
But, just like anything else online, as long as you're vigilant and keep your eyes peeled for red flags, you can weed out the scams from the good opportunities easily.
First, use Craigslist to search your area's listings.
Some people place listings for help with jobs that need to be done right away, so you may get lucky and find a quick job to do that day!
If nothing is coming up there, use Craigslist to sell your stuff.
Selling locally gives you the quickest money-making opportunity, and you may even find a seller the same day you list an item.
Need Easy Extra Cash?
Pinecone Research, a leading name in online survey panel honesty, absolutely guarantees $3 cash for every survey you complete!
Take advantage of their time limited New Membership drive and register NOW. Join today: 100% free!


You can set up an agreement to ship an item, too, but it's not recommended.
Too many people get caught in scams this way, never receiving the money for the item they "sold".
When you list your item, take plenty of pictures and be available to answer any questions.
The quicker you respond, the likelier you'll be to sell it fast.
Newer electronics tend to do well on Craigslist, selling fast and for good prices.
Cell phones, computers/laptops, televisions, video game consoles, and video games are among the best sellers.
But, you can sell anything, really, so go ahead and list whatever you think people may have an interest in.
Fiverr
Fiverr isn't for everyone, but depending on your skills, you can earn a good income from this platform alone.
Some Fiverr sellers earn six figures a year just from Fiverr!
Many people think Fiverr is a low-ball gig-selling service where you can only make $5 off your work.
That's not true.
You can start your gigs at $5 and explain what you'll do for that price.
So, if you write web content, make it clear that $5 will get your buyers 100 words, not 1,000 (or whatever number you're comfortable with for $5).
You can add higher prices to your gigs, too. So, the same writer might offer 500 words for $20.
Once you figure out how much you can complete in an hour, no matter what work you're doing, you can compute an hourly rate you're comfortable with.
Make your gig prices reflect that hourly rate.
Fiverr also has levels for those who complete consistently awesome work with excellent ratings.
The higher your level, the more gigs you can create and the more exposure you'll get.
Plus, you'll have that trust factor of being backed by Fiverr, which can definitely make more customers choose you over others offering similar services, but without the star level.
It takes two weeks for you to withdraw your money from Fiverr, which is the only downfall.
But, once you work consistently, you'll have a constant cash flow.
If you can make it past the first two weeks of waiting, just think about the constant payments that will be coming your way if you stick with Fiverr!
Google My Business
This is an interesting way to earn money, but it's fast and flexible – you can do it whenever you have some extra time.
When you search a business on Google, the business shows up in its own little box, giving you its phone number, location, website URL, and more.
It's all a part of Google My Business.
Businesses need to claim their businesses with Google, though, for their listings to appear this way.
Newer businesses, especially, may not yet know about this handy feature.
That's where you can come in.
You can find unclaimed businesses by doing a quick Google search for a specific profession, like "doctor", "nail artist", or "photographer".
Earn Everything… nearly!
Join Opinion Outpost, one of the few faithful and honest survey panels and earn cash and gift cards for your opinion. Stack your points and redeem them: Simple! No hidden fees and completely free!


Google is smart, so it will pull up businesses near you in those professions.
If you click on the "More Places" section on the bottom of those listings that show up, Google will take you to a larger screen with a map.
Search through the listings and find any that still need to be "claimed".
Google will have a link saying, "Edit this place – Business owner?".
Contact the businesses you found and offer to create the listing for them for $100 or so.
You'd likely be surprised how many business owners will bite for the mere fact that it's one more thing to cross off their hefty checklists!
Sell Clothing
You can sell clothing online just about as easily as you can put up a listing on eBay or Amazon.
With places like Swap and ThredUp, it's never been easier to earn a profit from your gently used (or brand new!) clothing.
Of course, these places have high standards for the clothing they re-sell, so you'll have to pay close attention to everything you ship.
They won't accept certain low-price brands, clothes with tears, holes, or stains, or individual pieces that are supposed to be a set.
Clothing also must be completely clean, free from any fuzz or pet hair, and freshly laundered unless it's new.
The website will take a cut from your sale, but you'll still earn a few bucks for each item you sell.
I personally use Swap, which pays via PayPal every two weeks, and I've made hundreds in a few months of selling old kids clothing!
Write Content
There's a lot of money to be made online with writing as more and more businesses try to reach customers through the internet.
They need good writers who can create informative articles, newsletters, press releases, and more.
Top-notch freelance writers with years of experience can earn hundreds of dollars from one article and thousands for a project.
But, even with no experience, good writers can start quickly to earn money fast.
Freelance marketplaces, like Freelancer, Upwork, and PeoplePerHour are great places for beginners to get started.
You can find clients to ghostwrite articles for, and all you'll need to provide for entry-level positions are a few samples of your writing.
If you have a blog, that's a good place to start building up your samples!
You can also try BlogMutt and ClearVoice (review).
These websites often have several clients who need writers at any given time.
The pay is on the lower end for beginners, but they pay fast.
Plus, you can work your way up as you gain more experience to command a higher rate.
You can even get paid to write reviews or make money writing poetry!
Online Surveys and Market Research
Participating in online surveys and market research studies can be a convenient way to earn some extra cash.
Companies are often willing to pay for valuable consumer insights.
Websites like Survey Junkie, Swagbucks, and Vindale Research offer opportunities to take surveys and earn rewards or cash.
Affiliate Marketing
Affiliate marketing involves promoting products or services and earning a commission for every sale or referral made through your unique affiliate link.
You can join affiliate programs of various companies, such as Amazon Associates or ClickBank, and promote their products on your website, blog, or social media platforms.
When someone makes a purchase through your link, you earn a commission.
Learn more about affiliate marketing.
Online Tutoring
If you have expertise in a particular subject, you can offer online tutoring services and get paid for helping students learn.
Platforms like Tutor.com, Chegg, and VIPKid connect tutors with students seeking academic assistance.
You can provide one-on-one tutoring sessions, help with homework, or even teach language lessons remotely.
Dropshipping
Dropshipping is an e-commerce business model where you set up an online store and sell products without actually stocking inventory.
When a customer places an order, you forward it to a supplier who ships the products directly to the customer.
Platforms like Shopify make it easy to start a dropshipping business.
You earn profit by selling products at a higher price than the supplier's cost.
Make Money Fast and Legally Offline
Deliver Stuff
People are making all kinds of money becoming delivery people for those in their neighborhoods.
Postmates, for example, matches delivery people with those who need things delivered, like food from a restaurant or a morning coffee.
You could always go a step further and reach out to those in their neighborhoods to see what they need help with.
Elderly people may want you to run errands for them, like grocery shopping or picking up prescriptions.
Ask businesses if they need any help, too.
You could, for example, deliver the office workers' lunches for a fee.
Donate Plasma
Donating plasma for money is a legit cash-earning opportunity.
People who donate consistently, twice per week (the maximum most places allow), can earn about $400 per month.
Plus, most donation centers, like BioLife, add your funds immediately after donation to a convenient debit card from the center.
Every time you donate, your funds get loaded electronically, and you'll have access to them right away.
As long as you're in good health and you pass the pre-screening before each appointment, you can donate.
BioLife even has dedicated playrooms for young children, so if you need to bring your kids along, it's no problem!
Offer Neighborhood Services
There's almost no end to the number of services you can offer right in your own neighborhood.
Usually, at least a few people would love to pay someone to take care of things they don't have time for.
Here are just a few ideas:
Pet sitting
Dog walking
House sitting
Painting
Handy work/repairing
Lawn care/landscaping
Setting up/taking down yard sales
Car washing/maintenance/repairs
Babysitting
Elder care
Power washing homes/sidewalks
Cleaning pools
Think outside the box: who lives in your neighborhood?
What do they do? What might they need help with?
What would YOU gladly pay someone to do?
Do it yourself for some extra cash!
Share Your Car
Have you thought about becoming a rideshare driver?
Or, you can rent your care to others when you don't use it.
Car sharing is quickly becoming one of the best ways to earn some extra money quickly.
It's worth a shot.
After all, your car doesn't pay for itself – but, it could if you decided to share it!
Try Uber to learn more about its ridesharing service, or HyreCar to learn about renting your car to Uber and other rideshare drivers.
Use Apps
Yes, there are smart phone apps that pay real cash! And, they're becoming the new face of the local gig.
Apps like GigWalk and Zaarly help you connect with others in your neighborhood who need things done.
It could be anything from a quick shopping trip to a huge renovation.
Once the job is complete and the person approves it, the app will securely pay you the money.
Field Agent is more for quick tasks, like visiting a store to take some photos of a specific promotional display or completing a mystery shop.
Most jobs pay between $3 and $12, and they pay directly into your PayPal account for some quick cash.
Use the Pawn Shop
As a last resort for some fast cash, you can always resort to using the pawn shop.
It's not the best way to make a quick buck, but it works.
You can choose to either sell something to the pawn shop, or pawn it for some cash and return to pay the loan back by the due date.
Not everything will make you decent money at a pawn shop, though.
It's best to stick to high-price items, like jewelry, antiques, collectibles, power tools, electronics, and vehicles.
Conclusion: Make Money Fast & Legally
These are just a few of the possibilities you have to make money fast and legally.
As you can see, most quick money-making opportunities come from the internet and your neighborhood, so it's best to zero in on those areas.
Remember, though, that when you're making money fast, you shouldn't focus on high-paying opportunities.
These can come later, but most quick money makers will just give you some extra cash needed right away, not a full-time paycheck.
Still, you can always keep working on the things that work for you and turn your cash-earning hustles into legitimate jobs.
If so, you'll never be strapped for cash again!
Recommended article: 101 Free Money Making Apps
What are your favorite ways to earn money fast (and legally!)?
Let us know in a comment below!
Related Posts:
Earn Everything… nearly!
Join Ipsos iSay, one of the few Faithful and Honest survey panels and earn prizes, gift cards and donations. Stack your points and redeem them: Simple! No hidden fees and completely free!