Meet Shanae Dykes- a Resume Builder
Updated on: by Amy Kennedy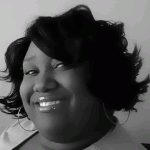 Need Easy Extra $350+/Month For Free?
Who is Shanae Dykes?
Definition: An adventurous, outgoing and colorful person that believes that love has the ability to conquer all! A professional resume designer with a goal in mind – to change the world of resumes!  A loving wife, a little sister who thinks she's the big sister, a charismatic daughter and a "get up and dust yourself off" friend. An animal lover, a future mom and supporter of others and their dream.
A professional who has completed several college courses geared toward Business Administration with a focus on finance and human resources. A person who has worked in several capacities including, Executive Administrative Assistant, Office Coordinator/Facilitator, Operations Assistant, HR Assistant and Recruiter.  A motivated representative with knowledge and expertise in the finance, human resource, engineering and real estate industry.  A phenomenal work at home expert with over 10 years experience in customer service, sales and marketing.
How did you get started in the Resume Building Business?
Years ago I began doing free resumes for some of the women at my church.  Since I am experienced in the HR field, I would get lots of questions about companies that were hiring, best ways to land a job, places to look for jobs, etc. After helping several people with their resume, it was then I realized that I had something special.
After being laid off from work I found out about telecommuting and was overjoyed by the idea of working from home. So, I looked into some other business opportunities only to find out that I hated selling stuff!  After about a year of wasting money on failed, pie-in-the-sky business adventures, I decided to go into business for myself.
Finger Paint Designs was actually birthed with the name of MyVirtume (My Virtue May).  However, I decided to change the name to Finger Paint Designs because I no longer wanted to target one audience.
Since I have started this business, I have made some really good friends and have heard some wonderful testimonials. Finger Paint Designs has been an emotionally rewarding career decision and I couldn't see myself doing anything else.
What methods do you utilize to advertise your service?
Most of my business is generated through word of mouth, however I typically use social media marketing when I advertise.  Social Media marketing is the best way to advertise any business because people like to be social.  Friends enjoy chatting online, texting one another and finding out about new technology and innovations. They also like to share insight on products and services they use – especially if its affordable.  So if you have a business and is having problems with getting the word out about your services… get social!
Are there any expenses involved with running your own Resume Building Business?
One of the best things about working from home is that you have minimal overhead costs.  Yes, I have expenses but they are very cost-effective.  Because my costs are so low, I pass on the savings to telecommuters by allowing them to utilize a service that is affordable.
What are some tips you could give someone interested in beginning their own web-based business?
* 
You Are Great – So Believe In You
Many times our goals and aspirations are limited to small expectations because we can't grasp the concept of it "being me".  Don't allow anyone to discourage you and tell you that success is only for certain people – it's not. It was created for all of us and its in your reach if you just believe.
* Don't Take Down.. Ever!
If you read the success story of any famous person you'll see that everything did not just fall into their lap on one glorious day.  When you first start your business, it's not going to be easy.  You're not going to immediately see money and you're not going to have a trail of people beating your door down to purchase your service.  It's important that YOU stay self-motivated and enthusiastic about your business. If you stay rooted and grounded you will eventually see a return on all of your hard work.
* Honey, Work Your Resources.
If you have a business idea but can't afford to start a business, start your business (lol).  Don't allow money to stop your dream or put it on hold.  There are a lot of resources on the Internet to help jump-start your business with low investments. Gather your resources and make a plan on how you're going to push your business. Whatever you have, use it.  If you only have five extra dollars a month, use that and make it work for you!
* Build A Customer Focus Foundation.
Don't allow money to be your main motivation. Have you ever heard that saying, "a customer is always right"? Whoever created this statement understood the concept and the importance of happy customers.  It's not about exchanging money for a product.  It's about being genuinely concerned with their needs, providing a resolution and making sure that they're completely satisfied with the results.  If you start your business based on this concept, it will be very rewarding mentally as well as financially.
Are there any resume building tips you can share with us?
Need Easy Extra Cash?
Pinecone Research, a leading name in online survey panel honesty, absolutely guarantees $3 cash for every survey you complete!
Take advantage of their time limited New Membership drive and register NOW. Join today: 100% free!


* 
Always highlight your skills.

Show off your talent.  Recruiters don't want the average Joe; they want the extraordinary Sue.
* Explain employment gaps (use a gap clause).
Unexplained gaps in employment have huge negative impacts on resumes.
* Keep your resume updated.
Your resume should always stay updated with the most current employment and education history.
* Objectives are not a thing of the past.
I read where someone stated that objectives are out dated because employers already know what you want.  That is not true.  If your career goal (which is your objective) match an employers idea of a perfect candidate, you increase your chances on getting hired. Keep those objectives going!
* Don't cookie cut your resume.
If you can not afford to get a professional service to design your resume, create your own. Think of a unique way to design your resume and show off your creativity!!
* Never, Ever Lie.
One of the worst things that you can do is add misleading or inaccurate information to your resume.  There are two things that can happen: (1) The recruiter can find out the truth during the preliminary screenings and disqualify you from ever being considered for a job with the company or (2) you get the job and the truth is found later which results into termination.  Never lie about your skills, education or experience because it can discredit you as a professional with moral integrity.

Editors Note: Shanae Dykes is the creator of her own successful Resume Building Website at FingerPaintDesigns.com! I have been blown away by the results of her work and I have seen for myself just how effective her resumes are!  Be sure to check out her unique business!
Keep in touch through the month of July as we will be meeting several people who have created their own web-based businesses from the ground up! Be sure not to miss a post by signing up for the newsletter at the top right corner of the page!
Related Posts:
Earn Everything… nearly!
Join Ipsos iSay, one of the few Faithful and Honest survey panels and earn prizes, gift cards and donations. Stack your points and redeem them: Simple! No hidden fees and completely free!