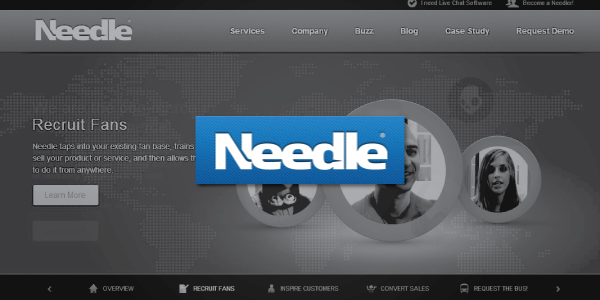 Need Easy Extra $350+/Month For Free?
There are many readers who dream of having a work at home chat job. I have come across many legit companies that initially made me very excited. Unfortunately most of those chat jobs were not very promising, paying very little per chat or simply never really coming to fruit. Then things changed for the better. I learned all about Needle.com! Needle offers an hourly work at home chat job.
Who is Needle.com?
Needle is a fairly new company, beginning in November of 2009. In only a short 3 years they have gained the trust and confidence of many great companies such as Overstock, Norton, Skull Candy, Under Armour, Coach, Norwegian Cruise Lines and many other top brands. Needle offers chat support and hires agents to work from home providing customer assistance as needed.
What is the Pay Structure at Needle?
This is where I personally get very excited about Needle. They pay an hourly rate! I have a feeling the pay could vary depending on the specialty you are hired for but the several people online who have shared their hourly rate at Needle say they make $10 per hour. In addition to the hourly pay Needlers (as they are referred to by Needle) earn incentive points based on a variety of factors such as how quickly you respond to a chat requests, the number of sales you make and customer satisfaction scores. The points can be exchanged for products such as an iPad, Speakers, Hoodies and other items from their clients.
Needlers are Independent Contractors and therefore do not have taxes withheld from their paychecks. Being a Work at Home Chat Agent for Needle.com is considered being self employed.
When and How does Needle pay their chat agents?
Needle pays every Monday through PayPal for the work completed the previous week. The pay week is from Sunday to Saturday. There is very little waiting time for your pay!  This is a GREAT benefit for work at home chat agents at needle.com.
What is the Scheduling like at Needle.com?
Scheduling is also pretty awesome. Needle chat agents have a very flexible scheduling system! They are able to make their own schedule. Available schedules are released at a set date and time. Agents can then grab the hours they would like to work as they are available. You schedule one hour increments.
You can release your commit time if something comes up but it must be at least 6 hours prior to the hour you are schedule to work.
The down side to this style of scheduling is that if available hours are low- you will be fighting for your schedule. But on the plus-side of things you can work under 'freeskate'. Which means you can log in and work unscheduled 24 hours a day 7 days a week. Then, you can grab any overflow chats when scheduled agents are busy. The pay for these chats are still at the $10 an hour rate but you are only paid for the time you actually spend in a chat while in 'freeskate', or unscheduled, mode.
Applying for Needle.com
Wow the application process is brutally confusing. You are required to link your Facebook page to apply when jobs are available.  The actual application part is very simple. For example, I applied for the recent Home and Garden chat position for their client, Overstock. I answered a few questions to help them determine my knowledge and experience in home and garden and customer service. Once I submitted my application it redirected me to what appears to be a needler hub or dashboard page. It offered me the ability to go ahead and begin steps of training…without really any explanation. I recommend completing this section as it proves you are motivated.
Then you just wait and hope to receive an email offering you a position with Needle.com. They will not send you a reject letter, so the hope is left hanging in the air. (be sure to watch your spam box)
Unfortunately, if you hear of another position open with Needle.com there is no way for you to apply for it unless you have multiple Facebook pages to use to apply under.  An inside source tells me this is something Needle is working to improve. They would like for you to be able to apply for multiple positions and are working to make it possible.
Heard Back from Needle.com? Interview Process:
Interviews with Needle.com are held via chat. During the interview needle.com will ask more detailed questions to learn more about you and your skills. Additionally, it gives you the opportunity to ask any questions as well. From my understanding, you will not know at the end of the interview if you have the position as a chat agent with needle.com. Once decision is made Needle will send you an email if you are hired. I do not believe they send reject emails, but I would assume it could mean they keep you in mind just in case. Again, it can feel very confusing.
Earn Everything… nearly!

Join e-Poll, one of the few faithful and honest survey panels and earn cash - paid via PayPal - gift cards for Amazon, Best Buy, iTunes, Starbucks, and Walmart, plus Retail e-vouchers.
The surveys are aimed at entertainment-related research, covering such things as personal TV watching habits, give feedback on new TV commercials or to review DVDs that are sent to your home.
For USA residents aged 13+. No hidden fees and completely free!


You can visit Needle.com and apply using their general application. However, I highly suggest NOT applying this way and instead wait until they are hiring for a specific position you are qualified for- remember at this point- you may only have one chance.
Current openings will be shared on the WAHA Facebook and our WAH Job Leads page whenever I am aware of an open position. I usually find out about openings through WAH forums where current needle chat agents share the news. Needle doesn't seem to advertise broadly when they are hiring. I am sure they receive plenty of applications regardless.
Current known work at home chat job openings:
It is unknown if Needle is hiring for the following clients:
Related Posts:
Want more money?

Easy Extra Cash! Join the famed Nielsen Computer and Mobile Panel site, install the app and earn rewards just for using the Internet as you do today! Nielsen gives away $10,000 each month.
Guaranteed 100% free membership.