Needle.com Review 2023: Is It a Legit Work at Home Job?
Updated on: by Amy Kennedy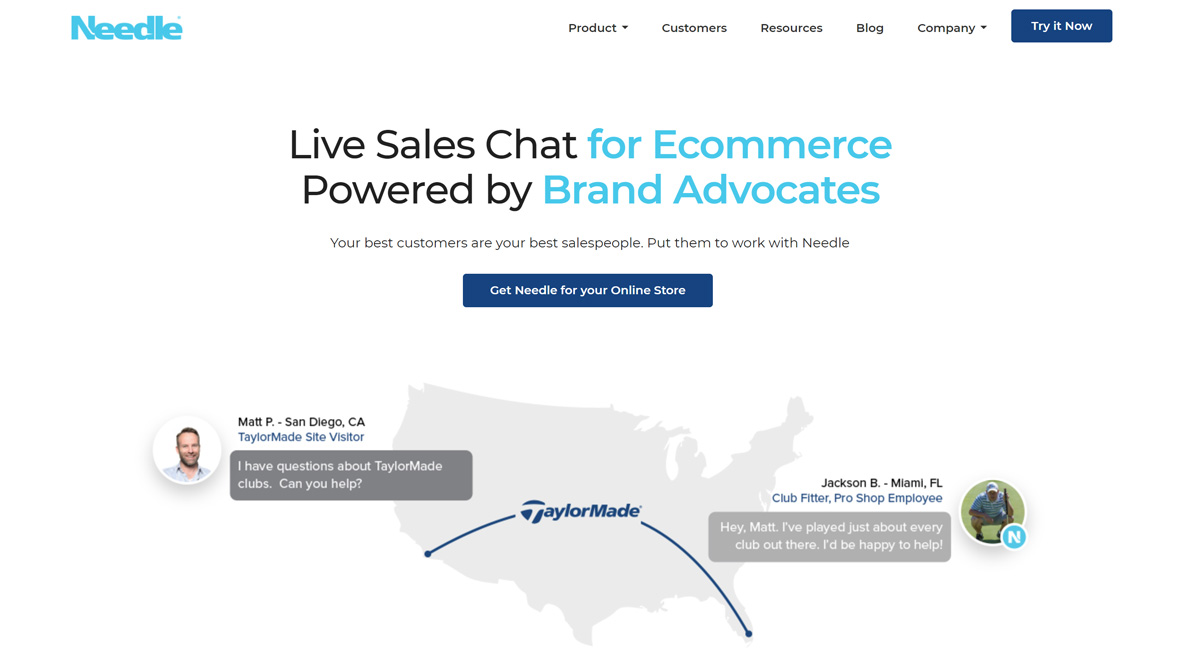 There are many readers who dream of having a work at home chat job.
Need Easy Extra $350+/Month For Free?
Chat jobs tend to be more popular in the work at home world because many people who want to work from home are parents with kids in the house.
Anyone with children knows how tough it can be to try to talk on the phone with kids around!
We offer a full list of the newest non-phone work at home jobs here at Work at Home Adventures, specifically for those looking for these types of jobs.
We also dig deeper into some of the most popular remote chat jobs so that you can learn more about the companies, what they offer, and figure out if their positions are right for you.
That brings us to this Needle.com review, where I'm going to outline everything you need to know about Needle work from home jobs.
I have come across many legit companies that initially made me very excited.
Unfortunately, most of those chat jobs were not very promising, paying very little per chat, or simply never really deliver on their claims.
Then I was introduced to Needle.com, so I wanted to learn more about it and how its positions work.
Needle offers an hourly work at home chat job that's flexible and fun and a lot of people seem to enjoy.
What is Needle.com?
Needle is one of the newer companies to arrive on the scene and offer at-home chat jobs, but it's been around since November of 2009.
In only a couple of years they gained the trust and confidence of many great companies such as Overstock, Norton, Skull Candy, Under Armour, Coach, Norwegian Cruise Lines and many other top brands.
Needle offers chat support and hires agents to work from home providing customer assistance as needed.
Over the years, as the company has grown, it's changed its model a bit, but its positions remain the same: They're all customer service, chat-based jobs.
Needle differs quite a bit from its competition, though.
There are a lot of chat products designed to help brands deliver awesome customer service to anyone who visits their sites.
Need Easy Extra Cash?
Pinecone Research, a leading name in online survey panel honesty, absolutely guarantees $3 cash for every survey you complete!
Take advantage of their time limited New Membership drive and register NOW. Join today: 100% free!


However, Needle representatives edge more on the side of brand ambassadors.
Their job is to know everything they can about certain brands and products so that they can help others find exactly what they need online.
What's the Job?
Needle.com calls its customer service representatives "Advocates" because they are required to know a lot about the brands they're providing customer service for.
This is so that they can help customers in the most efficient ways possible find exactly what they need.
You might also hear these positions referred to as Needlers, which is just another term for an Advocate.
Needle works with major brands to provide help to their customers through you, the Advocate.
Advocates are expected to assist customers with their questions or concerns by helping them do things like finding just the right product or finishing the checkout process.
Advocates are also encouraged to share their own shopping experiences and take into account the needs and interests of each customer to create a relationship that makes consumers feel comfortable and appreciated.
You should also be prepared to offer feedback to the brands you work with.
If you notice that a lot of customers are getting error messages on specific pages or aren't able to find what they need on the brand's website, then you might mention those issues to the company.
Overall, your job is to help build a connection with the brand and its customers for smooth shopping and checkout processes.
All of this work is done via online chat, so you'll never need to worry about taking or making phone calls or handling emails.
Will I Be an Employee or Independent Contractor?
Needlers are Independent Contractors and therefore do not have taxes withheld from their paychecks.
Being a Work at Home Chat Agent for Needle.com is considered being self-employed.
Although this is beneficial for those who want flexibility a regular job usually can't provide, you'll also need to remember to set aside tax money for paying your taxes each year.
You might also need to pay taxes quarterly, rather than annually, but you can consult with an accountant to learn what's right for your situation.
As an independent contractor, you're free to work with other companies while you're working with Needle.com, so you have more opportunities to expand your income.
What is the Pincushion?
During the application process or your quest to learn more about Needle, you might keep seeing the term "pincushion" pop up.
The Needle.com Pincushion is where all brand advocates will go to login to their accounts.
This is where you'll find everything you need to know, basically, like your project information, your accumulated points, and more.
Think of it like your home as a Needler where you'll find everything you need to get your job done.
What is the Pay Like at Needle?
This is where I personally get very excited about Needle. They pay an hourly rate!
Needle pays every Monday through PayPal for the work completed the previous week.
The pay week is from Sunday to Saturday.
There is very little waiting time for your pay!
This is a GREAT benefit for work at home chat agents at needle.com.
I have a feeling the pay could vary depending on the specialty you are hired for but the several people online who have shared their hourly rate at Needle say they make $10 per hour.
UPDATE 2023: Needle reportedly no longer pays an hourly rate to its Advocates. According to the website, the only pay you'll receive is in the form of points, which you can learn more about below. However, some Needle Advocates report that some clients do pay their Advocates per chat, although no specific amount has been disclosed.
Needlers earn incentive points based on a variety of factors such as how quickly you respond to a chat requests, the number of sales you make and customer satisfaction scores.
Earn Everything… nearly!
Join Opinion Outpost, one of the few faithful and honest survey panels and earn cash and gift cards for your opinion. Stack your points and redeem them: Simple! No hidden fees and completely free!


The points can be exchanged for products such as an iPad, Speakers, Hoodies and other items from their clients, although there's no public information you can access to see what specific types of products are available to choose from.
It seems that only Advocates who've been accepted have access to the redemption catalog.
Although getting points to turn in for products and other prizes can seem fun, you also need to remember that these products won't pay the bills.
Since Needle.com switched over to this payment method, I don't recommend it for anyone looking for a regular job.
Instead, you might use it as something a little extra for a few hours a week to earn points for birthday gifts, special occasions, or just occasional treats for yourself.
How to Withdraw Earnings
Withdrawing your payment from Needle.com is a simple and important process that allows you to access the funds you have earned as a brand advocate or Needler on the platform.
Needle.com offers various payment methods to ensure convenient and secure transactions.
To help you navigate the payment withdrawal process smoothly, follow the comprehensive steps below:
Log in to your Needle.com account: Begin by logging in to your Needle.com account using your registered credentials.
Access the account settings or profile settings section: Once you're logged in, locate and navigate to the account settings or profile settings section within your Needle.com dashboard.
Find the payment or withdrawal settings: Within the account settings, look for the "Withdraw Funds," option Click on this option to access the payment withdrawal functionality.
Review requirements and restrictions: Before proceeding with the withdrawal, carefully review any specific requirements or restrictions associated with payment withdrawals on Needle.com. This may include minimum withdrawal amounts, transaction fees, or any eligibility criteria.
Enter the withdrawal details: In the payment withdrawal section, you will find fields or options where you can enter the necessary details. Provide accurate information such as the amount you wish to withdraw and the preferred payment method. Needle.com typically offers various payment methods, such as direct bank transfers, PayPal, or other digital payment platforms.
Verify the entered information: Before finalizing the payment withdrawal, double-check the entered details to ensure accuracy. Verify that the withdrawal amount and payment method are correct to avoid any potential issues.
Initiate the payment withdrawal: Once you have verified the information, initiate the payment withdrawal by clicking on the "Withdraw" button. This action will prompt Needle.com to process your withdrawal request based on the provided details.
Await payment processing: After initiating the payment withdrawal, allow Needle.com some time to process your request.
Receive payment confirmation: Once your payment withdrawal has been processed, Needle.com will provide you with a confirmation message or email.
Monitor payment status: If necessary, you can monitor the status of your payment withdrawal within your Needle.com account or through any provided transaction tracking options.
What is the Scheduling like at Needle.com?
Scheduling with Needle is pretty awesome for people who need a flexible schedule.
Needle chat agents have a very flexible scheduling system because they are able to make their own schedule.
Available schedules are released at a set date and time.
Agents can then grab the hours they would like to work as they are available.
You schedule in one-hour increments, so it's easy to work around things like school functions and doctor appointments if you have kids.
You can release your commitment time if something comes up but it must be at least 6 hours prior to the hour you are scheduled to work.
This is simply so that Needle has ample time to see if someone else can cover your time.
The downside to this style of scheduling is that if available hours are low, you will be fighting for your schedule.
But on the plus-side of things you can also work under 'freeskate'.
That means you can log in and work unscheduled 24 hours a day 7 days a week.
Then, you can grab any overflow chats when scheduled agents are busy.
The pay for these chats are still at a similar rate for the points system but you are only paid for the time you actually spend in a chat while in 'freeskate', or unscheduled, mode.
Pros and Cons of Becoming a Needle Advocate
Needle has been a highly talked about chat job for people who want to work outside of a traditional chat job, but it definitely has mixed reviews.
Here are some of the common pros and cons of Needle, according to people who have worked as an Advocate with the company:
Pro: Varied Work
It's possible to work with a lot of people and a variety of brands on any given day on the job at Needle, which can be really fun for people who don't want to do the same stuff every day.
Needle works with a lot of big-name brands in the retail industry, many of which you're probably passionate about already.
What's more fun than getting to talk about some of your favorite brands and helping others discover new things they might love too?
Pro: Independent Work
This could be a pro or con, depending on your personality.
However, most Advocates like that the work is very independent, so they don't have to worry about a boss or co-workers standing over their shoulder watching their moves.
As long as you're doing your job well, Needle will pretty much leave you to do your thing and help your customers.
Con: Paid by the Number of Chats You Get
Rather than giving you a set payment for the amount of time you're logged in according to your schedule, Needle appears to only pay you for the chats you get.
In other words, you could be sitting around for an hour during your scheduled block without a single chat coming your way, which means you won't get paid at all for your time.
You'll really need to weigh whether or not that kind of job is right for you, even if you're only doing it as a fun gig on the side.
Con: Incentives Aren't Worth It
According to several Needle reviewers, the incentives the company has for Needlers just aren't worth the time they spend helping others shop.
Sure, you have access to cool prizes and maybe some gift cards once in a while, but that's similar to what you can do taking surveys online.
Only this work involves a lot more work than that.
The fact that Needle no longer finds it necessary to pay its Advocates has led many to say that the company doesn't value the hard work they do for the company's clients.
The Application Process for Needle.com
I spent some time researching the Needle application process and came to one conclusion:
Wow the application process is brutally confusing.
You are required to link your Facebook page to apply when jobs are available.
The actual application part is very simple.
You can choose to fill out a general application for Needle to consider matching you with clients that interest you.
However, it's usually better to apply for brand-specific positions.
For example, I applied for the recent Home and Garden chat position for their client, Overstock.
I answered a few questions to help them determine my knowledge and experience in home and garden and customer service.
Once I submitted my application it redirected me to the Pincushion dashboard.
This is where things got a little more confusing.
It offered me the ability to go ahead and begin steps of training…without really any explanation.
Although it's confusing, I highly recommend completing this section as it proves you are motivated.
Needle does provide all the training materials you'll need for free, but it's up to you to go through all this on your own.
You might also be prompted to take some basic skills tests, like a typing test and one that asks you about typical customer service scenarios.
Then you just wait and hope to receive an email offering you a position with Needle.com.
They will not send you a reject letter, so the hope is left hanging in the air. Be sure to watch your spam box.
According to other Needlers, if you're accepted after the initial application phase, you'll move onto practice chats that test your ability to chat with customers like you'll do during a real chat.
Pass those tests and you'll move onto a final interview via chat with a recruiter.
That seems like a big mess to go through without even getting an actual paycheck at the end, right?
Heard Back from Needle.com? Here's What to Expect from the Interview Process:
Interviews with Needle.com are held via chat.
During the interview, a recruiter will ask more detailed questions to learn more about you and your skills.
For example, he or she might ask you if you've had previous customer service experience to gauge how well you might do with a Needle position.
Additionally, it gives you the opportunity to ask any questions as well.
From my understanding, you will not know at the end of the interview if you have the position as a chat agent with Needle.
Once a decision is made, Needle will send you an email if you are hired.
Again, it can feel very confusing and it's a lot to go through just to get points.
How to Apply to Needle
I know that Needle chat jobs certainly won't be right for everyone, but there's a fair share of Advocates who really seem to enjoy what they do.
You never know unless you try.
You can visit Needle.com and apply using their general application.
However, I highly suggest NOT applying this way and instead wait until they are hiring for a specific position you are qualified for.
Remember at this point you may only have one chance.
When Needle lists open positions on its site, then it is actively recruiting for chat agents for those specific clients, which is a better way for you to get your foot in the door.
Keep the registration page bookmarked and check back every week or so to see when new positions become available.
Good luck!
Can you Opt Out of Needle.com?
Yes, you can opt out of Needle.com.
The process for opting out involves a few simple steps. First, you need to log in to your Needle.com account using your login credentials.
Once you are logged in, navigate to the account settings or profile settings section within your Needle.com dashboard. Look for the option  "Deactivate Account."
Take the time to carefully read any information provided about the consequences of opting out.
Understand that opting out will result in the termination of your role as a brand advocate or Needler on the platform. You may also lose access to the platform itself, as well as any associated benefits or incentives.
If you are sure about your decision to opt out, confirm it by clicking on the provided confirmation button or link.
Depending on the platform's requirements, you may be asked to provide additional information or complete an exit survey, but usually, this step is optional.
Once you have confirmed your opt-out request, Needle.com should send you a confirmation message or email. This communication will acknowledge your decision to opt out and confirm the deactivation of your account.
If you've worked with Needle as an Advocate, we'd love to hear from you!
What was your experience like? What can you tell us about the pay and scheduling?
Feel free to leave a note below.
Related Posts:
Earn Everything… nearly!
Join Ipsos iSay, one of the few Faithful and Honest survey panels and earn prizes, gift cards and donations. Stack your points and redeem them: Simple! No hidden fees and completely free!