Why New Freelance Writers Should Use Content Mills
Updated on: by Amy Kennedy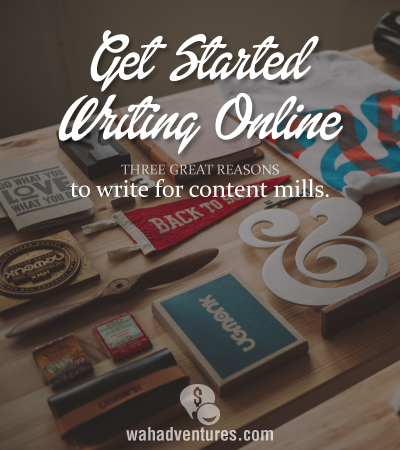 Content mills have garnered a bad rap. Experienced freelancers bash them in forums and warn newbies away from them. But are content mills really that bad? No, they're not, and if you haven't ever written online, here are three reasons why you absolutely should write for one of these sites.
Need Easy Extra $350+/Month For Free?
1. Experience
When you first start looking for writing work online, you don't have a clue how to do it. Even if you have a four year degree in journalism, you will soon learn that online writing isn't exactly like the writing you learned in college. One of the easiest ways to gain experience is to write for a content mill. This is a site that basically pairs clients who want written content with writers who will write it. The pay is much lower than if you were to find clients on your own. But right now, you have no contacts and no idea how to find them. Start earning a part-time paycheck with a content mill and listen to all the feedback that the editors give you. They will help you learn to hone your new writing skills.
2. The Forums
The forum of any content mill is a great place to hang out in your spare time. The writers who contribute to these forums are talented and experienced in the world of online writing, and they have a lot of knowledge to impart to you. Each forum has its own set of rules, but some of them do allow mention of competing sites. This is where you can learn which sites are best and which ones aren't worth your time. There are also threads that teach you how to find private clients and links to websites that will help you improve your writing. In short, these forums are your goldmine, or at least a stepping stone to finding your own gold.
3. A Paycheck
When you first start writing online, what you really crave is a paycheck. You want to be able to say that your writing skills have put money in your pocket. So even though you aren't making the big bucks yet, the satisfaction of earning a paycheck, due completely to your fabulous writing skills, will empower and motivate you.
6 Tips to Maximize Your Earnings on Content Mills
Content mills can be a great source of income for freelance writers, providing you with a steady stream of work. However, it's important to strategize effectively to increase your earnings from these platforms. Here are six tips that can help you maximize your income from content mills.
1. Specialize in a Niche
Finding a niche or a specialized subject matter can increase your value as a content creator. By specializing in a specific area, you can develop expertise that can make you more attractive to clients looking for specialized content. This expertise can often command higher pay rates. Research emerging or high-demand topics, and strive to become an expert in those areas. This will help you stand out among other generalist writers.
2. Prioritize Quality Over Quantity
Many writers make the mistake of taking on too many assignments at once, aiming to maximize earnings through volume. However, producing a larger quantity of mediocre content can harm your reputation and potentially decrease your job opportunities over time. Prioritizing quality and delivering excellent work will help you build a positive reputation, leading to more job offers and the opportunity to charge higher rates.
3. Improve Your Speed
While it's important not to sacrifice quality for quantity, improving your writing speed can also help you maximize your earnings. The faster you can complete high-quality assignments, the more assignments you can take on. Practice your typing speed, learn to brainstorm effectively, create outlines before you start writing, and minimize distractions to increase your productivity.
4. Leverage SEO Knowledge
Many clients on content mills are looking for content that will help them rank higher in search engine results. If you understand search engine optimization (SEO) strategies, you can provide this value to your clients, and you'll likely be able to charge higher rates. You could consider taking courses on SEO or reading up-to-date articles and blogs to keep your SEO knowledge fresh and relevant.
5. Establish Long-Term Relationships
Building long-term relationships with clients can provide a steady stream of work and higher pay over time. As you develop a history with a client, they're likely to trust you with more significant projects and be willing to pay higher rates for your work. Always communicate effectively, meet deadlines, and strive to exceed expectations to foster these long-term relationships.
6. Continuously Learn and Adapt
Content writing is an ever-evolving field, and staying updated with industry trends, techniques, and tools can help you stay competitive. Consider investing time in learning new skills, like using different content management systems, understanding digital marketing, or mastering a new writing style. The more versatile you are as a writer, the more opportunities you have to earn money.
After writing for a content mill for a length of time, you will have gained valuable experience and insight into finding better paying clients. Put in your time and you will be rewarded. Disregard the naysayers who want you to market yourself and spend a lot of time and energy finding clients. First, gain experience at a content mill. Then, you will have the experience and knowledge to move forward.
Related Posts:
Earn Everything… nearly!
Join Ipsos iSay, one of the few Faithful and Honest survey panels and earn prizes, gift cards and donations. Stack your points and redeem them: Simple! No hidden fees and completely free!


Need Easy Extra Cash?
Pinecone Research, a leading name in online survey panel honesty, absolutely guarantees $3 cash for every survey you complete!
Take advantage of their time limited New Membership drive and register NOW. Join today: 100% free!