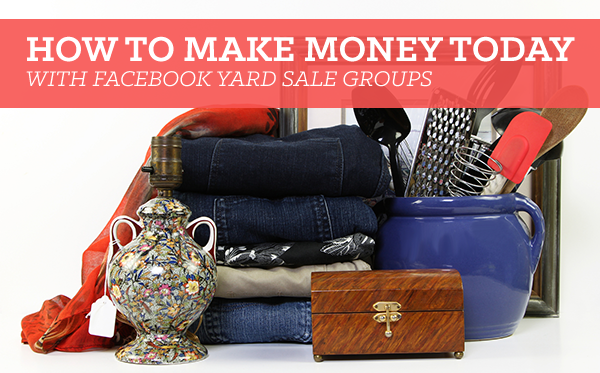 Need Easy Extra $350+/Month For Free?
Rummage sale, garage sale, yard sale….whatever you call it- Selling your unused household items is a great way to bring in some extra money when you're in a crunch. However, a yard sale can take a lot of work and time to organize and set up. From needing tables to having a prime location for traffic and even the time of year can really put a damper to your yard sale.  However, there is a way to skip all of the hassles of a traditional rummage sale and you can even make a steady extra income!  Online rummage sales are becoming a highly popular way to make and save money.
There are many platforms online to sell your unwanted items like ebay and craigslist. But one that is a little less known uses Facebook Groups. In these groups people are able to post images of items they want to sell. Interested buyers can then comment to ask for more details or claim the item.
What is a Facebook Group?
Anyone can begin a Facebook Group and then invite others to join. It creates a unique newsfeed particularly for the people who are part of the group. It's a great way to meet like-minded people for conversation or, in this case, sell unwanted items or even find great deals on things you want or need.
What Can You Post?
Anything you don't want! Jewelry, clothes, household items, holiday decorations, baked good, crafts, toys….it's a yard sale- just online!
How to Post in Online Rummage Sales
After you have joined a local online rummage sale group on Facebook, take a clear picture that gives an honest view of the item you are selling. Write a description of the item describing its condition and any other important information. Then set a price. Remember this is a yard sale. If you want to sell that item- give it a good low price! What is the least amount of money you would take for the item? Depending on your selling style, you may want to raise the bottom dollar up a little to make room for negotiating or give your bottom dollar and hold firm.
Meeting People Safely to Sell Items
Once you have a buyer for your item you must arrange how you will handle the transaction of the item and money. It is important to be safe and smart when meeting strangers. Here are some tips from experienced buyers and sellers:
Meet in a public location, preferably during the day.
Once you find a buyer, move your conversation to messages so no one gives their personal information, such as a phone number, to the whole group.
Bring someone with you to the meeting place.
If you feel uncomfortable then don't do it. Feel free to call it off at any time- just communicate this to your buyer (or seller).
Keep your cell phone handy.
How to Make a Steady Extra Income with Rummage Sales
Online Rummage sales through Facebook is not just great for extra money here and there. Some are making it a business.
Amazon.com and eBay often have brand new jewelry and accessories going for under a dollar! A friend of mine recently bought a very nice licensed watch with a leather band on eBay for a dollar (free shipping too). She then quickly sold it on a local yard sale site through Facebook for $10.
You can also sell your unwanted clothes or items you cannot sell on rummage sales, whether upselling or your own- through online consignment shops.
Need Easy Extra Cash?

Pinecone Research, a leading name in online survey panel honesty, absolutely guarantees $3 cash for every survey you complete!
Take advantage of their time limited New Membership drive and register NOW. Join today: 100% free!


What if There is Not a Yard Sale Group for My Area on Facebook?
If searching for yard sale groups in your area comes back empty- start one of your own!
Related Posts:
Want more money?

Easy Extra Cash! Join the famed Nielsen Computer and Mobile Panel site, install the app and earn rewards just for using the Internet as you do today! Nielsen gives away $10,000 each month.
Guaranteed 100% free membership.