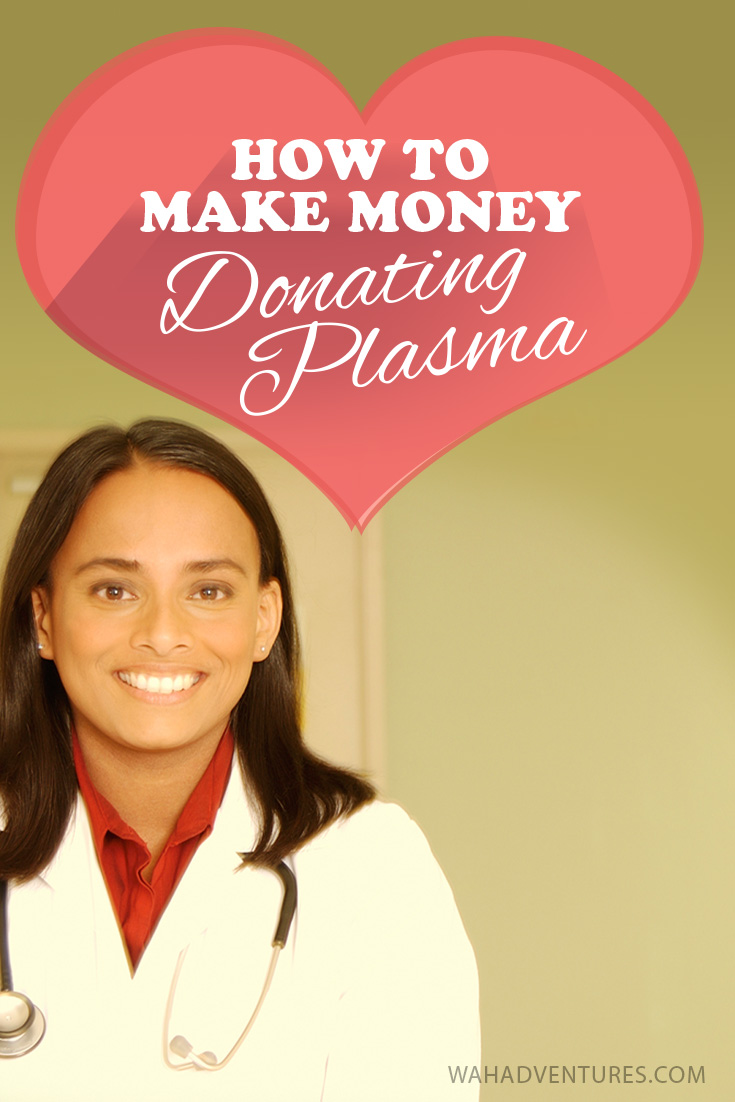 Sure, you can donate your plasma to the Red Cross for free.
Need Easy Extra $350+/Month For Free?
But, did you know that centers like this actually sell the blood or plasma you donate to hospitals?
So, you give away your blood for the center to profit from – which is usually about $180 to $300 per pint!
Also, since the process can be quite lengthy, it's not a bad thing to want to get paid for your time.
Several plasma collection centers therefore compensate you for your time and donation.
Most healthy individuals can even donate twice in one week to certain centers, so it's a good way to earn some side income for your time.
Many people don't know that they can make money through donating plasma, so I'm going to outline the process and how much you can get paid.
I'll also point you in the direction of donation centers located all over the United States that will pay for your donation.
It's a win-win situation for everyone, really.
You get paid, but in turn, you're helping to save the lives of others.
Why Donate?
Plasma is the liquid part of your blood that carries red and white blood cells through your body.
It's mostly made of water, but makes up over half of the blood volume in the body.
It's obviously important stuff!
Plasma helps maintain things like blood pressure, protein balance, immunity, and proper blood flow.
Donating plasma can help those in need in so many ways. But, the ways it helps can differ a bit from a whole blood donation.
An accident or emergency where a person loses a significant amount of blood, for example, may require him to have a transfusion with donor blood that includes plasma, red, and white blood cells.
Plasma, on the other hand, is used more to treat conditions and diseases.
It's often used in therapies for patients with:
Bleeding disorders that prevent the blood from clotting properly
Severe burns
Hereditary conditions that can affect organs
Organ transplants
Immune deficiency disorders
Tetanus or rabies
Plasma is donated less than whole blood, mostly because it is more time-consuming and a more involved process.
But, it's just as important in saving lives.
Need Easy Extra Cash?

Join Opinion World #1 paid survey site. Take paid surveys anytime and anywhere via PC or Mobile App and earn PayPal credit, gift cards and more! No hidden fees and completely free!


How Does Plasma Donation Work?
The process to donate plasma is different than donating blood.
With blood, you donate through a needle inserted into your vein that draws the blood out.
Plasma, however, is donated through a procedure called plasmapheresis.
Donation centers use special machines to complete the process, which help to separate the plasma from the other components: the white and red blood cells.
You'll still have blood removed from your arm with a needle, but the line from the needle will be hooked up the machine.
You'll have to remain hooked up until the process is complete, which takes between 45 minutes to an hour and a half, depending on the center.
Fortunately, most centers let you lay down, bring a book or headphones, and do whatever you need to feel comfortable during the process.
Each time you prepare to donate, you'll likely need to fill out a health questionnaire to make sure you're in optimal health to donate.
A nurse may check your vitals and will likely draw a small blood sample during this screening process.
If it's your first donation, you may need a more involved physical exam.
Non-first-time donors may still need to have a physical every year to continue to donate.
As long as your health meets the center's standards, you'll head back to the donation area to being plasmapheresis.
You'll likely have to remain at the center for a short time after the process is complete to make sure you don't get sick or dizzy.
Many centers offer a snack and drink to give you some energy and help replenish your blood supply.
Are There Any Risks Involved?
Donating plasma carries many of the same side effects of donating blood.
But, since it's a longer process, the side effects can be more profound in some individuals.
Most people are completely fine after they donate, and the process, in general, is very safe.
However, some side effects that may occur include:
Dizziness
Feeling cold
Feeling faint
Blurred vision
Nausea or abdominal cramps
More serious side effects are extremely rare, but can happen.
These include seizures, numbness in the limbs, and severe stomach cramping.
If any of these occur after your donation, contact the donation center immediately.
It will assist you in the best course of action.
Donation Requirements
Of course, requirements for different donation centers may vary.
But, there are a few things that most can agree on about their donors.
Generally, these are the requirements you need to meet to donate plasma:
Must be at least 18 years old and no older than 69
Must weigh at least 110 pounds (as required by the FDA)
Must not have had any tattoos or body piercings within the past 12 months
Must not be under the influence of drugs or alcohol
Must discuss all current medications with staff; some may disqualify you
Must have a healthy diet and be in overall good health
Those with HIV or AIDS cannot donate; some other infectious diseases may also disqualify you
Must not have had a blood transfusion in the past 12 months
Certain surgeries and transplants may disqualify you
You'll need to bring adequate identification (photo ID, Social Security card, etc.) and proof of address to your appointment
How Much Do You Get for Donating Plasma?
Your compensation varies between centers.
But, on average, you can expect between $20 to $50 per donation.
Not bad, considering that it will take an hour and a half at the most.
Some centers have a flat rate for plasma donations, whereas others will pay more if they're able to get more plasma from you.
Of course, this depends on your weight.
Those with higher weights can generally give more plasma, so they may get compensated a bit more from centers with this compensation model.
Many centers offer incentives to get more donations, like coupons for extra money for donations or prizes to encourage you to donate more.
To have the healthiest plasma, centers like to see their donors donate twice per week, so they do things like this to keep you coming in, especially if you're a perfect plasma donor candidate.
So, keep an eye out for things like this from different centers.
Just remember, you're better off sticking to one center, since you can only usually donate twice per week.
You'll likely earn more loyalty with a center by sticking with it and coming in frequently, which could even earn you a higher compensation.
How Do You Get Your Funds?
Plasma donation centers used to pay donors in cash after a successful plasma donation.
Some still do.
But, most are switching over to a prepaid debit card.
This is great for donors because it loads your funds electronically right to your card.
No more worrying about losing your cash, and you can also use the card to pay your bills!
In most cases, your funds are loaded to the card immediately after you donate, so it's a quick and simple process.
Donating Plasma to BioLife

BioLife is one of the most well-known and respected plasma donation centers, so I chose to go a bit more in-depth with this one.
BioLife is a certified International Quality Plasma Program (IQPP) center.
Those in the IQPP meet the highest quality standards and must receive routine assessments to ensure that they're continuing to meet those standards.
The company has several centers throughout Austria and the United States.
You can find a center location near you using its websites.
One of the best things about BioLife centers is their dedicated playrooms for young children.
If you want to donate but don't want to pay a babysitter, bring your child along to get supervised by staff while you donate! It's available for kids 6 months to 12 years.
You can set up an appointment for your donation by calling your nearest center or scheduling online.
It couldn't be easier.
You can even specify that you'll need the playroom if you schedule online.
The process for donating plasma to BioLife is fairly streamlined.
You'll arrive to your appointment, sign in, and give all required information to staff (identification and proof of address).
The information is only necessary for your first donation or if there's been a long lapse in your donations.
You'll then take a computerized questionnaire before you can donate.
It's a simple health screening just to make sure you meet health requirements. All donors must complete this every time they donate.
A nurse will take your vitals each time you donate, too.
Then, you'll enter the donation room to begin the process.
You get paid immediately after your donation.
How Much Does BioLife Pay for Plasma Donation?
Of course, if you're planning on donating to BioLife, you'll want to learn more about BioLife compensation.
It's one of the best paying plasma centers, with some donors making up to $400 per month!
BioLife transfers your funds to a Visa debit card. Each time you donate, the funds will go on your card immediately.
Your compensation depends on a few factors, like how often you donate, how much plasma can be taken from you, and the promotions your center currently has running.
Most donors make anywhere from $20 to $50 per donation, with frequent donors usually seeing the higher pay scale.
BioLife allows healthy individuals to donate up to twice per week, so if you're getting $50 each time, you can easily make $400 per month.
BioLife Requirements
BioLife's requirements are much in line with other centers. They take great care to screen donors to ensure they're getting the best plasma for recipients.
To donate to BioLife, you must:
Be at least 18 years old
Weigh at least 110 pounds
Meet health requirements and not be sick that day
Provide photo ID
Follow BioLife's health and nutrition tips
Make staff aware of all tattoos, body piercings, and current medications
Other Places to Donate Plasma
BioLife is one of several excellent centers to choose from.
If there isn't a BioLife center close by, you can search for one of these plasma donation centers instead.
Biotest Plasma Center
Biotest Plasma Center is IQPP certified and is one of the centers that has different monthly promotions to encourage people to donate!
For example, in the month of April, if you have had at least six donations at the center, you can choose a colored egg from a basket.
Each egg has a cash prize or a special prize inside. You can choose another egg each time you donate after the 6th donation!
You'll need to wait at least 24 hours before making your second donation each week at Biotest Plasma Center.
Biotest transfers funds to a reloadable Visa debit card every time you donate.
Compensation varies depending on frequency and amount of plasma, but donors typically average between $20 and $35 each time.
BPL Plasma
BPL Plasma is another IQPP certified center. It currently has 34 centers throughout the United States.
This center requires 48 hours between your donations, with up to two per week.
Donors are usually compensated between $20 to $50 per donation.
There are also ongoing bonuses for donors.
CSL Plasma
CSL Plasma offers donors up to $400 per month for donations, assuming you donate twice per week.
You also get points for each donation that you can exchange for cash and other prizes!
The IQPP center loads your funds onto a prepaid Visa debit card each time you donate.
Grifols
Grifols bought out other plasma donation centers, like Talecris, Biomat USA and PlasmaCare.
It currently has over 150 centers in the United States.
The IQPP certified center says that it pays an average of $200 per month to donors.
Your compensation gets loaded onto a prepaid Visa debit card.
You'll need to wait at least 48 hours between donations to Grifols.
Interstate Blood Bank
Interstate Blood Bank is another IQPP certified donation center with several locations across the United States.
Donations vary between Interstate Blood Bank locations, donor frequency, and first or subsequent donations.
You can contact your local center for more information on compensation.
Interstate Blood Bank requires at least 48 hours between donations.
OctaPharma
OctaPharma has several locations in 26 states.
The IQPP certified center states that its compensation fees can vary from month to month due to current promotions and incentives.
The company offers some great incentives, like a $500 sweepstakes that you can earn entries to for your 5th donation and after each month!
Your donor funds will be loaded onto a Visa debit card.
You're allowed two donations per week, spaced two days apart.
Search for a Center Near You
If you're having trouble locating any of these donation centers near you, you can check out DonatingPlasma.org to search for centers.
This is also an excellent resource to learn more about the process and who can benefit from your plasma!
Want to Donate for Free?
Of course, you can still always donate for free if you want to do your good deed for the day!
The Red Cross accepts plasma donations, but you can only donate once every 28 days.
Their donation process typically takes about an hour and 15 minutes.
The Red Cross especially looks for people with type AB blood, since their plasma is universal and it's a rare blood type.
So, if you have AB blood, your plasma is like gold to people in need.
Have you donated plasma for money? Where did you go and how much did you make? Sound off in the comments!
Related Posts:
Want more money?

Join EarningStation, he highest paying site out there, where users get paid to Take Surveys, Watch Videos, Play Games, and Shop Online. No hidden fees and completely free!