Top 8 Places to Find Paid House-Sitting and Caretaking Jobs Online
Updated on: by Amy Kennedy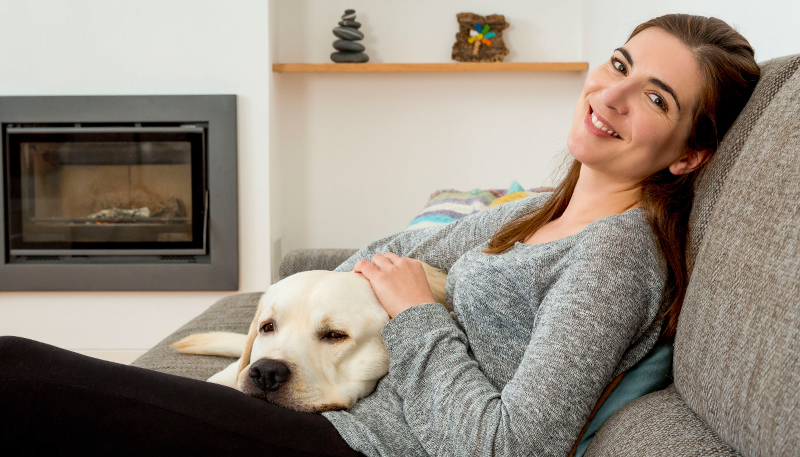 I'm all about learning new ways to make some money without resorting to the typical 9 to 5 work life.
Need Easy Extra $350+/Month For Free?
If you, too, love flexibility and fun ways to earn money, then sit back, grab your coffee, and read this post.
I'm going to tell you all about house-sitting: what it is, how to do it, and why you should consider it as a viable money-making option.
If the thought of checking out new homes and not doing anything more than taking care of that home in exchange for a free place to stay or some cash, then house-sitting could definitely be for you.
What is House-Sitting?
House-sitting can go one of two ways.
You'll either be paid (or receive free rent) to stay in a house for a short or long period of time when you do basic house-sitting.
If a homeowner expects to be away for a week-long vacation, he might pay you to stay in the home for that period of time or check in a few times per day to make sure everything's okay.
With basic house-sitting, you won't be required to do anything more than "watch" the house.
Some house-sitting gigs are only for a couple of days, while others might be for several months if a homeowner will be traveling for a while.
You and the homeowner will work out the terms between yourselves because, as you can tell, no two house-sitting gigs are alike.
Caretaking is another form of house-sitting that will require you to do more than just watch the home.
You might need to feed and walk pets, take care of a garden, water the lawn, complete basic repairs, etc.
Basically, caretaking involves you doing house-sitting plus extra house-related things while the owners are away.
Caretaking will usually pay you more because there's more involved.
But the beauty of house-sitting is that there's no set salary.
These gigs can range dramatically, and it's not impossible to negotiate an awesome salary (maybe even more than what you're getting paid at work) just to house-sit or be a caretaker for a house.
Need Easy Extra Cash?
Pinecone Research, a leading name in online survey panel honesty, absolutely guarantees $3 cash for every survey you complete!
Take advantage of their time limited New Membership drive and register NOW. Join today: 100% free!


What is Required to Become a House-Sitter?
Homeowners will obviously want someone super trustworthy to watch over their home.
For these types of gigs, it's almost always beneficial to at least be an acquaintance of the person you'll house-sit for.
Not only will it make you more likely to get hired, but you can also cover your own behind a little easier if something were to go wrong.
Someone who knows very little about you isn't likely to believe your side of the story when you run into a problem.
Other than that, there aren't a lot of requirements for becoming a house-sitter.
You should, of course, be responsible, punctual, and respectful of the homeowner's space and belongings.
Caretakers should also have some basic repair skills so that they can take on small repairs, like minor leaks or filling in small wall holes if the need arises.
When you find a house-sitting gig, you can check through the person's individual requirements.
Most people will have specific qualities they'll want to see in someone they hire to house-sit, and may even want someone in a specific age range and with a very open schedule.
Get Paid to House-Sit
It's important to note that some house-sitting opportunities do not offer money for your time.
Instead, they might offer free rent in exchange for house sitting for the duration of the time you need to stay there.
You may even be responsible for the utilities during your stay, depending on what you and the homeowner agree to.
But if you're a person who doesn't love to stay in one spot, or you're currently in between places (maybe waiting for your new home to be ready to move in), then house-sitting can still save you money on rent.
A month or two without paying rent can give you a good opportunity to save for your next place!
Some house-sitting opportunities do pay, though, in addition to the free rent.
You might get a stipend per day, or maybe a fixed amount for each week or month.
You can negotiate these terms with the homeowner and come to an agreement that works for both of you.
If you aren't doing anything more than house-sitting, though, you shouldn't expect thousands of dollars in pay every month.
After all, you're basically getting a free place to stay in, which is an awesome payment in itself!
In addition to looking for house-sitting opportunities on places like Craigslist and Facebook groups (or even your local paper), you should search for these jobs on websites dedicated to them.
Most of these websites do charge a subscription fee to cover their costs of matching homeowners with house-sitters, but they're usually minimal for an annual subscription.
Here are a few of those:
Although Airbnb is usually for finding places to stay when you travel, you may also find some house-sitting opportunities here.
Search your area for "house sitter," and you might have some results from people looking for house-sitters.
Airbnb does have fees associated with it. The site charges a percentage of a reservation for all guests.
However, if you're staying at a host's home free of charge, you won't have to worry about any fees!
House Sitters America is one of the most popular spots for house-sitters to find homes.
Your membership will allow you to search the database full of people who need house-sitters to care for their homes.
This site is a great way to find long-term gigs for a few months or more.
Earn Everything… nearly!
Join Opinion Outpost, one of the few faithful and honest survey panels and earn cash and gift cards for your opinion. Stack your points and redeem them: Simple! No hidden fees and completely free!


House Carers is another subscription-based site that helps you find homeowners who need a house-sitter.
You can create a listing for yourself as a house sitter, and other people can find you based on where you live.
There's also an unpaid subscription which will let you be found in the database and receive offers for opportunities.
But, you'll need to pay actually to apply to those opportunities.
You may want to stick to the free account just to see how everything works and only pay once you find something of interest.
HouseSitter.com is a free service made by the same people who own Housekeeper.com, Sitter.com, and more.
You can create a profile and browse opportunities or wait for homeowners to come to you.
People who live in the more popular cities of the USA or Canada will have the most luck finding jobs here, but you can still try your luck by setting up a profile.
This site works much like the others.
Despite its name, there are no requirements that houses have to fit within "luxury" criteria.
Once you sign up and create your profile, homeowners can find you in the database and message you if they think you're the type of person they're looking for.
MindMyHouse is a global house-sitting database for homeowners and people who house-sit to match with each other for the right opportunities.
Homeowners can create "assignments" to which you can apply.
Nomador ($89 per year or $35 each quarter)
Nomador has both house and pet-sitting assignments that you can apply to.
You can choose from a free subscription that gives you limited applications, or a paid subscription with unlimited applications, offers, and other benefits.
Caretaking: Another Form of House-Sitting
Caretaking is the other form of house-sitting that's more involved than just watching over a house.
You'll have more responsibilities that usually include taking care of pets, gardens, and maybe even doing some repairs on a home.
Since you'll be doing more work, you may get some more benefits, including better pay.
You can typically find caretaking jobs on the same websites I listed above that provide house-sitting jobs.
However, you'll need to be more specific in your searches and read through descriptions carefully to understand everything you're expected to do.
From there, you can gauge whether the opportunity is worth the pay for you.
An even better resource is The Caretaker Gazette, a publication devoted specifically to helping people find caretaking jobs.
The publication updates its listings frequently, and you can even follow them on Twitter for updated listings.
You can choose to subscribe to the online version, the print version, or both versions for an annual fee that differs depending on the version you choose.
You'll get discounts on any version for the longer you subscribe, which can be up to 3 years!
The listings here vary greatly, and you pay can include everything from free rent and an additional salary to receiving part of the proceeds from sales from the homeowner's business (which you may also need to help out with).
There are a lot of opportunities, and you can likely find one that really fits your needs.
Conclusion: How to Find House-Sitting Jobs
House-sitting is one of those unique opportunities that's perfect for the right person.
People with kids might not have as much luck finding success with house-sitting, unfortunately.
Some homeowners only want one individual looking over everything, rather than have a whole family move in.
Additionally, moving the kids to a new place isn't always reasonable.
But for people who are single and like exploring new places (and maybe even house-sitting in other countries while they travel!), house-sitting can be an exciting way to save and maybe even make some money.
Would you consider house-sitting?
Have you ever done it? We'd love to hear your thoughts.
Leave us a comment!
Related Posts:
Earn Everything… nearly!
Join Ipsos iSay, one of the few Faithful and Honest survey panels and earn prizes, gift cards and donations. Stack your points and redeem them: Simple! No hidden fees and completely free!