How To Become A Book Reviewer: 29+ Websites That Pay You To Read!
Updated on: by Amy Kennedy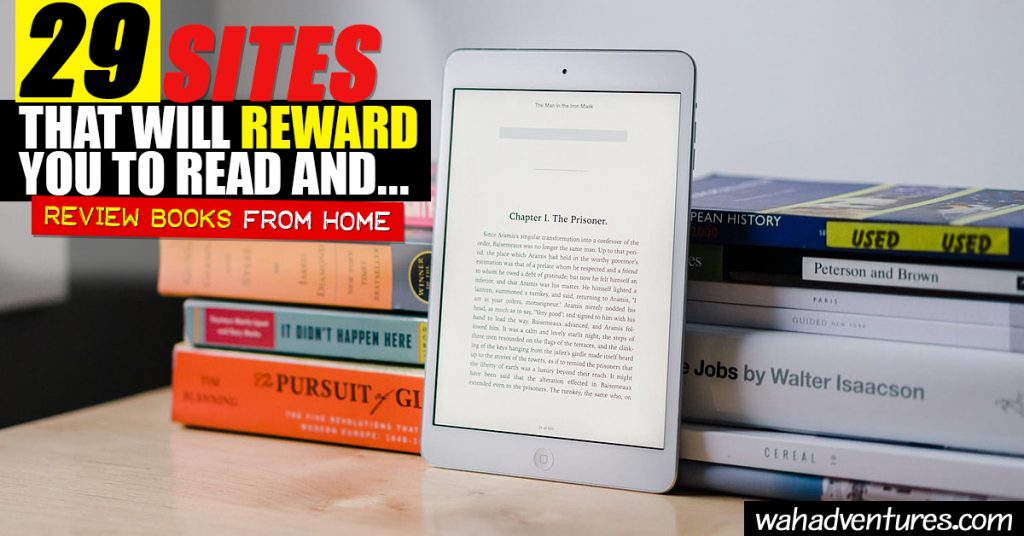 Many have a love for reading, but if you have a love for reading AND writing, you can make money reviewing books!
Need Easy Extra $350+/Month For Free?
Although paid book reviews aren't plentiful, they do exist.
But, you do have to have the knack for forming strong opinions on books you read and conveying them well to those reading your reviews.
If this sounds like something you'd love to do to earn some money, check out the paying book review markets below.
Plus, learn ways to get books for free in exchange for reviews, and other ways to make money with books!
Helpful Tips for Creating Winning Book Reviews
First things first:
If you're planning to get paid to write book reviews, then you're going to need to know what it takes to make an awesome review, right?
Most book review companies have strict guidelines for their reviewers.
If you don't adhere to their guidelines or you can't explain your thoughts in a way that's constructive to others reading the review (or the author himself), you're probably not going to make it far in this field.
Many review companies will even refuse to pay you for a review if you didn't meet their standards.
Here are a few tips that can help you become an excellent book reviewer:
Consider Everything About the Book as You Read
Every book has so many moving parts: Plot, climax, characters, setting, just to name a few.
All those pieces work together to create a story, even in non-fiction books and autobiographies.
As you read, you need to think about how well each piece interacted with other pieces.
Did the characters come alive within the setting and plot?
Were the characters relatable?
Need Easy Extra Cash?
Pinecone Research, a leading name in online survey panel honesty, absolutely guarantees $3 cash for every survey you complete!
Take advantage of their time limited New Membership drive and register NOW. Join today: 100% free!


Did the author set up the climax in a successful way, with plenty of events leading up to it?
Was the setting described well? Could you understand where and when the story took place?
These are just some of the things you'll want to ask yourself as you read.
Keep them in the back of your mind and take notes, if necessary, to keep your thoughts fresh when you prepare to write your review.
You should also remember to jot down any quotes or pages you'll want to refer to when you review.
Review Only What You Read
It's tempting to want to lay out everything you wish the author had done differently when you write your review, but that's not what a review is for.
Yes, you can have some constructive criticism in your review (in fact, that's encouraged!).
But don't make the whole review about things you'd wished were different.
The point of a review is to talk about what you actually read.
Your review should explain how you felt about the themes, characters, plot, and other important parts of the story, exactly how you read them.
Reviews should be unbiased (I know – easier said than done!).
They shouldn't necessarily pull readers one way or another; instead, they should offer the facts in a clear and concise way.
Use the end of your review to offer your opinions, but only in a constructive way. You should never say things like, "This book was horrible" or "I loved everything about this book" without offering a few specific ways the book could have been better or reasons it made you smile.
Think About Your Audience
Not every review audience is going to be the same.
Sometimes, you'll be writing reviews about a children's book, so your target audience will likely be parents or elementary school teachers or librarians.
However, if you're writing a review of a book about rocket science, your audience might be science professors or experts in the industry.
You should have a good grasp as to who your target audience is going to be after you finish the book based on its genre, story, and target audience.
Always consider this audience when you're writing a review.
Parents and teachers, for example, might enjoy a review that's easy to understand, engaging, colorful, conversational, and to-the-point.
A college professor or industry expert, on the other hand, might prefer more technical terminology and a more in-depth review.
Each book review company tends to have a relatively specific audience, too, so be sure to read guidelines thoroughly to understand what type of audience you'll be writing for.
Don't Spoil Anything
It can be a challenge to write a review that doesn't give away important parts of the book.
But it's a necessary part of a good book review to avoid spoilers!
Readers of your review are interested in possibly reading that book in its entirety, so they don't want the fun spoiled for them.
They're simply reading your review to learn more about the book's story and whether you considered it well-written and worthy of their time.
Re-read your review a few times after writing it just to make sure you didn't hint at anything important that might ruin the fun for other readers.
Proofread, Proofread, Proofread!
I can't stress enough the importance of checking over your book reviews before sending them along.
Understanding the basics of proofreading and editing your work is a crucial part of your success as a reviewer.
If you keep sending in reviews that haven't been proofread for mistakes or grammar issues, it's not likely that a review company will continue to keep writing for them.
Earn Everything… nearly!
Join Opinion Outpost, one of the few faithful and honest survey panels and earn cash and gift cards for your opinion. Stack your points and redeem them: Simple! No hidden fees and completely free!


You always want to send in your best work to leave a lasting impression.
If you don't think you have the chops for proofreading and editing, you might want to hire someone else to do it for you.
Usually, all it takes is a couple readings out loud to catch easy-to-fix mistakes in your reviews.
How to Become a Book Reviewer with Online Jobs & Companies
You've likely heard of sponsored blog posts. If not, they're posts that bloggers get paid to write, usually by a company that wants some exposure for its brand or products.
Paid book reviews work similarly, but you don't always need a blog for them. You'll get paid for your honest reviews on books the company sends to you, in an effort to gain more exposure, and positive reviews, for the book.
The following list of companies all pay you to write book reviews with their book review jobs!
Any Subject Books looks for honest book reviewers who are skilled in critical thinking. If you're chosen as a reviewer, you'll get periodic suggestions for reviews from the website, and can choose whether or not to accept.
If you do accept the title, you'll have a specified amount of time to complete the review, which will be outlined before you accept. You'll use a form given by Any Subject Books to complete your review.
No specific pay rate is mentioned on the website, but it seems that each review is different, depending on your word count, depth, etc.
Astronomy is an online magazine that accepts paid book reviews from people who want to review books of interest to its readers. However, it does state that you should first check with the book editor before pitching your desired books to the magazine.
The editor for Astronomy will look over your inquiry, which needs to include specific information about the book, like ISBN number, publication date, price, and more.
You'll get notified if the magazine wants you to write the review, which must include a brief summary, short quotes, and a deep analysis of the book.
No specific pay rate is mentioned on the website, but you can ask the editor for more information on the payment process.
Booklist is a website dedicated to online book reviews in a range of genres.
It also has a magazine that publishes book reviews.
Freelancers can write reviews for submission to the website or in the magazine, with each review paying $15.
Even if your review gets rejected, you'll get $5.
Reviewers can also write blog posts for the website for $12.50 each.
To get started as a reviewer, you'll need to contact the editor of the genre for which you're interested in reading and reviewing.
Instaread is a company that provides in-depth summaries of non-fiction books in both text and audio formats.
Although the company doesn't list its job openings on its website, you can sometimes find them around the web.
There's one on BookJobs.com, for example, that seeks freelance writers to write the summaries that users can read or listen to.
Each summary fits the company's 4000-word template and guidelines and pays $700.
Writers who are considered good fits for the position have generally been published in well-known magazines or have a solid journalism portfolio.
You must also be available to do one report weekly.
Kirkus looks for freelance book reviewers to review its English and Spanish book titles for its book review section.
Reviews must be around 350 words long, and you have 2 weeks after receiving the book to complete the review. You may get your books in paperback, hardcover, or digital format.
You should have some writing experience for this one, since you'll need to submit your resume and writing samples to the editor for consideration.
Na'amat USA is an organization dedicated to Israeli-American women and children. Its magazine focuses on the same content, and pays book reviewers to review books with Jewish content.
No specific pay rate is listed on the site, but you can contact the organization via e-mail for more details.
Online Book Club pays $5 to $60 per review, depending on length, depth, and reviewer expertise. This website focuses much on new authors who need more exposure for themselves and their books, so you'll likely be reading a lot from new authors.
You'll have to complete your first review for free before getting your first pay, but as long as your review meets requirements, you'll be eligible for paid reviews.
Online Book Club will periodically send you book selections to choose from.
Publisher's Weekly is a print and digital magazine dedicated to authors, publishers, and other writers. On its career page, the magazine will sometimes list openings for reviewers to review books for future issues.
Read Dream Relax is a blog dedicated to book reviews of all genres, and it allows book reviewers to join its dedicated team.
You'll have to send an e-mail to the owner, Laura, with some current review samples. The website states that you'll usually hear back within a week if you're a good fit.
You may also want to inquire about a pay rate, which isn't specified on the website.
A definite pay amount isn't mentioned on the website, but it does specifically say that it pays its reviewers monthly for reviews completed the previous month.
On this site, you'll be a guest blogger posting book reviews between 250 and 300 words long. You'll receive occasional offers for books for review, and you can choose your preferences. Ultimately, editors will choose the best-matched reviewers for each book.
Your review must include a brief summary of the story, as well as your honest opinions. Negative criticism is okay, but you must present facts to back up your critique.
The online magazine, The Writer, pays for accepted pitched stories, including book reviews. You can pitch your review to the editor, and you'll hear back in about 2 weeks if your review is going to be published.
Upwork is an online marketplace where freelancers can find work in almost any freelancing industry.
Book reviews are some of the potential gigs you can find.
On Upwork, you'll apply to interesting gigs using Connects, which are like bids.
Submit your credentials along with a cover letter, answer any questions the client provides, and send along your application for review.
If you seem like you're a good fit for a review gig, the client will send you an offer or ask to chat with you through the messaging system to learn a little more before offering you the job.
You can save time browsing through gigs on Upwork by using keywords to search, like "book reviews."
Wellesley College's Women's Review of Books focuses on books written by, and about, women. In addition to other writings, the website accepts book reviews of women's books.
You can mail your resume to the Editor in Chief for consideration for becoming a book reviewer for the website. You must have experience with professional, and creative, writing.
Pays 14 cents per word, and welcomes your ideas for books to review.
Writerful Books is a manuscript editing service that also seeks book reviewers to share their honest opinions about the manuscripts sent into the company.
Writerful Books pays reviewers between $10 to $50, depending on how insightful and thoughtful their reviews are.
There's also an incentive program that gives writers a chance to win $100 in Amazon credits.
The reviewer with the most reviews on the website will win the prize, although it doesn't state how often the $100 is given away.
Reviews need to be at least 350 words long and can't be published elsewhere, even on your personal blog.
BookTrib is a website that offers a platform for book lovers and authors. 
It provides an opportunity for book enthusiasts to engage with authors, discover new books, and participate in discussions. 
BookTrib features a wide range of genres, including fiction, non-fiction, mystery, romance, and more. 
As a writer, you can contribute book reviews and author interviews to BookTrib. 
Visit their website for more information on submission guidelines and to explore their vibrant book-loving community.
Bookish.com is an online platform dedicated to book recommendations, author interviews, and literary news. 
It aims to connect readers with their next great read by providing curated book lists, personalized recommendations, and engaging content. 
Bookish.com accepts book reviews from contributors who are passionate about literature and love to share their thoughts on books. 
If you enjoy discussing books and want to contribute your reviews, Bookish.com is a great platform to consider.
Book Browse is an online magazine that features in-depth book reviews, author interviews, and reading recommendations. 
It covers a wide range of genres and caters to readers of various interests. 
Book Browse accepts book reviews from its community members and provides an opportunity to share your thoughts on the latest releases. 
If you have a passion for reading and enjoy analyzing books, Book Browse welcomes your contributions
Reader's Digest is a renowned publication that has been captivating readers for decades with its diverse range of content. 
Known for its engaging articles, heartwarming stories, and insightful features, Reader's Digest has become a beloved source of inspiration, entertainment, and knowledge.
In addition to its captivating articles and stories, Reader's Digest also provides a platform for book enthusiasts. 
It offers book recommendations, reviews, and author spotlights. 
This allows readers to stay informed about the latest literary releases and discover new books across various genres.
Read More: Top 22 Legitimate Sites That Pay Cash For Writing Reviews Online
Love to Read? These Sites Will Give You Free Books in Exchange for Honest Reviews!
These places won't pay you for reviews, but you'll get books for free in exchange for your reviews.
I felt that they were worth mentioning, since getting books for free is a good way to save money, while fostering your love for reading!
You must have a blog to get free books to review from Bethany House.
Reviews must be at least 75 words, not including the plot synopsis, and you'll have to post it to a retailer website, like Barnes & Noble, in addition to your blog.
You can request one title for review each month, but the limited copies get handed out on a first-come, first-serve basis. So, no guarantees that you'll get a book each month.
Bloggers, retailers, librarians, and media outlets can get free books from Blogging for Books in exchange for honest reviews. Books are available in print and digital form.
Book Browse offers a First Impressions program, giving its reviewers a chance to get a first look at books before they're published. These books are usually available once per month, and you'll get about 4 weeks to read and review them.
Reviews need to be anywhere from 5o to 300 words and should contain your opinions, rather than a plot summary.
Bloggers can receive free books from BookLook Bloggers, but you need to have an active blog. The website defines 'active' as posting at least once per month and having at least 30 visible subscribers to your blog.
You also have to be active on BookLook, which the website states as remaining active every 90 days, and posting your reviews within 90 days of initial book requests.
For your review to be accepted, you'll also need to post it on another retailer's website, like Amazon.com.
Chicago Book Review has a dedicated team of reviewers for its nonfiction and fiction selections, and you can be one of them!
If you're chosen as a reviewer, you'll even get your bio featured on the 'Meet the Reviewers' page, which is great for establishing an online presence and portfolio! Plus your reviewed books are free.
You'll need to send along your writing samples and resume to be considered as a reviewer.
Civitas Press is a book publisher of uplifting and inspiring stories, with openings for book reviewers. You must have a blog to post your reviews on, and you'll also need to post a review on Amazon.
LibraryThing is an online catalog where you can store all your digital books from places like Amazon and the Library of Congress.
The Early Reviewers program is available for people who'd like to get advance copies of books for free in exchange for their honest reviews.
There's a lot of competition to get books here, unfortunately.
Most books only have 25 or 30 review copies available with hundreds of members requesting a copy, so you may not always get a book.
There are also giveaways available where more members get the chance to win a free book.
MoodyPress is a publishing company that seeks exposure for its published books through honest, online book reviews. If you have a blog and an account with an online book retailer, you can review for the company.
You'll be able to view a selection of books to choose from, and they'll usually be shipped to you in 7 to 10 days. You'll have 60 days to review the book on your blog and the retail site.
Teachers, librarians, media, and regular book reviewers can sign up for Net Galley for free books in exchange for reviews. These books are delivered digitally, only.
You'll become part of Net Galley's community, too, where you can discuss books with others, vote on cover photos, and network with other reviewers and authors.
NewPages is an online resource for authors, writers, publishers, and more. If you enjoy reviewing books, you could get your reviews published on NewPages.
To get accepted, you'll need to send a recent review you've done for consideration. If your review style fits the requirements, you'll be sent new book selections to review.
Reviews must be at least 800 words and you'll have about a month to write your review after receiving the book.
Springer hosts scientific, medical, and technical journals, so your skills should be honed in on reviewing these subjects.
Once accepted as a reviewer, you'll have 6 months of online access to up to 10 selections at a time to review. Once your review is accepted, you'll receive a print copy of the book as a thank you.
Story Cartel hosts books mainly by new authors, as a way for authors and readers to connect. The books hosted on the site are all free for registered users, but you'll be leaving honest feedback for the author about his or her book.
Feedback should be constructive, as the point of the website is for authors to gain real feedback to improve his or her writing and books.
Tomoson is an influencer platform that has several kinds of products available for bloggers, vloggers, and social media influencers.
There are sometimes books here for review that only require a quick social media review or a short blog post. Some Amazon sellers also offer free books in exchange for Amazon reviews.
Tyndale Blog Network focuses on connecting authors to book bloggers that can provide honest reviews on their websites. You'll also need to review on an online book retailer, like Amazon.
You can review two books at a time, and reviews must be at least 2 paragraphs long, including a summary and your opinion.
Currently, only US reviewers can get print copies of books, but international reviewers may receive digital copies.
Another Option for Free or Discounted Books (Plus Possible Payment)
Amazon review sites are very popular among people active on Amazon.
Over the past couple of years, these review sites have changed a bit because Amazon no longer allows people to get free products in exchange for reviews on the platform.
However, some review sites still exist; they've just updated their guidelines to match those of Amazon by not requiring reviews, but simply requesting them.
These sites often have several books available, with sellers hoping that you'll leave a review with your honest opinion on Amazon as your way of saying thank you.
You can check out our huge list of Amazon review sites to get started!
How Else Can I Make Money with Books?
If none of the above websites or companies work for you, there are still some other ways you can make money with books!
Affiliate Programs
If you own a blog – or even if you just use social media – you can make money using affiliate links to recommend books.
You place the link on your website, and whenever a reader clicks on the link to purchase the book, you'll get a commission! Amazon Associates is an excellent place to start, since it has almost any book you can imagine available.
And, who doesn't love Amazon?
Audiobooks
If you have a good speaking voice, you could get paid to narrate audiobooks, or even create your own! People on Fiverr, Upwork, and other freelance marketplaces sometimes look for this type of skill.
If you want to create your own, you can sell them on Amazon!
Book Translations
Do you know more than one language?
If so, you're in luck because you could qualify to translate books into other languages.
This is a service many publishers would happily pay someone to do who's knowledgeable in common languages, like Spanish, French, or German.
Translators can get paid well, too, since their skills aren't necessarily a dime a dozen.
You might consider opening your own book translation business and contacting publishers or authors to offer your services.
Creating eBooks
If you love books enough, you might consider writing one of your own. Regardless of genre, eBooks are a good way to publish your own book with little costs involved.
Again, Amazon comes into play as the perfect place to host your eBooks for sale! You can get your feet wet with a short book, and move onto longer stories as you gain more comfort.
Many bloggers also sell helpful eBooks related to their niche. A food blogger may create a cookbook of their favorite recipes, for example. Then, sell away on your blog for extra income!
Design Book Layouts and Covers
Most authors will eventually need help from a designer who knows how to format their books to be visually appealing to readers.
Formatting is an incredibly important part of the process of making a book readable and engaging.
Every good book also needs a good cover that catches the eye!
If you have a knack for visuals, then this career could be right up your alley.
Of course, to create a good cover for the book, you should probably ready it first, so you can fulfill your love for reading too.
Editing
Freelance editing jobs for authors wanting their new books proofread are abundant on freelance marketplaces. If you're good with spelling, grammar, and punctuation, this is the perfect way to read new books all the time, and get paid for correcting them!
Upwork usually lists a lot of editing jobs, or you can use a writing job board, like ProBlogger, to find more jobs.
Freelance Reading
Yes, freelance reading is actually a thing!
As a freelance reader, you'll be responsible for helping literary agents read through submitted manuscripts.
Agents usually get tons of submissions – way more than they can handle on their own – so it helps them to have an extra set of hands (or eyes) to read through some submissions.
You'll read the manuscript and let the agent know whether you think it's worth a second look by him or her or if it's something they should pass on.
Freelance readers literally get paid just to read – and they can get paid as much as $100 per manuscript.
Talk about a dream job for book lovers!
Freelance Writer of Book Summaries
Freelance writers can obviously get paid to ghostwrite books or write reviews for book review blogs.
But they may actually make more money if they go the route of writing book summaries.
As a summary writer, you'll be responsible for writing things like the abstracts that go inside the book's cover or on the back of the book, or summaries to go with the book on websites where it'll be sold.
You might find gigs for summary writers on freelance marketplaces or you can contact publishers to see if they might need your services.
Pitching Magazines
Tons of digital and print magazines feature book reviews in their publications, and you may be one of the lucky ones who gets to review books for a future issue.
But, this process can take time, since it involves pitching magazines your book review ideas with samples, and waiting to hear back.
The best part is, most magazines will turn to you for future review needs if you do a really good job. And, many of them will at least pay you something for your time!
This article is helpful for teaching you to create the perfect pitch letter.
Start a Book Review Vlog
If blogging isn't your thing, maybe vlogging will be.
There are plenty of book reviewers on YouTube who talk about books instead of writing about them.
This can be a really fun way to share the books you read with others and potentially make money from a monetized channel with a lot of subscribers and video views.
Start a Book Review Website Hub
You can always start your own book reviewing website if others aren't suiting you!
Form a community by creating a website.
To start, you might commission other book fans to write short reviews for free in exchange for a social media link or two.
Grow your site and monetize it through affiliate links, ads, and sponsorships, and you can eventually start paying for reviews, which can help your review database grow even more.
If you're a member of the rewards site, Swagbucks, you may be passing right by an opportunity to get paid for your love of books.
Swagbucks has tons of offers for Books & Magazine companies that will give you cash back plus Swagbucks for your purchases. So, you'll need to pay money up front, but if it's for something you'll pay money for anyway (books!), you can earn some awesome cash back.
BookOutlet, for example, is one book retailer where you can earn 5% cash back on your purchase, plus 5 SB per $1 you spend!
If you know of any other ways to get paid for your love of books, let us know in a comment!
Join Swagbucks now or read our full review.
Using BookJobs.com to Search for Book Review Jobs
BookJobs.com is a site I discovered recently that might be a gold mine for someone like you who wants to get paid for writing reviews.
The site hosts all types of jobs for book lovers around the world.
You'll find everything from book editors to publishers to book ghostwriters on the site.
Occasionally, you might even see a listing from a company that's looking for book reviewers. These are usually posted by publishing companies but might also come from book review websites.
I suggest keeping the site bookmarked and checking out the newest listings a couple of times a week to see what jobs are open in the book world.
Have you tried any of the sites or ideas above?
If you know of any other ways to get paid for your love of books, let us know in a comment!
Related Posts:
Earn Everything… nearly!
Join Ipsos iSay, one of the few Faithful and Honest survey panels and earn prizes, gift cards and donations. Stack your points and redeem them: Simple! No hidden fees and completely free!