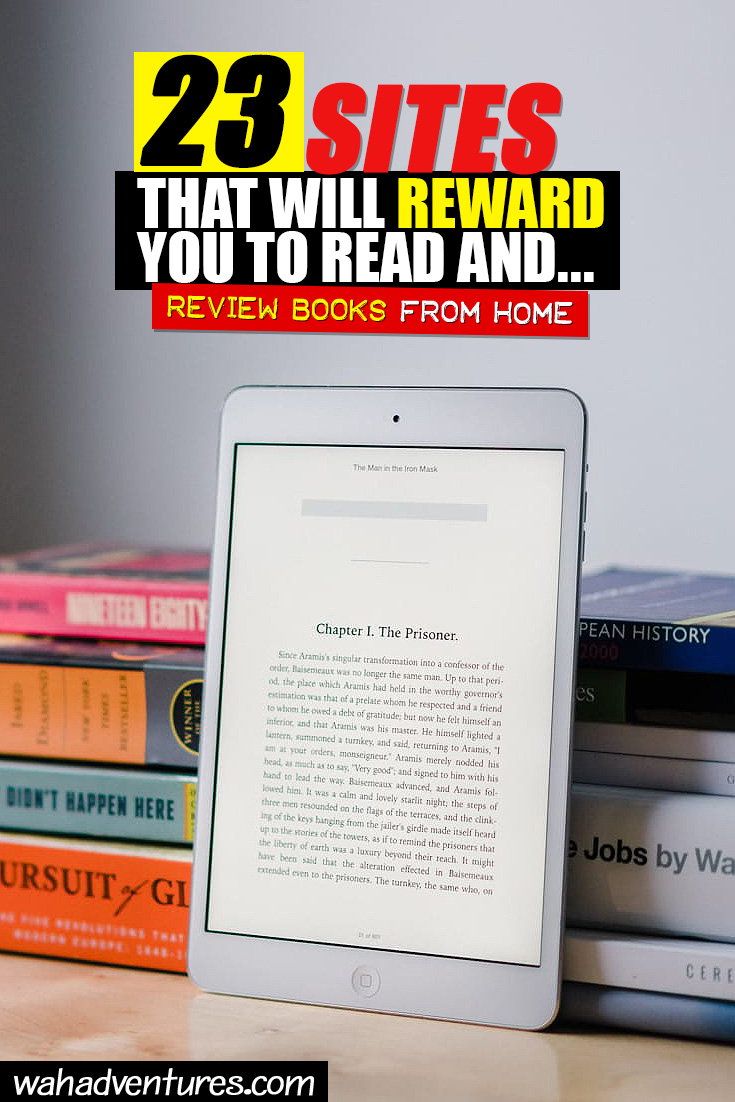 Many have a love for reading, but if you have a love for reading AND writing, you can make money reviewing books!
Need Easy Extra $350+/Month For Free?
Although paid book reviews aren't plentiful, they do exist.
But, you do have to have the knack for forming strong opinions on books you read and conveying them well to those reading your reviews.
If this sounds like something you'd love to do to earn some money, check out the paying book review markets below.
Plus, learn ways to get books for free in exchange for reviews, and other ways to make money with books!
How to Become a Book Reviewer with Online Jobs & Companies
You've likely heard of sponsored blog posts. If not, they're posts that bloggers get paid to write, usually by a company that wants some exposure for its brand or products.
Paid book reviews work similarly, but you don't always need a blog for them.
You'll get paid for your honest reviews on books the company sends to you, in an effort to gain more exposure, and positive reviews, for the book.
The following list of companies all pay you to write book reviews!
Any Subject Books looks for honest book reviewers who are skilled in critical thinking. If you're chosen as a reviewer, you'll get periodic suggestions for reviews from the website, and can choose whether or not to accept.
If you do accept the title, you'll have a specified amount of time to complete the review, which will be outlined before you accept. You'll use a form given by Any Subject Books to complete your review.
No specific pay rate is mentioned on the website, but it seems that each review is different, depending on your word count, depth, etc.
Astronomy is an online magazine that accepts paid book reviews from people who want to review books of interest to its readers. However, it does state that you should first check with the book editor before pitching your desired books to the magazine.
The editor for Astronomy will look over your inquiry, which needs to include specific information about the book, like ISBN number, publication date, price, and more.
You'll get notified if the magazine wants you to write the review, which must include a brief summary, short quotes, and a deep analysis of the book.
No specific pay rate is mentioned on the website, but you can ask the editor for more information on the payment process.
Need Easy Extra Cash?

Join Opinion World #1 paid survey site. Take paid surveys anytime and anywhere via PC or Mobile App and earn PayPal credit, gift cards and more! No hidden fees and completely free!


Kirkus looks for freelance book reviewers to review its English and Spanish book titles for its book review section.
Reviews must be around 350 words long, and you have 2 weeks after receiving the book to complete the review. You may get your books in paperback, hardcover, or digital format.
You should have some writing experience for this one, since you'll need to submit your resume and writing samples to the editor for consideration.
Na'amat USA is an organization dedicated to Israeli-American women and children. Its magazine focuses on the same content, and pays book reviewers to review books with Jewish content.
No specific pay rate is listed on the site, but you can contact the organization via e-mail for more details.
Online Book Club pays $5 to $60 per review, depending on length, depth, and reviewer expertise. This website focuses much on new authors who need more exposure for themselves and their books, so you'll likely be reading a lot from new authors.
You'll have to complete your first review for free before getting your first pay, but as long as your review meets requirements, you'll be eligible for paid reviews.
Online Book Club will periodically send you book selections to choose from.
Publisher's Weekly is a print and digital magazine dedicated to authors, publishers, and other writers. On its career page, the magazine will sometimes list openings for reviewers to review books for future issues.
Read Dream Relax is a blog dedicated to book reviews of all genres, and it allows book reviewers to join its dedicated team.
You'll have to send an e-mail to the owner, Laura, with some current review samples. The website states that you'll usually hear back within a week if you're a good fit.
You may also want to inquire about a pay rate, which isn't specified on the website.
A definite pay amount isn't mentioned on the website, but it does specifically say that it pays its reviewers monthly for reviews completed the previous month.
On this site, you'll be a guest blogger posting book reviews between 250 and 300 words long. You'll receive occasional offers for books for review, and you can choose your preferences. Ultimately, editors will choose the best-matched reviewers for each book.
Your review must include a brief summary of the story, as well as your honest opinions. Negative criticism is okay, but you must present facts to back up your critique.
The online magazine, The Writer, pays for accepted pitched stories, including book reviews. You can pitch your review to the editor, and you'll hear back in about 2 weeks if your review is going to be published.
Wellesley College's Women's Review of Books focuses on books written by, and about, women. In addition to other writings, the website accepts book reviews of women's books.
You can mail your resume to the Editor in Chief for consideration for becoming a book reviewer for the website. You must have experience with professional, and creative, writing.
Pays 14 cents per word, and welcomes your ideas for books to review.
Love to Read? These Sites Will Give You Free Books in Exchange for Honest Reviews!
These places won't pay you for reviews, but you'll get books for free in exchange for your reviews.
I felt that they were worth mentioning, since getting books for free is a good way to save money, while fostering your love for reading!
You must have a blog to get free books to review from Bethany House.
Reviews must be at least 75 words, not including the plot synopsis, and you'll have to post it to a retailer website, like Barnes & Noble, in addition to your blog.
You can request one title for review each month, but the limited copies get handed out on a first-come, first-serve basis. So, no guarantees that you'll get a book each month.
Bloggers, retailers, librarians, and media outlets can get free books from Blogging for Books in exchange for honest reviews. Books are available in print and digital form.
Book Browse offers a First Impressions program, giving its reviewers a chance to get a first look at books before they're published. These books are usually available once per month, and you'll get about 4 weeks to read and review them.
Reviews need to be anywhere from 5o to 300 words and should contain your opinions, rather than a plot summary.
Bloggers can receive free books from BookLook Bloggers, but you need to have an active blog. The website defines 'active' as posting at least once per month and having at least 30 visible subscribers to your blog.
You also have to be active on BookLook, which the website states as remaining active every 90 days, and posting your reviews within 90 days of initial book requests.
For your review to be accepted, you'll also need to post it on another retailer's website, like Amazon.com.
Chicago Book Review has a dedicated team of reviewers for its nonfiction and fiction selections, and you can be one of them!
If you're chosen as a reviewer, you'll even get your bio featured on the 'Meet the Reviewers' page, which is great for establishing an online presence and portfolio! Plus your reviewed books are free.
You'll need to send along your writing samples and resume to be considered as a reviewer.
Civitas Press is a book publisher of uplifting and inspiring stories, with openings for book reviewers. You must have a blog to post your reviews on, and you'll also need to post a review on Amazon.
MoodyPress is a publishing company that seeks exposure for its published books through honest, online book reviews. If you have a blog and an account with an online book retailer, you can review for the company.
You'll be able to view a selection of books to choose from, and they'll usually be shipped to you in 7 to 10 days. You'll have 60 days to review the book on your blog and the retail site.
Teachers, librarians, media, and regular book reviewers can sign up for Net Galley for free books in exchange for reviews. These books are delivered digitally, only.
You'll become part of Net Galley's community, too, where you can discuss books with others, vote on cover photos, and network with other reviewers and authors.
NewPages is an online resource for authors, writers, publishers, and more. If you enjoy reviewing books, you could get your reviews published on NewPages.
To get accepted, you'll need to send a recent review you've done for consideration. If your review style fits the requirements, you'll be sent new book selections to review.
Reviews must be at least 800 words and you'll have about a month to write your review after receiving the book.
Springer hosts scientific, medical, and technical journals, so your skills should be honed in on reviewing these subjects.
Once accepted as a reviewer, you'll have 6 months of online access to up to 10 selections at a time to review. Once your review is accepted, you'll receive a print copy of the book as a thank you.
Story Cartel hosts books mainly by new authors, as a way for authors and readers to connect. The books hosted on the site are all free for registered users, but you'll be leaving honest feedback for the author about his or her book.
Feedback should be constructive, as the point of the website is for authors to gain real feedback to improve his or her writing and books.
Tyndale Blog Network focuses on connecting authors to book bloggers that can provide honest reviews on their websites. You'll also need to review on an online book retailer, like Amazon.
You can review two books at a time, and reviews must be at least 2 paragraphs long, including a summary and your opinion.
Currently, only US reviewers can get print copies of books, but international reviewers may receive digital copies.
How Else Can I Make Money with Books?
If none of the above websites or companies work for you, there are still some other ways you can make money with books!
Affiliate Programs
If you own a blog – or even if you just use social media – you can make money using affiliate links to recommend books.
You place the link on your website, and whenever a reader clicks on the link to purchase the book, you'll get a commission! Amazon Associates is an excellent place to start, since it has almost any book you can imagine available.
And, who doesn't love Amazon?
Audiobooks
If you have a good speaking voice, you could get paid to narrate audiobooks, or even create your own! People on Fiverr, Upwork, and other freelance marketplaces sometimes look for this type of skill.
If you want to create your own, you can sell them on Amazon!
Creating eBooks
If you love books enough, you might consider writing one of your own. Regardless of genre, eBooks are a good way to publish your own book with little costs involved.
Again, Amazon comes into play as the perfect place to host your eBooks for sale! You can get your feet wet with a short book, and move onto longer stories as you gain more comfort.
Many bloggers also sell helpful eBooks related to their niche. A food blogger may create a cookbook of their favorite recipes, for example. Then, sell away on your blog for extra income!
Editing
Freelance editing jobs for authors wanting their new books proofread are abundant on freelance marketplaces. If you're good with spelling, grammar, and punctuation, this is the perfect way to read new books all the time, and get paid for correcting them!
Upwork usually lists a lot of editing jobs, or you can use a writing job board, like ProBlogger, to find more jobs.
Pitching Magazines
Tons of digital and print magazines feature book reviews in their publications, and you may be one of the lucky ones who gets to review books for a future issue.
But, this process can take time, since it involves pitching magazines your book review ideas with samples, and waiting to hear back.
The best part is, most magazines will turn to you for future review needs if you do a really good job. And, many of them will at least pay you something for your time!
This article is helpful for teaching you to create the perfect pitch letter.
If you're a member of the rewards site, Swagbucks, you may be passing right by an opportunity to get paid for your love of books.
Swagbucks has tons of offers for Books & Magazine companies that will give you cash back plus Swagbucks for your purchases. So, you'll need to pay money up front, but if it's for something you'll pay money for anyway (books!), you can earn some awesome cash back.
BookOutlet, for example, is one book retailer where you can earn 5% cash back on your purchase, plus 5 SB per $1 you spend!
If you know of any other ways to get paid for your love of books, let us know in a comment!
Join Swagbucks now or read our full review.
Related Posts:
Want more money?

Join EarningStation, he highest paying site out there, where users get paid to Take Surveys, Watch Videos, Play Games, and Shop Online. No hidden fees and completely free!