17 Places That Buy Cell Phones for a Good Price Near Me and Online!
Updated on: by Amy Kennedy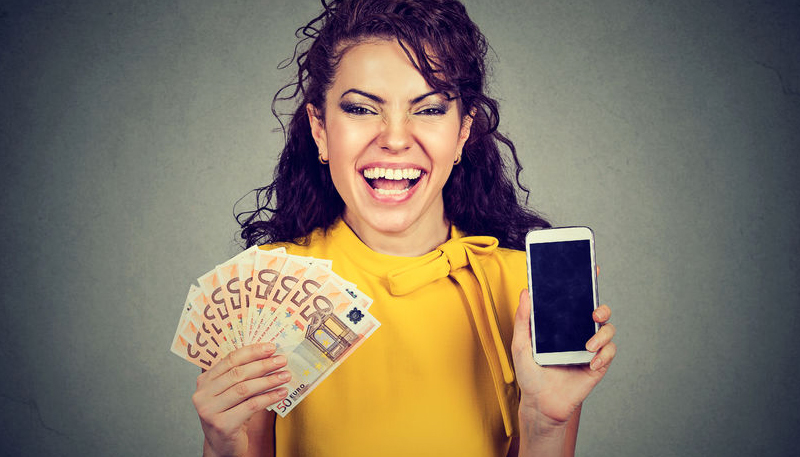 Have old cell phones laying around?
Need Easy Extra $350+/Month For Free?
A lot of people leave their old phones in a junk drawer and never try to sell them to at least get some of their cost back.
You might as well get some cash for them that you can use to buy an upgraded phone!
Between local and online stores, you have several options for places that will buy your used cell phones for a good price.
Depending on your phone, you could get a solid $100 or more, especially if you have a newer model and sell at the right places.
The following places to sell cell phones on this list are some of the best around – locally and online – that can give you good prices for your phone.
Places That Buy Cell Phones for a Good Price Near Me
Selling locally is a good option for cell phones because your buyer can check over the phone and make sure it's what he or she wants.
Plus, it saves you the cost of shipping and fees that you may have to pay when you sell your cell phone online.
Local places may also offer some more money over online locations, which is a bonus!
Here are some of the best local stores that buy used cell phones:

Craigslist
Craigslist is a completely free way to sell just about anything you own.
Think of it as an online garage sale.
Here, people sell everything from clothing to furniture to cars.
Electronics are extremely popular on Craigslist and most sites like Craigslist.
On Craigslist, you can find your location and post an ad for free to reach buyers in your area.
Add several pictures of your phone and a detailed description to let others know anything that may be wrong with your phone.
Need Easy Extra Cash?
Pinecone Research, a leading name in online survey panel honesty, absolutely guarantees $3 cash for every survey you complete!
Take advantage of their time limited New Membership drive and register NOW. Join today: 100% free!


People can contact you via the secure Craigslist email system so they won't have your real email address unless you reply.
You set your own price, so make sure you pick one you're comfortable with.
In many cases, people may try to offer a lower price, so you may even want to go a bit higher than what you want.
It's best to meet in a public place for safety reasons and never give out your home address.
Some police stations and other government agencies now have public meeting locations on their grounds so people can make safe transactions using Craigslist and other local selling methods.
Definitely utilize one of those if you have one!
EcoATM is one of the best solutions to selling your cell phone near you if you have a kiosk available in your town.
You can find an EcoATM location here.
These kiosks let you sell used cell phones, including iPhones and Samsungs, and also some tablets and music players.
You choose your device, answer a few questions about it, and EcoATM will pull up a list of people or businesses who want to buy that item.
You can choose from the list of buyers to find the best price!
If you agree to sell your phone for the price listed, then you'll get your cash on the spot.
Simple and convenient!
You can even download the EcoATM app for iOS and Android devices to get a price for your phone before you head to the kiosk.
Electronics Stores
If you have electronics stores in your area, give them a call to find out if they have a trade-in program for cell phones.
Many do because they can refurbish them to sell.
GameStop, for example, lets people sell used video games and consoles, but also accepts some other devices, like tablets and cell phones.
You can get cash or store credit.
GameStop even has special offers from time to time where it'll offer extra discounts to those who use their trade-in store credit to purchase a specific item.
Best Buy, Costco, and Radio Shack are other stores that are known to buy used cell phones.
Facebook Groups/Marketplace
I'm a member of a few local Facebook groups: two for my county and one for my town.
All three are very active, so any time I try to sell anything, I usually can within a few minutes.
Cell phones and other electronics are some of the most popular items to buy, and I see most people finding a buyer for them quickly.
Search Facebook groups for buying/selling groups in your area.
Usually, a search for "[your county/city] buy/sell" works well.
If you can't find anything, ask your Facebook friends for some help!
Most likely, at least a few of them are members of one.
The Facebook Marketplace is also a good option.
It's a lot like Craigslist, but goes right through Facebook.
Earn Everything… nearly!
Join Opinion Outpost, one of the few faithful and honest survey panels and earn cash and gift cards for your opinion. Stack your points and redeem them: Simple! No hidden fees and completely free!


There are no fees and your Facebook network will be able to see what you're selling, so you may get a buyer quickly.  
You can even make it private to only your friends if you feel more comfortable just selling to people you know.
Mobile Apps
Mobile apps, like LetGo and Close 5, are simple and convenient – and free!
They're a lot like Facebook Marketplace or Craigslist, but with the convenience of selling and talking to buyers on your mobile device.
The apps are both available for iOS and Android devices.
You can add photos for free. Make a detailed description and others can contact you through the secure messaging system.
As always, for safety reasons, find a public place to meet and don't give out any personal information to buyers.
Pawn Shops
Another good option is to locate pawn shops that buy cell phones near you.
The only downside to pawn shops is that they all price things differently.
One may offer you $200 for an iPhone 6, while another may only offer you $50 to buy it.
It's a good idea to look up fair market prices for your specific used device before heading to your local pawn shop so you know an idea of what you should expect and not get bartered down to selling it for pennies.  
Yard Sales
Yard sales are still a great way to sell your used stuff.
Despite tons of online and offline retailers to buy things from, people still love yard sales to find awesome bargains.
If you know you may not get much for your used cell phone through other selling methods because it's damaged or an older model, then you may want to try selling it at a yard sale.
Even if it goes for $10 to $20, it's better than $0.
People who use cell phones for parts often visit yard sales to find old phone for cheap prices that they can use parts from to refurbish other phones, so it's worth a try.
Make sure to advertise your yard sale in your local paper and on Facebook so you get a lot of visitors!
Online Stores That Buy Cell Phones
Online cell phone sales can sometimes give you instant cash for your cell phones and can be a convenient way to sell them.
Some online places are completely free to sell on – no fees or shipping costs are involved!
Here are a few of the best places to sell your cell phone online:
Amazon is great for all kinds of things – even for selling old cell phones!
The Amazon Trade-In program is the perfect solution for people who need to get some old stuff off their hands.
The program accepts a lot of books, games, and electronics.
Go to Amazon and search for your item.
When you find the listing for your exact cell phone's make and model, click the listing and see if Amazon is currently accepting trade-ins for that phone.
If so, you can enter a few questions about the condition of the phone and Amazon will offer you a quote right away.
You can choose to send your device in and wait for Amazon to evaluate it before receiving your money on an Amazon gift card.
Or, you can accept the quote right away. But, if you do this and your phone isn't in the condition you described, you'll owe Amazon the difference.
This program is one of the easiest to use and can give you money instantly. Just make sure to be totally honest about the phone's condition.
eBay's auction platform is a good way to go to sell your used phones.
This is one website a lot of people use to sell broken or non-working phones because many buyers search eBay to find phones to refurbish or use for parts.
So, it's possible that you can still get $50 or more from a broken iPhone on eBay.
There are listing and selling fees associated with eBay, but you can use this handy calculator to get an estimate as to what you might pay.
Gadget Gobbler is a website that buys used tablets, game consoles, phones, and more.
Cell phones are among the most popular items to buy and sell here.
You can receive an instant quote for your phone just by filling out some basic information and searching for your exact device.
The package materials and shipping label to send in your phone is completely free.
Once you send it in, a team member will inspect it and make sure it matches the description you set.
You'll get paid within a few days by check or PayPal.
Gazelle is one of the most popular websites to sell electronic devices. In addition to cell phones, Gazelle accepts various tablets, Macbooks, and other electronics.
Once you fill out information about your device, you'll receive free shipping materials and a label from Gazelle.
Shipping is free as long as your device is worth at least $1.
You can get an instant offer for your device and, in some cases, get paid the same day.
Gazelle pays via PayPal, check, or Amazon gift card.
Gazelle even has some kiosks that work similarly to EcoATM where you can drop off your phone and get paid.
You can see if there's one available near you by using Gazelle's kiosk locator.  
Target has its own trade-in program that operates online, rather than in the store.
It accepts several different cell phone models, so there's a good chance you can get at least some cash for your phone.
Your payment comes in the form of a Target gift card, so this option is best for regular Target customers.
Once you fill out your phone's information, you'll receive a prepaid shipping label.
Target has same-day processing, so you can get your payment as soon as the team evaluates your phone's condition.
uSell accepts a few different types of electronics, but cell phones are its most popular.
You can receive an immediate quote once you search for your device and answer some questions.
Your quote is good for 30 days, so feel free to shop around to find the best price!
uSell works a little differently than other places in that it's more like a website that connects buyers to sellers.
But, it takes care of all the hard work for you.
uSell also offers a free shipping label to make the process as simple as possible.
Your payment usually arrives within 5 days from when your buyer gets the device, and uSell pays with PayPal or check.
Walmart's trade in program is similar to Target's.
Instead of visiting the store to trade in your cell phone, you can ship it for free to Walmart's CExchange center.
Once Walmart receives your phone, the team will evaluate it. You can get an instant Walmart eGift card for your phone!
Swappa is a popular marketplace for buying and selling used electronics, including cell phones.
It provides a safe and easy platform for individuals to connect and conduct transactions.
To sell your cell phone on Swappa, you'll need to create an account, list your device with accurate details and photos, and set your asking price.
Once a buyer is interested, you can communicate and negotiate directly with them.
Swappa charges a flat fee per sale, ensuring a transparent and straightforward selling process.
Decluttr offers a convenient way to sell your old cell phones and other electronic devices.
It specializes in buying used tech items, including smartphones, tablets, and wearables.
To sell your cell phone on Decluttr, you simply need to provide information about your device's condition and specifications through their website or app.
Decluttr will then provide you with an instant valuation.
If you accept the offer, you can ship your device to Decluttr for free using their provided shipping label.
Once your phone is received and verified, you'll receive payment through direct deposit, PayPal, or check.
BuyBackWorld is an online platform that allows you to sell your used cell phones, tablets, and other electronic devices.
It offers a straightforward selling process and provides competitive prices for your devices.
To sell your cell phone on BuyBackWorld, you need to search for your specific device and answer a few questions about its condition.
Based on the information provided, BuyBackWorld will provide you with an instant quote.
If you accept the offer, you can ship your device using their free shipping label.
Once your phone is received and inspected, BuyBackWorld will issue your payment through PayPal, direct deposit, or check.
Conclusion: Sell My Cell Phone for Cash Near Me or Online
With so many options for selling your cell phone online or locally, you'll never have to worry about collecting old phones in your junk drawers and not making a penny on them ever again.
Among these options, you can find a buyer for just about any cell phone.
Of course, newer models of iPhones and Samsungs are likelier to give you the most money right now, but the market always changes.
Before you sell anywhere, remember to do some research on your phone's value so you get a fair price from potential buyers.
Have you sold cell phones before? What places do you prefer? Let us know in a comment!
Related Posts:
Earn Everything… nearly!
Join Ipsos iSay, one of the few Faithful and Honest survey panels and earn prizes, gift cards and donations. Stack your points and redeem them: Simple! No hidden fees and completely free!