48 Places You Can Buy Dry Ice Near You
Updated on: by Amy Kennedy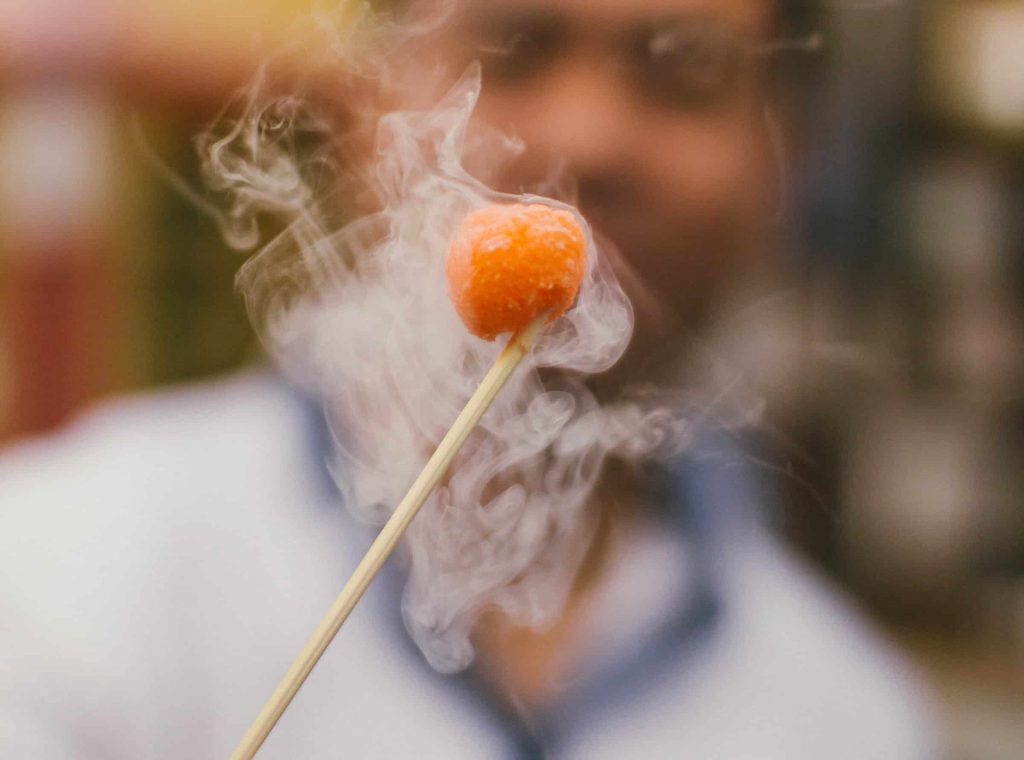 Need Easy Extra $350+/Month For Free?
You do not need to buy dry ice so often, and of course, it might not always be on top of your buying list. As such, when you need it, you might not be sure where to purchase it or how much it costs.  
Nevertheless, what is dry ice? Like ice cubes made of water in solid form, dry ice is carbon dioxide in solid form. Typically, dry ice does not have a liquid state, and instead of melting, it sublimates from a solid to a gas state, which is why it is called "dry ice."  
Unlike regular, cubed, or crushed ice, it is unsafe for human consumption. You should not use dry ice in things like cocktails. Ideally, it often acts as a cooling agent since it works better than regular ice, keeping products frozen or cold because it does not melt or cause a mess as regular ice does.  
Moreover, this product is also utilized in fog machines, usually in places like theatres and concerts, since it creates a dramatic effect.  
How Much Does it Cost?
Usually, dry ice costs around $1 to $3 per pound. However, the cost of dry ice tends to vary on factors like where you purchase it or the amount you need. Typically, it is cheaper to buy dry ice online and in bulk if you need it in abundance.  
Ideally, you can get great prices for this product at large retailers such as Albertsons or Kroger. The above are great choices if you want to buy dry ice in smaller quantities with a good deal on the price.  
With that said, it is essential to note that dry ice is a dangerous substance and must be handled with care. There are numerous concerns you must be aware of when handling dry ice. For instance: 
It can never be swallowed because it can burn internally

 

Dry ice can cause skin burns

 

If sealed in a container, it can cause an explosion

 

Excessive carbon dioxide can result in asphyxiation

 
Where Can I Get Dry Ice Near Me?
Several grocery stores and big box stores such as Publix, Walmart, Kroger, and Costco usually sell dry ice. Other places selling this product include some gas stations, such as 7-Eleven, Sheetz, and several butcher shops. Additionally, you can order dry ice online and get it delivered to your doorstep at your own convenience. 
If you are a first-time buyer or not sure where you can buy dry ice, this article will definitely come in handy to point you to ideal stores, locally and online. Remember, if you do not see your favorite store on our list or have no stores near you, those establishments that act as drinking water refill stations often sell ice or dry ice.  
Grocery Stores Selling Dry Ice Near Me
Larger grocery stores often sell dry ice, unlike supermarket floors that might not have it on their shelves. One of the most common questions is whether Walmart sells dry ice. Yes, Walmart sells dry ice and is part of the list below.  
Fortunately, most large grocery stores have dry ice available. You just need to engage the manager of your local grocery store for the amount of dry ice you need, and they will bring it right to your doorstep. Alternatively, you can visit their location and take it home with you. 
Below is a list of grocery stores selling dry ice near you. However, it is important to note that while some retailers sell dry ice at all of their stores, others sell this product only at select locations. Therefore, it is advisable to call ahead to avoid wasting time going there only to find out they do not sell the product at your local store.  
Here is a list of common grocery stores selling dry ice: 
1. Publix
Publix is a popular grocery company founded in 1930. They have its headquarters in Florida and have been rated as one of the most trusted brands in America with excellent customer service. If you reside near a Publix store, you can find dry ice there.  
This store sells dry ice in some of its locations. However, the availability usually varies depending on where you live. Generally, Publix is likely to sell dry ice in areas near beaches, mountains, theme parks, or during the Halloween season. 
Need Easy Extra Cash?
Pinecone Research, a leading name in online survey panel honesty, absolutely guarantees $3 cash for every survey you complete!
Take advantage of their time limited New Membership drive and register NOW. Join today: 100% free!


Penguin Brand Dry Ice is typically available for purchase at $1.50 to $2 per pound. You can use the store locator on the store's website to find a location near you that has dry ice.  
2. Walmart
Chances are, if there is a Walmart store near you, they will have dry ice, especially around the Halloween season, since this is when most people purchase it to make the fog effects. Ideally, dry ice is significantly difficult to store because it sublimates (turns into gas); hence Walmart stores might not have it in stock at all times. Therefore, it is a great idea to call the designated store ahead and inquire if they have it.  
Dry ice here usually costs between $1.00 and $1.50 per pound and rarely costs more than this. Online Walmart sells it at $1.44, but it can vary from store to store, with some selling it as low as $1.  
3. Safeway
Safeway is among the biggest supermarket chains providing commodities ranging from food, groceries, and other essentials like dry ice. They make dry ice available at numerous outlets, but it is always advisable to check from the Safeway web or App if the outlets near you are stocking dry ice.  
Alternatively, you can call and inquire about this product, and if available, you can proceed to make an order and expect the ice delivered to your doorstep. They typically sell it for $1 to $3.  
4. ACME Markets
ACME Markets is a popular supermarket chain operating about 161 stores throughout New Jersey, Delaware, Maryland, Pennsylvania, and the Hudson Valley of New York. They have their headquarters in East Whiteland Township, Pennsylvania, near Malvern, a Philadelphia suburb.  
This store is the largest grocery retailer in the Delaware Valley, and you can be sure to get some dry ice for both individual and business purposes. Here, you just walk in or drive to their stores and purchase dry ice.  
5. Costco
Costco Wholesale is an American multinational company operating a chain of membership-only big-box retail stores. This company sells groceries and other household essentials.  
While you might get some dry ice at Costco, they do not sell it widely. Ideally, it often depends on where the customer is and which store is nearby. Most Costco stores that sell dry ice have it in the designated freezer section at the front of the store.  
To avoid the frustration of wasting time going to the store and not getting your ice, you can use the Costco store locator on Costco.com to find your store and find out if they sell dry ice. 
6. Albertsons
Albertsons is an American grocery store chain headquartered in Boise, Idaho but has over the years grown and spread across the country. They sell dry ice, but it is usually available seasonally. 
One store confirmed that they sell dry ice at about $1.49 per pound, although prices tend to vary. This store does not require you to preorder; however, it is advisable to call ahead to your local store and inquire if they have stock available.  
7. Meijer
Meijer is one of the best places to get dry ice if you are in the Midwest. It is a one-stop shopping center for groceries and other household items. They have Penguin Brand Dry Ice sold in individual packages for $2.39 each.  
However, not all locations sell this product, and some stock it seasonally. In most stores, it is kept at the back, and you can ask a store associate for it who will direct you to it or get it for you.  
8. CHEF'STORE
CHEF'STORE is your one-stop shop for fresh produce, premium dairy products, and quality meats. They also have quality kitchen supplies with stores across the United States that are easy to navigate and carry everything you need at competitive prices.  
This store sells dry ice at every location and usually costs between $1 and $3 across all their stores.  
9. Kroger
Kroger has numerous brands and services. Most Kroger stores sell dry ice, usually in one-pound or 15-pound bags. You can always find dry ice near the regular ice at these stores, usually near the entrance. Dry ice costs around $0.99 to $2.00 per pound.  
However, the stores do not always have this product in stock because of sublimation, and deliveries are not always regular. It is most likely available during the summer or Halloween holidays. Consequently, it is always advisable to call before visiting the establishment.  
10. Weis Market
Weis Market is a vast regional grocery chain headquartered in Sunbury, Pennsylvania, United States. They currently operate more than 199 stores across the United States.  
You can purchase dry ice pellets at Weis Markets in West Virginia, New Jersey, Maryland, Pennsylvania, Virginia, New York, and Delaware.  
11. Fred Meyer
Fred Meyer is situated in the western part of the US and has 134 locations in Alaska, Idaho, Oregon, California, and Washington. You can buy the Penguin Brand Dry Ice from most of the store's locations by asking at the cash register or store attendants.   
12. Dillons
Dillons features about 94 store locations in Nebraska and Kansas. Some of these stores sell dry ice, which is a great place to purchase the product if you live nearby. You can visit a Dillons store or call ahead to inquire about the availability of dry ice stock.  
13. Giant Food
Giant food has more than 160 locations in Delaware, Virginia, Maryland, and Washington, DC. Not all stores sell dry ice; therefore, call the store ahead to ask whether they have dry ice in stock.  
14. Harris Teeter
Harris Teeter sells dry ice in most of its locations. This company has about 243 store locations in North Carolina, Georgia, Florida, Maryland, South Carolina, Virginia, and the District of Columbia.  
Before going onsite, you should call a store near you ahead to inquire if they currently have the product in stock. 
15. H-E-B
H-E-B is a grocery store with more than 300 locations in Texas. Most of their stores usually have dry ice in stock, especially any H-E-B stores in a Metro area. The latter are more likely to stock dry ice than those in rural areas. Their dry ice costs between $1 and $4.  
16. Ingles Markets
Ingles Market is a regional supermarket chain featuring more than 197 stores in the southeastern United States. Its Frozen food department usually sells huge blocks of dry ice, for instance, 10 and 20 pounds.  
17. Hy-Vee
Hy-Vee sells regular and dry ice in its 265 grocery stores in the Midwestern US. Usually, prices, promotions, and dry ice availability vary by store and online, determined by the date ordered. Dry ice typically costs $2.19 per pound.  
18. Gelson's Market
You can purchase dry ice at Gelson's if you live in South Carolina. It has about 27 store locations, and you can call the one near you to inquire if it currently has the product in stock.  
Earn Everything… nearly!
Join Opinion Outpost, one of the few faithful and honest survey panels and earn cash and gift cards for your opinion. Stack your points and redeem them: Simple! No hidden fees and completely free!


19. Ralphs
Ralphs is a supermarket chain with over 190 locations in California across 108 cities. If you particularly live in South Carolina, Ralphs is one store selling dry ice. Most of its locations sell the product for $1.69 to $3.99 per pound.  
20. Smith's
Smith's Grocery sells Penguin Brand Dry Ice and Kroger Dry Ice. This company was founded in Brigham City, Utah, and is a subsidiary of Kroger.  
21. King Soopers
King Soopers is a supermarket brand under Kroger situated in the Rocky Mountains of the United States. Initially, it started as its brand and currently has its headquarters in Denver, Colorado. You can always call ahead to inquire if the store near you has dry ice.  
22. Smart & Final
Smart & Final is a great place to purchase dry ice for those who live in the Western US and Northwestern Mexico. They sell dry ice per pound that you can buy in person or order online. They have accessible stores in California, Arizona, Montana, Washington, Oregon, Utah, Nevada, and New Mexico. Penguin Dry Ice goes for $2.19 per pound.  
23. Tom Thumb
If you live in Dallas, Texas, Tom Thumb is a great store to buy dry ice. This store has about 64 locations within the area. It is advisable to call a store near you ahead to inquire if it has the product.  
24. Vons
Vons is a supermarket chain owned by Albertsons in Southern Nevada and Southern California. It has its headquarters in Fullerton, California. Vons has more than 199 stores where you can purchase dry ice. Always call ahead to confirm if the store near you has dry ice for sale.  
25. Wegmans
You can buy blocks of dry ice from Wegmans Food Markets if you live in the Mid-Atlantic and Northeastern regions. They have about 105 stores in eight states, including Virginia, Maryland, North Carolina, New Jersey, New York, Pennsylvania, and Massachusetts.  
26. Whole Foods Markets
Whole Foods comprises about 505 store locations in 44 states and 349 cities nationwide. You can walk in or call the store near you ahead and inquire about the types of dry ice you can buy from them.  
27. WinCo Foods
WinCo Foods typically sells dry ice all year round. This company is based in Boise, Idaho, and has other locations in ten states. People living on the United States West Coast can purchase dry ice for $1.98 per pound.  
28. Winn-Dixie
Winn-Dixie is an excellent place to buy dry ice if you live nearby Alabama, Georgia, Florida, Mississippi, and Louisiana. It has about 500 stores where you can walk in or order the product.  
Gas Stations That Sell Dry Ice near Me
Apart from grocery stores, several gas stations actually sell dry ice. Grocery stores do not usually allow you to handle dry ice yourself, but most gas stations do. Therefore, ensure you follow the right safety precautions, for instance, wearing thick gloves.  
It is also essential to note that some of these gas stations only offer dry ice at select locations. For this reason, you should call ahead at your local station ad ask if they sell dry ice.  
Here is a list of common gas stations selling dry ice: 
29. Hy-Vee Gas Stations
You can buy dry ice from a Hy-Vee Gas Station near you. Most of these stations have this product in stock. You can locate a store near you using the Hy-Vee Gas Station Locator. You can then call ahead to inquire if a store near you has dry ice in stock.  
30. 7-Eleven
7-Eleven is an international chain of gas stations and convenience stores with more than 71000 stores spread across 17 countries. In the country, there are over 10000 stores usually open 24 hours. You can buy dry ice from a 7-Eleven store near you.  
31. Sheetz
You can purchase dry ice from Sheetz. This company is an American chain of convenience stores and coffee shops under the Sheetz family. It has stores in over 600 locations in North Carolina, Ohio, Virginia, West Virginia, Maryland, and Pennsylvania.  
32. Maverick
If you live in the western part of the United States, you can buy dry ice from Maverick convenience stores. Maverick has about 600 store locations in Nevada, New Mexico, Nebraska, South Dakota, Idaho, Utah, Colorado, Wyoming, Oregon, Alaska, and Washington.  
33. QuickTrip
QuickTrip has over 800 convenience stores and fuel service stations operating in the Southern, Midwestern, and Southeastern United States, including Nebraska, Illinois, Georgia, Texas, Iowa, Kansas, Oklahoma, Missouri, and Arizona. You can get dry ice at a location near you.  
34. Speedway
Speedway LLC features more than 3900 store locations across 32 states, particularly in the Midwest and East Coast regions. It is a convenience store and a gas station chain where you buy dry ice. You can call ahead to inquire if they have this product in stock.  
35. Weigel's
Weigel's is a convenience store chain where one can buy dry ice if they live in East Tennessee. This company operates in 69 locations in the East Tennessee area. You can also purchase kerosene from these stores.  
36. Wawa
You can buy dry ice locally from Wawa if you reside or are around the East Coast of the United States. It has about 900 convenience stores and gas stations in Florida, Maryland, Washington, Pennsylvania, Delaware, Virginia, and New Jersey. 
Can I Order Dry Ice Online?
Several companies and grocery stores allow you to order dry ice online and deliver it to your doorstep. Even better, some retailers allow you to order this product in bulk. Typically a dry ice delivery service is a good pick if you need dry ice in bulk.  
Here are some of the top dry ice delivery services: 
37. Dry Ice Corp
Dry Ice Corp is an online store with several retail distribution partners in Northeastern states. Only dry ice pellets are sold online, but you can get other types from retail partners. The minimum amount you can order is 10 pounds.  
38. Dry Ice Delivered
Dry Ice Delivered is an online company shipping dry ice anywhere in the United States. It sells dry ice blocks and pellets for $10 for ten pounds. Visit their website to check shipping fees.  
39. Amazon
Amazon is a famous online marketplace. You will find several dry ice supplies from different sellers listed on Amazon.  
40. Airgas
Airgas is a major distribution network in the packages gas industry in the US. You can order dry ice blocks and pellets online from this site.  
41. Continental Carbonic
Continental Carbonic is the topmost manufacturer and distributor of dry ice and related products. They make and stock all types of dry ice, and you can order all online or walk into one of its 50 facilities in the US.  
42. Emergency Ice
Emergency Ice is a commendable place to buy dry ice online, especially if you live in Dallas, Texas. They deliver packaged ice to enterprises with commercial needs.  
43. The Ice Factory
You can buy dry ice in small and large quantities online from Ice Factory Online. It sells them in blocks, pellets, cubes, and slices.  
Who Sells Dry Ice Locally?
Apart from the locations discussed above, more options for getting dry ice exist locally. They include: 
44. Drug Stores
You can buy dry ice at Walgreens if there is a location near you. This company operates 9200 stores in all 50 states. Prices and availability usually vary based on store locations.  
45. Butcher Shops
Because most butcher shops use this product to store meat, they may offer to sell excesses. Call your local butcher shop to inquire if they have dry ice for sale.  
46. FedEx Locations
Some FedEx locations usually provide dry ice for packaging and mailing products that require cold conditions, like frozen meat or fish. Contact your local FedEx to see if they have any dry ice.  
47. UPS Stores
Like FedEx, some UPS stores have dry ice for packaging and mailing products. Therefore, contact your local UPS store and ask if they have dry ice.  
48. Local Ice Companies
There can be local ice companies operating near you. For instance, Arctic Ice in the Midwest is the biggest dry ice producer and seller. They usually sell dry ice in bulk and in small quantities. To find search companies near you, simply type "dry ice company near me" into Google and search.  
Factors to Consider When Buying Dry Ice
When buying dry ice, there are several important factors to consider. Here are the key aspects to keep in mind:
Quantity: Determine the amount of dry ice you require. It typically comes in blocks or pellets, and you'll need to calculate the quantity based on your specific needs, such as the volume and duration of cooling required.
Purpose: Consider the purpose for which you need dry ice. Whether it's for shipping perishable goods, preserving food, creating special effects, or other applications, the required specifications may vary.
Temperature requirements: Dry ice is extremely cold, around -78.5 degrees Celsius (-109.3 degrees Fahrenheit). Ensure that the temperature it maintains aligns with your needs and the items you intend to cool or preserve.
Duration: Determine how long you need the dry ice to last. Dry ice sublimates (converts from a solid to a gas) over time, so it's important to choose an appropriate quantity and consider insulation or additional cooling measures if required for extended periods.
Packaging and transportation: Consider the packaging and transportation requirements. Dry ice is typically sold in insulated containers or Styrofoam boxes to slow down sublimation. Ensure the packaging is sufficient to maintain the desired temperature during transit.
Supplier reliability: Purchase dry ice from a reputable supplier or retailer known for providing quality products. Check their storage conditions, handling practices, and overall reputation to ensure you receive a reliable and safe product.
Safety precautions: Dry ice can be hazardous if mishandled. Educate yourself about the proper handling and storage procedures to ensure safety. For example, it's crucial to use protective gloves or tongs to avoid direct contact with dry ice, as it can cause burns.
Local regulations: Familiarize yourself with any local regulations or restrictions regarding the purchase, handling, and disposal of dry ice. Some jurisdictions may have specific rules due to safety concerns.
Conclusion
There are multiple stores that offer dry ice, online and offline, in your locality. However, if any of the above in our list is within reach, you should definitely check it out. Most of these stores have it in stock, especially during select holidays like Halloween when you need it most or for any other purpose. 
Related Posts:
Earn Everything… nearly!
Join Ipsos iSay, one of the few Faithful and Honest survey panels and earn prizes, gift cards and donations. Stack your points and redeem them: Simple! No hidden fees and completely free!