20 Places to Get Balloons Filled with Helium
Updated on: by Amy Kennedy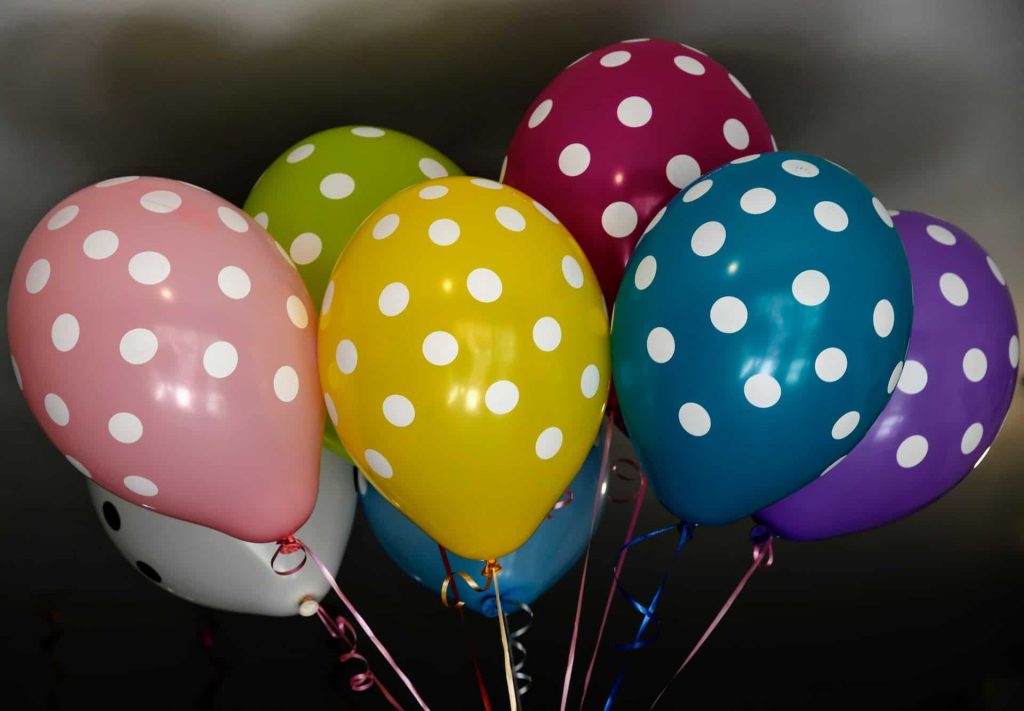 Need Easy Extra $350+/Month For Free?
Like cakes, balloons play a crucial part in any celebration, whether it is a birthday party or a wedding. They make it easier to transform an event atmosphere into a fun place.
It's no secret that balloons filled with helium are the best choice for parties. It's because helium makes balloons rise. The balloons can also remain inflated for a long time.
One of the challenges of planning a party is finding a convenient place to fill your balloons with helium. With so many stores to choose from, you may need to find out what sets each apart. To help you make an informed choice, here are 14 options you should consider:
1. Party City
As the name suggests, Party City is a great place to buy party essentials. It's also an ideal place to get your balloons filled with helium gas and shop for different balloons.
If you are looking for helium balloons near me, Party City offers inflated ones. You may also go for the uninflated balloons and fill them with Party City's helium fill-up service. Since not all balloons can withstand the gas, check the one in question before making a purchase.
A cashier at the store will help fill them up at the checkout point for free. If you buy the balloon from another store, it will cost you between $1.99 and $15.99 for a foil balloon and between 99 cents and $1.29 for a latex balloon.
Party City offers delivery services for party essentials sold at their stores. In this case, you have the option to make an online order and have a store operator fill them up for you.
2. Target
If you are shopping for helium-filled balloons for your next party, Target is one of the places to start looking. Target has a great party section in its countrywide stores. You can get latex and foil balloons in different colors and shapes from these stores.
Target stores also stock balloons depending on the holiday season. Whether you are looking for merry ones for Christmas or spookier ones for Halloween, there's a great selection to choose from.
Since the balloons come flat when bought, you need to inflate them with helium. Target stores also sell large helium tanks that you can buy alongside the balloons. You'll have an adequate supply of helium to last the duration of your party.
A heavy-duty helium tank (with 14.9 cubic feet of helium) costs about $50 at Target. For a lighter and cheaper version of the tank (8.9-cubic-foot), expect to pay about $25.
3. Walmart
Only Walmart stores that operate as large Supercenters offer helium fill-up service. If your town doesn't have a Walmart Supercenter, you can still shop for different types of balloons from the regular Walmart. At the party section of the store, you'll find pre-inflated and flat ones.
A pre-inflated one is a great choice if the Walmart store doesn't offer helium fill-up services. For the flat one, the Supercenter will fill it up for you, provided you bought it from the store. An operator from the store will expect you to share a purchase receipt before offering the service.
If you prefer doing it yourself, get a helium tank from Walmart. However, the helium fill-up service is way cheaper than the tank. It costs about 25 cents to fill up a balloon depending on the size.
4. Dollar Tree
Known for its affordable selection of products, Dollar Tree is a good place to buy party essentials. Like Party City, the store chain has a solution for the question, "where can I get balloons blown up?"
Need Easy Extra Cash?
Pinecone Research, a leading name in online survey panel honesty, absolutely guarantees $3 cash for every survey you complete!
Take advantage of their time limited New Membership drive and register NOW. Join today: 100% free!


The first option is to purchase inflated balloons from their party section. It's quite convenient to take this route, especially if you only have a little time to spare.
Another way is to use Dollar Tree's fill-up service. With this option, you'll have to purchase a balloon from the store and have them fill it for you. However, this service is only available for foil balloons rather than latex ones.
If you live far from the store, Dollar Tree can deliver the inflated balloon to your doorstep. Note that the delivery fee will vary with your location.
5. Dollar General
Since Dollar General and Dollar Tree have the same owner, their services are similar. Dollar General also offers a wide selection of helium-filled balloons. They also have a helium filling service limited to balloons purchased from their outlets.
For DIY enthusiasts, a tank carrying 8.9 cubic feet of helium can do the trick. The tank, which costs $35, can last you longer. It's also ideal if you have latex balloons since Dollar General's filling service only applies to foil balloons.
Like Dollar Tree, Dollar General allows both in-store and online purchases. A receipt of the purchase can also help you get the filling service for free. Most of their party essentials also come with a price tag as low as $1.
6. Kroger
With a reputation for high-quality produce, Kroger also offers party essentials. The grocery store chain has a helium-filling booth available to customers for a small fee. You can use it to fill up balloons bought from Kroger or any other store.
The main types of balloons sold at Kroger are foil and latex. The grocery store chain sells them flat or inflated. Depending on the size, type, and the number of balloons, the fill-up service costs range from $1 to $58.
Kroger's helium filling stations are easy and quick to use. It takes less than ten minutes from making a purchase to filling up a balloon. Customers can also place an order online and have the party essentials delivered to their doorstep.
7. CVS
You probably know CVS for their groceries, medication, and first aid necessities. Besides these products, CVS has a wide selection of festive products in the party section. There are different designs of balloons readily available for purchase at their stores.
Since CVS sells balloons, they also offer helium filling services. While it may sound strange to seek such a service from a pharmacy, what you find may surprise you. However, only a few CVS stores have party supplies stocked.
If there's a CVS outlet in your area, check whether they have a party section. Chances are that they may have a helium filling station too.
Getting a balloon filled with helium at the store comes free of charge. But you need to prove that you bought the balloon from CVS to enjoy this offer. If the CVS outlet in your town allows customers to fill balloons bought from other stores, the service comes at a small fee.
8. Publix
As a supermarket chain in the Southeastern US, Publix is a great place to get your party supplies. It also offers helium filling services at a fee whether you get the balloons from a Publix store.
There's no limit to the number of balloons Publix helium filling centers can accommodate. So, if your event or party needs hundreds of balloons, the store will fill them up as needed. However, expect to pay slightly higher since the fill-up fees depend on the number of balloons.
It costs $1.50 to fill a Mylar balloon and $1 to fill a latex balloon. If the balloons are larger, expect to pay more.
9. Meijer
Although it operates as a grocery store chain in the Midwest, Meijer also stocks party essentials. It's a convenient place to shop for different sizes and colors of balloons. You can also get the balloons flat or inflated.
Besides selling party supplies, Meijer outlets also offer helium services to customers. Unlike your usual grocery stores, the outlets fill up balloons with helium on request. They are quite convenient if you have a large number of balloons that you need to fill for an upcoming party or event.
If you are making an online order, a representative from the store will get back to you with a price estimate. They'll also inform you about the delivery process and date.
Note that filling up a balloon at a Meijer outlet takes a little bit longer. It's because the employees have other duties to attend to besides facilitating the service. For estimation purposes, expect a fulfillment duration of two to three hours for large orders.
Meijer stores also stock pre-filled helium balloons. Buying them is quite convenient if you can't wait hours to get over with the filling service.
10. Albertsons
With over 2,200 outlets across the US, Albertsons largely deals with groceries. The grocery chain recently expanded its offerings to include party supplies such as helium-filled balloons. Some of its outlets fill the balloons on request, while others sell pre-inflated balloons.
If there's an Albertsons store in your area, you may want to check out their events or floral department. Here, you will find plenty of party essentials, balloons included.
It costs between $1.50 and $7 to fill a balloon depending on the size. A 12-inch latex balloon costs $1.50 to fill, while a 16-inch latex one costs $7. Expect to pay about $4 and above for foil balloons.
A balloon costs between $1 and $10 at Albertsons, with the price being separate from the price of having the balloons inflated. The outlets allow customers to bring in balloons bought elsewhere. They also facilitate bulk purchases online and bulk filling requests.
11. Ralphs
In line with their mission to offer the best, Ralphs offers customers items they wouldn't normally find at other retail outlets. The company ranks as the largest food retailer in the Southern California region.
Besides selling groceries, Ralphs outlets expanded their offerings to include party supplies. They make it easy to shop for decorative items such as helium-filled balloons. Some outlets even offer helium-filling services at a fee.
Depending on the store, the fill-up service may only apply to in-store purchases. It also costs $3.99 to fill up a Mylar balloon and $0.99 for a latex balloon.
12. Party Depot
As a family-run party store chain spread across Northern Virginia, Party Depot boasts a wide variety of party essentials. Look for a Party Depot outlet in your area; if there's any, check out their balloons.
Earn Everything… nearly!
Join Opinion Outpost, one of the few faithful and honest survey panels and earn cash and gift cards for your opinion. Stack your points and redeem them: Simple! No hidden fees and completely free!


Most Party Depot outlets that sell balloons have helium-filling stations. The stations allow you to bring balloons bought elsewhere or from the store.
Expect to pay $0.90 for an 18-inch Mylar balloon and $4 for a 36-inch Mylar balloon. 12-inch latex balloons cost $0.75 each to fill. You can also buy a helium tank from the outlet and fill the balloons yourself.
13. Ace Hardware
With more than 5,000 hardware stores worldwide, Ace Hardware prides itself as a hardware store chain. The outlets come in different sizes to cater to the needs of the surrounding communities. Besides selling hardware necessities, they have a handful of party supplies on sale.
Helium-inflated tanks are among the party essentials you can get from Ace Hardware. The tanks are easy-to-use, lightweight, and portable. You may purchase a tank together with color balloons of your choice for about $79.
14. Hobby Lobby
Operating as a chain of arts and crafts stores spread across the US, Hobby Lobby has outlets with party essentials that you may need. Their party section features decorative items like balloons that can help create a fun atmosphere at your event or party.
Besides getting balloons from a Hobby Lobby outlet, you can buy a lightweight helium-filled tank. The tank comes filled with 20 percent air and 80 percent helium. It also features an easy-fill nozzle that can help fill up to fifty standard-size balloons.
Michaels is a popular arts and crafts store that also offers helium-filled balloons. You can find a wide selection of balloons in various colors and designs to suit your party theme.
Michaels provides both latex and foil balloons that you can have filled with helium at their stores.
Balloon Time is a brand that specializes in providing helium solutions. They offer portable helium tanks that allow you to inflate your balloons at home or any location.
Balloon Time tanks are convenient for small gatherings or events where you need to inflate a limited number of balloons.
17. Local Party Stores
Check for local party stores in your area as they often provide helium filling services. These stores cater to party supplies and decorations and usually have helium tanks on-site.
They can fill balloons that you purchase from their store or even offer the service for balloons bought elsewhere.
18. Balloon and Party Supply Stores
Balloon and party supply stores, such as Balloon Saloon or Party Galaxy, specialize in providing balloons and related party items. These stores typically have helium filling stations where you can get your balloons inflated.
They offer a wide variety of balloons in different shapes, sizes, and colors to suit your party needs.
19. Grocery Stores with Party Sections
Some larger grocery stores have dedicated party sections that include balloons and party supplies. Stores like Safeway, Kroger, or Publix often offer helium-filling services for the balloons they sell.
You can purchase balloons from their party sections and have them filled with helium on-site.
20. Online Balloon Stores
If you prefer the convenience of online shopping, several online balloon stores offer helium-filled balloons. Websites like Balloon Planet or Balloons123 provide a wide range of balloons that can be filled with helium before shipping to your location. You can choose your desired balloons and have them delivered inflated, and ready for your party.
Summing up
There you have it: a definitive list of the best places to get your celebration balloons filled with helium. It's clear that some local supermarkets or party stores selling balloons offer fill-up services at a fee or free of charge.
Depending on your location, the size of the balloon, and the volume of helium gas needed, you may spend between $1 and $80 for the service. Wishing you all the best in exploring these options and creating a fun atmosphere for your event or party.
Related Posts:
Earn Everything… nearly!
Join Ipsos iSay, one of the few Faithful and Honest survey panels and earn prizes, gift cards and donations. Stack your points and redeem them: Simple! No hidden fees and completely free!