26 Places to Get Wooden Crates for Free (Near You)
Updated on: by Amy Kennedy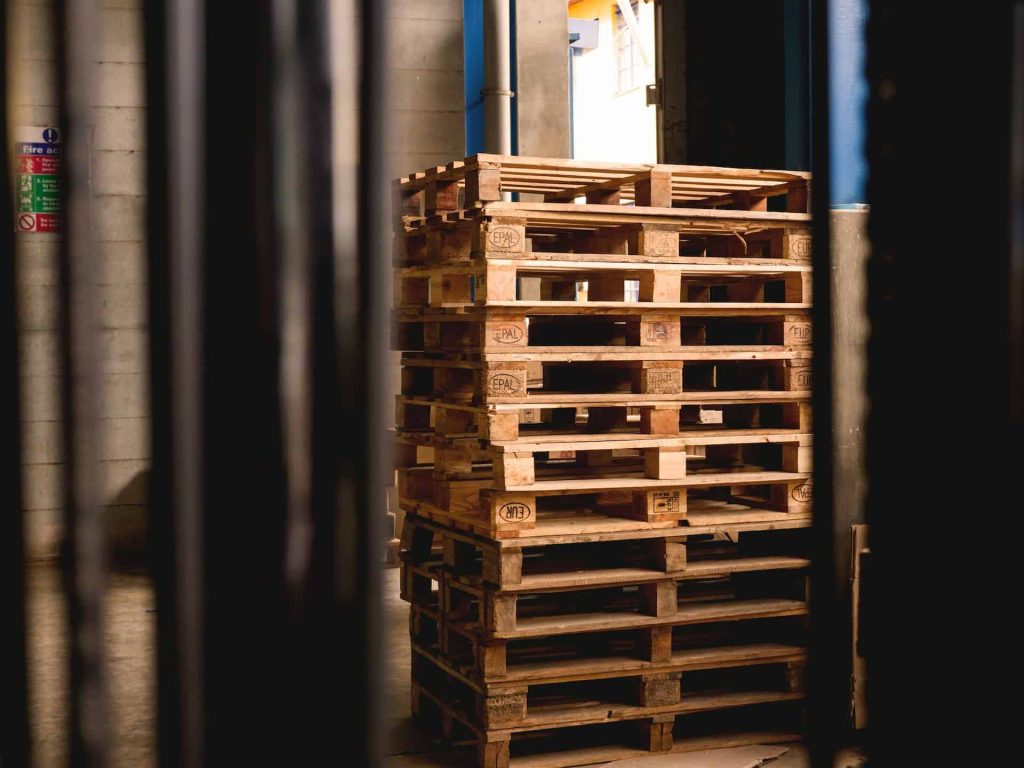 Need Easy Extra $350+/Month For Free?
Ideally, if you have some basic woodwork knowledge, you probably know that many DIY woodworking projects employ wood pallets. This includes potting benches, patio furniture, porch swings, beds, and compost bins.  
When you think of creating anything out of wood, generally, you think of buying timber from a home improvement shop or any other source, and it does not come cheap, no matter how simple the wooden project is. Consequently, the idea of purchasing wood makes it very difficult to convert your idea into a work of art. 
However, do you know you can acquire free wooden crates to implement your ideas? There are many locations to get free wooden crates around you. For instance, you can get them from grocery shops, furniture stores, and even your local post office.  
Here are some places where you can get free wooden crates near you: 
Where Can I Find Free Wooden Crates Near Me?
Wooden crates are used by almost every company that has inventory. This gives you an open idea of where you can get these crates. 
Some of the greatest places to seek free pallets are: 
1. Furniture Stores
Some furniture companies deliver in crates or pallets, and since furniture is classified as dry commodities, this is a fantastic area to find clean, dry crates and pallets. In addition, they may make some for their own transportation purposes and offer any crate or pallet they may not be using.  
This makes them ideal places to get free wooden crates. Besides, there are so many furniture stores in almost every town. 
2. Supermarkets
Vegetables and fruits are often supplied in crates to most supermarket shops. Some supermarkets may be prepared to give away these wooden containers for free. As previously said, avoid huge stores like Walmart that reuse their boxes and pallets in storage and shipping. 
Instead, independent businesses such as grocery stores are also ideal places to visit if you want to request free wooden crates. Many of these businesses must pay a charge to remove their old containers.  
You can visit your local grocery shop or supermarket and ask if you can have any of their unused wooden crates. 
3. Garden Supply Stores
Another place to look for free crates and pallets is your local garden store. Many garden retailers and nurseries get their merchandise on pallets or in containers. Besides, carrying these tools and supplies inside wooden boxes keeps them dry and easy to carry. 
You can visit your local gardening supply store and ask the manager to give you these crates. Some may offer them for free because it saves them money on disposal fees. 
4. Liquor Stores
Crates are often seen at liquor shops since liquor, like wine, is carried and kept in wooden crates. The liquor shop may be a fantastic way to receive free wooden wine boxes. In addition, many liquor suppliers supply their commodities inside wooden crates to prevent them from crushing when they fall.  
You may contact your local liquor store and inquire if they have some of these free crates. 
Need Easy Extra Cash?
Pinecone Research, a leading name in online survey panel honesty, absolutely guarantees $3 cash for every survey you complete!
Take advantage of their time limited New Membership drive and register NOW. Join today: 100% free!


5. Home Décor Stores
Most items in décor stores and home improvement enterprises are stored or transported inside wooden crates. These crates make it very secure to move these items, such as vases and mirrors, from one place to the other.  
You can contact any locally owned home décor enterprise and see if they have any pallets they'd be willing to give you. You may also contact big-box retailers, but starting with smaller, locally owned hardware businesses is best. 
6. Pet stores
Because many pet businesses deal in dry items, they get deliveries on wooden pallets or containers. Locating one pet store near you may be ideal, and ask if you can get any wooden crates or pallets the business is not using. 
7. Clothing Retail Shops
Some clothing retailers get shipments in wooden crates or pallets, especially those that deal with woolen material processing. You can visit any local clothing business and ask them to give you these crates for free. 
8. Electronic Enterprises
Many electronics are shipped inside wooden crates for portability and safety. Especially the fragile electronics that may be too delicate to be transported in plastic or paper boxes. You can visit these stores and ask if you can get these wooden crates for free. 
9. Newspaper Depot
Newspaper firms often get shipments in crates and may have some available. This might be a great approach to getting clean, stain-free containers. You can visit your local newspaper depot and see if they will give you these crates. 
10. Building Sites
Materials for construction sites are often supplied in wooden shipping containers. This may be an excellent strategy to get free crates. You need to ask if they can give them to you.  
In addition, you can google "construction businesses [name of your city, town, or state]" to search for locations near you. This should provide you with a list of potential contacts. 
11. Bakery Equipment Stores
Bakeries transport their supplies on wooden pallets made of wood. The bakery no longer needs the crate after the goods have been delivered. Check with a local bakery supply company to see if they can provide you with some free wooden boxes. 
12. Schools and universities (specifically theater departments)
The theater departments in many educational sectors, from kindergarten to university, use wood pallets and crates to make their stages. Since once a shape is created out of wood and is no longer needed or reshaped, they tend to throw it away or store it. You can visit your local educational institution to request if you can receive these pallets for free. 
13. Bookstores
Many books are transported to bookstores, libraries, and schools in wooden crates and cartons. Many booksellers are eager to give away their old boxes to save the hassle of breaking them down and disposing of them. You can contact your local bookstore or library to have them keep the wooden crates once a new shipment has arrived if they do not have them now. 
14. Recycling facilities
If you live near a recycling facility, you may be able to receive some free wooden boxes there. Since they may receive recyclables from the dumpsters in wooden crates, you may contact recycling facilities to check whether they have them ready for you. Besides, they may destroy them anyway. 
Although the crates and pallets found at recycling facilities may be in poor condition, they might be great if you want a vintage or reclaimed aesthetic or intend to deconstruct them to repurpose the component components. 
To discover a recycling facility near you, go to Google and type in "recycling center near me." This should provide you with a list of local centers to call. Simply inquire if they have any cartons that they would be willing to offer you. 
15. Construction Material Suppliers
Construction material suppliers, like hardware stores, often receive deliveries on wooden pallets or in crates. As a result, these businesses can be a good source for finding free wooden crates. Visit local businesses and inquire whether they have any crates or pallets that they are willing to part with.
16. Local Farms and Farmers Markets
Many farms and farmers markets use wooden crates to transport and display their produce. At the end of the day, some farms and markets might be willing to give these crates away for free rather than dispose of them. Visit local farms and farmers markets and ask if they have any unwanted wooden crates.
17. Warehouses
Warehouses, particularly ones that stock large quantities of goods, typically have a stockpile of wooden crates and pallets. Some warehouses may sell these materials, while others may give them away for free. Reach out to any warehouses in your area and see if they have any wooden crates available.
18. Craft Stores
Craft stores often receive their merchandise on wooden pallets or in wooden crates. Moreover, they might also have smaller, decorative wooden crates that have been damaged and can no longer be sold. Check with craft stores in your area to see if they have any crates available.
19. Shipping Companies
Shipping companies often have a surplus of wooden crates. These crates are typically sturdy and well-made, making them ideal for a variety of projects. Contact local shipping companies to see if they have any crates that they're willing to give away.
20. Industrial Parks
Industrial parks often house a variety of different types of businesses, many of which may use wooden crates for shipping. Depending on the businesses located within the park, you may be able to find a wide variety of crate sizes and types. Stop by local industrial parks and ask businesses if they have any unwanted wooden crates.
How to Find Free Wooden Crates on the Internet
With the advancement of technology, you can get anything on the internet, including free stuff. There are websites and platforms where you can get these wooden crates and pallets for free, making it an excellent place to find them in your home without any hassle.  
In addition, you get to meet people with different ideas about getting these wooden crates near you for free on top of DIY ideas. Here's how to get free wooden boxes online: 
21. Look through Freecycle
Another way to find free wooden crates online is to search for them on Freecycle. Freecycle is an online community where individuals exchange unwanted items such as furniture, clothes, and auto parts. If you're fortunate, you might be able to locate some free wooden boxes to add to your collection.  
Although you won't be able to pick and select exactly what you want, you must be prepared to accept what's available. Besides, it's free. 
22. Search Craigslist
Craigslist is another place to look for free wooden boxes. There, you can find people giving away a variety of free items. On Craigslist, you might be able to find people offering free wooden pallets.  
To discover free items on Craigslist, go to the "Free" area, which is located beneath the "For Sale" section of your city's Craigslist.

 

Then you'll be taken to the "Free" section, where people give away various free items. You may narrow down the results by searching for the item you're looking for. 

 

So, type "wooden crates" into the search field to check if someone is giving out crates for free near you. 

 
However, be cautious when giving details and setting up pickup points and dates. 
23. Post an advertisement on the internet
There are over 20 social media platforms, such as Facebook, Instagram, Twitter, Snapchat, and TikTok, where you can post that you are looking for free wooden crates. In addition, billions of people use these platforms, so you can tag your area to allow people near you to notify you when they find these wooden crates.  
This is an excellent method to get free wooden boxes or pallets. Social networking sites are an ideal place to inquire about free crates. 
24. Search FreeSamples.org
You can find free wooden crates via FreeSamples.org. Here you can also share each other contact information and set up pickups.  
Earn Everything… nearly!
Join Opinion Outpost, one of the few faithful and honest survey panels and earn cash and gift cards for your opinion. Stack your points and redeem them: Simple! No hidden fees and completely free!


25. Search SmartSource.com
If you can access the internet, you can search SmartSource.com and see whether anyone offers wooden pallets and saves money.  
26. Free Stuff Finder
You can also visit the Free Stuff Finder website, set up an account, and check for free wooden crates.  
Where Not To Look For Wooden Crates
Large corporations are not ideal for free wooden crates or pallets. This is because larger corporations, such as Home Depot, Lowe's, and Walmart, would almost certainly return, recycle, and reuse pallets via internal logistics teams or third-party organizations. So you can avoid visiting such places unless it is your last resort or you know the shop manager. 
Sometimes you might encounter pallets leaning against a wall or resting close to the garbage can. This may not be free to take. They most likely are, but it's best to inquire about them before concluding they are free to take. Besides, taking without permission may be regarded as stealing. 
Conclusion
There are clearly many places you can get wooden crates, especially if you look well and establish the right relations. 
Ideally, some smaller corporations like your local supermarket sometimes throw their pallets into the garbage owing to a lack of funds for a transportation company or a lack of time or other resources. They may even place them near dumpsters so garbage providers can collect them. 
You can form a relationship with shop owners or managers and agree that they will provide you with the free wooden crates when any shipment arrives. Sometimes, these owners may even request extra wooden boxes for you. 
Finally, when dealing with online requests for free wooden crates, you should take precautions when setting up meeting places, collection points, and pickup stations.  
Again, be careful to who you are giving out your information address. Remember, online markets are an excellent platform for fraud, identity theft, extortion, and bullying. As such, be careful so that you do not become another online victim. 
Related Posts:
Earn Everything… nearly!
Join Ipsos iSay, one of the few Faithful and Honest survey panels and earn prizes, gift cards and donations. Stack your points and redeem them: Simple! No hidden fees and completely free!