30 Best Places to Sell Baseball Cards for Cash (Near You or Online!)
Updated on: by Amy Kennedy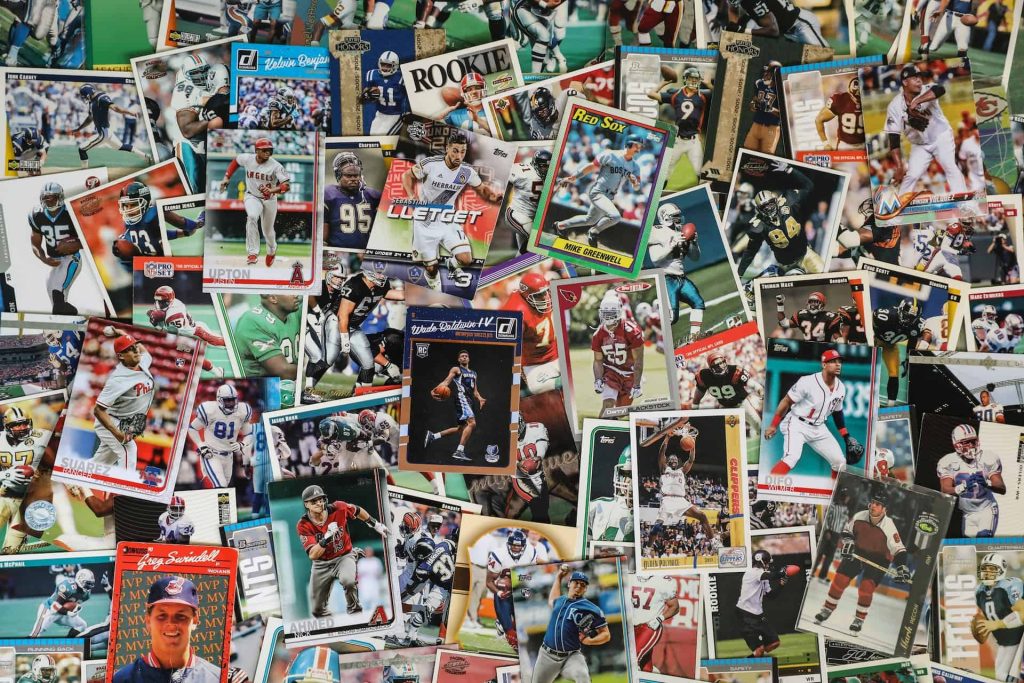 Need Easy Extra $350+/Month For Free?
Baseball is one of the most popular competitive sports in the US. Along with the growth of the sport and its fanbase, many fans have been collecting cards for decades. Cigarette makers, chocolate, candy, and gum makers often printed the first baseball cards. 
The cards weren't super popular then, as they were only bought by super-zealous fans who wanted to keep a record of their favorite stars. The only way to acquire the cards was through buying the above products before 1979, when everyone printed the cards. 
As a result, older cards are much rarer and more expensive. A 1952 baseball card is currently the most expensive sports memorabilia on the planet after being sold for $12.6 million at auction on August 28th, 2022. Many more baseball cards have been sold for millions of dollars. 
Unfortunately, not all baseball cards will make you a millionaire, but they will make you good money in the right marketplace. So in case you inherited a stash of baseball cards, bought some cards from a game, or stumbled on some clearing the garage, we have the details to help you sell your cards. 
How to determine the Value of a Baseball Card 
Over the years, the demand for baseball cards has soared, leading to an increase in the price but so has the supply. The increase in supply has diluted the value of the cards so much that you cannot easily put a price on the value of a card. You need to evaluate several factors before determining the price of the card. 
Obviously, the rarity of a card will play a role in the value of the card. The Pete Rose, 1963 Topps is one of the rarest baseball cards, and having ten over kind will really boost the value of a card. Unfortunately, the only way you can possess very rare cards is by buying or inheriting a very old collection. 
Sometimes baseball cards do not have to be super old and rare to carry value. That is because the value of most player cards has been on the rise in the last 5 years, with player cards' value rising at a 218% annual growth rate. 
Most cards have held value, while traditional assets such as stocks fell in the past financial crises. All you have to do is to hold on to a card for a few years, say to and wait for the value of the card to rise before selling it off. 
Cards that fetch a high price must always be in mint condition. Worn-out cards are generally only acceptable in the marketplace when signed. But since some sellers have forged signatures before, the cards must be authenticated to be of any value. 
Player accomplishment can help to raise the value of a card. This is one of the most valuable metrics in raising the value of ultra-modern cards of rookies and young players. Future and current Hall of Famer cards in pristine condition have attracted a high premium, especially when autographed by the actual player. 
Players from successful teams also receive a boost in the value of the cards. Players on the losing side see a drip in the card values. Unexpected injuries, retirement, or death can also drive up the prices of the cards. 
The Most Valuable Cards of All Time 
A lot of baseball cards have been sold over the years. After a decade, there is always a new contender for the most expensive card. Here is the current list of the most valuable baseball cards. 
1952 Topps Mickey Mantle: $12.6 million 

1909 T-206 Honus Wagner: $7.25 million 

1933 Goudey Babe Ruth: $4.212 million  

2009 Bowman Draft Mike Trout: $3.936 million 

1916 Sporting News Babe Ruth: $2.46 million  

1955 Topps Roberto Clemente: $1.107 million 

 2011 Topps Mike Trout: $1.05 million 

1969 Topps Reggie Jackson: $1.006 million 
Where To Sell Baseball Cards Near Me 
There are many avenues through which you can sell baseball cards. The marketplaces can be both physical and online, with varying card appraisals.  
To sell, you do not need to get acquainted with a top baseball card collector. There is enough information online and offline to help find a card market, get an appraisal, and sell. If you need to get started with baseball card sales, you can consider the following places: 
A 40-year experience of being and selling precious metals and business cards makes 2nd Markets the premier choice for selling your favorite baseball collection. The company is based in Nashville, Tennessee, and has specialized in the buying and selling of a large collection of baseball cards and other sports cards. 
Need Easy Extra Cash?
Pinecone Research, a leading name in online survey panel honesty, absolutely guarantees $3 cash for every survey you complete!
Take advantage of their time limited New Membership drive and register NOW. Join today: 100% free!


You can get their attention to sell a rare sports card if you are sure you have one of the rarest cards that will fetch a high price. 2nd market enjoys an A+ rating from the Better Business Bureau and is experienced with working with precious items. 
Atomic Mall is an online marketplace that has been around since 2008. It allows sellers to make free listings on diverse items such as baseball cards, rare Comic Books, unique collectibles, coins, etc. 
The website is easy to join and lets you list your cards quickly. It also randomly highlights various items, making it possible to get your potential buyer's attention. 
You can set your prices. The site has great ratings from the Better Business Bureau, buyers, and sellers who have sold their cards. 
3. Auction House 
If you got one of the rarest baseball cards, then the only place to get the highest value of the card is at an auction. All the highest-selling cards have been sold through auction. The local auction house will help to authenticate the card and get customers with high bids. 
Selling on auction is slow but gets collectors with a taste for high-end cards. Additionally, you may have to part with 10% to 50% of the baseball sale value in the auction commission. Remember that auction houses are for vintage or antique, pristine, and high-end baseball cards that have been professionally graded. 
Becket has carved space as a one-stop shop for all the card collections. They will help you with grading, authentication, buying, and selling all sports cards. Use Beckett to help you sell individual cards or collections conveniently. 
Listing on the Becket marketplace is simple and allows you to find buyers searching for precious items such as your card. Since Beckett is a dedicated marketplace with over 140 million cards listed, it gives you easy marketing and higher prices on your cards. 
If you are in a hurry to sell, consider selling your cards to Becket so they can find buyers themselves. Use some of the great resources on the platform, such as price guides and professional grading valuation, to help you get the real value of the cards. 
Find baseball card enthusiasts and discuss the current trends in the market. The platform allows users to discuss their collection's buying and selling, giving you a unique opportunity to post your cards. 
Depending on the traction your post will attract, you could get very good offers on your cards. Since the forum is for card lovers, you may sometimes find posts from targeted collectors looking for your cards to complete their collection. In such instances, it is up to you to discuss the price with the collector and ensure you get the best possible price on the card. 
Since most people on the forum deal in sports cards, it is very easy to get a fair assessment on the platform of the value of your cards at no extra costs. 
Bonanza is an online auction website similar to eBay but has a lower number of sellers. It is much more flexible as it allows the seller to post their products without having to part away with the fees, which stacks up when listing multiple baseball cards. 
Signup on Bonanza is easy, and upon signup, you get an online booth to sell your collection of sports cards. Find out the shipping costs so you can include them in the cost of the card and ensure the client gets the card promptly. 
Cardboard Collection has facilitated the sale of at least a billion dollars worth of sports memorabilia. Check out one of the largest sports card collections and sell your own to an enthusiastic card collection audience. All listings are free, and you only pay a flat $0.25 per sale. 
It is easy to sell baseball cards on the site. All you need is to fill out a form on the website. The website will then refer you to a leading industry partner. 
Get a market for all your collectibles, including baseball cards. Like most other online stores on this list, you can create an account on the platform for free. It can give you a favorable price as you set your asking price and respond to price offers from buyers. 
Once you sell your cards, you can convert your earnings to cash, redeem sealed cash boxes and cases, or buy other cards. 
9. Craigslist 
Craigslist has built itself as a space to sell different products in all industries. You can list and sell your products on the site for free and do not have to pay a commission for selling the baseball cards on craigslist. It is a great sales tool as it allows you to target your sales to a specific region, city, or even international market. 
Since Craiglist is based mostly on the local market, clients can swing by and pick up the card as you make the trade. The listing stays online for at least 30 days giving your baseball card listing more eyeballs and a higher chance of making a sale. 
Popularly known as DA Card World, it is a place you should consider listing your cards when you need to realize the full value of the cards. That is because the platform is dedicated to the sale of all types of sports cards, especially baseball cards. 
You can sell sealed boxes of cards to DA Card World by sharing a description of the cards with a photo. The site will help you assess the cards honestly and give you a quote. 
The best way to do business is to work with an experienced partner in selling the product. Dean's Cards sells at least 1,000 vintage cards a day. Since the company buys the cards directly, it is a good market and gives better prices. 
 Dean's Card offers free appraisal once you complete the form on the site with detail on the baseball card. The company's bid software generates an offer based on the card's current value.  
Dean claims that up to 80% of the sellers accept the offer generated by the system. This means that the offers are generally good. Dean's Cards, however, specializes in old cards from 1985 or older. 
eBay is an online marketplace and auctioning platform where users can list all types of products. The marketplace is large, which means it is easier for you to get more customers, but it also means there is a lot of competition from other sellers. There is no limit to the type of card you can sell. 
You can list up to 50 products on eBay for free. Any listing after the fiftieth items will cost you $0.30 per listing. If you are lucky enough to sell an item on eBay, be prepared to share 10% of the cash with the platform.  
eBay offers you, customers around the world and also competition across the world. You will need to understand Search engine optimization before you can compete favorably on the platform. Optimize your keywords if you need your product to be discovered by sellers looking for your specific baseball card. 
eBid is a marketplace where buyers and sellers can get great deals on the widest variety of goods and services. It is widely trusted by the user and has a very high rating online. You can sell all products on the site, including baseball cards. 
Earn Everything… nearly!
Join Opinion Outpost, one of the few faithful and honest survey panels and earn cash and gift cards for your opinion. Stack your points and redeem them: Simple! No hidden fees and completely free!


eBid has lower costs than eBay, which may help you cut costs and fees while selling baseball cards. It is also easy to use. 
Ety is the largest marketplace for art but also does well with collectibles. Ety charges a small fee to sell products on the marketplace. It is best to sell cards on the platform when you have vintage cards pre-1979 that will make up for the cost and fee on the platform. 
Facebook is the largest social media company, with over 2.1 billion active users. This can be a great place to sell your products. Luckily the app and web version of the social media feature a marketplace you can sell anything. 
Since many people can access Facebook, you can sell all types of cards; there are groups where you can market baseball cards which allows making sales easily. You can set your price and wait for the buyer to send a counteroffer. 
17. Garage sales 
You never know who in your locality is interested in your cards. Simply organize a yard sale of your valuables featuring baseball cards. You will set your price, and there are no fees involved. 
Yard sales are great for modern cards and can help you make a quick buck. A garage sale can also include other items. 
Just Collect is the marketplace for niche cards such as those pre-1979 and very special modern cards. It is among the few companies that offer a free appraisal for the cards so you can know how much your collection is worth. 
You can sell your collection to the company by mailing it directly to them, and they will pay for shopping and insurance. You can also drive to their in-person appraisal locations or have a company representative fly in to meet you. 
Kruk Cards has been buying and selling baseball cards for the last three decades. They offer baseball card valuation and give you a quote whenever you need to sell. You can sell both large and small card collections. 
Like many other sellers, Kruk deals in both vintage and modern cards. You can easily list and wait for the evaluation of the cards. The fact that they buy your card means it is faster than marketplaces. 
20. Local Card Shops 
Simply head to the local card shop and determine whether they will purchase your baseball cards. if you need to make cash sales fast and easily, the local store is the best place to sell. You can handle the entire transaction in person and won't have to worry about shipping. Simply head to the local card shop and determine whether they will purchase your baseball cards. 
Local card shops may buy your cards at a lower price than online platforms let you set your price. The reason for the low price at the local shop is that the shop needs to resell the cards at a higher price. 
21. Local and state fairs or Conventions 
Increase your exposure and make sales on your baseball cards through local and state fairs. Selling cards can be a great way to connect with the community and provide cards at a comfortable price. 
Fair and convention are targeted methods of selling cards online and offline. It may help you to make new connections with card enthusiasts in your area and give you a chance to reap handsomely from credit sales. 
22. Local Pawn shops 
Pawn shops accept a wide variety of items. Unfortunately, not all pawn shops may purchase baseball cards. Ask for shops that buy you collectible baseball cards for a chance to sell them at a good price. 
The price may be low as the pawn shop wants to resell the card for a profit. You can also search the internet for a hint on the pawnshop near you. You can simply call the pawn shops ahead to avoid visiting all the pawn shops in the area. 
Panini is an Italian company that buys and sells sports cards. Despite being Italian, they often buy American sports cards to meet their demand. 
Kindly write to them directly with the photographs of the sports cards. Your card has to be exceptionally rare or precious for Panini to contact you for sale. 
Reddit has many subreddit that can allow you to talk about different collectibles. You can sell your card in many of those forms. The subreddit For sports card & sports memorabilia collectors will get you in touch with niche buyers. 
Almost all subreddits have rules on what you can and can not do on their platforms. Keep the rules if you need to benefit the large community of buyers. Never share links to card sales elsewhere.  
You may need Paypal to transact on the platform, but it is unnecessary. 
Do you have a large collection of sports cards you need to sell? Consider creating your website on Shopify. This allows you to list the baseball cards the way you like and use SEO to target all the baseball collectors on the internet. 
This may take time to realize sales. Opening a Shopify website isn't free either, and it takes some time to optimize the site before you can realize some sales. But it is the right step if you want to sell many cards in the long term. 
Topps is a chewing gum maker that was one of the first companies that ventured into the printing of baseball cards early in 1954. They mainly deal with heritage sports cards. 
Most of the cards you can sell on the platform are rare and unavailable. Topps also sells and represents rare cards or collectors. 
Burbank Sportscards is a highly regarded online marketplace dedicated to buying and selling sports cards, including baseball cards. 
With a vast inventory and a strong customer base, Burbank Sportscards provides a platform for sellers to list their cards and connect with potential buyers. 
Their website offers a user-friendly interface, making it easy to navigate and list your baseball cards for sale. 
They also provide reliable customer support and secure transactions, ensuring a smooth selling experience.
Huggins & Scott Auctions is a reputable auction house specializing in sports memorabilia, including baseball cards. 
They regularly host auctions where collectors and enthusiasts can bid on a wide range of items, including high-end and rare baseball cards. 
With their extensive experience in the industry, Huggins & Scott Auctions have established a trusted reputation among buyers and sellers. 
They offer professional appraisal services and handle all aspects of the auction process. 
This includes marketing and authentication, to ensure maximum exposure and value for your baseball cards.
Just Collect Cards is a trusted name in the sports card industry, offering a reliable platform for selling baseball cards. 
They have a team of experts who specialize in evaluating and purchasing vintage and modern baseball cards. 
Just Collect Cards provides a hassle-free selling process, with options for immediate cash offers or consignment services. 
Their website features a straightforward submission form, where you can provide details about your baseball cards and receive a fair offer. 
With their expertise and dedication to customer satisfaction, Just Collect Cards is a great option for selling your baseball cards.
Dave & Adam's Card World is a well-known destination for collectors and sellers of sports cards, including baseball cards. 
They have a dedicated buying team that evaluates and purchases cards across various sports. 
Dave & Adam's Card World offers competitive prices and a straightforward selling process. 
You can submit your baseball cards for appraisal through their website or visit their retail locations for an in-person evaluation. 
With their strong reputation and commitment to customer service, Dave & Adam's Card World provides a reliable platform for selling your baseball cards and exploring other collectibles.
Conclusion 
The right baseball card can be very pricey. But even selling common baseball card can earn you a good buck on the right market use the 25 platforms above to make a sale today. 
Related Posts:
Earn Everything… nearly!
Join Ipsos iSay, one of the few Faithful and Honest survey panels and earn prizes, gift cards and donations. Stack your points and redeem them: Simple! No hidden fees and completely free!