33+ Places to Sell Handmade Crafts Online (Some Are FREE!)
Updated on: by Amy Kennedy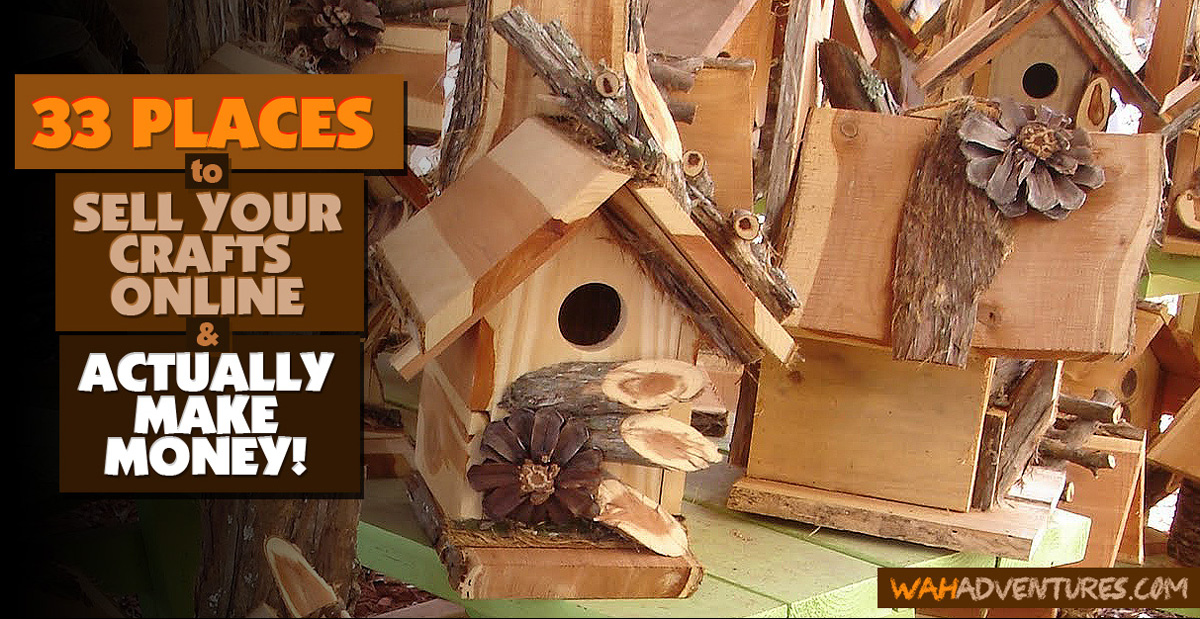 Arts and crafts lovers, this post is for you!
Need Easy Extra $350+/Month For Free?
If you're looking to turn your hobby into a business, you can make money when you sell homemade items online.
People love unique, handmade crafts and products!
All over the internet, crafters are setting up their own online shops to sell their handmade items, and they're making good money doing so.
Let's learn how to turn your love for crafts into a money-making business!
How to Sell Crafts Online for Free
Can you really sell crafts online for free?
Yes! There are plenty of websites that will let you open up your own virtual shop to sell your handmade goodies, and they won't cost you a dime to start.
Although not all are free, others can still be well worth the small fees you'll pay.
Etsy, for example, does have selling and listing fees, but they're pretty small, it's free to open a shop.
The fees don't deter thousands of crafters from setting up shops and making huge profits on their handmade items!
Below are some of the most popular places to sell homemade items online, and many won't take any money to start selling.
Places to Sell Handmade Crafts Online
These craft selling websites are the perfect places to go to sell your handmade items online.
Absolute Arts is an online marketplace for artists to sell their unique masterpieces, including paintings and sculptures.
You can sign up as an artist to promote and sell your products.
List up to 20 works of art for free, or you can choose from one of the other subscriptions to list more artwork, have less commission taken from your sales, and access to other features.
The best part is that Absolute Arts can also take care of some of the marketing for you!
Need Easy Extra Cash?
Pinecone Research, a leading name in online survey panel honesty, absolutely guarantees $3 cash for every survey you complete!
Take advantage of their time limited New Membership drive and register NOW. Join today: 100% free!


Aftcra is a site that encourages crafters in the USA to sell their goods.
The site is all about handmade stuff from the United States, including kids and baby products, paper goods, clothing, and home décor.
There are no listing fees to list products on Aftcra, but there are transaction fees.
Transaction fees are 7% whenever your products sell, and your products must have a $10 minimum price to be eligible for listing on the site.
Artfire is an online marketplace to sell craft supplies, vintage items, and handmade goods. Artfire does charge a small monthly fee to run your shop, and you'll be charged listing fees that get smaller as you list more items.
Customers can pay you with PayPal, Amazon Payments, or ProPay.
Handmade and vintage items are welcome on Articents.
The site isn't anything spectacular to look at, but it features some interesting items, like tie-dye shirts, handmade jewelry, and wedding décor.
A basic account gives you free listings and a shop without ads, but a $5 monthly subscription will give you access to a personalized storefront and other helpful features to control your shop and sales.
BigCommerce is an online store creation platform that walks you through the process of creating your digital store and maintaining it to keep your customers happy.
When you set yourself up with a BigCommerce account, you'll get a website to feature your products and can start selling your crafts through Facebook, Amazon, and other online marketplaces.
BigCommerce helps business owners in just about any industry, so crafting isn't left out of the picture.
You can start with BigCommerce for $29.95 per month (but this decreases if you decide to pay annually), and you can start to also get marketing services for the next plan, which is $79.95 per month.
Bonanza is an online marketplace similar to eBay or Amazon that lets you sell just about anything, including crafts. Plus, you can sync your listings with the other places you sell to keep track of inventory.
No set up or listing fees are associated with your webstore on Bonanza!
Craftsy is a great place to learn different crafts, but you can also sell your unique sewing patterns for free, with no listing fees or commissions taken!
Cratejoy offers a really exciting way for crafters to get their products in the hands of people all over the world.
The company is a subscription box company.
You can get started creating your own subscription box featuring your handmade goodies, or even tutorials on how to create your crafts with materials included.
Cratejoy supplies you with tools and resources needed to create your box, and you'll have access to free listings, Cratejoy customers, and payments via Stripe and PayPal.
Dawanda is a marketplace for all things unique, including handmade items. It's free to open a Dawanda shop, but there are some listing fees. The website is open worldwide, so make sure you select the right currency when you list.
For those interested in digital arts, DeviantArt is the place to go.
No, you won't be selling handmade jewelry and clothing here, but you can sell just about anything you make with your hands using a computer.
DeviantArt provides the platform for you to list your products, but it won't help you with marketing.
Still, you'll have access to the many people who browse DeviantArt for unique digital art and you'll earn royalties for everything you sell.
Withdraw money easily with PayPal.
You can sell just about everything on eBay, the online auction website. There are no fees to list certain things, depending on promotions and the type of items, but usually listing fees apply. There are also fees based upon the final sale price.
Learn about some other lesser-known sites like eBay that you also may be able to sell your crafts on.
eCrater lets you set up your webstore for free, but there is a 2.9% selling fee. You can import any eBay items you may be selling to help keep track of your inventory.
Earn Everything… nearly!
Join Opinion Outpost, one of the few faithful and honest survey panels and earn cash and gift cards for your opinion. Stack your points and redeem them: Simple! No hidden fees and completely free!


Etsy is probably the most well-known craft selling website, and for good reason. The website makes it easy to set up your own shop for free, and crafters are making excellent money selling their one-of-a-kind items.
Etsy charges a transaction fee of 3.5% per sale, but it offers tons of free tools and support guides to make your sales go as smoothly as possible.
You can get paid in a number of ways, including Google Pay and PayPal.
Read about Mandy Ford, who created a booming online business selling her handmade crafts on Etsy.
The Facebook Marketplace is super helpful for people who want to sell stuff locally but don't really know where to find buyers.
It seems like almost everyone uses Facebook nowadays, so it's easier than ever to find a home for your crafts.
You can use the Facebook website or app to enter the marketplace and add items for sale.
Put up some pictures, a description, and your price and wait for others to message you.
You also have the option to share your listings with your Facebook friends by posting it to your wall or share them in local buying and selling groups for more people to see them.
Folksy is for British crafters to sell their handmade clothing, art, and other goods. You can choose to pay-as-you-go or purchase an annual membership, which will save you money in listing fees if you sell a lot of items.
If you're looking to sell your crafts on a craft mall online, GLC Craft Mall is the place for you. The website offers many item categories for a lot of variety.
You'll pay a monthly fee for a shop, with plans starting as low as $3.50 to list up to 100 items, with no other fees involved. You can also try each of the plans for free for 30 days!
Handmade Artists' Shop is all about supporting handmade creations and their creators. You can sell everything from jewelry to woodworking items.
Plans start at $5 per month to maintain your shop, and you won't have any listing fees or commissions.
People already make a lot of money selling manufactured products on Amazon, but Amazon is also reaching out to crafters with Handmade at Amazon.
This sub-site of Amazon lets you sell any of your handmade items in a number of categories. The fees are higher than other places (15%), but you also have the opportunity to earn more from Amazon affiliate links.
Handmadeology Market is a place where creators of all types are welcome.
The site offers a wide range of categories like furniture, clothing, jewelry, knitting, and toys, and there's even a spot for eBooks!
If it's handmade by you, it's welcome here.
There's no cost to list products on Handmadeology Market, but you do need to get set up with a Meylah store first before you apply to become a seller.
Hyena Cart focuses on handmade and eco-friendly items. You can have an individual store or join up with other sellers for even more exposure.
The setup fee is normally $10, but the website sometimes offers a Penny Promotion, where this fee becomes a penny! After that, you'll pay $5 per month, with no listing fees or commissions.
You can even pause your fee being charged if you need to take a break for a month, and your selling activity will resume once you resume your billing.
iCraft is a marketplace that focuses mainly on jewelry, accessories, and knitted products. You can get unlimited product listings for $5 per month, with no additional fees or commissions.
The website also sometimes has promotions, like 10% off if you purchase annually, rather than monthly.
UPDATE 5/2023: iCraft has made the switch to iCraftGifts, but it's still available for crafters to sell their handmade goodies!
You can check out the new site and marketplace here.
I bet you didn't know that you could sell your crafts on Instagram!
It might be one of the hottest social media channels, but people don't really give this platform enough credit.
Sure, it's great for adding stylized pictures that grab likes and comments from other Instagram users when used with the right hashtags, but there's so much more to it.
Yes, selling included.
Some people use Instagram to sell things like artwork, digital goods, clothing, and more.
So why not use it to sell your handmade crafts?
Instagram is the perfect place to feature quality photos of your work.
Posting pictures and combining them with relevant hashtags can help you build your audience with people interested in your stuff.
Post two or three times a day to keep an active channel and keep people coming in.
From there, you have a couple of options:
You can direct people to your website by placing a link to your shop site in your bio.
Or, you can sell directly to followers on Instagram by inviting them to send you a direct message with the items they want to order.
If you go the second route, be sure to collect all money owed before sending out your products to make sure you get paid for your hard work!
You might be surprised by how many orders you get through Instagram alone.
You can open up shop at Made It Myself for free! You'll be subject to some listing fees and commissions, though.
Mercari is an app that helps you sell almost anything you've got, from used stuff to handmade.
So there's no reason why you can't sell your crafts here!
You can use Mercari in Japan, the United Kingdom, and the United States.
You'll take photos, describe your items, and list them easily with the app.
It's completely free to sign up and start listing items, and then Mercari will take a 10% commission from anything you sell, plus a $2 direct deposit fee for any sales under $10.
Meylah is an eCommerce platform that you can use to sell your crafts online. You can make extra money through Meylah with customer subscriptions and advertisements on your shop page.
If you live in the UK, you can sell on Misi's marketplace, which features a variety of handmade categories.
It's free to set up your shop, but there will be small listing and commission fees involved.
This is a site for the UK crafters to join and make some money with their crafts!
You'll need to apply as a seller before you can open up a shop.
The application will ask you to tell the company more about you and what you plan to sell to ensure that the market isn't already oversaturated with the type of crafts you're interested in selling.
Although the site is for UK sellers, people from all over the world shop with Not On the High Street, so you'll have a lot of potential customers.
If you're looking for fully free and functional, Shop Handmade is the place for you. This crafting marketplace allows you to open a shop, and sell, for free.
The website automatically promotes your products in their categories when you list them. You can even sell your gently used craft supplies. You'll get paid immediately with PayPal when a transaction happens.
Shopify is a shop-building company that makes it easier than ever to create your own online shop and market it online.
You can use Shopify for just about anything.
It has various tools and integrations that make the process of owning and working your shop as easy as possible.
When you sign up for Shopify, you can get your own Shopify website set up, choose its design, and start adding products.
There's a monthly fee for using Shopify, but you can also try it out for two weeks free with a trial.
Your subscription will also give you access to 24/7 support to help keep you in business.
Society6 is a place for artists to sell their works. You can upload your art designs for people to purchase on products, like mugs and t-shirts, which you'll receive royalties from, rather than the full product purchase.
Society6 handles the packaging and shipping. For each transaction, there's a 30-day grace period, and you'll get paid on the 1st of the following month. For example, if you sell something on June 13th, the grace period will end on July 13th, and you'll get paid August 1st with PayPal.
Creative designers can make their own designs on SpoonFlower to place on fabric, throw pillows, wallpaper, and more. You'll just be designing, and SpoonFlower takes care of the physical product. You can also create sewing patterns to sell.
When you start, you'll automatically earn 10% of sales, with potential to increase your earnings by becoming a power seller. You'll get paid bi-weekly as long as you earn $10.
StoreEnvy is another online store creation platform like Shopify, only it also has a social marketplace where you can sell through the StoreEnvy platform instead of creating your own store.
That makes it a little easier for you, but it also leaves out some of the control you have over your shop.
On the plus side, you'll also have access to StoreEnvy's customer base, which could get you sales pretty quickly.
Collect money from your customers with PayPal or Stripe for simple payments.
StoreEnvy's pricing structure is simple, too, with a 10% fee for everything you sell on the marketplace, and only transaction fees taken from products sold in your custom shop.
ArtPal is an online marketplace that caters specifically to artists and art enthusiasts.
It serves as a platform where artists can showcase and sell their artwork directly to buyers.
With a wide range of artistic styles and mediums available, ArtPal aims to provide a diverse selection of artwork for potential buyers.
The platform offers various features and tools to support artists in managing their online galleries and sales. Artists can create their profiles, upload images of their artwork, and set their own prices.
Additionally, ArtPal provides options for artists to sell both original pieces and prints, allowing them to reach a broader audience.
The platform also offers marketing and promotional tools to help artists gain exposure and attract potential buyers.
ArtPal charges a commission on sales made through the platform, which contributes to its maintenance and development.
Folksy is an online marketplace that focuses on promoting and selling handmade products made by independent artists and crafters.
It provides a platform for artisans to showcase their unique creations, ranging from handmade jewelry and clothing to home decor items and art pieces.
Folksy aims to support the handmade community by connecting artists directly with buyers who appreciate the value of handmade products.
The platform offers features such as individual online shops for artists, where they can display their products and set their own prices.
Buyers can browse through various categories and search for specific items, making it easier to discover and purchase handmade products they desire. 
Ruby Lane is an online marketplace that specializes in antiques, collectibles, vintage items, and fine art.
It provides a platform for sellers and buyers who are interested in unique and rare pieces with historical or artistic significance.
Ruby Lane offers a curated shopping experience, where each seller's items are vetted to ensure quality and authenticity.
The platform showcases a wide range of categories, including jewelry, furniture, fashion, pottery, and more.
Ruby Lane aims to create a sense of trust and reliability among buyers by establishing strict guidelines for sellers and providing detailed descriptions and photographs of the products.
Sellers on this platform typically run their own independent shops within the marketplace, allowing them to showcase their collections and build relationships with buyers.
The platform also facilitates secure transactions and offers customer support to ensure a smooth buying experience.
Crafters can sell fine art, craft supplies, vintage items, photography products, and more on Zibbit.
Plans start at $4 per month, and include zero listing fees or commissions, and your own selling website with a custom domain.
Other Ways to Make Money Online from Crafting
If you're looking for a few other options for making money online from your crafting hobby, here's what to do:
Blog About Crafting
Craft blogging is huge right now, since blogs are the perfect place to post crafting tutorials. But how do you make money?
Through advertisements on your blog or placing affiliate links to crafting products that you recommend! Sign up for Amazon Associates to make commission on your favorite Amazon products.
You can also sign up for blog networks and apply for sponsored posts. Many brands seek out crafters who can do creative things with their products to make them even more appealing to potential customers.
Here are some more ways to make money blogging!
Sell Crafting Blog Posts or Roundups
I participate in a few Facebook groups that are solely for people to sell their blog content.
Most of the content that I see in these groups are related to crafting.
They're either craft tutorials with eye-catching, clear photography showcasing each step along with detailed instructions of how to do everything, or roundups of some of the best crafts related to a specific theme.
Some creators sell these exclusively to one buyer for a higher price, while others will sell them semi-exclusively, which means a limited number of sales but a more affordable price tag.
You can choose either one for your crafts, or put together fun roundups of your favorite crafts for others to place on their blogs.
Create Crafting eBooks
You can sell your own eBooks on your blog or on Amazon. Create tutorials for your favorite crafts, or put your favorite sewing patterns into a digital book to sell.
You can even pull in more customers by writing about your eBooks on your blog or social media accounts and creating affiliate links for them!
Create Crafting Tutorials
Going along similar lines, you can create crafting tutorials to sell on your own website, on the Facebook marketplace, or even on Etsy or eBay.
Some bloggers create a "Shop" section of their website where others can purchase crafting tutorials to help them create their own DIY projects for holidays, special events, or home décor.
These can also be a good way to gain traffic to your blog if you give them away for free as a lead magnet (something that will attract people to your blog or entice them to sign up for your newsletter).
You won't make money doing this, of course, but the reward of gaining more traffic and followers might be even better for you in the long run.
Promote Your Crafts on Pinterest
If you do have eBooks, a crafting blog, or even your own Etsy shop, you should sign up for a Pinterest account, if you don't have one already.
Pinterest is huge for crafts, and crafters can make a lot of money by driving traffic to their blog or shop through Pinterest.
Check out these tips to drive traffic with Pinterest!
You Can Make This
You Can Make This is a website you can use to make money from being crafty, but it works a little differently than marketplaces.
Instead, you'll write tutorials explaining how to make fun crafts, and you'll earn money from your expertise. If your tutorial is accepted, it will be listed on the website for others to download. You'll earn 50% of any sales of your tutorial downloads.
Get Featured on Handmade-Business.com
Handmade-Business.com is a website that features resources and tips for handmade crafters just like you.
If you have an interesting story behind your business or your products, you might have a good shot at getting featured on the site.
Handmade Business sometimes showcases arts and craft festivals and other special events, plus places a spotlight on crafters with interesting stories to tell.
You could also pitch the website with your story ideas for a chance to guest post on the site.
Either way, you'll have a shot at getting your name out there and some more eyes on your business and products.
Hint: Before you go doing this, it's a good idea to have an Etsy shop or a website set up to direct people somewhere to buy your products!
Find Craft Fairs Near You
Use the internet to locate craft fairs and festivals in your area!
Usually, it takes only a quick Google search to pull up what you need.
Look for something like, "[my city/state] craft fairs/craft festivals" to see what's available in your area and when.
These types of events can be invaluable for crafters in the industry to get their handmade products in front of more people.
Not only can you drum up more business for yourself, but you might even catch the eye of people who want to buy handmade products to sell in their own stores!
Use Websites That Do the Tough Stuff for You
You might have heard of places like Cafepress and Zazzle, which let artists, designers, and craft people design products they want to sell and then place those designs on the company's products.
There are many sites like these on the web.
Some are just for selling t-shirts, like Teespring, while others, like RedBubble, help you sell a variety of products, like greeting cards and wall art.
If you're artistic, these types of sites are perfect for you.
You'll never have to worry about holding inventory because they hold onto the products, print them, and send them out to your customers!
All you need to focus on is your designs and picking the products you want to place them on.
If you know of more websites to use to sell crafts, or have other ideas on how to make money with your love of crafting, let us know in a comment!
Related Posts:
Earn Everything… nearly!
Join Ipsos iSay, one of the few Faithful and Honest survey panels and earn prizes, gift cards and donations. Stack your points and redeem them: Simple! No hidden fees and completely free!