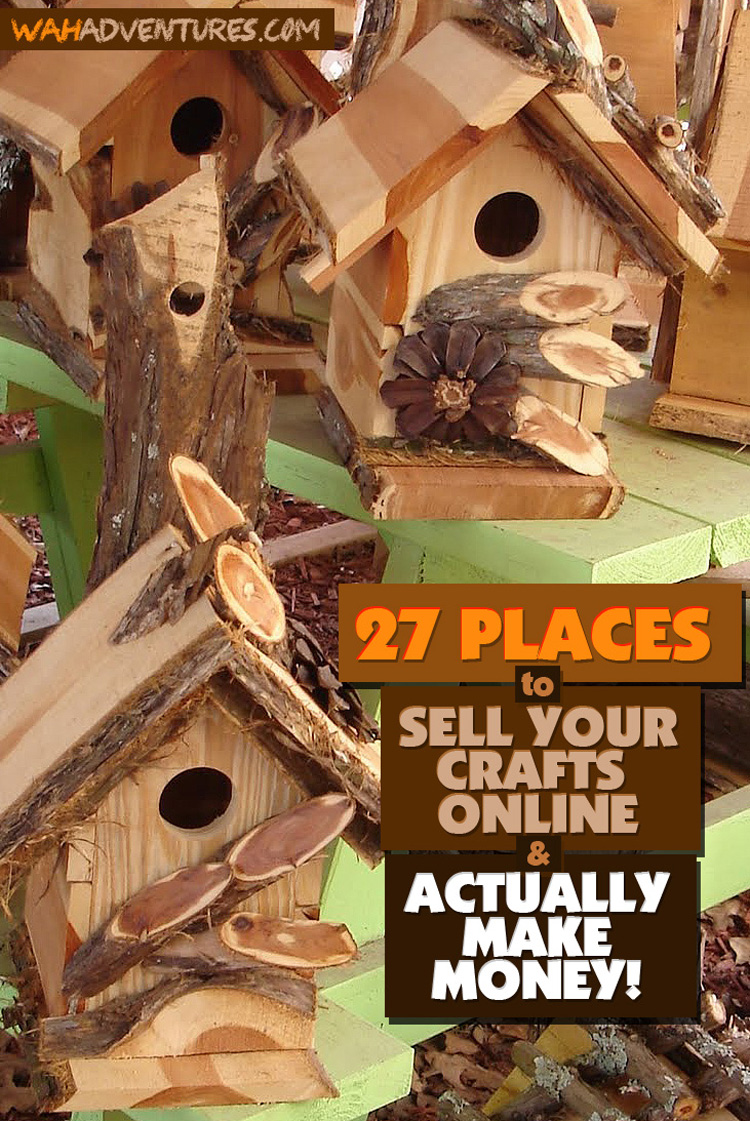 Arts and crafts lovers, this post is for you!
Need Easy Extra $350+/Month For Free?
If you're looking to turn your hobby into a business, you can make money when you sell homemade items online.
People love unique, handmade crafts and products!
All over the internet, crafters are setting up their own online shops to sell their handmade items, and they're making good money doing so.
Let's learn how to turn your love for crafts into a money-making business!
How to Sell Crafts Online for Free
Can you really sell crafts online for free?
Yes! There are plenty of websites that will let you open up your own virtual shop to sell your handmade goodies, and they won't cost you a dime to start.
Although not all are free, others can still be well worth the small fees you'll pay.
Etsy, for example, does have selling and listing fees, but they're pretty small, it's free to open a shop.
The fees don't deter thousands of crafters from setting up shops and making huge profits on their handmade items!
Below are some of the most popular places to sell homemade items online, and many won't take any money to start selling.
Places to Sell Handmade Crafts Online
These craft selling websites are the perfect places to go to sell your handmade items online.
Absolute Arts is an online marketplace for artists to sell their unique masterpieces, including paintings and sculptures.
You can sign up as an artist to promote and sell your products.
List up to 20 works of art for free, or you can choose from one of the other subscriptions to list more artwork, have less commission taken from your sales, and access to other features.
The best part is that Absolute Arts can also take care of some of the marketing for you!
Need Easy Extra Cash?

Pinecone Research, a leading name in online survey panel honesty, absolutely guarantees $3 cash for every survey you complete!
Take advantage of their time limited New Membership drive and register NOW. Join today: 100% free!


Aftcra is a site that encourages crafters in the USA to sell their goods.
The site is all about handmade stuff from the United States, including kids and baby products, paper goods, clothing, and home décor.
There are no listing fees to list products on Aftcra, but there are transaction fees.
Transaction fees are 7% whenever your products sell, and your products must have a $10 minimum price to be eligible for listing on the site.
Artfire is an online marketplace to sell craft supplies, vintage items, and handmade goods. Artfire does charge a small monthly fee to run your shop, and you'll be charged listing fees that get smaller as you list more items.
Customers can pay you with PayPal, Amazon Payments, or ProPay.
Handmade and vintage items are welcome on Articents.
The site isn't anything spectacular to look at, but it features some interesting items, like tie-dye shirts, handmade jewelry, and wedding décor.
A basic account gives you free listings and a shop without ads, but a $5 monthly subscription will give you access to a personalized storefront and other helpful features to control your shop and sales.
BigCommerce is an online store creation platform that walks you through the process of creating your digital store and maintaining it to keep your customers happy.
When you set yourself up with a BigCommerce account, you'll get a website to feature your products and can start selling your crafts through Facebook, Amazon, and other online marketplaces.
BigCommerce helps business owners in just about any industry, so crafting isn't left out of the picture.
You can start with BigCommerce for $29.95 per month (but this decreases if you decide to pay annually), and you can start to also get marketing services for the next plan, which is $79.95 per month.
Bonanza is an online marketplace similar to eBay or Amazon that lets you sell just about anything, including crafts. Plus, you can sync your listings with the other places you sell to keep track of inventory.
No set up or listing fees are associated with your webstore on Bonanza!
Craftsy is a great place to learn different crafts, but you can also sell your unique sewing patterns for free, with no listing fees or commissions taken!
Cratejoy offers a really exciting way for crafters to get their products in the hands of people all over the world.
The company is a subscription box company.
You can get started creating your own subscription box featuring your handmade goodies, or even tutorials on how to create your crafts with materials included.
Cratejoy supplies you with tools and resources needed to create your box, and you'll have access to free listings, Cratejoy customers, and payments via Stripe and PayPal.
Dawanda is a marketplace for all things unique, including handmade items. It's free to open a Dawanda shop, but there are some listing fees. The website is open worldwide, so make sure you select the right currency when you list.
For those interested in digital arts, DeviantArt is the place to go.
No, you won't be selling handmade jewelry and clothing here, but you can sell just about anything you make with your hands using a computer.
DeviantArt provides the platform for you to list your products, but it won't help you with marketing.
Still, you'll have access to the many people who browse DeviantArt for unique digital art and you'll earn royalties for everything you sell.
Withdraw money easily with PayPal.
You can sell just about everything on eBay, the online auction website. There are no fees to list certain things, depending on promotions and the type of items, but usually listing fees apply. There are also fees based upon the final sale price.
Learn about some other lesser-known sites like eBay that you also may be able to sell your crafts on.
eCrater lets you set up your webstore for free, but there is a 2.9% selling fee. You can import any eBay items you may be selling to help keep track of your inventory.
Earn Everything… nearly!

Join Opinion Outpost, one of the few faithful and honest survey panels and earn cash and gift cards for your opinion. Stack your points and redeem them: Simple! No hidden fees and completely free!


Etsy is probably the most well-known craft selling website, and for good reason. The website makes it easy to set up your own shop for free, and crafters are making excellent money selling their one-of-a-kind items.
Etsy charges a transaction fee of 3.5% per sale, but it offers tons of free tools and support guides to make your sales go as smoothly as possible.
You can get paid in a number of ways, including Google Pay and PayPal.
Read about Mandy Ford, who created a booming online business selling her handmade crafts on Etsy.
The Facebook Marketplace is super helpful for people who want to sell stuff locally but don't really know where to find buyers.
It seems like almost everyone uses Facebook nowadays, so it's easier than ever to find a home for your crafts.
You can use the Facebook website or app to enter the marketplace and add items for sale.
Put up some pictures, a description, and your price and wait for others to message you.
You also have the option to share your listings with your Facebook friends by posting it to your wall or share them in local buying and selling groups for more people to see them.
Folksy is for British crafters to sell their handmade clothing, art, and other goods. You can choose to pay-as-you-go or purchase an annual membership, which will save you money in listing fees if you sell a lot of items.
If you're looking to sell your crafts on a craft mall online, GLC Craft Mall is the place for you. The website offers many item categories for a lot of variety.
You'll pay a monthly fee for a shop, with plans starting as low as $3.50 to list up to 100 items, with no other fees involved. You can also try each of the plans for free for 30 days!
Handmade Artists' Shop is all about supporting handmade creations and their creators. You can sell everything from jewelry to woodworking items.
Plans start at $5 per month to maintain your shop, and you won't have any listing fees or commissions.
People already make a lot of money selling manufactured products on Amazon, but Amazon is also reaching out to crafters with Handmade at Amazon.
This sub-site of Amazon lets you sell any of your handmade items in a number of categories. The fees are higher than other places (15%), but you also have the opportunity to earn more from Amazon affiliate links.
Hyena Cart focuses on handmade and eco-friendly items. You can have an individual store or join up with other sellers for even more exposure.
The setup fee is normally $10, but the website sometimes offers a Penny Promotion, where this fee becomes a penny! After that, you'll pay $5 per month, with no listing fees or commissions.
You can even pause your fee being charged if you need to take a break for a month, and your selling activity will resume once you resume your billing.
iCraft is a marketplace that focuses mainly on jewelry, accessories, and knitted products. You can get unlimited product listings for $5 per month, with no additional fees or commissions.
The website also sometimes has promotions, like 10% off if you purchase annually, rather than monthly.
You can open up shop at Made It Myself for free! You'll be subject to some listing fees and commissions, though.
Meylah is an eCommerce platform that you can use to sell your crafts online. You can make extra money through Meylah with customer subscriptions and advertisements on your shop page.
If you live in the UK, you can sell on Misi's marketplace, which features a variety of handmade categories.
It's free to set up your shop, but there will be small listing and commission fees involved.
If you're looking for fully free and functional, Shop Handmade is the place for you. This crafting marketplace allows you to open a shop, and sell, for free.
The website automatically promotes your products in their categories when you list them. You can even sell your gently used craft supplies. You'll get paid immediately with PayPal when a transaction happens.
Society6 is a place for artists to sell their works. You can upload your art designs for people to purchase on products, like mugs and t-shirts, which you'll receive royalties from, rather than the full product purchase.
Society6 handles the packaging and shipping. For each transaction, there's a 30-day grace period, and you'll get paid on the 1st of the following month. For example, if you sell something on June 13th, the grace period will end on July 13th, and you'll get paid August 1st with PayPal.
Creative designers can make their own designs on SpoonFlower to place on fabric, throw pillows, wallpaper, and more. You'll just be designing, and SpoonFlower takes care of the physical product. You can also create sewing patterns to sell.
When you start, you'll automatically earn 10% of sales, with potential to increase your earnings by becoming a power seller. You'll get paid bi-weekly as long as you earn $10.
Crafters can sell fine art, craft supplies, vintage items, photography products, and more on Zibbit.
Plans start at $4 per month, and include zero listing fees or commissions, and your own selling website with a custom domain.
Other Ways to Make Money Online from Crafting
If you're looking for a few other options for making money online from your crafting hobby, here's what to do:
Blog About Crafting
Craft blogging is huge right now, since blogs are the perfect place to post crafting tutorials. But how do you make money?
Through advertisements on your blog or placing affiliate links to crafting products that you recommend! Sign up for Amazon Associates to make commission on your favorite Amazon products.
You can also sign up for blog networks and apply for sponsored posts. Many brands seek out crafters who can do creative things with their products to make them even more appealing to potential customers.
Here are some more ways to make money blogging!
Create Crafting eBooks
You can sell your own eBooks on your blog or on Amazon. Create tutorials for your favorite crafts, or put your favorite sewing patterns into a digital book to sell.
You can even pull in more customers by writing about your eBooks on your blog or social media accounts and creating affiliate links for them!
Promote Your Crafts on Pinterest
If you do have eBooks, a crafting blog, or even your own Etsy shop, you should sign up for a Pinterest account, if you don't have one already.
Pinterest is huge for crafts, and crafters can make a lot of money by driving traffic to their blog or shop through Pinterest.
Check out these tips to drive traffic with Pinterest!
You Can Make This
You Can Make This is a website you can use to make money from being crafty, but it works a little differently than marketplaces.
Instead, you'll write tutorials explaining how to make fun crafts, and you'll earn money from your expertise. If your tutorial is accepted, it will be listed on the website for others to download. You'll earn 50% of any sales of your tutorial downloads.
If you know of more websites to use to sell crafts, let us know in a comment!
Related Posts:
Earn Everything… nearly!

Join Ipsos iSay, one of the few Faithful and Honest survey panels and earn prizes, gift cards and donations. Stack your points and redeem them: Simple! No hidden fees and completely free!