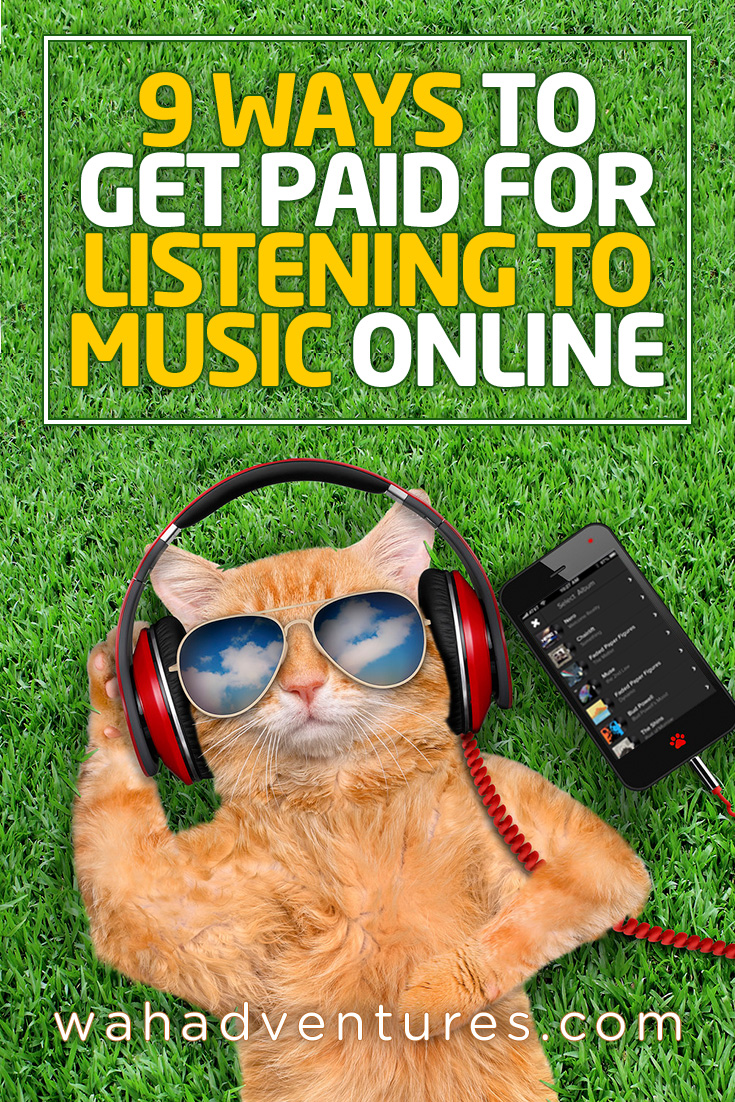 One of the most fun ways to earn some cash online is by doing one of your favorite things – listening to music!
Need Easy Extra $350+/Month For Free?
Yes, some websites will really pay you cash for listening to your favorite songs on internet radio, testing out short music samples, or rating new music.
It's not only a fun way to earn some extra money, but it's also very easy to do!
The following websites are proven to pay in cash and rewards, simply by listening to music online.
InboxDollars Radio Pays You to Listen to Music
One of the most popular GPT websites, InboxDollars, also pays you to listen to music through its radio.
InboxDollars, like Earnably, connects its radio to RadioLoyalty.
When you listen, you'll earn points to your InboxDollars account. Again, if you're going to sign up for InboxDollars only for its radio, you may just want to sign up for RadioLoyalty instead.
But, InboxDollars has so many ways to earn money, that it's definitely worth signing up to earn cash from radio and its other offers.
When you listen to InboxDollars radio, you'll need to enter a CAPTCHA when prompted so you can get credit for the time you're listening.
InboxDollars is open worldwide to anyone 18 or older.
Join InboxDollars here or read the review.
FusionCash Has Paid Radio
FusionCash is another Get Paid To website that works with RadioLoyalty to provide its members with some easy cash for listening to the music they love.
Many of its members say they use the paid radio to earn some extra money while they're working around the house. Just come back every few minutes to add the CAPTCHA code and earn a few cents!
You can also take advantage of the many other ways FusionCash lets you earn money, like through completing cash offers, taking surveys, and referring your friends. You even get a $5 bonus just for signing up.
You can cash out with a minimum balance of $25, and you'll get your earnings the following month on or around the 20th. FusionCash pays with PayPal, check, or direct deposit.
US residents can be 13 years old to participate with parental permission. Internationally, you must be 18 or older to join.
Join FusionCash here.
Review Music for Money on Slice the Pie
Slice the Pie is a super popular way for internet users to earn some cash, while also hearing some of the newest music before anyone else does!
With Slice the Pie, you'll be listening to, and rating, new music by artists who want your feedback.
You have to listen to at least 60 seconds of the song before you begin writing, but it's best to listen to all of it so you can leave a detailed review.
Slice the Pie really looks into its reviews, and doesn't want "fluff."
It wants your honest opinions, and you can increase your earnings by writing more consistently detailed reviews.
The more you participate and leave thorough reviews, the higher you'll get rated. A higher rating lets you earn more money, which typically is between 2 cents and 20 cents per review.
There are even some bonus payments available to raters who do exceptional work. And, you can earn even more money by referring your friends!
Want more money?

Join Opinion Outpost, one of the few faithful and honest survey panels and earn cash and gift cards for your opinion. Stack your points and redeem them: Simple! No hidden fees and completely free!


You must have a minimum of $10 in your account to withdraw your earnings with PayPal. Payments are made every week on Tuesdays and Fridays, and you can usually expect to see your earnings credited to PayPal within 5 business days.
Open worldwide, and must be at least 13 years old to join. However, some reviews will only be available to those in certain locations.
Join Slice The Pie here.
RadioLoyalty Has Internet Radio Rewards
RadioLoyalty is available on the web and as an app for your iPhone, iPad or Android device. RadioLoyalty is an internet-based radio that pays you to listen to your favorite music, just as you usually would on your device through other apps.
How can it afford to pay you just for listening to music? RadioLoyalty, like other radio providers, has advertisers that make it possible. Sure, you'll listen to advertisements between songs, but you earn money to do so.
You'll have to enter a CAPTCHA every few minutes, just to prove you're still listening. When you do, you'll earn points, which equal about 10 cents for every 10 minutes of listening time. The more you listen, the more points you'll earn. You can trade in your points for awesome prizes, or even VISA gift cards.
RadioLoyalty is open worldwide for anyone 18 or older.
Earn Instant Rewards for Listening to Earnably's Radio
Earnably is a Get Paid To (GPT) website that pays you for a bunch of different tasks, like taking surveys, watching videos, completing offers, and even listening to the radio.
Earnably's radio actually works through RadioLoyalty. When you use it, you'll earn points toward your Earnably account. If you're only going to use Earnably for its radio, you may want to just stick to RadioLoyalty. But, make an account if you want to utilize its other money-making tasks, too.
Earnably has levels that, as you earn more points and get promoted, give you bonuses, better payment options, and other helpful benefits. Once you reach $2 in your account, you can cash out with PayPal.
Must be at least 18 years old to join, but Earnably is open worldwide.
Use HitPredictor to Listen to Music and Earn Cash
HitPredictor is all about influencing the music that gets released to the public before it happens!
Basically, you'll be rating new tracks to provide feedback to artists, radio stations, record labels, and managers.
Each time you listen to a song, you'll collect points. There are also bonuses available if you rate a certain number of songs in a specific time period, like a week. You can rate new artists, too, for extra points.
Exchange your points for prizes, including Amazon gift cards, or you can use them to enter cash drawings and sweepstakes.
Rating about 15 songs will get you a $5 Amazon gift card.
HitPredictor is open worldwide to ages 13 and older.
Get Paid to Listen to Music Online with Musicxray
Musicxray is another popular way to get paid to listen to music online.
Once you sign up, you can choose the types of music you love listening to, and Musicxray will help tailor music to your tastes.
Basically, as a "Music Fan", you'll be rating new artists and songs by taking brief surveys or participating in more detailed focus groups.
You'll receive invites to surveys or focus groups through e-mail, but they may be few and far between at first.
Once you begin to rate more songs or artists, Musicxray will get a better idea of the music you love, so you can begin to get more offers. You can also earn more money as you earn badges for completing different tasks or rating a certain number of songs.
Pays somewhere around 5 cents to 10 cents per song you listen to, depending on your status on the website.
You can withdraw your earnings to PayPal once you reach a minimum of $20 in your account.
Musicxray seems to be open worldwide for participants 13 or older, but certain demographics may apply to rate different songs or artists.
Earn Cash with Unique Rewards Radio
Unique Rewards is a GPT site with paid internet radio that works similar to other paid radio websites. With Unique Rewards, you'll only need to enter a CAPTCHA every 30 minutes, which is less often than other websites.
But, you'll also receive a bit less in earnings from it. UK and Canadian users receive 1 cent every time they enter the CAPTCHA, and US users receive 3 cents.
In most cases, you'll see your earnings credited to your account in about 24 hours.
Once you reach $20 in your account, you can cash out with PayPal or check.
Currently, only US, UK, and Canadian residents can join.
Must be at least 18 years old, or 13 with parental permission.
Rate Music Samples for Cash with Research.fm
Research.fm lets you get paid to provide your feedback on the newest songs to radio stations. It's available on the web, or for your iOS or Android device.
Once you sign up, you'll receive survey invites to your e-mail when they become available. Listen to the music samples and rate them, fully answering the questions given in the survey.
Then, earn Amazon gift cards!
The website currently states that participation is by invite only, but there is also a contact form available for you to use to get more information if you're interested.
Must be at least 13 years old and is open to worldwide members, but most surveys will require specific demographics to qualify.
How Much Can I Really Make Listening to Music Online?
Honestly, not much. You likely won't make enough to afford your car payment each month.
Instead, listening to music online should be treated as a form of extra income.
Use your earnings to treat yourself to something or put a little extra toward debt. It definitely won't be a steady "job", but more like something you can do in your downtime for some extra cash.
To make the most of your earnings, I suggest signing up for each website on this list.
That way, if no new tasks are available on Slice the Pie, head over to Musicxray and start earning there.
You'll get a steadier stream of side cash coming in, plus you'll quickly get into a routine that works for you.
And, the more you practice reviewing music on those types of websites, the better you'll get – and the more money you can make!
Good luck!
Related Posts:
Get Money: Cash In!

With American Consumer Opinion (ACOP) the numbers truly do speak for themselves: $30 million+ in payments so far, 7 million+ international members, 20 million+ surveys completed!