15+ Places to Earn Money Online While Listening to Music
Updated on: by Amy Kennedy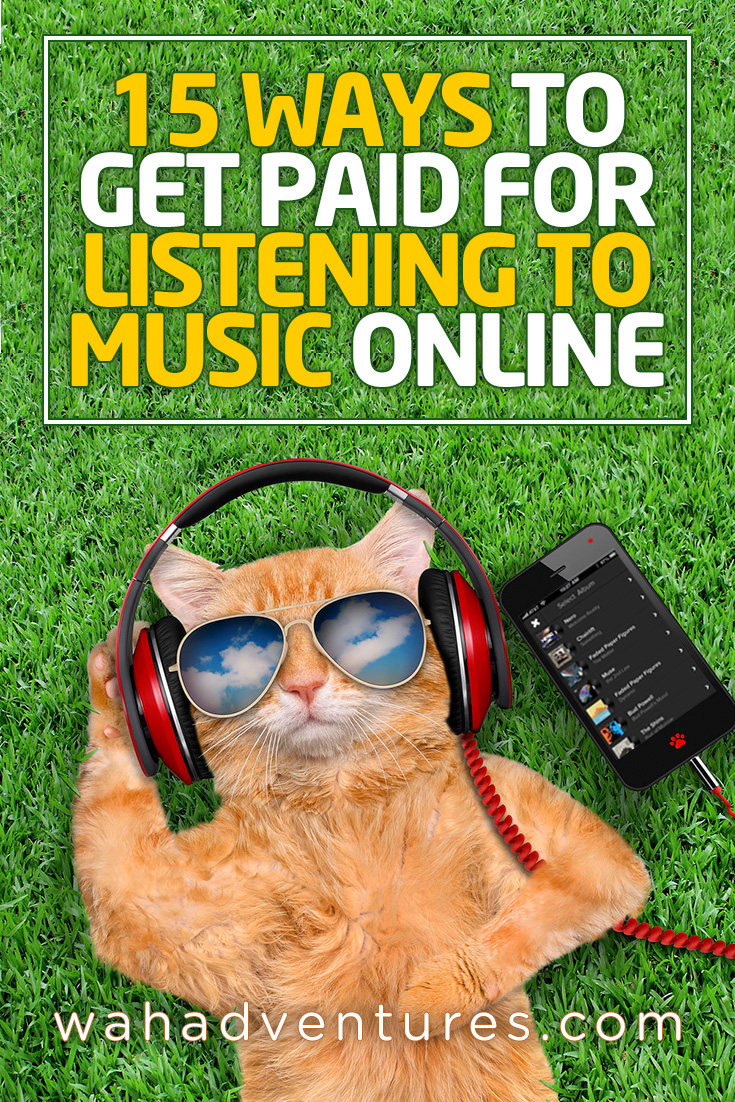 One of the most fun ways to earn some cash online is by doing one of your favorite things – listening to music!
Need Easy Extra $350+/Month For Free?
Yes, some websites will really pay you cash for listening to your favorite songs on internet radio, testing out short music samples, or rating new music.
It's not only a fun way to earn some extra money, but it's also very easy to do!
The following websites are proven to pay in cash and rewards, simply by listening to music online.
InboxDollars Radio Pays You to Listen to Music
One of the most popular GPT websites, InboxDollars, also pays you to listen to music through its radio.
InboxDollars, like Earnably, connects its radio to RadioLoyalty.
When you listen, you'll earn points to your InboxDollars account. Again, if you're going to sign up for InboxDollars only for its radio, you may just want to sign up for RadioLoyalty instead.
But, InboxDollars has so many ways to earn money, that it's definitely worth signing up to earn cash from radio and its other offers.
When you listen to InboxDollars radio, you'll need to enter a CAPTCHA when prompted so you can get credit for the time you're listening.
InboxDollars is open worldwide to anyone 18 or older.
Join InboxDollars here or read the review.
FusionCash Has Paid Radio
FusionCash is another Get Paid To website that works with RadioLoyalty to provide its members with some easy cash for listening to the music they love.
Many of its members say they use the paid radio to earn some extra money while they're working around the house. Just come back every few minutes to add the CAPTCHA code and earn a few cents!
You can also take advantage of the many other ways FusionCash lets you earn money, like through completing cash offers, taking surveys, and referring your friends. You even get a $5 bonus just for signing up.
You can cash out with a minimum balance of $25, and you'll get your earnings the following month on or around the 20th. FusionCash pays with PayPal, check, or direct deposit.
US residents can be 13 years old to participate with parental permission. Internationally, you must be 18 or older to join.
Need Easy Extra Cash?
Pinecone Research, a leading name in online survey panel honesty, absolutely guarantees $3 cash for every survey you complete!
Take advantage of their time limited New Membership drive and register NOW. Join today: 100% free!


Join FusionCash here or read the review.
Slice the Pie – Review Music for Money
Slice the Pie is a super popular way for internet users to earn some cash, while also hearing some of the newest music before anyone else does!
With Slice the Pie, you'll be listening to, and rating, new music by artists who want your feedback.
You have to listen to at least 60 seconds of the song before you begin writing, but it's best to listen to all of it so you can leave a detailed review.
Slice the Pie really looks into its reviews, and doesn't want "fluff."
It wants your honest opinions, and you can increase your earnings by writing more consistently detailed reviews.
The more you participate and leave thorough reviews, the higher you'll get rated. A higher rating lets you earn more money, which typically is between 2 cents and 20 cents per review.
There are even some bonus payments available to raters who do exceptional work. And, you can earn even more money by referring your friends!
You must have a minimum of $10 in your account to withdraw your earnings with PayPal. Payments are made every week on Tuesdays and Fridays, and you can usually expect to see your earnings credited to PayPal within 5 business days.
Open worldwide, and must be at least 13 years old to join. However, some reviews will only be available to those in certain locations.
Join Slice The Pie here or read the review.
RadioLoyalty Has Internet Radio Rewards
RadioLoyalty is available on the web and as an app for your iPhone, iPad or Android device. RadioLoyalty is an internet-based radio that pays you to listen to your favorite music, just as you usually would on your device through other apps.
How can it afford to pay you just for listening to music? RadioLoyalty, like other radio providers, has advertisers that make it possible. Sure, you'll listen to advertisements between songs, but you earn money to do so.
You'll have to enter a CAPTCHA every few minutes, just to prove you're still listening. When you do, you'll earn points, which equal about 10 cents for every 10 minutes of listening time. The more you listen, the more points you'll earn. You can trade in your points for awesome prizes, or even VISA gift cards.
RadioLoyalty is open worldwide for anyone 18 or older.
Earn Instant Rewards for Listening to Earnably's Radio
Earnably is a Get Paid To (GPT) website that pays you for a bunch of different tasks, like taking surveys, watching videos, completing offers, and even listening to the radio.
Earnably's radio actually works through RadioLoyalty. When you use it, you'll earn points toward your Earnably account. If you're only going to use Earnably for its radio, you may want to just stick to RadioLoyalty. But, make an account if you want to utilize its other money-making tasks, too.
Earnably has levels that, as you earn more points and get promoted, give you bonuses, better payment options, and other helpful benefits. Once you reach $2 in your account, you can cash out with PayPal.
Must be at least 18 years old to join, but Earnably is open worldwide.
Use HitPredictor to Listen to Music and Earn Cash
HitPredictor is all about influencing the music that gets released to the public before it happens!
Basically, you'll be rating new tracks to provide feedback to artists, radio stations, record labels, and managers.
Each time you listen to a song, you'll collect points. There are also bonuses available if you rate a certain number of songs in a specific time period, like a week. You can rate new artists, too, for extra points.
Exchange your points for prizes, including Amazon gift cards, or you can use them to enter cash drawings and sweepstakes.
Rating about 15 songs will get you a $5 Amazon gift card.
HitPredictor is open worldwide to ages 13 and older.
Get Paid to Listen to Music Online with Musicxray
Musicxray is another popular way to get paid to listen to music online.
Once you sign up, you can choose the types of music you love listening to, and Musicxray will help tailor music to your tastes.
Basically, as a "Music Fan", you'll be rating new artists and songs by taking brief surveys or participating in more detailed focus groups.
You'll receive invites to surveys or focus groups through e-mail, but they may be few and far between at first.
Earn Everything… nearly!
Join Opinion Outpost, one of the few faithful and honest survey panels and earn cash and gift cards for your opinion. Stack your points and redeem them: Simple! No hidden fees and completely free!


Once you begin to rate more songs or artists, Musicxray will get a better idea of the music you love, so you can begin to get more offers. You can also earn more money as you earn badges for completing different tasks or rating a certain number of songs.
Pays somewhere around 5 cents to 10 cents per song you listen to, depending on your status on the website.
You can withdraw your earnings to PayPal once you reach a minimum of $20 in your account.
Musicxray seems to be open worldwide for participants 13 or older, but certain demographics may apply to rate different songs or artists.
RadioEarn is a mobile app that enables you to listen to music and earn money simultaneously.
With RadioEarn, you can tune in to their radio station using your phone or tablet. As you listen to music and advertisements, you accumulate points.
These points can then be converted into PayPal cash. Earnings from one month are transferred to you in the following month.
Cash4Minutes offers a unique opportunity to convert your unused mobile phone minutes into cash.
If you have unused minutes remaining on your month-to-month phone service, Cash4Minutes allows you to convert them into money. By listening to their radio broadcasts, which include music, you can earn money.
Cash4Minutes currently operates in the UK, Finland, Poland, Turkey, and Cyprus, and pays up to $0.08 per unused minute.
Playlist Push connects artists with music playlist curators.
If you have a playlist with at least 400 followers on popular music platforms like Apple Music, Spotify, or Deezer, you can qualify as a curator.
Playlist Push will notify you when there's a new song that might fit well in your playlist. You'll listen to the song, share your opinion, and if you like it, you can add it to your playlist.
Playlist Push pays curators for adding songs, and the payment amount varies depending on the curator's popularity and the playlist's reach.
Payments can be requested at any time and are sent every Friday via PayPal.
Earn Cash with Unique Rewards Radio
Unique Rewards is a GPT site with paid internet radio that works similar to other paid radio websites. With Unique Rewards, you'll only need to enter a CAPTCHA every 30 minutes, which is less often than other websites.
But, you'll also receive a bit less in earnings from it. UK and Canadian users receive 1 cent every time they enter the CAPTCHA, and US users receive 3 cents.
In most cases, you'll see your earnings credited to your account in about 24 hours.
Once you reach $20 in your account, you can cash out with PayPal or check.
Currently, only US, UK, and Canadian residents can join.
Must be at least 18 years old, or 13 with parental permission.
Rate Music Samples for Cash with Research.fm
Research.fm lets you get paid to provide your feedback on the newest songs to radio stations. It's available on the web, or for your iOS or Android device.
Once you sign up, you'll receive survey invites to your e-mail when they become available. Listen to the music samples and rate them, fully answering the questions given in the survey.
Then, earn Amazon gift cards!
The website currently states that participation is by invite only, but there is also a contact form available for you to use to get more information if you're interested.
Must be at least 13 years old and is open to worldwide members, but most surveys will require specific demographics to qualify.
Use Your Phone as Usual
What better way to get paid to listen to music than to earn cash for the music you already listen to?
Unlike other services that pay you to check out new music and rate them, this method lets you use your phone as you normally would, including any music or radio services you already have installed.
It's called Nielsen, which is one of the leading market research companies.
The Nielsen Computer and Mobile Panel pays you up to $50 per year just for using your phone.
It collects information about how you use your mobile device and internet and then sends that data along to companies who need it for research purposes.
Don't worry – none of your private information is included, just your activity.
You can use any apps and services you already use, just as you normally would, and get paid to use your phone every day.
Nielsen also has $10,000 sweepstakes every month to give away cash to its members, so it's definitely worth being a part of this panel.
WeLocalize is perfect for people who have transcription skills and love listening to music.
The service hires transcriptionists to transcribe the lyrics of music for various lyrics services.
If picking apart the words of songs is something you love to do, then this could be a great gig for you.
You can sign up with your email address to join the list and get notified when new songs are available.
Pick the ones you want to transcribe (you can pick from your favorite genres, if you'd like), do it through the app, and get paid.
You'll need iTunes, which is what WeLocalize connects to.
You'll get paid for all the songs you transcribe each week. Pay is reportedly about $4 per song.
Become a Freelance Audio/Lyrics Captioner
You can also do what you'd do for WeLocalize – transcribing music to lyrics – on a freelance basis by connecting with your own clients you find.
You might reach out to music companies or lyric websites directly to see if they're in need of your services for transcribing new music that comes out.
Or, look for the gigs on freelance marketplaces like Upwork or Freelancer.
You can also keep an eye out on the Jobs section of Facebook if you're active on the platform, because you never know what might show up there!
Become a Blogger/Influencer
If you've thought of becoming a blogger or influencer and you love music, then perhaps becoming a music blogger or influencer is your perfect niche?
Blogging can make a lot of money when you do it right.
In fact, bloggers all over the world are turning what was once a fun hobby into a full business model by monetizing their blogs with sponsorships, affiliate marketing, advertising, and more.
As a music blogger, you might write content about new music, your favorite genre, your favorite band, or music industry news.
There are so many different avenues you can go!
Check out some current top music blogs, like Pitchfork, Rolling Stone, and Pigeons and Planes for some inspiration.
Then, you can narrow your music niche and think about where you might want to take your blog in the future (Do you want to sell products? What do you want to promote with affiliate links?).
Whatever you do, don't forget that your blog should interest you, too, so you can truly get paid to listen to the music you love most!
Use Cashback Shopping Sites
Use your favorite cashback shopping sites (like Ebates, BeFrugal, and Swagbucks) to sign up for music services or buy your music.
These sites pay you to shop online, so they'll give you cash back when you make a purchase.
Ebates, for example, offers cash back on Best Buy purchases, so if you frequently buy CDs at Best Buy, you'll get money back into your Ebates account when you shop on the Best Buy website.
Swagbucks has an offer to get SBs (points) when you try the Apple Music service for FREE for three months!
To find music deals on these sites, just search for "Music" in their search bars!
Join Swagbucks here or read the review.
Make Up to $12 Per Song on Playlist Push
Playlist Push is a company that connects artists to some of the best music playlist curators on the web.
Do you have a knack for creating hot playlists that everyone loves, shares, and talks about?
Then you probably have a place on this site.
To qualify, you need a playlist with at least 400 followers on a popular music service like Apple Music, Spotify, or Deezer.
Playlist Push will let you know when there's a new song that might fit into your popular playlist.
You listen to the song, share your opinion, and if you love it, you'll add it to the playlist.
Playlist Push then pays you to add that song!
Depending on how popular you and your playlists are, you can earn an easy $12 just for the addition.
You can request your payout at any time and Playlist Push will send your earnings every Friday with PayPal (therefore, only people in countries that use PayPal can use this service).
Contact Music Production Companies
Production companies might be more willing than you think to use people like you – the people who ultimately listen to the music they produce – to let them know your opinions.
You can always try to contact these companies directly (maybe the ones that product your favorite artists?) to see if they'd be willing to pay you for some side review work.
It's a long shot, but it might work.
You can usually find contact information on their websites to email them or give them a call.
RadioEarn is an app you can use on your mobile device to listen to music and get paid for it!
It's basically a radio of its own to listen to on your phone or tablet.
The app will play a few songs, followed by advertisements every 15 minutes or so.
When you listen to those ads, you get paid!
Think of it like Perk.tv for music.
You'll get points when you listen to ads, which will then convert to PayPal cash.
Everything you earn in one month will be transferred the following month.
Turn Unused Phone Minutes into Cash with the Radio
Cash4Minutes offers an interesting way to get paid for listening to tunes online.
This site is for people who use month-to-month phone services and buy minutes instead of a contract or phone plan.
If you usually have minutes leftover at the end of the month, you can convert them using this website.
Cash4Minutes will convert them to cash. In exchange, you'll listen to its radio broadcasts (basically, it's a form of advertising for the company to make money, but it also has music).
Currently, this site is only available for people in the UK, Finland, Poland, Turkey, and Cyprus.
Reportedly, the pay is up to $0.08 per unused minute.
Participate in Surveys and Focus Groups
Online surveys and focus groups can also help you earn cash for listening to music!
Not all online surveys ask you to listen to music, but some do.
The good thing about most survey invites is that they'll let you know what the survey will be about before you start taking it.
For example, the site might tell you that the survey will be about music or a music genre.
In these surveys, you'll sometimes need to listen to new music clips and give your opinions!
Focus groups also do this sometimes to see what new music people like and dislike.
Focus groups will usually pay more than a survey, though, because they take longer to complete and ask for more information.
Either way, you get paid!
Some of our favorite survey sites:
Some of our favorite focus group sites:
Refer Your Friends to Paid Music Listening Services!
Now, we can't forget about one of the easiest, no-fail ways to get paid for your love of music:
Inviting your friends!
Several of the music services I listed above will also pay you to refer people you know to sign up for them too.
These companies are always on the lookout for more active people to join and participate, so they're willing to pay their current members to help them out.
Slice the Pie, Fusion Cash, and InboxDollars are just some of the services that have a referral program where members can get rewarded for bringing more people to the platform.
In some cases, referrals can give you even more money than you'd make just listening to music, so it's always smart to at least try to bring more people aboard.
Ways to Save Money Listening to Music
There are also ways to save money on the music you listen to online, which can help you put more of your earnings in your pocket.
Here's how to do it:
Sign Up for Monthly Music Services
There are a lot of monthly music subscriptions available now that streaming music is such a popular way to listen.
There's Google Play Music and Amazon Music Unlimited, for example, both of which have monthly subscription fees for you to have access to just about any song you want to listen to.
How does it save you money, exactly?
Instead of buying all your music (which can get super expensive for about $2 a song or $15 for an album), you'll have instant access to all of it with your service for a low monthly cost.
You can also sign up for a full year or for more people for many services and get a discount on the subscription cost!
For example, Amazon Music Unlimited is $7.99 per month for Prime Members, or $79 for a full year, giving you a $16.88 discount.
Google Play Music is $9.99 per month for one person, but you can purchase it for up to six family members for just $14.99 per month.
Take Advantage of Music Service Trials
Most online streaming services also offer 100% FREE trials so that you can try out the service and make sure it'll work for you.
If you're tight on cash or don't want to pay for a monthly subscription, you can always trial-hop for a while!
Here are some trials available for streaming music services (be aware that these offers do tend to change, so they might be a little different than when I write this):
Amazon Music Unlimited: 3 months for $0.99 (but there are sometimes free one-month trials available)
Apple Music: 3 months free
Pandora premium services: 3 months free
Spotify Premium: 3 months for $0.99
YouTube Premium: 1 month free
Tidal: 1 month free.
Buy Stuff on Amazon with No-Rush Shipping
When you buy things on Amazon, you're usually given a few shipping options, like expedited shipping, free two-day shipping, or a No-Rush Shipping option.
No-Rush Shipping can actually save you cash on music you buy through Amazon!
All it means is that it could take your stuff a little longer to arrive, but if you're not in a hurry, you get rewarded.
For some purchases, Amazon will give you a credit to use toward any digital purchase, which includes movies, music, and more.
Your credits get stored in your account until you buy an eligible item (it could be a full album or a single song) and Amazon will then apply it automatically.
Listen to Music for FREE!
In case you missed it, we have a full article dedicated to explaining how to listen to music online for FREE.
Pandora, iHeartRadio, and Spotify are some streaming music services that have 100% free account options for those who don't mind some ads.
You can, of course, upgrade to premium services to reduce or get rid of ads completely, but that's totally optional.
If you have an Amazon Prime account, you can also listen to Prime Music – a selection of free songs and playlists – for free on your computer or mobile device.
You won't get paid for listening with these services, but you definitely will save some money on your music obsession.
How Much Can I Really Make Listening to Music Online?
Honestly, not much. You likely won't make enough to afford your car payment each month.
Instead, listening to music online should be treated as a form of extra income.
Use your earnings to treat yourself to something or put a little extra toward debt. It definitely won't be a steady "job", but more like something you can do in your downtime for some extra cash.
To make the most of your earnings, I suggest signing up for each website on this list.
That way, if no new tasks are available on Slice the Pie, head over to Musicxray and start earning there.
You'll get a steadier stream of side cash coming in, plus you'll quickly get into a routine that works for you.
And, the more you practice reviewing music on those types of websites, the better you'll get – and the more money you can make!
Good luck!
Related Posts:
Earn Everything… nearly!
Join Ipsos iSay, one of the few Faithful and Honest survey panels and earn prizes, gift cards and donations. Stack your points and redeem them: Simple! No hidden fees and completely free!