What's the Best Place to Play Fantasy Football for Money?
Updated on: by Amy Kennedy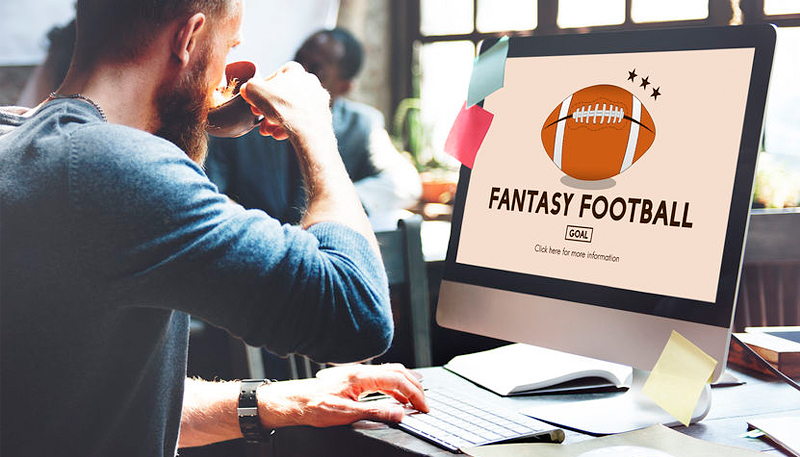 If you play any type of fantasy sports for cash, you know that it's a legit opportunity to make some money online.
Need Easy Extra $350+/Month For Free?
Fantasy football is probably the most popular sport to do this with.
People who know their stuff when it comes to teams and players can absolutely crush the competition and make some big money.
It was estimated that about 75 million people would play fantasy football in 2015, up from 57 million people the previous year!
It's obviously a popular virtual sport, but most people do it for a hobby.
There are others, though, who take it very seriously.
Fantasy football has become a way for football enthusiasts to score a lot of money through the football season.
But what are the best places to play the virtual sport for cash?
Let's find out!
What's Fantasy Football?
If you don't know much about fantasy football, you're not alone.
Perhaps it's something you've heard a lot about but aren't quite sure how it all works.
Fantasy football is, like the name suggests, an imaginary way to play the game.
Participants create teams of players from the National Football League (NFL), basing their teams on how they think those players will do in real games.
When players do certain things in real games, like score a field goal or make a touchdown, you'll get points for your fantasy football team.
You can shift players throughout the season to help out your team, which can be a benefit or a risk.
Basically, the point is to make a team that you think will win more points against other teams by picking winning players.
Need Easy Extra Cash?
Pinecone Research, a leading name in online survey panel honesty, absolutely guarantees $3 cash for every survey you complete!
Take advantage of their time limited New Membership drive and register NOW. Join today: 100% free!


A lot of people make money playing against other fantasy football participants on websites that offer cash prizes.
Others make bets in pools of friends or co-workers to win money without even using the internet!
Let's get into how you can earn some cash by playing fantasy football.
Are There Any Risks Involved?
Yes, there can be.
Fantasy football is basically a form of gambling.
You have to pay an entry fee to enter most contests and leagues.
So, there's a chance you walk away with nothing.
There is no foolproof way to always win in your fantasy football league.
If it was that easy, more people would do it!
There will always be winners and losers, and you can't win them all.
So, be sure to understand the possibility of you losing the money you paid for your entry fee, which can be large, depending on the leagues you enter.
Also, try to stick with reputable sites, like the ones I'll mention below.
There are some scam sites that take entry fees but have no intention to pay their winners.
Find the Best Place to Play Fantasy Football for Money
Here, I've come up with some ways for you to make money playing this virtual sport.
And, it's not all about the best places to play fantasy football online.
You can also create your own league or create pools with friends, family, or co-workers to win cash!
Now, onto the money-making ways:
Participate in a Fantasy Football Payment Site
Signing up for a fantasy football league that pays is probably one of your best bets for making money this way.
There are several of them to go around, and some are better than others.
Generally, they work the same way.
You'll sign up for an account and pick your league.
Then you'll need to pay an entry fee.
So, yes, you may run the risk of losing money instead of gaining it if you do very poorly picking members.
But, this is how these sites get enough money to pay the participants.
Without your entry fee, there wouldn't be enough money to pay participants.
After you're all signed up and have paid, you can pick your team members.
If your team is the best one in your league, you can win money.
Here are some of the best fantasy football league websites:
This site offers a basic fantasy football membership package that costs less than $50 for a full year.
Earn Everything… nearly!
Join Opinion Outpost, one of the few faithful and honest survey panels and earn cash and gift cards for your opinion. Stack your points and redeem them: Simple! No hidden fees and completely free!


With the basic package, you'll get everything you really need, including draft kits, tracking tools, and stat analyses.
Once you get the hang of the site, you might want to upgrade to the premium package for less than $100 a year.
This one will give you everything in the basic package, but with more one-on-one help, live strategy sessions, and more.
This site offers a championship worth $15,000!
If you win, you can also get a lifetime subscription to Insider PRO Plus, which gives you all the information you need to get a winning fantasy football team every year.
Football Guys also offers a ton of resources that can help you pick and adjust your team, based on previous and current stats of players.
You can get a season pass to Rotoworld's fantasy football championship for $19.99.
The website offers in-depth rankings and stats for you to see where you stand and what you need to do better with to get ahead.
Rotoworld even offers customized projections to help you choose your starters and team for the following weeks.
A membership with The Huddle starts at $29.95 per year for returning members or $39.95 for first-time members.
You'll get handy tools like custom cheat sheets, injury reports, projected stats, a start/bench analysis, and more.
CBS Sports offers a comprehensive fantasy football platform with a range of features and tools.
They provide customizable leagues, live scoring, xpert analysis, and in-depth player projections.
CBS Sports also offers mock drafts, player news, and various league formats to cater to different preferences.
ESPN Fantasy Football is a popular platform known for its user-friendly interface and extensive coverage.
It offers customizable leagues, expert analysis, live scoring, and a variety of league formats.
ESPN provides an array of resources, including player rankings, injury updates, and insider content to assist fantasy football managers in making informed decisions.
Sleeper is a unique fantasy football platform that focuses on providing a modern and interactive experience for users.
It offers innovative features like a chat interface, league-wide messaging, and integrated draft boards.
Sleeper also provides real-time alerts, player news, and a wide range of league customization options.
Participate in a Fantasy Football Contests
If you want a chance to win really big money, then it's a good idea to enter a fantasy football contest.
There are quite a few of them online, and some pay much more than others.
Here are some of the best ones to consider:
CBS Sports Fantasy Football is a good one for experienced players.
This site offers in-depth tracking and analysis so that you can pick your perfect team to win against other top players.
You'll even get access to live projections to help you tweak your team.
You can win between $200 and $5,000, depending on what type of league you join.
Leagues with more teams will get you a larger prize, but will also have a larger entry fee to join in.
Fantasy Football Players Championship (FFPC) offers season-long leagues and contests.
But, its most popular ones are the ones toward the end of the season, when you can win the biggest prizes.
Its Playoff Challenge, for example, has a grand prize of $100,000 for the winning team!
You can try any of its other interesting leagues and contests, though, to win more cash.
Terminator Tourney, for example, gives a grand prize of $10.000, but requires you to drop a player from your team every week.
This is a good site to try if you have experience with fantasy football and want to try some new ways to play that can also give you some money.
The contests at Fantasy Sharks run weekly through the season.
It currently offers three different contests with variations in gameplay to add a little more fun into your virtual football league.
Yahoo! Sports offers a daily fantasy football contest.
Yes, the prize money will be lower than longer contests.
But, you also get more chances to win!
You link your PayPal account to the site and add funds needed to enter.
Then, you'll enter an open contest, pick your team, and see your team's points add up in real-time.
There are tons of contests to choose from with various entry fees, and some are even free to join.
Or, Make Your Own League!
As an alternative to the above methods, you can always create your own leagues!
The advantage to this is that you can set up rules for your league and have your friends join in.
You'll all be able to play in ways you like best, and you're in control of how many teams join in.
Here are some sites that offer custom leagues for a fee:
You can also charge what you'd like for joining in the league, so you might even make some profit this way.
Most leagues have about 12 teams.
If you charge $30 per team, that's $360.
You might have a grand prize of $300, so you pocket $60.
It's a valid way to make some money from your fantasy football league.
And, you may even end up being the winner!
Bonus Money-Maker: Bet Against Your Friends or Co-Workers
You don't need to do anything online to make money with fantasy football if you don't want to.
Plenty of people create fantasy football leagues using good old pen and paper and betting against their friends, co-workers, or family.
In fact, I used to work at a place in which most of the employees participated in the office fantasy football league, led by the boss.
He'd pay the winner from the entry fee, which was $20, and the grand prize was always calculated based on how many people entered.
You can do something similar by rallying up your friends and family, or even asking your boss if you can start a league with your co-workers.
Use the old-fashioned bracket system and get someone who isn't participating to tally up everyone's points to make it fair.
Conclusion: Get Paid to Play Fantasy Football
There you have it: solid ways to earn some money playing fantasy football!
As with any form of gambling, fantasy football won't always win you money.
So, use it as a way to try to win some extra cash during the season, rather than relying on it as a steady form of income.
Good luck!
Do you play fantasy football?
Let us know some of your tips, successes, etc. in a comment below!
Related Posts:
Earn Everything… nearly!
Join Ipsos iSay, one of the few Faithful and Honest survey panels and earn prizes, gift cards and donations. Stack your points and redeem them: Simple! No hidden fees and completely free!