Pure Content- Get Paid to Write
Updated on: by Amy Kennedy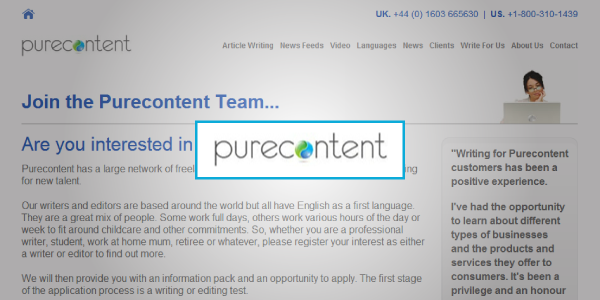 Need Easy Extra $350+/Month For Free?
Get paid to write online with Pure Content.
Pure Content is a British based content mill with an office in the United States and writers all over the world. They accept writers from any country as long as English is their first language, and they offer writers the opportunity to write articles, industry news, blog posts, editorials, and infographs. Articles are generally in batches of 250 to 1000 words on related topics, while other possibilities vary. Infographs are a newer service they offer that combine researched material with visual graphics.
What About the Money?
Pay starts at $3.30 per 250 words and goes up from there. This lowest rate is reserved for simple writing that requires little research, and while higher paying jobs come along they are clear that they cannot guarantee they will always be available. They pay each month for the previous month. You have to submit an invoice by the 20th for the work completed the previous month, and then you are paid for that invoice around the 30th. For example, you bill them on February 20th for work done in January. You are then paid around the 30th of February for work that was completed and had gone through the editing process in January. Though it could make for a long wait, most of the employees discussing the issue in the forums say they are paid on time. Also, there were a couple who mentioned that they rarely make as low as the lowest rate.
Good to Know
They are definitely a legitimate content company, and from all appearances their writers love them. There was one instance where a writer noted that she had great success with them until she was off work for being in the hospital. When she went back to work her writing was not up to par and they let her go. This was despite doing such great work in the past that they complemented her more than once. Take that as a warning that they are great to work for as long as you do a great job.
Be aware that they are based in the United Kingdom. As such, apparently a lot of their assignments are required in UK English. It is possible to set Word, and maybe other word processing software, to check for those differences. However, you probably want to be familiar with most of the differences yourself if you decide to apply, as the sample assignment I received was requested in UK English.
Assignments are given via email, and current writers with Pure Content note that they receive a brief before each and every assignment detailing what is required. They can choose to accept the project, or not, after reading the brief. Most seem to appreciate that they know what they are getting into with each assignment.
Lastly, though some new writers popped up in different forums concerned because they had not received an assignment, those that have written for them in the past assured them they could simply email them and let them know they were available to write. Each time this happened it was indicated that Pure Content responded in a timely manner.
Pros and Cons of Pure Content
Pros:
Audience Engagement: Quality content can engage the audience, building a relationship and trust over time. This can lead to more user engagement and loyalty.
SEO: Quality content is likely to be rewarded by search engines, which can result in increased organic traffic. Content that answers users' queries effectively can boost your website's SEO.
Brand Authority: Sharing knowledge and insights can position your brand as an authority in your field, which can increase your reputation and credibility.
Lead Generation: By offering valuable content, you can encourage users to provide their contact details (for example, to download a whitepaper or attend a webinar), which can help with lead generation.
Long-Term Results: Once it's created and optimized for SEO, content can keep attracting traffic and generating leads long after it was first published.
Cons:
Time-Consuming: Creating high-quality content can be time-consuming. It requires research, planning, creation, and optimization.
Requires Expertise: To create valuable and engaging content, you need a good understanding of your audience, topic, and SEO. This may require hiring or training staff.
Slow Results: Content marketing is a long-term strategy. It can take months or even years to build up a strong library of content and to start seeing significant results.
Constant Need for Fresh Content: To keep the audience engaged and improve SEO, you need to consistently create and publish new content, which can be challenging.
Difficulty Measuring ROI: While it's possible to track certain metrics like traffic and lead generation, it can be difficult to directly link content marketing to sales and accurately measure ROI.
Conclusion
From all appearances this a great company to write for. It appears that the work is steady, though not guaranteed, and that they are quick to respond to emails for support. No one really had anything bad to say about them, and as long as you do your best work it seems there is great potential here. They claim to treat their writers the same as their customers, as they would not exist without either, and that is refreshing to hear. Maybe this should not be relied on right away as a sole source of income, but it could definitely be a great egg that could grow into main egg with time.
How Do I Apply?
You can request an application packet on their website. It includes a ton of information, as well as a request for a writing sample on a specific topic. You have two weeks from the time you get the packet to apply.
Related Posts:
Earn Everything… nearly!
Join Ipsos iSay, one of the few Faithful and Honest survey panels and earn prizes, gift cards and donations. Stack your points and redeem them: Simple! No hidden fees and completely free!