Want to Make Free Cash Online? Here Are 133 Fast Ways
Updated on: by Amy Kennedy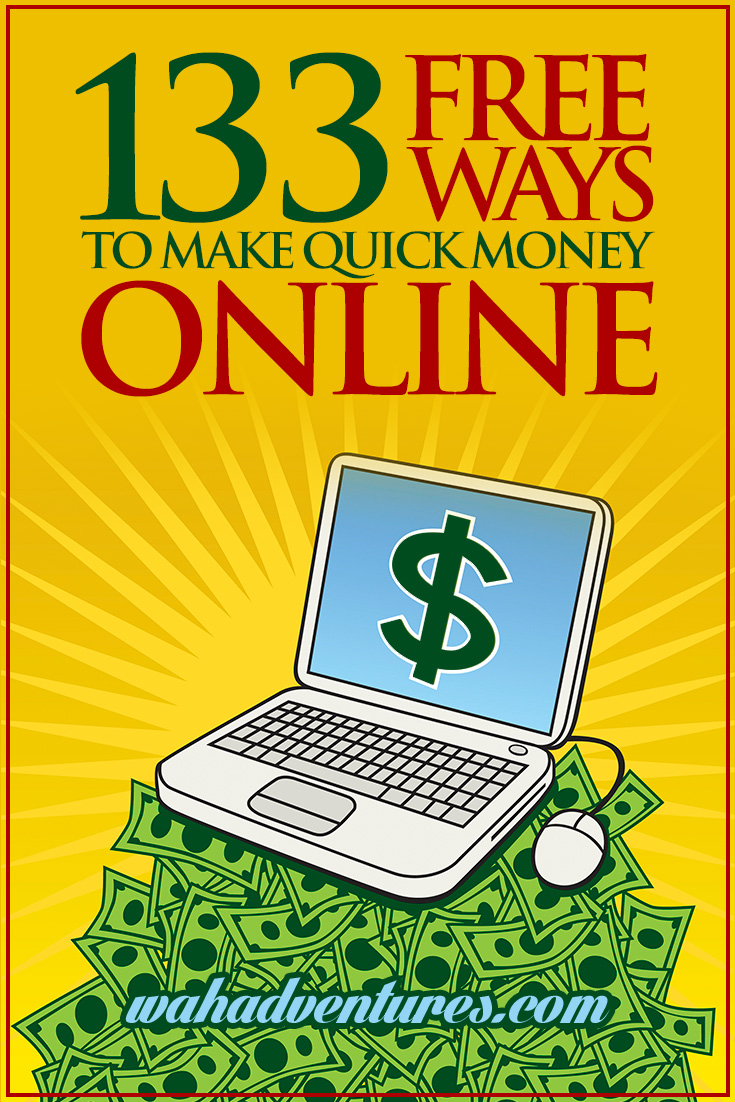 Need Easy Extra $350+/Month For Free?
If finding an online job isn't your thing and, instead, you want fast side gigs to make some extra cash, you're in luck.
There are tons of ways you can make quick cash online, from the comfort of your home.
Browse the web, review products, complete quick tasks, or write a blog post.
All of these things can make you real money, with no money needed from you!
The best thing about these money makers is that most of them are things anyone can do.
You don't need special skills to make money from most of these quick tasks.
What are you waiting for? Earn some quick and free money online, starting today!
How to Make Quick Free Money Online
Paid Surveys
Paid surveys have been one of the most popular ways to make money on the internet since the internet became popular!
That's probably why it's so easy to find paid survey websites. Of course, you need to make sure you're joining ones that actually pay, since there are a ton of scam websites looking to take advantage of you.
If you like sharing your opinions, and getting paid to do so, check out these legit paid survey sites that actually do pay:
Read more: Real Online Survey Jobs That Pay Cash
"Get Paid To" Sites
Get Paid To (GPT) websites are, and have been, a hugely popular way to make money online. These websites offer several ways for you to earn cash, like playing games, searching the web, or taking surveys.
Although they won't make you rich overnight, if you stick with a few of them and use them frequently, you can see your earnings add up pretty quickly!
The following GPT websites are legit websites that have been proven to pay users as promised:
Test Websites
Several websites will pay you to provide website tests for their clients.
Need Easy Extra Cash?
Pinecone Research, a leading name in online survey panel honesty, absolutely guarantees $3 cash for every survey you complete!
Take advantage of their time limited New Membership drive and register NOW. Join today: 100% free!


The way it works is you'll complete a series of specific tasks on a client's website, such as placing a product in your shopping cart or clicking through on different links.
You'll use a screen recording software provided by the website to record your actions as you do them.
You'll also speak everything that you're doing into your computer's microphone, explaining your thoughts as you walk through them.
This way, the client can see any issues that come up during your experience, while also getting your feedback for its ease of use, organization, etc.
Here are a few of the best website testing sites:
Read more: Get Paid for Your Feedback on Websites with These 20 Companies!
Affiliate Marketing
Affiliate marketing is huge right now, as bloggers and social media influencers have learned how to use it to their advantage when mentioning products or services.
Basically, an affiliate link to a product will give you commission when someone purchases the product through your link.
So, if you write a blog post about your favorite dog foods, you can add your affiliate links to Amazon, for example.
When someone purchases the dog food after clicking on that link, you receive some money. Awesome!
There are several affiliate networks that offer tons of affiliate programs for you to choose the ones that fit within your area of influence.
If you talk about beauty products on your blog or social media channels, for example, look for affiliate programs from popular health and beauty brands.
Here are some of the best affiliate marketing networks to join:
If you're not sure which network to join, consider visiting some of your favorite brands' websites and search for an "Affiliates Program" link to see what network your favorite brands use most.
Answer Questions
If you like helping out others and have some areas of expertise, why not get paid by answering questions or giving advice to others online?
You can sign up as a Cha Cha guide (review) to find the answers for internet users who ask questions.
JustAnswer (review) is pretty similar, and you can earn between $5 and $25 for each answer that's accepted.
Or, if you have some psychic abilities, try out Keen, which will pay you to give psychic readings and advice to those who seek it.
You'll create a listing through Keen for those desiring readings to easily find you.
Entrepreneurs can sign up to give business advice with Smallbiz Advice, and those seeking help can choose you if you fit their needs.
Finally, try out Wonder (review) as an expert researcher.
This one requires a fairly extensive registration process, where you'll have to complete a trial assignment.
And, the assignments are more in-depth than a simple answer.
But, the best experts can make some serious money with Wonder.
Read more: Get Paid to Answer Questions with These 21 Websites and Apps!
Design Stuff
Who knew you could be creative, have fun, and make some easy money online?
People are starting to hop on the bandwagon of designing things to sell, like logos or t-shirts.
The best part is, you don't have to have much experience, or really, any at all.
Skreened, Spreadshirt, Printfection, Cafe Press, and Zazzle all let you design practically anything you want using their website design interface. Then, add your designs to t-shirts, mugs, mouse pads, or other products to sell!
Earn Everything… nearly!
Join Opinion Outpost, one of the few faithful and honest survey panels and earn cash and gift cards for your opinion. Stack your points and redeem them: Simple! No hidden fees and completely free!


The websites take care of the actual printing and manufacturing, so all you need to do is worry about the design.
Or, create your own Etsy shop.
Etsy is perfect for graphics designers to create unique logos, website themes, or other custom graphics.
You can also sell handmade goods, like knitted blankets or art, through your shop.
Freelancing Gigs
More people than ever before are actually making a living through freelancing.
In contrast to an employee, a freelancer is basically self-employed.
He chooses when, and where, to work and has freedom over what types of services he wants to provide, such as programming or website creation.
In 2015, more than one-third of the American population participated in freelancing gigs of some kind.
There's a lot to be said about having control over how you make money, and how much you can make.
The sky's the limit as a freelancer.
Here are some of the best sites for finding freelancing gigs in your area of expertise:
Micro Tasks & Jobs
Fiverr (review) was the first really successful micro job website, where people can post their services for $5, or more with add-on options.
Since then, other micro task and micro job sites have crept up, allowing people to do small tasks within their wheelhouse to earn some extra money online.
These sites won't make you big bucks unless you spend a lot of time with them, but they can still earn you some side cash in a short amount of time:
Online Focus Groups
Companies want to know what they're doing right or wrong, and that's why they prepare surveys for consumers to share their opinions.
Online focus groups are for the same purpose, but are longer and more detailed.
When you participate in a focus group, you'll be answering in-depth questions to complete studies for the company.
Some focus groups will require you to live near a certain location because some of the study may need to be completed in person. However, others are solely online, but may be few and far between.
2020Panel (review)does sometimes offer online focus groups that pay between $50 and $150.
You can sign up for the website and be notified when you fit within the demographics of a study.
Sign up for Alibaba User Research with a quick survey, and the company will notify you when it has surveys or focus groups available that you'll be a good fit for.
FocusGroup lets you test out products, TV shows, and more, and share your opinions through surveys and lengthier focus groups.
And, if you'd rather search for your own focus groups of interest, try FindFocusGroups, which allows you to browse current online studies from a variety of websites.
Read more: 10 Best Paid Online Focus Group Companies
Paid Clicks
Some websites will pay its members to click on their advertisers' ads.
This particular money-making venture can be a little tricky, though.
It can be against advertising networks' terms of service to pay people to click on ads, so it has to be done in a way that isn't in violation.
Unfortunately, many scam websites pop up all the time, for the sole purpose of getting you to sign up, click ads, and never paying you for it.
So, be careful when finding these websites.
There are only a handful out of hundreds that will actually pay you.
Here are a few of the legit ones:
Read more: 11 Free Legit Ways to Get Paid Instantly to Click Ads
Paid Tweets
If you love Twitter, this money maker is for you. You can actually get paid to send out tweets to your followers.
Think of it as a quick advertisement from a sponsor.
Of course, you can't expect to make tons of money by tweeting if you don't have a huge following.
The bigger (and more engaged) your audience is, the more you can get paid per sponsored tweet.
So, you might want to consider expanding your Twitter followers naturally if you want to make some decent money.
Here are a few websites that will pay you to send out sponsored tweets:
Phone Apps
Your mobile device can be making you a lot of money you probably didn't even know about!
There are tons of apps that can help you earn money.
Note that some of these will require you to do some things in person, such as visiting a store or completing a small job in your neighborhood.
Still, you get paid through the use of the online app.
Read more: Huge List of Smartphone Apps That Really Pay You Money!
Revenue Sharing
Successful blog owners know that the more often you publish, the quicker your audience can grow. In turn, the more money blog owners can make from advertising.
So, to get more content on their blogs, some blog owners are adopting a revenue sharing process. Basically, contributors write content for the website. Ads are placed on your content, usually through Google Adsense. You get paid a portion of the profits from the ads.
Some websites even pay up to 95% of the profits to their contributors!
Of course, you can create your own blog and keep 100% of the profits. But, if building and maintaining a website just isn't for you, revenue sharing is an awesome alternative.
HubPages (review) is one of the most well-known revenue sharing websites.
Not only will you get your name alongside your content on one of the most popular websites on the internet, but you'll also earn a profit.
InfoBarrel is a website similar to HubPages, where you can earn a passive income from revenue sharing.
Some other good revenue sharing sites include:
Review Music
You can be the first to test out new music and get paid for your time!
Slice the Pie (review) originally paid its members to review new music tracks, giving them a chance to explain what they liked and didn't like. Since then, it's expanded to allow reviews for fashion, brands, and more. Your pay will increase if you consistently submit detailed reviews.
MusicXray matches you to songs within your chosen genres, and pays you to share your thoughts.
Read more: 9 Places to Earn Money Online While Listening to Music
Review Products
If you have a blog with good influence, you may be able to review products from top brands for free, in exchange for an in-depth, honest review.
Better yet, some brands will pay you cash for your time to write the review, in addition to letting you keep the product!
If you want to go this route, make sure you create professional pitches that are worthy of the products and cash you desire.
But, you can also earn money by reviewing products through Review Stream (review), no blog required.
On this website, you'll post reviews of products, websites, and more.
Others will vote on your review, and you can get paid via PayPal, depending on the number of votes you have. S
o, the more other consumers love your review, the more you can get paid.
Search the Web
You search the web almost daily, right? Well, you might as well get paid for it.
Bing Rewards (review)will pay you to use the Bing search engine to search the web, shop online, or even just browse the web. You'll earn points, which you can turn in for cash or products.
Qmee will also pay you to search the web and shop! You'll add an extension onto your web browser, and Qmee will show you relevant products or search results based on what you search. You can earn money by clicking on results, making purchases, etc.
Read more: Top 14 Legitimate Sites That Pay For Searching the Web
Sell Your Stuff
You might be surprised how much of a profit you can make online, just by selling stuff you no longer use. Think: books, clothing, electronics, etc. Start cleaning out your junk drawers and weeding out what you don't need.
BookScouter, for example, lets you sell your used books, with free shipping, to make some easy cash. Your old textbooks from college may make you some decent money!
Swap and ThredUp are good places to sell gently used clothes. They both require your clothes to be stain-free, without tears, and clean to be accepted. Highly coveted brands make more cash with these sites, but they'll accept some lower-end brands in excellent condition, too.
Here are several more sites to sell your used stuff on:
Start a Blog
Starting a blog is, for sure, one of the best ways to make money online.
However, it's important to understand that blogging won't make you money overnight.
It's definitely a process, and takes a lot of time and dedication on your part to create a successful blog.
Fortunately, there are several ways you can earn money from a blog, not just one or two.
Add affiliate links, advertisements, sponsored blog posts, and more for extra cash with your blog. Plus, you can set up social network accounts connected to your blog and earn money through them.
So, as long as you're ready to pursue several avenues of making money, a blog can become a full-time income after several months.
The best part is that blogs can become passive income, meaning that they can continue to make you money without direct work.
Affiliate marketing and ad revenue, for example, continue to roll in on popular posts without you needing to do anything.
You can start a blog for free with the following sites:
However, take note that a free blog will likely not allow you to monetize your blog like you want to.
With a free blog, you generally can't use things like Google Adsense or sponsored blog posts. Most paid blogging and advertising networks require you to have your own hosting with a dedicated blogging platform, like WordPress.org.
So, although you can create a blog for free, it won't earn you a lot of cash. Once you can afford the investment, it's wise to start your own blog with separate hosting.
To learn more about hosting and compare some of the best web hosting companies, check out this article by PC Mag.
Stock Photography
Stock photography is largely popular with website owners who want beautiful, unique graphics to add to their websites, blog posts, and social media graphics.
Stock images can be pretty expensive, since you pay for the rights to use the images.
If you have good photography skills, you can turn stock photography into a full-time business.
Better yet, it can also be a good form of passive income, since you'll continue to get paid every time your image gets downloaded.
Here are some of the best websites to add your stock photography to for a profit:
 Tutor
Even if you have no teaching degree, some websites will pay you to tutor other students. Most require only for you to be knowledgeable in your subject of choice.
The best part about these jobs is that they're fairly flexible. Sign in when you're able to tutor, and get to work.
Of course, you'll have to prove to be helpful to students for them to recommend you and remain in good standing with the websites. So, make sure you don't sign up for help in areas you aren't extremely knowledgeable in.
Read more: 28 Best Places to Find ESL Teaching Jobs Online
Watch TV or Ads
Who knew that watching TV or ads online can actually earn you money? It's true!
JingIt (review) lets you watch videos or online ads, provide feedback, and get paid for it. You can also earn money from cash back offers or checking in with your mobile device while you shop at certain stores.
Viggle (review) is an app for your mobile device that gives you rewards for TV shows you watch. You can earn more with trivia, bonus points, and more.
Write Articles or Blog Posts
Do you love writing, but aren't quite sure how to make money with it?
Thanks to the internet, you can make good money using your writing skills.
You don't even need to have a college education to turn writing into a career.
However, you do need good grammar, spelling, and punctuation skills.
You won't likely find a lot of good-paying work if you don't write well.
These websites are good places to start finding freelance writing or editing work:
Read more: These 28 Freelance Online Writing Jobs are Perfect for Beginners
Some Crucial Tips to Help You Make Money Online Fast and Free
Navigating the online world to make money swiftly and freely requires a certain level of discernment, knowledge, and strategy.
Below are some essential tips that will guide you on the path to online profitability.
Understand Your Skill Set
Evaluate your skills and knowledge to identify what you can offer in the digital marketplace.
Online earning isn't one-size-fits-all.
Understanding your strengths and areas of expertise can guide you towards opportunities that best fit your skillset and increase your potential for quick earnings.
Beware of Scams
The internet, while full of legitimate earning opportunities, is also rife with scams.
Be skeptical of opportunities that seem too good to be true, require upfront fees, or do not provide clear and detailed information about the work and payment terms.
Research and validate each opportunity before getting involved.
Leverage Free Tools and Platforms
Numerous free tools and platforms can aid in your online money-making journey.
From free website builders like WordPress for blogging to free graphic design tools like Canva for digital product creation, these resources can help you start earning with no upfront costs.
Consider Time Investment
Just because you're not investing money doesn't mean you're not investing something valuable – your time.
Consider the time you're putting into an endeavor versus the potential return.
Aim for opportunities that yield a high return on time investment.
Network and Learn
Join online communities, forums, and social media groups related to making money online.
Networking with others in the field can provide valuable insights, tips, tricks, and opportunities that you might not discover on your own.
Constant learning is key in the ever-evolving digital landscape.
Diversify Your Online Income Streams
Don't put all your eggs in one basket.
The most successful online earners often have multiple income streams.
Diversification can increase your earning potential and protect against the failure of a single source of income.
It's Your Turn to Make Money Online Fast and Free!
Surely you can find something that fits your interests from this huge list of ways to make money online.
I suggest you sign up for a PayPal account if you don't have one yet.
Most of these websites will pay you with PayPal, which lets you get your earnings quickly and safely.
If you know of other ways to make money online that you've found success with, please let us know in the comments!
Related Posts:
Earn Everything… nearly!
Join Ipsos iSay, one of the few Faithful and Honest survey panels and earn prizes, gift cards and donations. Stack your points and redeem them: Simple! No hidden fees and completely free!