Top 27 Legit Sites That Pay You Just to Read Emails!
Updated on: by Amy Kennedy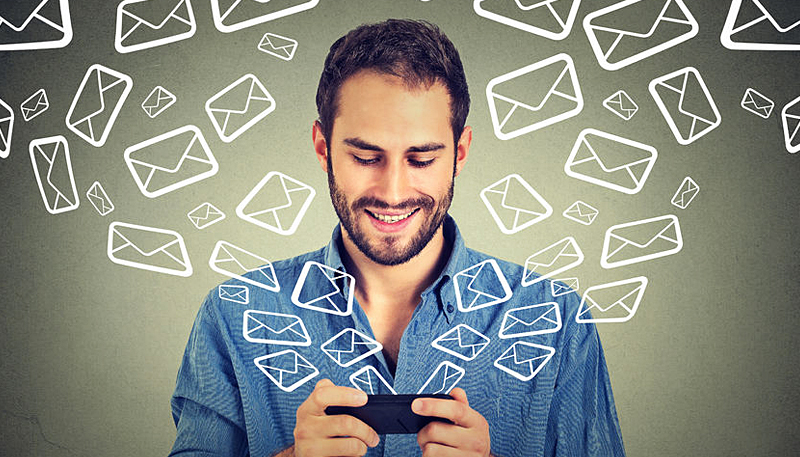 Making money on the internet is becoming easier all the time.
Need Easy Extra $350+/Month For Free?
Once you get into the groove of gathering multiple income streams, you could have a steady income online.
One way to make money online is to read email for money!
Yes, some websites will pay you simply to read their emails.
I use some of them, so I know that they're legit sites.
And, while you won't get rich making money this way, reading emails can give you a few extra dollars each month to put toward bills, something you want, or even a gift certificate or another reward.
It only takes a few seconds to minutes to read each one, so you have nothing to lose.
Of course, as with many online money-making tactics, this one does come with some scams.
I'll go over how to avoid those, too.
Let's go!
Get Paid to Read Emails Legit Sites Will Pay You For
Are you ready to find out more about this "paid email" thing?
As someone who uses this as an avenue for earning a little extra each month, I know a lot about it and want to share it with our readers!
Why Do Sites Pay You to Read Emails?
Let's start with an important fact you need to know before you try to make money from reading emails.
These websites will pay you to read their emails, not your personal ones.
Don't expect to make any money from any website to scour your own inbox.
Basically, paid emails are a way for brands to advertise with companies.
Need Easy Extra Cash?
Pinecone Research, a leading name in online survey panel honesty, absolutely guarantees $3 cash for every survey you complete!
Take advantage of their time limited New Membership drive and register NOW. Join today: 100% free!


The emails you read will come from one of the websites below.
Most of them are known as "Get Paid To" (GPT) websites.
A GPT website is one that partners with other companies who want people to interact with their brand somehow.
It could be signing up for a newsletter, testing out a free trial, or making a purchase of a product or service.
Most GPT sites have several ways for you to do this, through offers, playing games, cash shopping, and more.
You get rewarded for completing a certain task that has to do with the brand.
Paid emails work the same way.
The GPT or paid email website will send you an email to offer you a reward for doing something with the brand, like visiting its website or making a purchase.
You'll get paid simply for reading the email, even if you don't click on or do anything.
Then, if you do click, visit, or make a purchase, you'll earn more rewards.
So, think of it as another form of advertising that you can benefit from!
How Much Do They Pay?
I will be honest and tell you that reading emails from these sites will not make you a lot of money.
You can make more if you do what the email wants you to do with the brand.
But, the email alone won't give you much.
Most will pay anywhere from 1 to 5 cents for opening the email and reading it.
Since most websites only send, at most, a few emails per day, you definitely won't get rich from reading their emails.
But, think about it this way:
You read email every day for free, right? Sometimes, multiple times per day!
Why not read these emails for a few minutes of your day and earn a little money?
The websites that pay you to read emails may offer either cash or points as rewards and will tell you when you sign up how much a read email is worth.
Anything is better than nothing, especially when it will only take a few minutes to read your paid emails.
Tips for Avoiding Paid Email Scams
Scams, unfortunately, run rampant in this area.
You may even see websites that tell you they'll pay you money to read your personal emails.
What do they ask for in exchange? Your email account and password to "gain access" to your emails to help their advertisers understand your interests.
Instead, what most of these end up being are scams to get your email password, lock you out, and use it to send unauthorized emails from your account.
Other scams will show up as a GPT site, similar looking to the ones on my list.
Unfortunately, the scam GPT sites will never pay you and are instead just looking for people to interact with their advertisers for free while they make all the money.
If you're ever unsure of whether a "make money online" site is legit, check Work at Home Adventures first.
We have several reviews for these types of sites.
Earn Everything… nearly!
Join Opinion Outpost, one of the few faithful and honest survey panels and earn cash and gift cards for your opinion. Stack your points and redeem them: Simple! No hidden fees and completely free!


If you don't find any information here, do a quick Google search like this: NAME OF SITE review or NAME OF SITE scam.
You'll likely get plenty of information about that site and whether people have actually gotten paid.
To sum up:
Never give out your email password; legit sites will never ask for it
Do some quick research online to learn more about a site before signing up
Read the site's Terms of Service to learn about its payment schedule and structure
Check this list! The websites below are 100% legit and proven to pay.
Legit Sites Paying for Reading Emails
If you want to skip the hassle and find some legit sites that will pay you to read emails in cash or rewards, you've come to the right place.
Some of these are sites I've used myself and others are ones that have proven to provide payment based on legitimate reviews.
Swagbucks – USA, UK, Canada, Germany, France, India, Australia, and Ireland, 13+
Swagbucks is, in my opinion, the best GPT site around.
I've gotten several payments from here so I know it's legit.
And, it's so easy to earn with so many possibilities.
Swagbucks has an "inbox" on its site where you can read emails and make some money by completing the tasks in the emails.
But, the site also occasionally sends real emails to your personal inbox involving advertisers.
It will list right in the email how much you can get paid for completing the offer from the advertiser, or for simply clicking to confirm you read the email.
Each click pays a few SBs, the site's currency.
You don't need many SBs to exchange for one of several rewards on the site.
Some gift cards, for example, are as low as 85 SBs!
Join SwagBucks here or read the review.
InboxDollars is one of my absolute favorite ways to earn some extra money online.
And, it pays you to read emails!
It's actually one of the most active GPT sites in this area, offering a consistent flow of paid emails that can earn you up to a few cents each.
For InboxDollars to credit you, you'll just simply need to click the link that's in the email.
It will bring you either to the InboxDollars website for further instruction, or straight to the advertiser's site.
Once you "confirm" that you read it, you'll get credited immediately.
And, you can even get bonuses when you complete specific tasks on the website, which you can see on the front page when you sign in!
Usually, confirming a certain amount of paid emails is one of the bonus tasks that can earn you even more money.
You need a minimum of $30 in your InboxDollars account to cash out.
Join InboxDollars here or read the review.
Cash Crate is a GPT site that's been around for several years. It pays you $1 just for signing up!
Although this one is open internationally, those from the US tend to have the most opportunities to earn cash.
Cash Crate sends out pretty frequent affiliate emails that you can get paid to read or click a link to the advertiser's website.
Although the emails won't pay you much, you can make a good amount by completing the offers if they're something you're interested in.
Cash Crate has some good cash back offers for purchases or other interactions from partners.
Cash Crate pays monthly and you'll need a minimum of $20 in your account to cash out.
Join CashCrate here or read the review.
MyPoints – US and Canada, 13+
MyPoints is one of the best ways to earn cash from shopping online.
You get rewarded with a certain number of points depending on your purchase amounts.
But, it also has other ways to earn, including reading emails.
You can earn between 5 and 30 points to click on the link in your emails from advertisers.
You need 700 points to redeem a gift certificate, which is the equivalent of $5.
You can also exchange your points for PayPal cash for a quick, convenient payment!
Join MyPoints here or read the review
Fusion Cash – US and Canada, 18+, or US 13+ with Parental Permission
Fusion Cash is one of the most popular GPT sites on the web.
First, just for signing up, you get $5 in your account to get you started!
From there, you can do so many things to earn more, from playing games and downloading mobile apps to cash shopping and referring your friends.
And, Fusion Cash will occasionally send you paid emails straight to your inbox.
You can get a couple of cents for reading them, or a bit more if you click and complete a specific task with the advertiser.
But, there are way better ways to earn money on Fusion Cash, so don't forget to maximize your earnings by taking advantage of some of the other opportunities!
InboxPays is owned by the same marketing company that's responsible for InboxDollars and SendEarnings.
This GPT site has several ways to make money, with paid emails being one of its most popular.
It's known as "Paid to Click" because you'll get paid when you click the link in the email that brings you to the advertiser's site.
According to several reviews, you can get paid 25 cents per email here!
However, InboxPays will only send you up to 3 per day.
Still, 75 cents per day just for reading emails is great!
You'll get $5 just for signing up for an account and you get paid with a minimum of $50.
It's a somewhat high threshold, but still – it's free money.
This site is a lot like InboxDollars since it's owned by the same company.
You'll also get a $5 bonus for joining SendEarnings and can earn in many of the same ways, including paid emails.
SendEarnings isn't quite as large or popular as InboxDollars so you may not notice the same amount of offers here.
But, it's still good for another way to earn a little extra from very little work!
You can cash out once you reach at least $30 in your account.
Cash4Offers – US, UK, Canada, Australia, 18+
This GPT site is a good one for those in the UK, Canada, or Australia to join, since many similar sites are for US residents only.
Cash4Offers will pay you an easy $5 just for signing up for an account!
This site works a little differently.
You can get paid to read emails from advertisers, but at least $25 of your minimum $35 earnings will have to come from surveys for you to cash out.
So, make sure you're doing some surveys too before you try to get your payment.
Once you receive your first payment and Cash4Offers considers your account legit, you'll get upgraded to Gold status and can get your payments within 72 hours instead of the several weeks it might take for your first one.
Points2Shop (review) – Worldwide, 18+ or 13+ with Parental Permission
Points2Shop is another site where US, UK, and Canada residents may have more opportunities than those from other countries to earn some cash.
But, it does offer several ways to earn, like completing offers, taking surveys, and playing games.
You can also make money by clicking the links in emails sent to you by Points2Shop.
As for rewards, you can redeem your earnings for products on Amazon.
It's a bit different than other sites, but if you love shopping on Amazon, this is the perfect site for you to get some free stuff.
One of the things I really like about UniqPaid is that it pays instantly with PayPal.
You can transfer your earnings even if you only have 1 cent in your account!
It's also been around for several years and, although its design hasn't been updated, it's still a contender in the realm of GPT sites.
As an added bonus, you'll get 10% extra on any cash offers you complete within your first 2 days of signing up.
You'll also make money by reading partner's emails.
Unique Rewards – US, Canada, and UK, 18+ or 13+ with Parental Permission
You can get a $5 bonus for signing up for Unique Rewards.
This GPT site is another popular one because it has so many ways to earn cash.
It sends emails pretty frequently that you can get paid for reading and clicking through to advertisers.
Once a day, your "pending" earnings from paid emails will be transferred to your earnings.
Your balance must be at least $20 to cash out, and your earnings will go straight to your PayPal account.
More Paid Email Sites, Updated 2020!
EarningStation – US, 18+ or younger with parental permission
EarningStation is a GPT site that offers members several ways to make money, including by reading emails.
Most of the money-making opportunities on this site lie in paid surveys, completing offers, and shopping to earn cash back, but the site will also sometimes send paid emails.
When it does, you'll need to click on the links in the email to get credited for reading them.
Most of the emails will contain offers for things relevant to your interests, and if you complete them, you can earn more money.
Redeem what you earn for PayPal cash, gift cards, and more.
Join EarningStation here or read the review
Daily Rewards is another one of InboxDollars' sibling sites, so it works relatively the same way as the popular GPT site.
This one is specific to Canada residents, though, so it has many more opportunities that are Canadian-specific than some other sites you might find on this list.
Sign up and fill out your profile survey, which can help better match you with surveys, focus groups, and paid emails that interest you.
When you get a paid email sent to your inbox, you'll earn money just for clicking on the link within the email.
Every email will also tell you how much you'll earn by clicking and how much you can earn if you complete the offer on the landing page you click through to.
Deals 'n' Cash is a somewhat newer site that pays between $0.02 and $0.05 per email you open and click on.
Unfortunately, the site doesn't have a lot of information about it, so it's unclear who is able to join.
According to others who have used the site, you can also get paid by referring people to the site.
When they become a member, you'll receive $0.02 per email they read and click on, too.
You'll need a minimum of $30 to cash out with a check.
DonkeyMails.com is a bit messy looking, but it's another one that'll pay you to read emails.
Since it pays in various forms, like Bitcoin and Payeer, almost anyone in any country can join if they're of legal age.
All you need to do is enter your email address on the front page (using Gmail is best, as a lot of other email providers tend to block emails from the site).
You'll then get paid to open and click on links in emails.
You can earn up to 50 cents per 1,000 clicks, but you can also earn more when you start referring your friends and they become active.
EmailCashPro – Singapore, Malaysia, Philippines, US, UK, Australia, 18+
This site works a little differently than others because it's all about paid emails.
When you sign up, you'll be able to choose your interests from a list of categories.
The site will then send offers to your email that match your interests.
Each email will contain a headline that lets you know what it's about.
If it's something you're interested in, just click the email to read it and view the advertisement.
You'll get credit whether you click the ad or not.
Earn more by referring people you know to become members. You'll get some extra cash for the emails they read, too.
Australians can get in on the paid email action with FatCatRewards, another site that gives you relevant offers right to your email and pays you to read them.
Sign up, indicate your interests, and you'll get relevant emails sent daily.
Read the ones you like and get paid.
You can also make money by taking surveys, referring friends, sampling products, and more.
You can even opt for the site to send you offers via text, too, which is great if you're out and about and can't always check your email for new opportunities.
This site has been around for a couple of years and isn't one of the most well-known, but it might be worth a try.
Just sign up for free, confirm your email, and then wait for offers to come to you.
You'll get paid between $0.01 and $0.05 for every read email, plus 30% of anything your referrals earn for life.
There's also a premium membership you can opt for to earn more money per paid email.
InboxPounds has been around since 2012 and operates much like other GPT sites but seems to have more offers available for international members.
Get $5 just for completing your free signup.
Then, get paid to take surveys, check your email, play games, shop online, and even test products for free.
There's no denying what this site is for just by looking at its name!
But it's also a GPT site that offers surveys, referrals, games, and more.
You'll earn points instead of cash for everything you do with this site, and every 100 points equals $1.
It pays via PayPal, so only members in countries that can use PayPal can join.
Every email pays $0.02. You'll also get $3 just for signing up.
A minimum of $15 is needed to cash out.
This site sounds like it's just for surveys, but like many online survey sites, it offers a few other money-making methods too.
Like reading emails, of course.
Not only can you make up to $1 for each survey you take, but you can also earn a few cents for checking and reading emails sent by the company.
You'll get $3 just for signing up and confirming your email address.
The site also has a two-tier referral system to help you make money with your friends' activity.
QuickRewards offers so many ways for its members to get paid, it's almost unbelievable!
One popular method, though, is its paid emails.
Most of them will require you to click through on a link in the email to confirm that you've read it.
You'll usually get about 25 points for each one of these you read, but you can earn more if you complete the offer at the other end (some will cost money, but others will be free or trial offers).
Get up to 5% of everything your referrals make and earn more by watching videos, taking surveys, shopping online, and playing games.
Get $10 and you can cash out with PayPal!
Reward Shopping is a little different in how it pays you to read email.
The site will send you emails about new shopping offers, similar to cash back shopping sites.
If you click the link and use it to complete your shopping trip, you can earn cash back into your Reward Shopping account.
The site also sometimes sends out surveys, which will get delivered to your email. You can make money completing them too.
If you're ever unsure what to do with junk mail and emails, then look no further than the Small Business Knowledge Center.
The SBKC works with both businesses and consumers to help businesses that send out advertisements learn what people consider to be "junk mail."
The way they do this is by sifting through all your junk mail!
Consumers can send in paper mail to the company and get paid a small amount for what they send in, or they can do this by forwarding emails to the SBKC.
Your emails can be in a variety of categories, like retail, insurance, warehouse clubs, and travel.
The site states that those who participate regularly can earn about $20 in 6 to 10 weeks.
It's not much, but it's still free money just for reading emails and forwarding them along to the SBKC.
Vindale Research – USA, UK, Canada, Australia, 18+
Vindale Research is not just a survey platform.
They also offer an option to earn money by reading promotional emails. This feature is known as "Reward Mail."
For each email read, you can earn up to $0.10.
However, the availability of such emails can vary based on your demographic profile and other factors.
SuperPay.me is a get-paid-to platform where members can earn money in a variety of ways, including reading emails.
The platform is accessible to users worldwide.
They offer a low payout threshold of just $1, and the users can cash out their earnings via PayPal, Bitcoin, or Skrill.
CashCrate offers its users multiple ways to earn money, including reading emails.
Users can also earn additional money by taking surveys, completing offers, and referring friends.
Like most similar platforms, the number of earning opportunities can vary based on a user's location and profile.
Other Ways to Make Money by Reading Emails
Instead of using sites that have a paid email reading feature, you can carve another path for yourself to get paid with your email inbox.
The problem with paid email reading sites is that they don't pay much.
You might get a few cents for each email you read, but those emails are likely few and far between, so your earnings won't build up fast.
However, the gigs I'm going to talk about below can help you get a lot more money for each email you read to boost your earnings for the month.
Wait for Paid Focus Group and Survey Emails
You can always use a dedicated email inbox to catch all your emails from online survey and focus group sites.
When I used to take surveys frequently, I would always have just one email address I used to sign up for these types of sites.
Anytime I got a new invite for a survey or focus group, it would go straight to that email and not get mixed around with my regular emails and chance getting lost in the shuffle.
It made it easier for me to check these emails daily and respond to the ones that were interesting to me, which streamlined the whole process.
Just checking your emails from this dedicated inbox a few times a day could land you some excellent paying opportunities!
Sign Up for Website Testing Gigs
You can become a website tester and get paid to provide honest, detailed feedback on websites from clients who want to see if you find any bugs or anything that makes your experience on the site confusing or challenging.
How does this relate to your email?
The companies send offers for new testing opportunities to your email.
The email will outline more about the website you'll test, what you need to look for and talk about in your feedback, and how much you'll make.
From that email, you can choose to accept, and apply for, the test or skip it.
If you choose to apply for it, you have a chance to move onto the paid testing gig, all because you read your email!
Most tests take about 20 minutes and pay around $10.
If you sign up for a few of them, you'll have access to more opportunities and can earn an average of about $30 an hour!
Check out this list of website testing companies to learn more about this gig!
Become a Virtual Assistant
Virtual assisting is one of the top careers for people to have at home, mostly because it's so flexible.
You can do virtually anything that requires a computer and internet connection as a virtual assistant!
I've seen some people work with clients for email tasks only, like writing newsletters or monitoring their inbox for new emails to delete or respond to.
This is something you can do, too, especially if you're very organized and have excellent written communication skills.
Sign up for a site like Fancy Hands or Time Etc. (here are more virtual assistant companies to consider!) to get clients that match your skills and interests.
You could be on the way to starting your very own email monitoring business for various clients getting paid to read their emails!
Look for Email Processing Jobs
I'm listing this idea last because it isn't the most ideal gig.
Unfortunately, email processing hides a lot of scams, so it can be tough to decide which ones are worth trying and what ones are just out to get your money.
But there are legitimate email processing gigs out there, so it's worth a mention.
Email processing is basically the act of going through an email inbox and weeding out emails into their appropriate categories, like spam, trash, important, etc.
Sometimes, you'll also need to forward emails to the appropriate recipients.
The problem is that a lot of these are scams that use people like you to send spam emails to others in a disguised way.
When you look for these jobs, be sure to avoid anything that asks you to pay money to get started or promises that you'll make hundreds of dollars a day.
You might be able to find legitimate email processing gigs on Amazon Mechanical Turk or Upwork, but I'd avoid random ones you might see advertised on Facebook or in your email inbox.
Conclusion: Get Paid to Read Emails!
As you can see, getting paid to read emails is legit as long as you use the right websites and avoid scams.
I suggest signing up for a few of these sites to maximize your income from reading emails.
You also may want to set yourself up with a separate email account to sign up for the sites with.
That way, you can keep all your paid emails together and not clutter up your personal inbox.
Do you use any of these sites for paid emails?
Are there other similar sites you love that we didn't list?
If so, let us know in a comment!
Related Posts:
Earn Everything… nearly!
Join Ipsos iSay, one of the few Faithful and Honest survey panels and earn prizes, gift cards and donations. Stack your points and redeem them: Simple! No hidden fees and completely free!