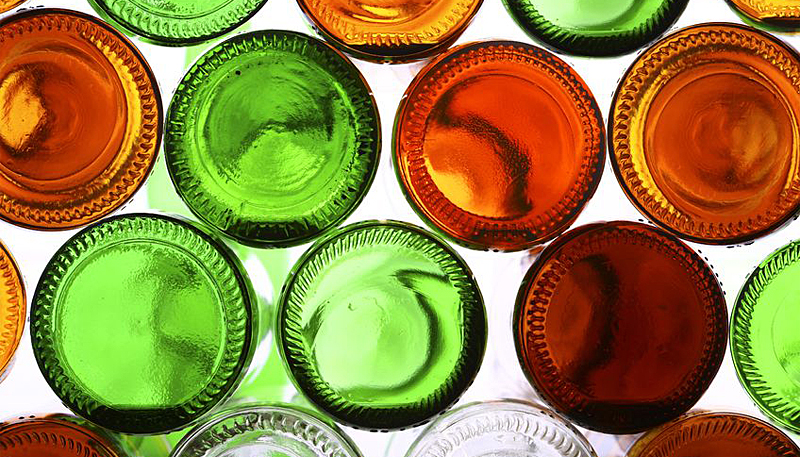 Are you looking for another simple and easy way to add more money to your pocket?
Need Easy Extra $350+/Month For Free?
If so, something as minor as recycling glass bottles for money could accomplish this goal.
Throwing glass bottles in the trash could be similar to throwing actual cash straight into your garbage cans.
You won't be re-using these glass bottles so be sure to recycle them in order to get some more cash in your wallet.
Recycling glass is a cheap and easy way to make more income, but you will need a few supplies. First, make sure you have enough time to invest.
Second, get some big recycling containers and line them with strong, durable bags.
What Kind of Glass Bottles Can You Recycle?
There's lots of different types of glass out there. This is why some types of glass melt at a higher temperature and others melt at lower temperatures.
Due to this, not every type of glass can be easily recycled. There are some types that recycling centers won't accept. You won't be able to recycle all glass bottles for money.
As such, you'll want to specifically look to recycle beverage glasses and glass food containers. Focus on recycling juice and soda bottles as well as beer, wine, and other alcoholic or liquor bottles.
Where Can I Sell Glass Bottles for Recycling? Here are 10 States that Pay
Unfortunately, not every state across the US will pay you for recycling glass bottles. Not all glass recycling centers will give you cash for your bottles.
However, there are 10 states that have laws called the Container Deposit Legislation. This "Bottle Bill" ensures that you'll be paid for recycling your glass containers.
This legislation ensures that you will collect money by recycling any reusable glass packaging, juice, alcoholic beverage, water, or soft drink glass bottles.
To find out whether your state has this legislation, take a look at the 10 states with the law below. You'll also want to find out how much your state will pay for your glass bottles.
California
Connecticut
Hawaii
Iowa
Maine
Massachusetts
Michigan
New York
Oregon
Vermont
Additionally, Guam, which is a US territory, has a "Bottle Bill" for its citizens.
Take a look at the bottom of your glass bottles to see how much you may be able to get for each bottle. The bottles should say that you can get five cents in Maine, Vermont, Connecticut, Massachusetts, New York, Oregon, and Iowa.
In Michigan and California, you can get 10 cents for every glass bottle you recycle.
This should tell you which states provide payment for glass bottles and how much you can make in each individual state.
Recycling Glass Bottles for Money If You Don't Live in These States
If you don't live in the 10 states that offer money for recycling glass bottles, there are two options that you have open to you.
For those who live close to the border of a state with the paid glass recycling program, you could take a quick road trip across the border and recycle your bottles in that state. However, you should do some quick research since some states have laws prohibiting transporting recyclables from state to state.
Work with your state representatives and campaign to make the paid recycling program available in your state.
You'll Need to Know the Law When Recycling Glass for Cash
If you live in a state with legislation aimed at paying for glass bottle recycling, you'll want to read through the law and learn more about these regulations. Carefully research the guidelines for which types of glass bottles are accepted in your state and which ones aren't.
Check out bottlebill.org to learn more about the type of regulations available in your state.
Need Easy Extra Cash?

Easy Extra Cash! Join PointClub and get access to the best paid online survey opportunities. Take Online Surveys, Make Money, It's That Easy! No hidden fees and completely free!


If you don't live in the United States, check out this page on bottlebill.org to find out whether your country and province provides payment for recycling glass bottles.
How Much Money You Can Make By Recycling Glass
For every bottle or jar you recycle in the 10 states that have a "Bottle Bill," you will make anywhere from five cents to 15 cents.
You might be thinking, 'How much can I make at recycling centers that pay near me?' The exact amount of cash you make will depend on your state and local regulations.
Try to find out who buys empty bottles near you. Check out some local recycling centers.
Call up those local recycling centers and find out how much you will get paid for your empty glass bottles. Ask them what days and times you can pop over to recycle your glass.
For more information about recycling centers in your area, check out the recyclingcenters.org website.
Where You Can Collect Glass Bottles
You'll need to figure out exactly where you can collect more glass bottles to recycle and get paid. You can expand beyond your own house and family.
Check out your local bars and restaurants to find out if any restaurant owners would be interested in taking on a recycling program.
The great part about bars and restaurants is that these places have a bunch of glass bottles that need recycling. If you find a few restaurants that approve of your recycling program, set out a few containers outside their kitchen.
Make sure to label your containers saying that they are for glass only. Afterward, be sure to check back and collect the glass in these containers once or twice per week.
You may need to get a van or other large vehicle if you have a lot of glass bottles to collect. Take a look at which bottles are broken and separate which will be accepted at a recycling center and which won't.
Be sure to remove any glass that won't be recyclable such as light bulbs, mirrors, and window parts. You may need to rinse and dry out the bottles that you'll be depositing at a recycling center.
The Last Part for Recycling Your Bottles
The very last step you need to take in this project is to take your glass bottles to your local recycling center and deposit the glass for payment.
Recycling is a major part in helping keep the Earth healthy and free of pollution. If you like environmentally-friendly policies, you will definitely be interested in taking part in this glass recycling program.
You may or may not make a good income from this project, but you'll be happy to contribute to keeping the planet clean and pollution-free.
However, if you're good at collecting glass bottles and have plenty of restaurants interested in your program, you may be able to make a nice amount of money on the side.
Rebates for Liquor and Wine Bottles
Along with recycling glass bottles, there are some other strategies you can take to make some extra cash on the side. Consider liquor and wine rebates as a way to get more money in your wallet.
Before you buy a bottle of wine or liquor, check out the brand on their website. Take a look at what rebates the company offers. If they do offer a rebate, you can get a rebate form from the liquor store.
Before submitting the form, make sure you include all the information you need for a rebate including the receipt and box label.
Once you do submit the rebate, you can then go onto recycling the glass bottles. Be sure to organize all of the wine and liquor bottles into their respective category before going to the glass recycling center.
Conclusion: Recycling Helps the Planet
To put it plainly, recycling glass bottles and other materials for money won't get you a full income. You won't be able to quit your job by any means.
However, it will put some extra cash in your pocket and it will be a great way to help the planet. You'll be fighting pollution.
Recycling is a responsible way you can help keep the planet clean and green!
Related Posts:
Want more money?

Join Surveyo 24 #1 paid survey site. It's easy - complete a survey and receive payment. No hidden fees and completely free!