Need More Cash? Recycle Glass Bottles and Jars for Money!
Updated on: by Amy Kennedy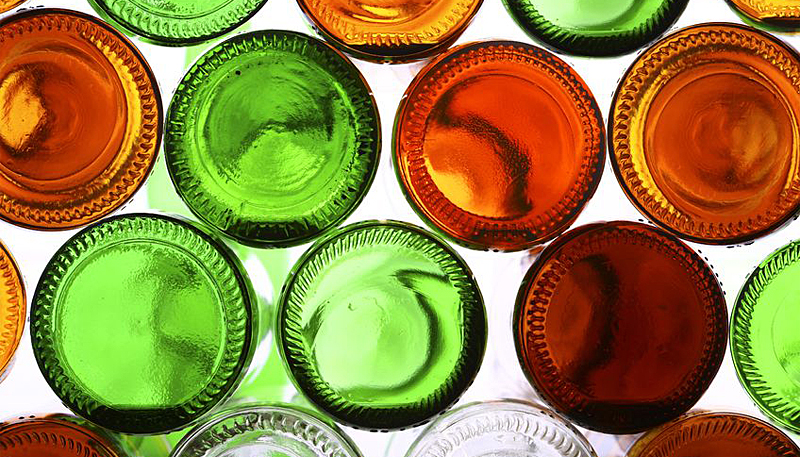 Need Easy Extra $350+/Month For Free?
Are you looking for another simple and easy way to add more money to your pocket?
If so, something as minor as recycling glass bottles for money could accomplish this goal.
Throwing glass bottles in the trash could be similar to throwing actual cash straight into your garbage cans.
You won't be re-using these glass bottles so be sure to recycle them in order to get some more cash in your wallet.
If you're looking for other things to recycle for cash, be sure to check out the following articles that can help you make money too:
What Do I Need to Start Recycling Glass?
Recycling glass is a cheap and easy way to make more income, but you will need a few supplies and other things to get started.
First, make sure you have enough time to invest.
Although this is a relatively simple procedure to start making money, you'll still need some time to be able to look for glass bottles that are recyclable and get them clean enough to take to a recycling center.
If you plan to do this on a large scale, you'll definitely need to set aside several hours per week to gather bottles, clean them, and deliver them to a recycling center.
Second, get some big recycling containers and line them with strong, durable bags.
You'll need something reliable to transport glass bottles back and forth from your home to the recycling centers.
It will also help to have a pickup with plenty of space in its bed for gathering and delivering your glass bottles.
To clean bottles – something most recycling centers will require before you get paid – you'll need sponges and dish soap. A large bucket could help, too.
You also want to keep yourself safe as you gather your bottles.
Wear protective gear, like safety goggles and gloves, to keep yourself free from any debris in or around the bottles or possible cuts on your arms and hands.
Need Easy Extra Cash?
Pinecone Research, a leading name in online survey panel honesty, absolutely guarantees $3 cash for every survey you complete!
Take advantage of their time limited New Membership drive and register NOW. Join today: 100% free!


After buying these necessary supplies, you should be on your way to getting started with this side gig!
What Kind of Glass Bottles Can You Recycle?
There's lots of different types of glass out there. Some types of glass melt at a higher temperature and others melt at lower temperatures.
Due to this, not every type of glass can be easily recycled. There are some types that recycling centers won't accept. You won't be able to recycle all glass bottles for money.
As such, you'll want to specifically look to recycle beverage glasses and glass food containers.
Focus on recycling juice and soda bottles as well as beer, wine, and other alcoholic or liquor bottles to get the best prices for a good return.
Is It Only Glass Bottles I Can Recycle? Can I Turn in Other Types of Glass?
Although some jars might fall into the payable category, it's mostly glass bottles that recycling centers are willing to pay for.
If you're not sure if something will give you cash, you can always check with your participating recycling center or simply look at the bottom of the glass item.
It should be stamped on the bottom of the glass will pay when you recycle it.
But, to answer this question accurately: Yes, many forms of glass are recyclable, but just because it's recyclable doesn't mean you'll get paid for it.
Most jars and bottles are able to go in your recycle bin to take to the center, but only those that the center deems payable will make you money.
Still, if you're very focused on helping the environment, it's a good idea to keep recycling any of your glass containers.
You can always separate the ones that pay from the ones that don't so it's a quicker process to get paid when you head to your local center.
Where Can I Sell Glass Bottles for Recycling? Here are 10 States that Pay
Unfortunately, not every state across the US will pay you for recycling glass bottles. Not all glass recycling centers will give you cash for your bottles.
However, there are 10 states that have laws called the Container Deposit Legislation. This "Bottle Bill" ensures that you'll be paid for recycling your glass containers.
This legislation ensures that you will collect money by recycling any reusable glass packaging, juice, alcoholic beverage, water, or soft drink glass bottles.
To find out whether your state has this legislation, take a look at the 10 states with the law below. You'll also want to find out how much your state will pay for your glass bottles.
California
Connecticut
Hawaii
Iowa
Maine
Massachusetts
Michigan
New York
Oregon
Vermont
Additionally, Guam, which is a US territory, has a "Bottle Bill" for its citizens.
Take a look at the bottom of your glass bottles to see how much you may be able to get for each bottle. The bottles should say that you can get five cents in Maine, Vermont, Connecticut, Massachusetts, New York, Oregon, and Iowa.
In Michigan and California, you can get 10 cents for every glass bottle you recycle.
Some states, however, will pay up to 15 cents per bottle, depending on the type it is (this is usually reserved for liquor bottles which often use more glass than others.
Checking each bottle should tell you which states provide payment for glass bottles and how much you can make in each individual state.
It's possible that more states will join in on this venture as environmental supporters keep pushing for new legislation to persuade people to recycle and do their part in helping the Earth.
You'll Need to Know the Law When Recycling Glass for Cash
If you live in a state with legislation aimed at paying for glass bottle recycling, you'll want to read through the law and learn more about these regulations.
It's not always as simple as collecting bottles, bringing them to a center, and demanding payment.
Carefully research the guidelines for which types of glass bottles are accepted in your state and which ones aren't.
Check out bottlebill.org to learn more about the type of regulations available in your state.
If you don't live in the United States, check out this page on bottlebill.org to find out whether your country and province provides payment for recycling glass bottles.
Where Can I Bring My Bottles for Cash?
Contrary to popular belief, a recycling center isn't the only place that can give you cash for your bottles.
You might also be able to bring them to a grocery store, liquor store, or a convenience store that sells glass bottle products.
Earn Everything… nearly!
Join Opinion Outpost, one of the few faithful and honest survey panels and earn cash and gift cards for your opinion. Stack your points and redeem them: Simple! No hidden fees and completely free!


However, if you're going to bring in a large number of bottles that could take a long time to count, it's best to bring them to a recycling center or call a store first to set up an appointment.
In other words, don't be upset when you bring in bags of bottles and the store owner says that they can't get to your payment right away because of time constraints.
How Much Money You Can Make By Recycling Glass
For every bottle or jar you recycle in the 10 states that have a "Bottle Bill," you will make anywhere from five cents to 15 cents.
You might be thinking, 'How much can I make at recycling centers that pay near me?' The exact amount of cash you make will depend on your state and local regulations.
Try to find out who buys empty bottles near you. Check out some local recycling centers and local stores that sell drinks in bottles.
Call up those local recycling centers or stores and find out how much you will get paid for your empty glass bottles.
Ask them what days and times you can pop over to recycle your glass.
For more information about recycling centers in your area, check out the recyclingcenters.org website.
Recycling Glass Bottles for Money If You Don't Live in These States
If you don't live in the 10 states that offer money for recycling glass bottles, there are still other options that you have open to you.
For those who live close to the border of a state with the paid glass recycling program, you might think that you could take a quick road trip across the border and recycle your bottles in that state.
Unfortunately, that's not really the way the bottle bill works since the bills are based on the deposit you pay when you buy a bottle.
You should do some quick research because some states even have laws prohibiting transporting recyclables from state to state.
A viable option that might take a bit more work is to work with your state representatives and campaign to make the paid recycling program available in your state.
This will require you to look up the representatives for your state, find their contact information, and call their offices (or send a letter) about your concerns.
Be sure to note that your main reason for wanting a paid recycling program is to help the environment.
There are plenty of representatives who are extremely concerned about the Earth and protecting it for our present and future, so mentioning this will help explain the benefit of such a program.
You should also offer some details for how the program could work.
It would be even more helpful for you to have a signed petition with as many signatures as you can get, including your friends and family, people they know, respected environmental leaders in your community, and even representatives for local recycling centers.
The more signatures you can get, especially from people and companies very intertwined with the eco-friendly community, the better for your case.
Of course, there are still other ways you can recycle glass to make a profit, which we'll cover more a little further in this article.
Where You Can Collect Glass Bottles
The truth is that even people who live in bottle bill states don't always recycle their bottles to get their deposits back.
If you take advantage of this fact and gather up those bottles to recycle, you'll end up making a profit.
You'll need to figure out exactly where you can collect more glass bottles to recycle and get paid. You can expand beyond your own house and family if you get creative enough.
Check out your local bars and restaurants to find out if any restaurant owners would be interested in taking on a recycling program.
The great part about bars and restaurants is that these places have a bunch of glass bottles that need recycling. If you find a few restaurants that approve of your recycling program, set out a few containers outside their kitchen.
Make sure to label your containers saying that they are for glass only. Afterward, be sure to check back and collect the glass in these containers once or twice per week.
You may need to get a van or other large vehicle if you have a lot of glass bottles to collect.
Take a look at which bottles are broken and separate which will be accepted at a recycling center and which won't.
Be sure to remove any glass that won't be recyclable such as light bulbs, mirrors, and window parts. You may need to rinse and dry out the bottles that you'll be depositing at a recycling center.
Here are some other places you might be able to place containers to collect glass bottles, with owner permission, of course:
Local Parks
Neighborhood parks tend to have a lot of trash, so sticking some glass recycling containers near the trash bins might encourage patrons to leave their glass bottles in there.
You might also search around the grounds yourself, as community parks are prime spots for litter.
Apartment Complexes and Hotels
Hotels and apartment managers might be happy to have the extra recycling help with your containers.
They might even help keep their grounds clean and litter-free!
Schools
Some schools allow students and teachers to bring in glass bottles for lunch.
You can always contact the schools to see if they allow glass bottles and, if so, ask if you can place your containers in the lunch rooms and around the halls.
You might even get some schools to participate in a community recycling event to encourage them to drop off their glass bottles for you to pick up.
Hospitals
Some hospitals don't allow glass containers of any kind inside, but others are more lenient.
Placing some containers throughout the hospital can make it easy for visitors and staff to recycle them.
Office Buildings
Many office buildings have break rooms or common areas where employees dispose of glass bottles.
Reach out to office managers or company administrators to see if they would be open to having recycling containers placed in these areas.
Employees can then easily deposit their glass bottles for recycling.
Community Events/Festivals
Community events and festivals often generate a large amount of waste, including glass bottles.
Contact event organizers and propose a recycling initiative. Set up designated recycling stations throughout the event venue where attendees can deposit their glass bottles.
Coordinate with event staff to collect the bottles regularly.
Recreation Centers/Sports Facilities
Recreation centers, sports complexes, and stadiums are frequented by people who often consume beverages in glass bottles.
Approach the management or administration of these facilities and inquire about placing recycling bins in strategic locations, such as near concession stands or seating areas.
Ensure proper signage and regular collection of the glass bottles.
Residential Neighborhoods
Consider organizing a neighborhood recycling program within your residential area.
Reach out to your neighbors and encourage them to participate by placing recycling containers outside their homes. Create a schedule for glass bottle collection to ensure regular pickups.
This approach can help increase recycling rates within your community.
Other Community Areas
Think about other places you have in your community.
Are there walking trails? Event centers? Sporting fields?
Any of these places would be excellent spots to place recycling bins for future collection.
The Last Part for Recycling Your Bottles
The very last step you need to take in this project is to take your glass bottles to your local recycling center and deposit the glass for payment.
Recycling is a major part in helping keep the Earth healthy and free of pollution. If you like environmentally-friendly policies, you will definitely be interested in taking part in this glass recycling program.
You may or may not make a good income from this project, but you'll be happy to contribute to keeping the planet clean and pollution-free.
However, if you're good at collecting glass bottles and have plenty of restaurants interested in your program, you may be able to make a nice amount of money on the side.
Rebates for Liquor and Wine Bottles
Along with recycling glass bottles, there are some other strategies you can take to make some extra cash on the side. Consider liquor and wine rebates as a way to get more money in your wallet.
Before you buy a bottle of wine or liquor, check out the brand on their website. Take a look at what rebates the company offers. If they do offer a rebate, you can get a rebate form from the liquor store.
Before submitting the form, make sure you include all the information you need for a rebate including the receipt and box label.
Once you do submit the rebate, you can then go onto recycling the glass bottles. Be sure to organize all of the wine and liquor bottles into their respective category before going to the glass recycling center.
How to Find Recycling Centers Near You
If you want to easily find recycling centers that might accept your bottles in exchange for cash, here are a few options:
Google It: Usually, a Google search for "glass recycling near me" or something similar will be enough to pull up several results for centers that you can call to ask about their policies.
Recyclerfinder.com: This website lets you input your zip code to find recycling centers within a specific radius from your home.
Find a Waste Management center: Waste Management is a company with recycling centers located all over the United States. You can use the website's location finder to find one near you.
Visit Earth911: This website is devoted to all things recycling and includes search tools to help you find places located near you.
Better Yet, Find Ways to Recycle Glass Containers Yourself for a Profit!
An even better way to make a profit with glass bottles and jars is to get your creative side unleashed and find new things to make with them that you can sell to others.
Etsy is the perfect place to sell your creations since it's quick and easy to set up a shop, has affordable fees, and is focused on helping creatives sell their handmade stuff.
However, you can always opt for selling on eBay, Craigslist, or even at local craft shows and events.
Here are a few ideas for stuff to create from your glass bottles:
Home Décor
Use wine or beer bottles to make unique chandeliers, hanging outdoor light strings or pathway lights, or wall decorations you can hang around the home.
Office and Organization Supplies
Jars and some bottles, depending on their shapes, can be perfect for organizing small items found in the office or kitchen, like paper clips, thumbtacks, or toothpicks.
Bottles and jars can also come in handy for pencil and pen storage!
You can create one-of-a-kind designs by painting or decorating the glass.
Garden-Focused Items
Use your jars and bottles to make bird feeders, seed holders, or even starter seed pots.
Tall bottles can even turn into perfect vases for fresh-picked flowers!
Jarred Cookie and Cake Mixes
Mason jar cake and cookie mixes are super popular right now.
You can find plenty of recipes to spark inspiration on Pinterest and from there, create your own to sell to others.
These mixes contain all the dry ingredients you need to make some delicious treats, and sometimes even have the decorations for them too.
You don't even have to use mason jars.
Other jars and bottles might work, too, if they have a large enough opening to easily pour ingredients in and get them back out.
Candles
Use old glass jars to start a homemade candle business!
We have a full guide for candle-making enthusiasts to help you get started and earn money.
Sand Art
Remember when you used to use colored sand to fill containers and make sand art when you were a kid?
Well, you can use your glass bottles and jars to do that now, only you'll make a profit when you sell them to others (and still have fun doing it)!
Use Broken Glass to Create New Glass Items
If none of the other projects sound appealing to you, then think outside the box (or bottle).
You can always – carefully! – break your glass containers and use the pieces for other things.
You might use some glass pieces for jewelry, for example, or you can glue glass shards to an old window to make a stained-glass feature in your home.
The sky's the limit!
Conclusion: Recycling Helps the Planet (and Gets You Paid!)
To put it plainly, recycling glass bottles and other materials for money won't get you a full income. You won't be able to quit your job by any means.
However, it will put some extra cash in your pocket, and it will be a great way to help the planet. You'll be fighting pollution and saving energy.
Did you know that recycling just 15 glass bottles will save the energy needed to power a laptop computer for a full day?
That's a lot of energy and a whole lot of help for our planet.
Recycling is a responsible way you can help keep the planet clean and green!
The fact that you can get paid to do it is just icing on the cake.
Related Posts:
Earn Everything… nearly!
Join Ipsos iSay, one of the few Faithful and Honest survey panels and earn prizes, gift cards and donations. Stack your points and redeem them: Simple! No hidden fees and completely free!