18 Ways to Recycle Old Computers for Cash (Plus Tips to Make Money!)
Updated on: by Amy Kennedy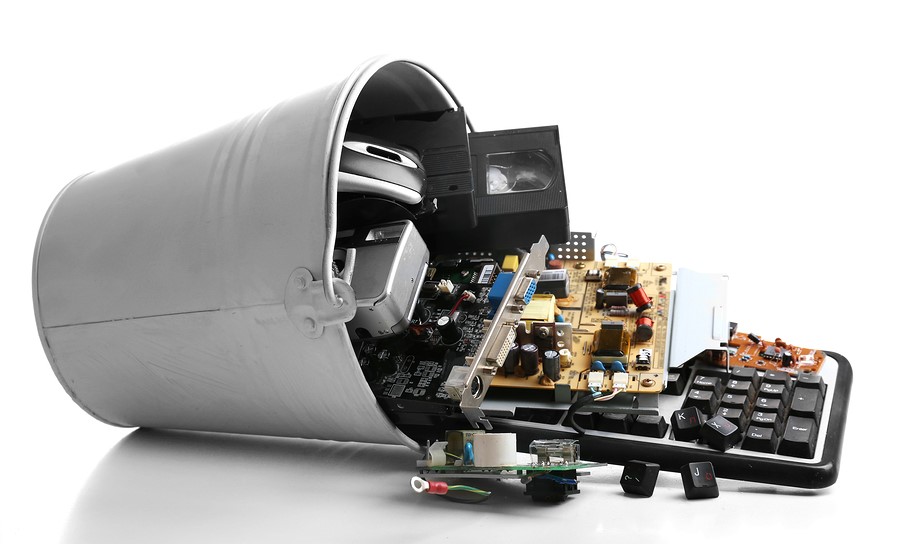 Computers get new technology year after year, which is why it's beneficial to upgrade your system occasionally.
Need Easy Extra $350+/Month For Free?
That computer you bought ten years ago is probably way past its lifetime by now!
But that doesn't mean that you can't make any money from old computers you don't use anymore.
In fact, some people make a living collecting old computers and turning them in for cash in one way or another.
And this guide lists several ways that you can do that if it's something that interests you!
How to Recycle Old Computers for Cash
Whether you want to sell used laptops, desktops, Macs or PCs, the following ideas can give you ideas for getting rid of old computers and making some cash.
Find Buyers on Craigslist or eBay
In my opinion, one of the best ways to sell an old computer is to list it on websites like Craigslist or eBay.
I personally love eBay and have had luck selling old computers and laptops there.
The flexibility you have to name your pricing and set up the listing how you want can help you get the right price for your computer.
It also has seller protections to ensure that you actually get paid, not scammed, by buyers.
Craigslist is a bit more of a hit-or-miss option because it doesn't have the protections that eBay does.
But it does allow you to find a buyer locally that might be willing to buy your computer today, so that's always a plus.
You can also try Facebook Marketplace, which lets you list for free and find local buyers.
Trade In or Sell Old Computers
Some sites are devoted to helping you sell or trade-in old electronics for cash, like the following:
The Amazon Trade-In program allows you to trade in some laptop and computer models for Amazon store credit that you can use to purchase other items on the website.
Check the trade-in page and search for your model.
Need Easy Extra Cash?
Pinecone Research, a leading name in online survey panel honesty, absolutely guarantees $3 cash for every survey you complete!
Take advantage of their time limited New Membership drive and register NOW. Join today: 100% free!


You'll see what Amazon's offering for a trade-in price and can start the process right away.
Be sure to mark the correct condition of the computer to get the proper credit to your account.
Best Buy allows trade-ins of several kinds of electronic devices, including laptops and computers.
You can send in Surface laptops, Apple notebooks, and more.
Answer the questions on the site so Best Buy can learn more about your device and offer you a trade-in cost.
The program gives you Best Buy credit toward other purchases.
If you have an Apple computer to get rid of, try selling it back to Apple.
The company accepts certain devices listed on its site, and some of them may be worth as much as $2930.
You'll get paid with an Apple Gift Card.
Gazelle is one of the first electronics buying and selling sites of its kind.
In addition to accepting cell phones, it also accepts some MacBooks and other computers to sell.
Fill out information about your device, get an offer, and send in your computer to get paid.
On It's Worth More, you can sell MacBooks, Microsoft Surface tablets, and other computer devices.
Ship it for free with trackable shipping and get paid within two days of the company receiving it.
Use BuyBackWorld to get an instant quote offer for your device and ship it for free.
You'll get paid by check, direct deposit, PayPal, or a company gift card without any fees getting taken out for the service.
SellBroke sends payments for old laptops and computers via Google Pay, PayPal, or a check.
You can get free shipping to send in your device with FedEx.
Once the company looks at your device and determines that its condition matches what you said, you can get paid.
Recycle Them as Scrap Metal
We've talked about recycling empty ink cartridges, recycling aluminum cans for cash and selling junk cars for cash, so why not recycle the metal from computers for money?
You can check with local recycling centers to learn more about what kind of items they allow and what you might be able to make by selling them.
Not all recycling centers pay, though, so don't be surprised if yours doesn't make payments.
Search for centers near you using Earth 911.
Sell Their Parts
If the computer has a lot of parts that are still working and in good condition and you know how to separate them safely from the system, you can sell them instead of a full computer.
PC repair shops and electronics stores might be interested in taking these parts off your hands.
You can also sell them on eBay or similar sites, but make sure you know how to package them so that they arrive safely and undamaged.
Make New Computers with Their Parts
Turn old computer parts into a new computer by putting them together and creating a new system.
You can take the monitor, graphics card, and RAM from an old computer if they still work well, for example, and use them to build a new model.
Then, sell the new system as a refurbished or used computer.
Earn Everything… nearly!
Join Opinion Outpost, one of the few faithful and honest survey panels and earn cash and gift cards for your opinion. Stack your points and redeem them: Simple! No hidden fees and completely free!


Make sure you write down the details of everything you use so you can relay the information to potential buyers.
Fix Old Computers and Sell Them
You might also fix old computers that have problems to prepare them to sell.
Some computers have minor issues that affect their usability but aren't very expensive to fix, so it could be worth the costs of repair to make money on the fixed computer.
Turn Them Into Art or Decor
If all else fails, why not take the scraps of metal that make a computer and turn them into something brand new that you can decorate with?
Look on Etsy and you might find similar handmade creations made from scrap metal, including metal taken from old computers.
This can be a unique business opportunity and a fun way to earn some extra cash!
You can also do a search on Pinterest for some inspiration with keywords like "crafts from computer parts."
Try Selling It Back to the Company
Some computer manufacturers may allow you to recycle your computer with them for cash or trade it in for a little more cash if it's a somewhat recent model.
Check with the company by contacting customer support or looking for a trade-in or recycling program on the website.
Even if a company won't offer you cash for it, you might still be able to send in an old computer for recycling for free, which means less clutter in your home.
Creating Custom Artwork or Sculptures
One unique way to recycle old computers for cash is by creating custom artwork or sculptures using computer components.
By repurposing circuit boards, keyboards, hard drives, and other computer parts, you can craft unique pieces of upcycled art.
These creations can be visually striking and appeal to tech enthusiasts, collectors, or individuals looking for distinctive decor items.
You can sell your artwork through online platforms like Etsy or at local art markets and galleries.
Converting Old Computers into Retro Gaming Consoles
Another creative way to recycle old computers for cash is by converting them into retro gaming consoles.
By installing specialized software, such as RetroPie or Recalbox, you can turn outdated computers into nostalgic gaming systems that emulate classic consoles and games.
Retro gaming has a dedicated fan base, and selling these customized consoles can attract gaming enthusiasts looking to relive their favorite childhood games.
You can market these retro gaming consoles through online platforms, gaming forums, or even local gaming stores.
Offering Computer Rental Services
If you have a collection of old computers, you can offer computer rental services to individuals or businesses in need of temporary computer setups.
This can include renting out computers for specific projects, events, or short-term usage.
Companies or individuals who require additional computing power for a limited time, such as during conferences, trade shows, or temporary office setups, may be interested in renting computers instead of purchasing them outright.
You can market your computer rental services through local advertising, social media, or by reaching out to event planners and businesses in your area.
Transforming Old Computers into Media Servers or Home Automation Systems
Transforming old computers into media servers or home automation systems is another innovative way to recycle them for cash.
By repurposing the hardware and installing appropriate software, you can create powerful media servers capable of storing and streaming media content throughout a home network.
Additionally, you can convert old computers into home automation systems.
It is possible by utilizing software like Home Assistant or OpenHAB, turning them into central hubs to control various smart devices and systems in a household.
These customized solutions can appeal to tech-savvy homeowners looking to enhance their entertainment or home automation setups.
You can promote and sell these transformed systems through online platforms, technology forums, or even collaborate with local home automation professionals.
Tips for Recycling Old PC for Money
When it comes to selling an old PC, there are ways to do it that can make you more money.
Usually, it boils down to how long you want to spend fixing up a computer and getting it ready to sell before making the actual sale.
But the more time you spend on making a computer ready to sell, the higher your profits can be.
Here are a few tips to maximize your profits on old computers:
Try Fixing It or Upgrading It First
First, if anything is broken or not working on your computer, you might try to fix it.
Fixing a broken computer might not be as expensive as you think, depending on what the issue is.
And if you get it working like new again, you could end up with a computer that's more sellable than a broken one!
Do some research and see what might be needed to get your computer working again.
If it's a $100 or less fix, it might be worth doing because you could get a significant return on your investment.
Anything over that, research how much you can reasonably expect to get from the same computer in good condition if you sell it.
If the cost of the fix won't make the final price worth it, you can try another avenue rather than selling it as a full computer.
Remove Your Data
Before you do any selling, you should take careful steps to back up the data on the computer (that's if it's data you want to keep, of course) and erase that data.
Why go through this process, which can sometimes be lengthy and complicated?
First, you don't want to lose any important data you had stored.
Second, you don't want anyone else to get that important data!
A lot of what's on your computer is private information that shouldn't go to the wrong hands, so this step is crucial before selling a laptop or desktop computer.
You can usually find the process for clearing your specific computer by searching for a manual online from your computer's manufacturer or by reading your operating system's guides.
Clean It Up
Next, give your computer a good clean-up to make it look as close to new as possible before you sell it.
Computers get dusty quickly, but not many people will be keen on buying a dusty computer.
Fortunately, you can find computer cleaners in most electronics stores, including cans of air that you can use to get rid of dust in vents, keyboards, and other hard-to-clean areas.
If you're selling accessories, like a mouse, keyboards, speakers, and monitor, with the computer, make sure those are clean too.
Take High-Quality Pictures (and Lots of Them!)
The pictures you use on your computer listings, especially if you're selling on a place like eBay, can make or break your sale.
People investing money into a computer will want to know exactly what they're paying for because they're such significant expenses.
Your pictures can help them do that.
Take clear pictures of the computer tower and any accessories that go with it.
Take pictures from various angles, too.
And consider getting a couple shots of the inside of the computer, as some techies like to look at this before they buy.
eBay lets you add multiple pictures to your listing, so don't be afraid to fill it up.
Be Honest with Your Descriptions
Finally, fill out the descriptions on your listing honestly (or be detailed when you describe the PC to a buyer, however you choose to sell).
Your buyers should know what they're paying for and whether the computer has any defects or issues that could affect its performance.
Not only will this help you secure the right buyer who's willing to pay for your computer, but it'll also help you avoid problems later if a buyer decides to say that you weren't honest in your description.
If you're selling on eBay, it's especially important to write detailed descriptions that target keywords for people to find your listings and help buyers trust that you're giving them all the information they should know.
Other Ways to Recycle Computers
We love hearing from our readers when they have new ways to earn money to share with us and fellow readers.
So, do your thing and let us know if you have any other ideas for selling old computers or ways that have worked for you (that are legal, of course).
Also, I do want to mention that there is one other option: Donating your computer.
No, it won't give you money unless someone wants to tip you for your generosity.
But there are some computers that you might not be able to find a buyer for.
And donating that computer to a person or family in need can be an excellent alternative.
Ask around your community to find organizations that accept donated computers.
Or put a public post on Facebook notifying your friends that you have a computer to donate it.
They can share it with their friends to help you find someone in need.
Now, share those comments and let us know how you've sold computers in the past!
Related Posts:
Earn Everything… nearly!
Join Ipsos iSay, one of the few Faithful and Honest survey panels and earn prizes, gift cards and donations. Stack your points and redeem them: Simple! No hidden fees and completely free!