What is RedGage?
"RedGage is a website that pays you for the content you create and share. Upload your blogs, photos, videos, documents or links and start earning money." RedGage claims to pay users for being active socially and sharing their own unique content. From blog posts to tutorial Videos- RedGage can be a place for you to earn revenue.
Need Easy Extra $350+/Month For Free?
After creating an account on RedGage you will have your own link to share. A lot like HugPages or Squidoo you can post a variety of blog content, pictures, videos, document and links. RedGage is paid by advertisers to display ad banners on their site. They use the revenue generated from these ads to pay their content creators for page-views.
RedGage is sort of like starting your own blog, only without the hassle of buying domain names, setting up a theme and placing ads to make you money. This saves you a headache while still giving you earning potential. This is also appealing for bloggers who want additional ways to  bring in traffic to their blog. By linking to your own blog posts within RedGage, you can increase the traffic to your blog (rumor has it that RedGage's links are Do-Follow).
How does RedGage Pay?
RedGage's pay is based on the number of page-views you receive. Every user will have a different rate based on things like your quality of work and your level of activity. I JUST created an account and have not added any content and my rate is showing  60 cents per 1000 page views. This is not very much! But maybe it would increase significantly with time??
Because you are paid by page view- being socially active will help build your earnings. Providing worthwhile content will keep people returning. As your RedGage page is viewed, your earnings will increase. Once you make $25 you can then cash out or wait until you reach a higher increment of 25 dollars (for example: $25, $50, $75…). RedGage pays two weeks after the end of each month by sending you a RedGage Visa Money Card.
The RedGage Visa card has some pretty serious negatives to it!
Such as:
First Transaction receives a $5 Fee!! Then any future earning will be wirelessly loaded to the same card. However, every time you withdraw money, a 5% fee is deducted from you balance!!!
I can't help but wonder why they just don't pay with PayPal and save everyone the hassle! From my viewpoint– this right here is enough for me to personally choose not to bother with posting content to RedGage!
Bonuses at RedGage
If a piece of your content makes it to the featured page of RedGage then you will earn an additional bonus based on the response of  users (pageviews, 'stars'… etc).  One person in a WAH forum says she earned an additional $2.85 for her featured content. You can actually visit the RedGage site and see the Featured Content Section- there you can see how much money those people have made from being featured. In fact, if you click on any of the users on RedGage you can see their earnings! This is a really awesome way to gauge how worthwhile your time can be there!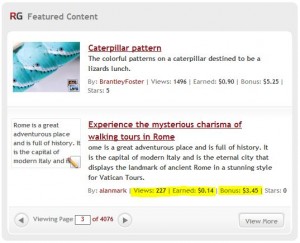 What is the Application Process Like?
No real application process. You simply register your account.
Where Do I Go to Learn More about RedGage?
Be absolutely sure to visit RedGage's FAQ page first! Then just sign up at their registration section (at the top right corner of the page).
Related Posts:
Want more money?
Join Surveyo 24 #1 paid survey site. It's easy - complete a survey and receive payment. No hidden fees and completely free!
Need Easy Extra Cash?

Join e-Poll, one of the few faithful and honest survey panels and earn cash - paid via PayPal - gift cards for Amazon, Best Buy, iTunes, Starbucks, and Walmart, plus Retail e-vouchers.
The surveys are aimed at entertainment-related research, covering such things as personal TV watching habits, give feedback on new TV commercials or to review DVDs that are sent to your home.
For USA residents aged 13+. No hidden fees and completely free!