These 52+ Companies Will Hire You to Work from Home Taking Reservations
Updated on: by Amy Kennedy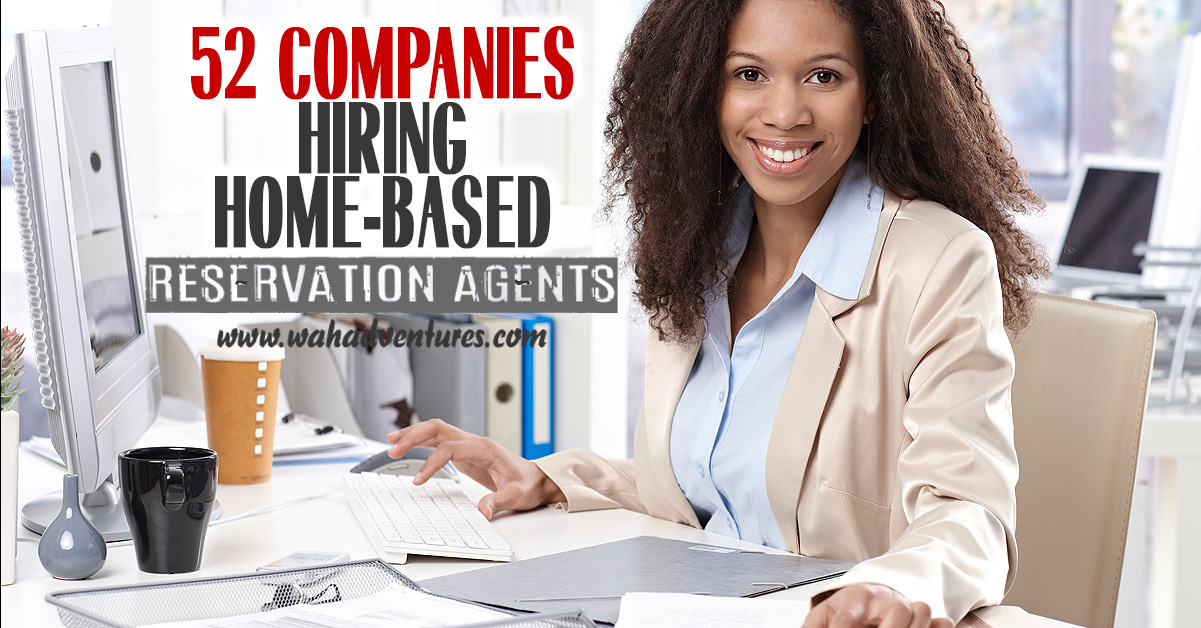 It seems that people really want to work at home for airlines, travel agencies, or other companies that need reservation agents.
Need Easy Extra $350+/Month For Free?
A work from home reservation job can offer some flexibility, while allowing you to ditch the daily commute to work comfortably from your home office.
So, in honor of everyone wanting to find the perfect reservation job to work from home, I decided to compile this list of companies that need virtual reservation agents.
Companies that Let You Work from Home Taking Reservations
First things first: I need to point out a few of the things you need to keep in mind with virtual reservation jobs.
These jobs will require you to have a home office that's free from distraction and noise.
So, if you're at home with kids or noisy pets during your shift, this may not be the best type of job for you.
You'll also need excellent phone communication skills. Some companies may also require you to have some experience in a call center or as a reservation agent.
Finally, keep in mind that these jobs may not all be hiring right now.
However, they're known to open up virtual reservation agent positions on an as-needed basis, so it's worth it to keep them bookmarked for future reference.
Work from Home Airline Jobs
Alaska Airlines – Alaska Airlines has a work from home program for virtual reservation agents. You'll be answering incoming calls and helping customers find the perfect travel options based on their needs.
You must live within 100 miles of one of the on-site locations, where training will also take place. You'll have to remain on-site for the first 6 months, after which you'll be able to switch to your home office.
This position is part of a union, and the pay is set at $12.14 per hour. You must have a flexible schedule that allows for early mornings, evenings, and weekend work when needed.
American Airlines – As an American Airlines work from home reservationist, you'll assist travelers with booking their flights over the phone. For the first 10 weeks, you'll be required to attend training at an on-site location, and then you'll be able to transfer full-time to your home office.
You'll start at a base pay with the potential for raises for exceptional performances or length of time employed.
Delta – Delta also occasionally seeks out at-home reservation agents, but they don't come around often. Starting pay is $12.85 per hour, and you'll be eligible for pay raises every 6 months.
You'll be required to start at an on-site location for your first 6 months before becoming eligible to work at home. This gives you plenty of time to learn the job and get properly trained before going out on your own.
Need Easy Extra Cash?
Pinecone Research, a leading name in online survey panel honesty, absolutely guarantees $3 cash for every survey you complete!
Take advantage of their time limited New Membership drive and register NOW. Join today: 100% free!


New hire shifts are assigned according to current business needs, and will be assigned for 5 days in a row on a similar schedule, with two consecutive days off. After 4 to 6 months, you'll be able to choose a shift you'd like to remain on.
JetBlue – JetBlue has both part-time and full-time positions for at-home reservation agents. You'll be required to train on-site for a month, for 8 hours per work day, before moving to your home office. Once you complete training, the company will give you a computer for your work use.
Crew members bid on their shifts, and the bids are processed through seniority. You'll remain on the selected shift for the next 3 months.
Pay is weekly and you'll have opportunities for raises and travel benefits.
Work from Home Travel Agent Jobs
AAA – AAA provides travel services to its customers, like roadside assistance and navigation help. The company also has a variety of travel products, like hotel and airline packages.
As a Virtual Travel Agent for the company, you'll educate AAA customers on the various travel products available, helping them match their needs to a product.
You'll be required to attend a 5 to 8 week training at an on-site location before moving to your home office. Flexible hours are available, and you'll receive a benefits package with retirement, health insurance, paid time off, and more.
Alpas Travels – Alpas Travels offers travel experiences in Pakistan and internationally, and looks for remote travel agents interested in starting their own businesses.
You'll need to have great people skills, proven work experience as a travel agent, and the ability to maintain accurate records (in other words – be very organized!).
Although it's not required, a good amount of travel experience yourself might help you get the job.
American Express – American Express sometimes has open positions for Virtual Travel Consultants to help their card members plan their travel experiences.
Although the positions are remote, they might require you to live within a specific metro area, or near one, so be careful about which positions you're applying for.
Two years in the travel industry is a requirement, and being bilingual helps, but isn't a must.
American Express offers both full and part-time positions, so be sure to look for one that suits your scheduling needs.
Aspira – Aspira is a travel company that focuses on creating travel experiences mostly based on outdoor activities.
If you're a huge fan of the outdoors and like to find new outdoor vacation spots yourself, then this could be a good opportunity for you.
You'll assist customers with planning their treks to state parks, camping grounds, and more.
The company sometimes has virtual positions available, and schedules usually don't require any weekend hours!
Carnival Cruise Lines – The popular cruise line company hires work at home agents to help customers plan their next vacation. You'll be responsible for walking customers through their options, managing a database of customers, and wrapping up sales.
You'll receive an hourly base pay plus commission on the sales you close. However, as commission increases, the base pay decreases. You'll work full time and must be available for occasional weekend hours.
The position comes with a benefits package that includes things like tuition reimbursement, paid holidays, and a healthcare and dental plan.
Cruise.com – Cruise.com helps travelers book their next cruise vacations. The company seeks Cruise Sales Agents to work from home selling cruise vacations, vacation insurance, and other travel products.
You must have at least 2 years experience in cruise sales work. You'll go through a paid web-based training for four weeks, which are 5 days each week for 9 hours per day. Once you're on your own, you'll also receive a base pay plus commission.
Dream Vacations – Dream Vacations is a little different than the others in this category in that it's a vacation planning company, but built as a franchise-builder for people to create their own businesses as travel planners.
As a Dream Vacations planner, you can work from home planning vacations at destinations and cruise lines.
You'll get weekly commissions and can charge extra fees for your planning services.
You can sign up for a free webinar to learn more information about starting your business as a travel reservation agent!
Equity Lifestyle Properties – This company owns resorts, RVs, homes, and other properties in various locations and looks for remote agents to help interested customers book their destinations through the company.
You'll answer incoming phone calls and assist customers with questions and planning.
Earn Everything… nearly!
Join Opinion Outpost, one of the few faithful and honest survey panels and earn cash and gift cards for your opinion. Stack your points and redeem them: Simple! No hidden fees and completely free!


Evening and weekend shifts will be required.
Employees are eligible for base pay plus commissions and bonuses.
Executive Travel – Executive Travel is a travel planning company focused on helping corporate clients plan their vacations and experiences.
The company seeks remote workers for reservations to make up to $50k a year.
You'll complete travel arrangements, bookings, itineraries, and other important information for clients.
You must have at least five years of experience in a similar role for corporate travel and you'll be eligible for a range of benefits, like paid time off, retirement plans, and group health insurance.
Expedia Group – Expedia hires remote workers as travel consultants, mostly seeking bilingual applicants.
These positions typically require you to live within a certain distance from a specified area and may require some on-site work or training.
You'll need a high school diploma, three years of customer service experience, three years of travel industry experience, and experience with Microsoft Office.
Your goal will be to plan vacations, be available to answer questions with accuracy, and recommend the best routes and prices for clients.
Hawaiian Beach Rentals – This company looks for Destination Expert Sales Agents to take reservations for travel experiences on Hawaii's gorgeous beaches.
You'll handle up to 30 inbound inquiries a day and must have experience with booking, researching, and planning the best vacations.
You might also need to make up to 50 outbound calls a day to pull in more customers or follow up on ones who have previously shown interest, so effective communication is a must.
Holland America Line – Holland America Line is a cruise line that seeks Reservation Sales Agents to work from their home office providing helpful services to customers. Calls will be inbound, and you should be able to sell cruises and travel products or upsell on current  vacations.
You must reside in one of the following states for this position: Washington, Oregon, Colorado, Florida, or Georgia. Training will be on-site, but specifics aren't disclosed on the job listing.
Once hired, you'll gain benefits, like paid sick time, travel benefits and discounts, and health and wellness programs.
Intelenet Global Services – Intelenet Global Services is a company that provides several telecommunications services to companies all over the world.
You can become a part of its travel team as a reservation agent for its clients.
The jobs might require you to live within a specific area, so be sure to check for this when you browse its open positions.
In most cases, previous relevant experience is required.
Ionidea – This IT company sometimes has open positions for remote travel agents to provide services for its clients.
You'll need at least two years of corporate experience, a high school diploma or GED, and a designated home office space free from noise and distractions.
Two years of international travel industry experience isn't required, but it helps.
You can earn up to $23 an hour for these positions.
Lubrizol Corporation – Lubrizol Corporation is a company that creates special chemicals for the travel industry, but it sometimes has openings for travel agents.
The company sometimes allows remote work for these positions, but some on-site work might be required.
You'll mostly be handling travel arrangements for workers who need to travel internationally, so six years of corporate travel experience is required.
Lyric – Lyric focuses on providing the most modern, interesting travel experiences and suites for people who love to travel.
You can work as a Customer Experience Travel Agent on a short-term, three-month contract that could end up as a full-time gig for the right person.
You'll work up to 50 hours a week and some of the work might be on-site, but remote work is also available.
Mission Travel – Mission Travel provides Christian-based travel experiences.
Become a travel advisor for up to $38k a year providing customer service to current and potential customers.
At least five years of sales experience in the travel industry is required, plus extensive knowledge of travel domestically and internationally.
Neighborhood Hosts – Neighborhood Hosts is a boutique travel agency based in New York that provides its services globally.
You'll respond to inquiries from customers who need help booking their travels, and also assist them with planning their experiences.
An associate's degree is required and you must have a LinkedIn profile to attach with your resume.
Norwegian Cruise Lines – You can get a work from home job as a vacation planner with Norwegian Cruise Lines. Although the company doesn't always list its remote jobs on its website, you can often find them on Indeed.
You'll train on-site for a specified timeframe before working full-time from your home office. Then, you'll be eligible for a competitive benefits package.
Ovation Travel Group – This company provides services for both leisurely and corporate travel.
You can become a remote travel consultant for Ovation Travel Group, advising clients on the best places to stay, eat, and play on their travels.
At least five years of relevant experience is required and you must be fluent with the Microsoft Office suite of tools, especially Excel.
Princess Cruises – Princess Cruises seeks Customer Service Agents to work from home for the company. You'll help create amazing vacations for families by matching them with the best vacation package for their needs.
The position is currently only for those residing in California. You must have at least one year of experience in sales or customer service. You'll go through a paid training course that will take place online for four or five consecutive weeks, 40 hours each week.
Shifts may include evening and weekend hours. Pay rate starts at $10.50 per hour, with performance-based pay increases available. The position includes a benefits package with health insurance, paid time off, retirement plan, and more.
Shanty Creek Resorts – Shanty Creek Resorts is a popular four-season resort in Michigan, USA. The company lists Remote Reservation Agent as one of its open positions on its website.
Although it has no description for the job on the website, it does state that you can download an employee application form and e-mail or fax it to the company.
Travel Leaders Group – Travel Leaders Group is a network of travel agent professionals that work with a variety of travel clients. The company hires Corporate Travel Specialists for a home-based position providing help booking travel experiences for corporate groups.
You must have at least 5 years of customer service experience and travel sales experience.
Vail Resorts –  The Keystone, CO Vail Resorts have openings for seasonal winter travel agents to help people make reservations during its busiest season.
Spanish as a second language is preferred, but not required, while a flexible schedule with some availability in the evenings and on weekends is a must.
You should also have some familiarity with the area and its surrounding resorts and vacation experiences.
World Travel Holdings –  World Travel Holdings is a cruise and travel agency providing its services all over the world. The company is also a leader in providing work at home opportunities for its employees.
As a Virtual Travel Professional, you'll receive a computer, monitor, and other necessary equipment for the job, but there is a deposit for these spread out over 5 paychecks (you'll get this back if your job ends and you return the equipment).
You'll also receive benefits, like travel discounts and paid time off.
Rental Car Reservation Agent Jobs
Enterprise – Enterprise Holdings offers work from home Reservation Sales Representative positions. You'll answer questions and assist customers with their reservations for rental vehicles.
You'll receive paid training and an hourly pay, and you'll be eligible for monthly bonuses based on performance. This is a full-time position and certain location restrictions apply. Read our full review of Enterprise work at home jobs.
Hertz –  As a Home Based Reservation Sales Specialist for Hertz, you'll complete 4 to 6 weeks of paid, on-site training, so you must live within 90 minutes of the location you apply for. Then, you'll receive a full benefits package including paid holidays, tuition reimbursement, 401(k), and more.
Hertz also provides you with the computer and other equipment needed for the job.
U-Haul – U-Haul is becoming a leader in providing work from home jobs for employees. The company currently allows Reservation agents to work from home, with most of the positions being seasonal work between May and August.
You'll receive $10 per hour plus eligibility for bonuses. Training is paid, remote, and will take about 4 weeks.
Read our full review of U-Haul work from home jobs.
Work from Home Hotel Reservation Jobs
Best Western – Best Western occasionally lists Home Reservation Agent positions on its website. You'll be required to work on-site for 4 to 6 months before switching to your home office full-time.
Brittain Resorts & Hotels – As a Virtual Reservation Agent for Brittain Resorts & Hotels, you'll be assisting inbound callers with their reservations for their stays at one of the hotels.
The position isn't always available, so keep checking back on the website to see if it opened up.
Highgate Hotel – This hotel company focuses on luxury hotels and experiences.
Remote reservation agents will handle questions, book reservations, and take care of cancellations that arise.
A high school diploma or equivalent is all that's required, but college coursework or a degree and relevant experience are preferred.
Hilton – A leader in hotels worldwide, Hilton employs work from home reservation specialists for year-round work, benefits packages, and opportunities for advancement.
A Bachelor's degree is preferred, but not a requirement. Part-time and full-time positions are available, but hours will vary depending on current business needs. Mandatory training is paid, but you'll be required to train on-site.
Hotel Jerome – Hotel Jerome is part of the Auberge Resort in Colorado, known for its incredible wintery adventures.
During its busiest months, the resort looks for remote agents to assist customers with booking and planning.
You'll need to know all about the rooms, their rates, and any current specials to be able to give customers the best prices and experiences for their needs.
A minimum of two years of similar experience is needed for this position.
Hotel Tonight – Hotel Tonight offers customer service agents an opportunity to work from home assisting customers with their bookings and other travel-related questions. Their positions focus on either phone chat or live chat, so you can choose which one works better for you.
You must have at least 1 year of experience in customer service and at least 6 months of experience in a hotel-related position. You'll receive benefits like full-time employment, $500 of Hotel Tonight credits per quarter, a monthly stipend to put toward internet use, and more.
Hyatt – It looks like Hyatt currently seeks bilingual reservation agents to work from home at this time, but you can still check to see if other positions open up.
The position is $11 an hour plus benefits, like bonuses, health care coverage, and more.
Marriot – Marriot offers work from home positions for reservation agents, but you must complete 90 days of on-site work before moving to your home office. Therefore, location is restricted to a certain distance from on-site training locations.
Your training is paid.
Omni Hotels – Omni Hotels lists a Reservation Sales Associate position as a full-time, work from home job. You'll earn $10.50 per hour base pay, plus an extra $2 for evenings and weekends. Training is paid, and you can have a flexible schedule after.
On-site training is in Omaha, NE for 4 weeks, from 9am to 5pm on weekdays. Your home office must be within 50 miles of the training center.
Starwood Hotels & Resorts – This hotel and resort company has a Work@Home program for Reservation Agents. You'll need to work at an on-site call center for a specified time before you can work from home.
Once employed, you'll receive benefits like child/elder care for emergencies, pay bonuses, hotel discounts, and savings plans.
Wyndham Destinations –  Wyndham is one of the largest hotel companies in the world, and its Wyndham Destinations brand helps people create experiences to last a lifetime.
You can assist with the process as an at-home reservation agent for the company.
Vacation Sales Agents can sometimes work remotely offering services to people who have already expressed interest in booking a vacation.
Employees will be eligible for disability benefits, health insurance, 401(k) and more.
Choice Hotels is a prominent hotel franchisor with a diverse portfolio of brands, including Comfort Inn, Quality Inn, Sleep Inn, and Econo Lodge. 
They provide work-from-home opportunities for reservation sales associates. 
Candidates must have excellent communication skills and strong computer proficiency to qualify for these positions. 
Previous customer service experience is often preferred. 
Additionally, candidates may need to have a flexible schedule to accommodate varying shifts and availability.
InterContinental Hotels Group (IHG) is a renowned global hotel company that owns and operates well-known brands such as Holiday Inn, Crowne Plaza, InterContinental, and Kimpton Hotels & Restaurants. 
To be considered for these roles, candidates should possess strong customer service and communication skills. 
Previous experience in a call center or sales environment is often desired. 
Additionally, flexibility in working hours is typically required, including the ability to work weekends and holidays.
Priceline is a leading online travel agency that offers discounted rates for hotels, flights, rental cars, and vacation packages. 
Priceline occasionally hires work-from-home reservation agents to assist customers with their travel bookings. 
Your role as a reservation agent would be to help customers find suitable accommodations, make flight reservations, and answer any questions related to their travel plans.
Priceline offers training programs, ongoing support to help you excel in your role, and attractive employee benefits.
Vrbo, owned by Expedia Group, is a popular vacation rental platform that connects travelers with property owners, allowing them to book vacation rentals worldwide. 
To be considered for these positions, candidates should possess strong communication and interpersonal skills and a passion for providing exceptional customer service. 
Familiarity with the travel industry and experience using Vrbo's platform may be advantageous. 
As Vrbo operates in a dynamic, fast-paced environment, flexibility in working hours and the ability to adapt to changing demands are often necessary.
Find More Work from Home Reservation Jobs!
Here are a few more places to keep in mind if you're searching for the perfect reservation jobs to work from home.
Active Network – Active Network is a little different than the other work from home reservation jobs that we mentioned here. The company offers a variety of solutions to sporting companies and for sporting events.
As a reservation agent for Active Network, you'll provide customer support and help them make reservations for sporting events. The work is seasonal, and is expected to run through September. If you do an exceptional job, you may have the opportunity to work through the year on a part-time basis.
You must be available to work weekends and through the week, for about 25 to 29 hours. Read our full Active Network review.
EZLinks Golf – EZLinks Golf is affiliated with the PGA Golf Tour and looks for agents to help book the golfers tee time requests for its 24-hour reservation service.
The starting pay is $10, but the entry level position only requires either one year of customer service experience or some type of relevant job experience.
You must live in SD (the position is remote) and be available for remote training before working.
Indeed – Indeed, one of the best job search websites, is a great place to find new reservation jobs that you can work from home. Listings are updated daily, and you'll often find new companies that need virtual reservation agents as their business needs change.
For best results, search "Reservation Agent" and "Remote", "Work at Home", or "Home Based" for the Location entry.
International Cultural Exchange Services – This company helps match exchange students with their ideal hosting families.
You can become a part of the system by acting as a reservation agent to connect the students with families.
Candidates must be at least 25 years old.
Simply Hired – Simply Hired is, like Indeed, one of my favorite job search websites that helps you find more work just like the jobs I listed above.
Go to the site and search for reservation agent or travel agent jobs, noting that you want remote work.
You can check every week or so for new positions and even set up email alerts to make it easier to get notified about the jobs you want.
Sykes – Sykes is a company that offers various call center jobs to people who want to work remotely.
The company often has travel industry clients that it works with, which means it needs call center agents like you to help provide reservation services to those clients.
Search the list of virtual positions to find what you need.
TeleReach – TeleReach is a telemarketing agency that works with various clients all over the world providing telemarketing services, both inbound and outbound.
The company sometimes has listings for travel agents and B2B appointment setters, which are people who set up sales opportunities for clients.
You'll need a dedicated home work space and a dedicated landline.
Workers are eligible for daily, weekly, and monthly bonuses, plus a $3,000 employee referral program.
Upwork – If freelance work is more your cup of tea, try Upwork, a freelance marketplace that offers reservation agent jobs posted by clients. Most of these freelance jobs will be temporary, but they'll allow you a lot of flexibility and variety, if that's what you're looking for.
Working Solutions – Working Solutions is one of the most popular places to find work at home jobs offering services to clients in several industries.
Some of its clients are in the hospitality and travel industry, making it possible for you to find reservation work.
You can always apply online to get your information added to the database and Working Solutions will match you with opportunities that might potentially be a good fit for you.
In your application, list your interests and your skills to narrow the options to reservation work, if that's solely what you're interested in.
Another Way to Make a Living as a Work at Home Reservation Agent
I want to mention one more way that you can get paid to work at home making reservations for others.
It's called virtual assisting, and you've likely heard about it in your quest for a work from home job.
That's because it's one of the best ways to get paid to work from your home office!
Virtual assisting incorporates a lot of different skills and jobs.
If you know how to work with a computer, and you're a good typist and communicator, then virtual assisting could be the perfect opportunity for you.
As a virtual assistant, you'll also be your own boss working with clients you choose, so you'll never have to be at the whim of an employer.
So how does it relate to taking reservations?
A lot of virtual assistants work with clients remotely, just like in-office assistants would.
They make calls, take calls, and book appointments for their clients, kind of like a sales representative would.
That's exactly what you do as a reservation taker, but virtual assisting gives you the added benefit of having a flexible schedule and working on your own terms with the clients you choose.
You, unfortunately, may not get the benefits and bonuses that employed work provides, but as a self-employed virtual assistant, the control of your business is in your hands.
It's just something else to think about if you're legitimately interested in this type of work.
Working from your home office as a reservation agent can be an excellent way to put your awesome communication skills to use and get paid well for it.
Most agents get a base pay plus commissions or bonuses since the work also involves sales!
If you know of other companies that hire reservation agents to work from home, please let us know in a comment.
Good luck!
Related Posts:
Earn Everything… nearly!
Join Ipsos iSay, one of the few Faithful and Honest survey panels and earn prizes, gift cards and donations. Stack your points and redeem them: Simple! No hidden fees and completely free!