Review of GetACoder
Updated on: by Amy Kennedy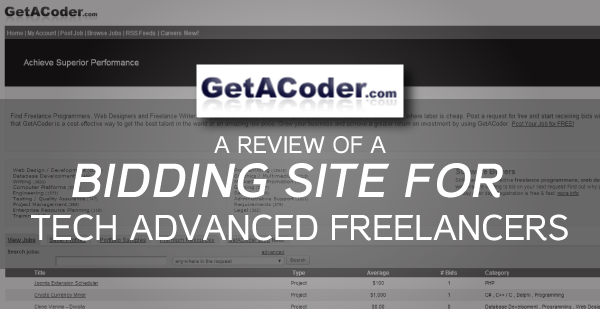 Need Easy Extra $350+/Month For Free?
Are you a freelance writer who is always struggling to find work?
Do you have a limited marketing budget to advertise your services?
Have you exhausted the content mills?
Well, then GetACoder might be the freelance place for you.
GetACoder is a freelance writing site where freelancers go to bid on jobs. GetACoder likes to call itself a "global services marketing place" and has providers in 234 countries to back up that claim.
GetACoder also prides itself on being a site that breaks down the barriers between buyers (clients) and providers (freelancers) then provides the necessary collaboration tools to help them get the most out of the relationship. In other words, their unique platform is a way for buyers to manage their projects just as easily from the budgeting side as from the project management side.
GetACoder is similar to most bidding sites that providers (freelancers) an opportunity to create their portfolios and bid on jobs as well as be viewed by potential buyers (clients). Similar to other bidding sites, it has its own blog and forum where both providers and clients can comment.
What Types of Jobs Are Available at GetACoder?
Categories include web design, writing, engineering, project management, training, programming, marketing and promotion, security, requirements (technical-related), database development, computer platforms, testing, quality assurance, enterprise resource planning, graphics, multimedia, gaming, administrative support, legal, and miscellaneous.
How Does GetACoder Work?
GetACoder works much like the other bidding sites. You sign up with an email and password and then create a user name. Then you can create a portfolio. You can also create an RSS feed to get just the type of jobs that you would be interested in bidding on. 

One of the biggest differences for me was that there are no tests to take on GetACoder like there are on Odesk or Elance. Your portfolio is forced to play the role of "test". Now a client may request a test or have one setup for you, but there are no already-available tests to take.
What are the Pros and Cons?
This platform comes with some ups and downs. Here are some of the pros and cons of freelancing on this site:
Pros of Freelancing at GetACoder
Wide Range of Projects
GetACoder offers a diverse range of projects across multiple industries and disciplines. As a freelancer, you have access to a wide array of opportunities, allowing you to choose projects that align with your skills, interests, and expertise.
Global Client Base
GetACoder attracts clients from around the world, providing freelancers with the opportunity to work with international clients. This exposure to a global client base can lead to diverse and interesting projects, as well as potential long-term collaborations.
Competitive Bidding System
GetACoder employs a competitive bidding system that allows freelancers to showcase their skills and submit proposals for projects. This system provides a fair chance for freelancers to compete for projects based on their qualifications and proposed terms, enabling them to secure work and build their client base.
Secure Payment Protection
GetACoder offers secure payment protection for freelancers, ensuring that they receive payment for completed work. The platform holds the client's funds in escrow, releasing them to the freelancer upon project completion and client approval, providing a level of financial security.
Feedback and Ratings
Clients on GetACoder have the option to provide feedback and ratings for freelancers upon project completion. Positive feedback and high ratings can help freelancers build a strong reputation and enhance their credibility on the platform, leading to more project opportunities in the future.
Need Easy Extra Cash?
Pinecone Research, a leading name in online survey panel honesty, absolutely guarantees $3 cash for every survey you complete!
Take advantage of their time limited New Membership drive and register NOW. Join today: 100% free!


Cons of Freelancing at GetACoder
High Competition
As with any freelancing platform, there is significant competition among freelancers on GetACoder. The large pool of freelancers means that standing out and securing projects can be challenging, especially for newcomers or those without a well-established reputation or portfolio.
Fee Structure
GetACoder charges freelancers a percentage-based fee on their earnings from each project. While this fee covers the platform's services and infrastructure, it reduces the overall income that freelancers earn. It's important to consider these fees when determining your pricing and evaluating the financial viability of projects.
Dependency on Client Reviews
The reputation and success of freelancers on GetACoder often rely heavily on client reviews and ratings. Negative reviews or low ratings can impact a freelancer's ability to secure future projects and maintain a positive professional image. It's essential to provide high-quality work and maintain good communication with clients to cultivate positive reviews.
Platform Dependence
Freelancers on GetACoder are reliant on the platform to connect with clients and find projects. This dependence means that freelancers must adhere to the platform's terms, policies, and communication channels. It's important to be aware of the platform's rules and guidelines to ensure a smooth freelancing experience.
Limited Direct Client Interaction
On GetACoder, freelancers primarily communicate with clients through the platform's messaging system. While this system facilitates project-related communication, it may limit the depth of personal interaction that some freelancers prefer. Building long-term client relationships outside of the GetACoder platform might require additional effort.
How Are Jobs Set Up at GetACoder?
It's probably one of the easiest systems out there to use. No time tracking system to punch in or punch out of. You also don't have to do perfect bidding either. For hourly projects, just estimate your time or use your own time tracking device, such as TraxTime.com. You can also be paid by the project.
What is the Pay Like at GetACoder?
The pay scale will vary from project to project as well as client to client, as you do if you use other bidding sites. I did notice most of the writing jobs were on the lower end of the spectrum versus Guru, Elance, and Odesk -where there are both high and low paying writing jobs.
Payment may be "fixed" or "hourly" depending upon the client's budget. You can also request a project be converted to either hourly or fixed. Payment is paid whenever a project is finished and meets the client's expectations. Milestone payments may also be requested of the freelancer. This is where payments are placed in an escrow account until the work is finished.
GetaCoder charges a 10% fee on your commission plus $5.00 if you aren't a paying member. There is the free site as well as the paid site. The paid site or Premium membership will give you a time stamp and access to their collaborative project management software. Unlike other bidding sites, GetaCoder makes you wait until you have reached your first $100 to cash out. Paid membership is $7.95 a month and gives you both a time stamp for your work as well as access to use their project management software.
When is Payday at GetACoder?
Payday is every two weeks via direct deposit or PayPal.
Does GetACoder Provide an Affiliate Program?
Yes, you can earn up to $57.24 whenever someone becomes a Premium Member from your affiliate link. By becoming a Premium Affiliate, you will earn 60% instead of the 30% for the free membership.
What is My Overall Impression of GetACoder?
I have read mixed reviews of GetACoder, so it is difficult to comment on it. The reviews were very mixed, and I only know of one person personally who did try them out but had a positive experience.
One of their quotes from their web site disturbs me: "One of the main advantages of GetACoder is the low labor cost. The typically rates are about seven times lower than the ones in the US or Europe."
This bothers me because this sounds like a bid to get the cheapest labor possible from places other than the US and Europe.
Also, there is no Whois information available and for those who like to investigate a company before jumping in–not good. Others have complained about GetACoder freezing accounts and not paying freelancers or returning the money to providers either with no explanation and/or a suspended account.
There were also not a lot of jobs for freelance writers except for $1 articles which appears to be going rate. The virtual assistant jobs are around $4 to $6 an hour, so it could take a very long time to cash out at $100. But if you just want to get started, it might be something for you to try.
Programmers and computer engineers tend to be more in demand with better payment than the other listed positions. So, it would be up to you if you would want to try a paid membership verses a free membership.
As always, read the reviews. However, if the reviews are as split down the middle 50/50 as this one, I'd say proceed with caution. If you really need to diversify away from Odesk and Elance, then take a very small project that you can afford to lose out on and try it. With Odesk and Elance due to merge sometime in April, you may want to add another site to your freelancing list.
One thing I have noticed over the years of reviewing companies and then writing about them is that you really have to be aware of their terms of service and abide by them. Sometimes bad reviews or comments are left by those who didn't bother to read the terms or conditions.
How Can an Interested Applicant Apply to GetACoder?
Go to http://www.getacoder.com/buyers/signup.php and sign up as a freelancer verses a client. While clients are equally encouraged to sign up, they have a separate area of the web site in which to sign up.
Good luck to all who apply.
Related Posts:
Earn Everything… nearly!
Join Ipsos iSay, one of the few Faithful and Honest survey panels and earn prizes, gift cards and donations. Stack your points and redeem them: Simple! No hidden fees and completely free!