Review of eJury
Updated on: by Amy Kennedy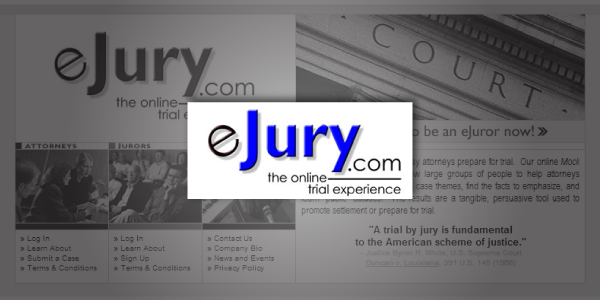 Need Easy Extra $350+/Month For Free?
Gone are the days when jury duty included getting up early, missing a day's work, driving however many miles to the court, and then finding that park spots were limited.
Now you can serve your "civic duty" from the comfort of your home. Just what we work-at-homers (WAHers) like to hear! Right? Another plus to all of this, is that we can now get paid to serve as an online juror at a company called eJury.com.
What exactly is eJury?
Founded in 1999 by Christopher L. Bagby, a trial attorney, eJury's mission has always been to find out what is important in a case and how it should be viewed and approached by an attorney.
To accomplish that mission, eJury remains a site where attorneys post their cases and ask for feedback based on a panel of 50 qualified eJurors. These eJurors have also taken the online oath and are located in the attorney's local area. The eJurors will be working from the comfort of their homes using their computers and laptops to provide this feedback in the form of answering questions about a case and submitting a possible verdict.
Then the attorneys will use the provided feedback to determine case value, know which facts to emphasize, and learn "public" attitudes towards the case. All of this information will help the attorneys promote settlement and prepare for trial.
In the past, attorneys created focus groups or mock trials to collect this information. These groups were both costly and time consuming.
This company, eJury or eJury.com is similar to OnlineVerdict.com which I had written about last year here at WAH Adventures.
Is eJury legitimate?
While there are other online sites where you can get paid to be a juror, such as JuryTalk.com, JuryTest.net, TrialJuries.com, and SignUpDirect.com–eJury and OnlineVerdict made Clark Howard's list for best work-at-home companies for 2012. I haven't seen a list for this year, 2013.
As you probably know, Clark Howard is the nationally syndicated consumer expert and the host of The Clark Howard Show as well as the author of several bestsellers including Get Clark Smart.
So, a resounding "yes" to eJury being a "legit" work-at-home company!
How does eJury work?
Once you sign up with an account at eJury, your information and email address will then be verified. You will receive an email verification informing you that you have been added to the juror database.
When a case in your county becomes available, you will be sent an email invitation. You are welcome to accept or decline the invitation.
How can you get started with eJury?
You must meet the following qualifications as well as take the online oath when signing up with an account at eJury. They are outlined below.
Qualifications for service as an eJuror are to:
– be at least 18 years of age.
– be a citizen of the United States.
– be of sound mind and good moral character.
– be able to read and write.
– have never been convicted of a felony.
– not be under any indictment, misdemeanor or felony charge.
The oath that you will take will be that you are:
Need Easy Extra Cash?
Pinecone Research, a leading name in online survey panel honesty, absolutely guarantees $3 cash for every survey you complete!
Take advantage of their time limited New Membership drive and register NOW. Join today: 100% free!


– not an actively practicing attorney, paralegal, or legal assistant.
– not employed by or associated with an attorney or law firm.
– not related to a practicing attorney by marriage or second degree consanguinity.
– not employed as an insurance adjuster, nor associated with the adjusting of liability claims.
As far as computer equipment, any laptop or PC will do. You may have to install Java, and you will need your own email account to get started.
Professionals from all walks of life are welcome to sign up with an account–as long as they meet the qualifications and are willing to take the online oath.
How is pay handled at eJury?
Payment is made via PayPal only. Payment will vary from case to case, but generally you will be paid between $5 to $10 per case. The number of cases you are asked to review may vary as to the number of attorneys in your area using the service.
Most cases will take approximately 35 minutes to complete. There is no limit to the number of cases you can review, and you may discontinue at any time. You will be considered an independent contractor and responsible for your own taxes.
What is my overall opinion of eJury?
At $5 to $10 a case, I don't think eJury is something that you can do full-time at home. However, I think it could become a nice supplement to your current work-at-home company and client load. I think it could also be something personally rewarding and a nice change of pace in your work-at-home life.
Can you work for both eJury.com and OnlineVerdict.com?
Yes, you can sign up and apply to both. You might want to revisit the OnlineVerdict article mentioned above and see how they compare and whether you would want to work for both.
Other Similar Sites
OnlineVerdict provides a similar service to eJury, acting as a platform for attorneys to receive feedback on their cases. Individuals can sign up to be jurors and review cases in their own time, providing input that helps attorneys understand how their case might be perceived in a real-life courtroom.
Jurors are paid for each case they review, with the amount varying based on the length and complexity of the case.
JuryTalk is a division of DecisionQuest, a national trial consulting firm. They offer a service called "one-day trial runs," where cases are presented to a panel of surrogate jurors. These jurors, recruited from the area where the real trial will occur, then deliberate while the trial team and other observers watch and listen behind a one-way mirror or through video streaming.
The surrogate jurors' feedback can provide valuable insights for the legal team.
TrialJuries works in a similar way to eJury but offers both online and offline services. They provide jury research and other pretrial services. They allow the legal team to evaluate cases, test arguments, and gather public opinion data.
They employ a unique deliberation process that combines group and individual input to give a more complete picture of potential outcomes.
Virtual Jury offers services that let legal professionals conduct research with online focus groups and mock trials. The platform's services are used by lawyers, market researchers, and other professionals who need to understand how a group might react to a particular scenario or argument.
Their goal is to provide meaningful, actionable data that can help shape strategies and outcomes.
Resolution Research provides a range of market research and legal research services, including online mock juries. They recruit individuals to serve as jurors, who then participate in online studies that help legal teams prepare their cases.
The jurors' feedback can be incredibly valuable in determining which arguments are most persuasive and how a jury might react to a case.
How can you apply to eJury?
Go to http://www.ejury.com/jurors_signup.html and create an account.
Good luck to all of those who apply. Case dismissed.
Related Posts:
Earn Everything… nearly!
Join Ipsos iSay, one of the few Faithful and Honest survey panels and earn prizes, gift cards and donations. Stack your points and redeem them: Simple! No hidden fees and completely free!